As we shift from summer into fall, the pandemic continues to strain the partnership industry. Impact's regularly published benchmark reports (this makes five) have enabled us to keep our finger on the pulse of how COVID-19 has affected partnerships. Back to school and the holiday season will likely present some interesting changes as we enter the final quarter of 2020.
Throughout the month of August, we saw states like Texas and Florida reverse their reopening policies amid large numbers of infection. On the other side of the coin, states like New York and Massachusetts began reopening gyms, indoor dining, and even office buildings.
Note: We have recalibrated our aggregate benchmarks into two-week (rather than one-week) increments for better visual representation and trend analysis.
Aggregate observations we saw in August:
Conversions and clicks began to trend up after a month-long decline. Shoppers seemed to browse and shop more frequently toward the end of August. Conversions and clicks were up nearly 10% during the last week of August, ending a 30% decrease since the beginning of May.
Average order value spiked while conversion rates went down. Our data showed that there was a 25% increase in the average basket size per customer despite conversions decreasing by around 10%. Consumers were still online shopping but seemed to be ordering in bulk, with "shopping trips" happening less frequently.
Revenue and commissions spiked. Partnership programs excelled in the month of August as revenue and commissions jumped nearly 20%, continuing the strong trend of growth since the end of May.
A recap of the methodology behind the results
This report features week-over-week (WoW) benchmarking on eight verticals to see how events around COVID-19 have impacted partnership metrics.
Impact's analysis started the week of January 5, 2020, and goes through the week of August 31. This timeframe offers a full picture of U.S. consumer behavior from:
Before the World Health Organization's March 11 announcement of COVID-19 as a global pandemic
During subsequent weeks as states declared stay-at-home orders
Throughout May, when most states began lifting stay-at-home orders and allowed brick-and-mortar businesses to reopen, including retailers, restaurants, gyms, spas, and salons
June, as the United States surpassed 2 million cases and infections were on the rise in many reopened southern and western states
July, when the United States hit 3M cases on July 8 and 4M cases on July 23. Many southern and western states started reversing or pausing their reopenings.
August, as the United States surpassed 6M cases, some states saw less than 1% infection rates and began reopening indoor dining.
Impact's data scientists pulled data using the same cohort of brands across groups, remaining consistent across each week. They ran a statistical analysis to determine the number of brands to include in each category, identifying and filtering out outliers that drove entire categories.
Apparel, Shoes, and Accessories
In what looked to be a bounceback for the Apparel, Shoes, and Accessories categories, conversions and clicks plummeted during the first half of August, only to rise right back up to where they were around the month of July.
Average order value skyrocketed 30% over the month of August, while conversion rates dropped by nearly 20%. We may be able to attribute this behavior to purchasing for big events like back to school and buying items all at once rather than on separate occasions. However, these numbers are subpar compared to normal back-to-school spending seasons, suggesting that there is some consumer hesitation on school supplies if children won't be in classrooms.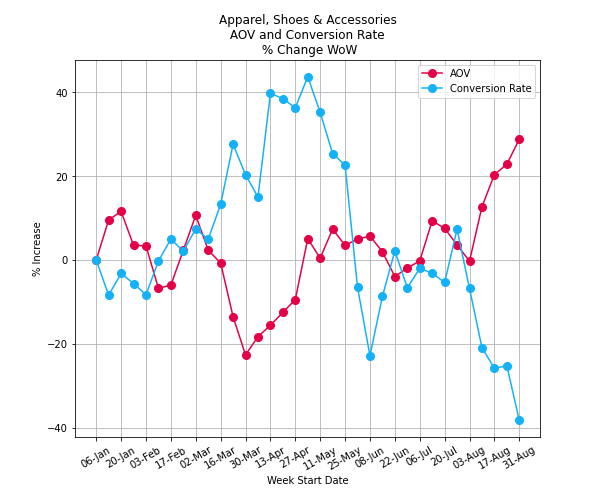 Arts and Entertainment
We started including Arts and Entertainment in our benchmarks at the beginning of July. To recap, this category includes a wide range of subcategories — from books, art, photography, and music to tickets and shows, dating services, online gaming, and digital TV and video-on-demand services. While tickets and shows obviously have been devastated by the pandemic, other services like streaming and digital TV have reaped the benefits of home-focused entertainment.
August showed a bit of a rebound in the Arts and Entertainment category, which makes sense given some big events like the NBA playoffs, NVIDIA announcing the release of their new graphics card line, and NCAA sports starting back up. While nowhere close to pre-COVID-19 numbers, revenue and commissions went up around 30% for August. Conversions, on the other hand, jumped almost 50% and approached the pre-pandemic levels we saw back in January.
Computers and Electronics
In the Computers and Electronics category, clicks went down by roughly 20% but conversions were almost back up to the pre-pandemic baseline level. Basket size steadily increased, with conversion rates lowering, only to ride back up toward the end of the month.
Revenues remained around 40% above the baseline, with commissions hovering above the baseline after making up a significant ground over the past two months.
Flowers, Gifts, Food, and Drink
Clicks and conversions continued to flatten out following a similar trend in the month of July. However, a slight increase suggests they may be ticking back up over the next few months — something to look out for. Revenue and commissions also remained relatively flat, with AOV and conversion rates trending down by 5% or so.
Health and Beauty
Health and Beauty saw a slight spike in conversions and clicks at the beginning of August, only to trend back down to pre-August levels. Conversion rates fell around 25%, with basket size falling around 5% as well.
Revenue and commissions both saw a spike of around 10% in early August but have since lost that entire gain. Levels remained solidly above the baseline, with revenue hovering around 30%.
Home and Garden
Clicks and conversions saw a 30% and a 10% increase, respectively, in the month of August. Revenue skyrocketed to 25% from the baseline, with commissions also seeing about a 25% increase to 70% above the baseline. With many people realizing they won't be going back to an office anytime soon, they're investing more in home and office furniture.
Basket size increased by about 20%, with conversion rates dropping another 5% to land at 40% below the baseline.
Telco and Utilities
Telco and Utilities saw a 10% increase in clicks for the month of August but conversions continued to slide, landing just above the baseline from their previous position of 25% above the baseline in mid-May.
AOV jumped 10% while conversion rates dropped 20%. Revenue and commissions remain at healthy levels of 40% and 15% above the baseline, respectively.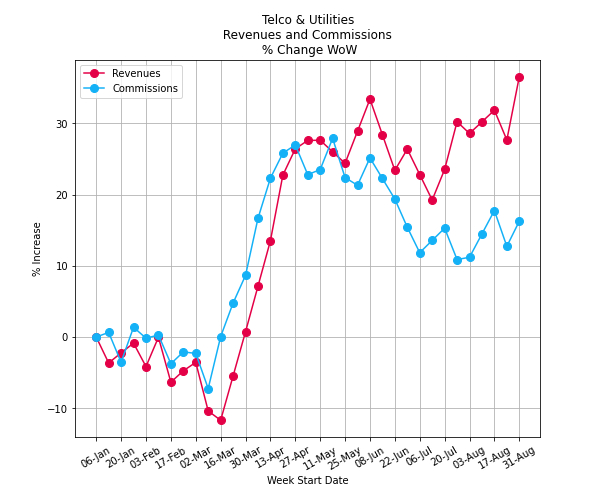 Travel
Travel is a newly added category as of July, and the data showed more or less the same as in the month of July. Conversions and clicks remain relatively flat, still trending around that 70% below-baseline mark. Revenue and commissions continued to slide, each dropping around 5% for the month of August.
Conversion rates fell around 15% but remained well above the baseline. AOV dropped about 10% to remain just above the baseline.
It's clear that the travel restrictions some states have put in place hampered the bump we saw at the end of May. The restrictions make it much more cumbersome to enter states, as travelers now either have to quarantine for 14 days or provide negative test results.
Lean on partnerships in the face of continued uncertainty
August picked up right where July left off in terms of a large increase in positive COVID-19 cases throughout the United States. Of the total U.S. caseload, 32% occurred in the month of August — despite a few heavily populated states like New York and Massachusetts seeing less than 1% positive test results coming back each day.
As fall and winter months approach, states are grappling with decisions on school openings, professional and collegiate sports, and how to safely open the majority of businesses in major cities like New York. As federal and state governments weigh these decisions, businesses are paying close attention to these trends so they can identify how to grow despite the rate at which COVID-19 is spreading throughout the United States.
As companies navigate these waters, it's important they look to the partnership channel as a foundational part of their growth toolkit. Companies with mature partnership programs are growing revenue 2X as fast as companies that heavily rely on other marketing channels, according to a study done by Forrester Consulting.
The short of it: uncertainty looms. While some verticals appear to be trending positively due to reopenings, it's nearly impossible to predict where we will stand in the next few months. We'll continue to inform our clients, partners, and the industry what we're seeing in the data. Stay tuned.
To find out more about the ways your partnership channel can help you weather downturns, reach out to an Impact growth technologist at grow@impact.com. We'll help guide you through.