Ultimate guide to influencer marketing: From influencer marketing fundamentals to putting best practices into action
In an era where traditional advertising resonates less with audiences, influencer marketing has emerged as a reliable way for marketers to maintain authenticity, drive brand awareness, and rake in revenue.
Whether you're a newbie or an expert in the influencer marketing game, this guide covers the fundamentals and best practices you can use to get the most return on your influencer marketing initiatives.
This guide covers:
1. The definition of influencer marketing
2. What are influencer marketing campaigns and how do they work?
3. Best practices for launching an influencer marketing campaign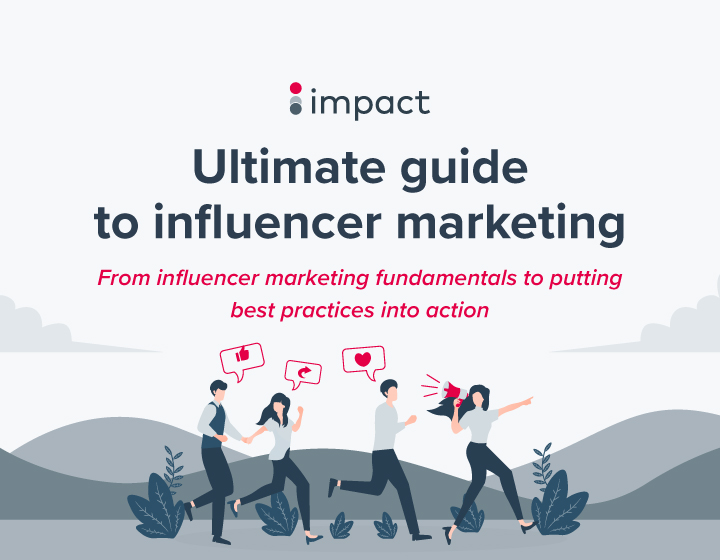 Free guide: The ultimate guide to influencer marketing
Learn all about influencer marketing: what it is, how it works, and how to make it work for you.
Get my free guide
---
1. The definition of influencer marketing
What is influencer marketing and how does it work?
At a high level, influencer marketing is the practice of brands collaborating with influencers.
Influencers help drive brand awareness and purchasing decisions through product placement and endorsements on social media.
Research shows that 60 percent of all consumers consult blogs, vlogs, or social media posts before considering a product purchase, and that influencer marketing can generate 11 times the return on investment (ROI) of traditional advertising.
With this in mind, many brands are clearly starting to recognize the potential return influencer programs can reap.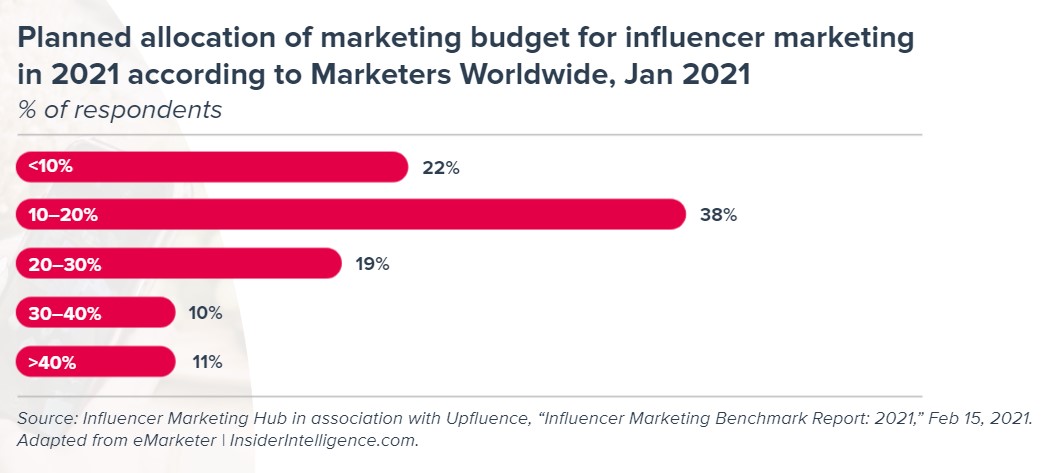 In 2021, 38 percent of surveyed marketers planned to allocate 10 to 20 percent of their digital marketing budget to influencer marketing, while 11 percent said they would devote more than 40 percent of their digital marketing spend to the influencer channel.
On the flip side, social media creators are finding ample opportunity to connect their high-intent audiences with products and offers that create value. Spending on influencer marketing is projected to surpass $15 billion (yes, billion) by 2022, so there's plenty of potential for any influencer to cash in.
---
Who are social media influencers?
Influencers are social media superstars, tastemakers, trendsetters, and knowledge leaders who have amassed sizable networks of followers on social media.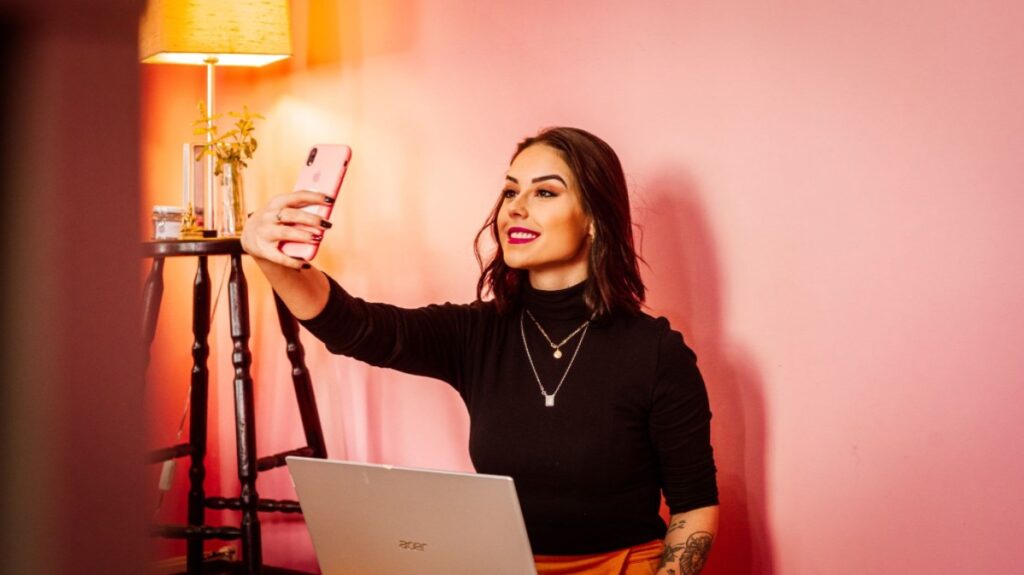 Theoretically, anyone who self-identifies as a trendsetter or plugs a product on social media can be considered an "influencer." But, what sets influencers apart from the "average Joe" is the quantifiable amount of clout they wield with their followers. What's even more valuable than
their number of followers is the trust their audiences place in them.
Audiences place a premium on authenticity. So if an influencer has done a good job of cultivating trust through engaging content that resonates with followers, they can parlay that trust into lucrative partnership opportunities with brands.
Different types of influencers
Influencers can vary by niche or content type, but typically they fall into one of the following categories (based on audience size):
Celebrities or ce"web"rities (1m+ followers). Traditionally, celebrities are actors, artists, musicians, or athletes. Ce"web"rities are a subcategory of celebrities who have gained fame on the internet and now are universally recognized.
Macro-influencers (10k–1m followers). These individuals have amassed their following through social media. Some may be local celebrities whose renown has been amplified by social tools, while others may be digitally-famous category experts.
Micro-influencers (<10k followers). Micro-influencers are numerous in quantity but often too fragmented to be managed in a high-touch way. However, they boast an average 3.86 percent engagement rate, while their ce"web"rities counterparts only yield 1.21 percent.
Nano-influencers. This type of influencer has a solid affinity for a brand and continually says good things about it, even if they aren't compensated for product endorsements.
Brand ambassadors. Some brands treat influencers as brand ambassadors. Brands will commit to year-long relationships, throughout which these influencers post in exchange for money, promotions, or product. Some brands even create evergreen campaigns by recruiting a permanent bench of influencers to cyclically reactivate.
The influencer ecosystem can be further broken down by type of content creator:
| | | |
| --- | --- | --- |
| Personalities | Visual informants | Creativists |
| Influencers who produce their social presence like a reality show. You know what they ate for breakfast, who their best friends are, and their favorite candle scent. | Your standard social influencer. They're there, they've got a following based on who they are, who they know, or what they've worked on, and they can be excellent arbiters of taste and extensions of a brand. | Old-school visual talents that generally come from an artistic background. They'll post a beautiful picture of a coffee mug, and while that content may not convert well, it can be successfully deployed by a brand across its owned and paid channels. |
---
How do social media influencers get paid?
On a fundamental level, influencers are paid for the content they produce or the audiences they reach.
Content can be delivered in a wide range of formats — from a tweet or a short post to an image or a six-second video, or even long-form blog content or video. It all depends on the influencer's preferred format and method of content creation.
But before content is created, brands and influencers need to determine payout structures and agree upon which specific actions will be compensated. Influencer payments can be fixed rates, product gifting, content licensing fees, or performance-based commissions, all indexed to business goals and outcomes — not just vanity metrics such as likes, comments, or shares.
Common compensation structures include:
Flat fee per post + set of stories
Percentage of sale
Flat fee + performance bonus for driving sales
Gifting + event attendance
Fee for content usage rights
As influencers fulfill their contractual commitments, brands make payments via direct deposit, PayPal, wire transfer, mail, and other methods.
---
What kinds of brands work with social media influencers?
As long as there's money in the budget, brands across verticals are eager to collaborate with all types of influencers who create compelling, relevant content for their followers.
Here are some of the verticals most likely to work with influencers:
Fashion and beauty. This vertical encompasses everything from luxury fashion brands like Savage X Fenty to subscription-based cosmetics lines. Brands within this vertical often partner with influencers who identify as fashionistas, trendsetters, stylists, makeup artists, and more.
Home and family. This niche spans the furniture and home goods verticals. An ideal partner for these types of brands is the "mommy influencer," who plugs content about parenting, child-rearing, and marriage.
Gaming. Streaming platforms, console manufacturers, and game developers are chomping at the bit to work with this emergent category of influencers. Gamers wield a tremendous amount of clout as they livestream on platforms like Twitch or YouTube, which have become increasingly popular tools.
Health and wellness. Gyms, workout streaming services, athleisure merchandisers, and at-home fitness companies often enlist fitness models, trainers, healthy lifestyle enthusiasts (like Fit Healthy Momma), and trendsetters in categories such as yoga, bodybuilding, strength training, and more.
Travel and lifestyle. Travel and booking companies like Hotels.com and tourism boards like Pure Michigan, 2018 Shorty Award finalist in the travel and tourism category, leverage the inspirational, compelling content created by travel influencers.
Food and beverage. Food startups, spirits companies, restaurants, and cookware brands are among the types of companies that like to partner with culinary-inclined influencers that range from cooking experts and recipe writers to food bloggers.
Business and tech. Companies in the business-to-business (B2B) technology, finance, and marketing sectors often recruit business leaders, management gurus, and sales and marketing experts who dole out sage business advice.
Sports and entertainment. Major multinational consumer brands partner with professionals who work in the film, television, music, and professional sports industries. With follower counts in the hundreds of millions (think Cristiano Ronaldo or Ariana Grande)2, these types of influencers are able to score lucrative deals with companies like Nike, Reebok, Disney+, and others.
Sign up to Impact's Influencer Marketplace
---
What platforms do influencers use?
Although there seems to be an infinite number of social media apps, influencers tend to gravitate toward the same handful of platforms.
Here's the lowdown on some of the most popular social media platforms that influencers use today:
Instagram: The reigning favorite for social media influencers
If you've been living under a rock: Instagram is a photo and video-sharing social networking service owned by Facebook, Inc.
The platform allows users to share media, which can be filtered and organized by tags and location. Users share publicly or with their approved network of followers. Today, most users have broadened the network of creators they follow beyond just friends, family, and colleagues — they also follow tastemakers, celebrities, cultural leaders, organizations, and institutions, and, of course, influencers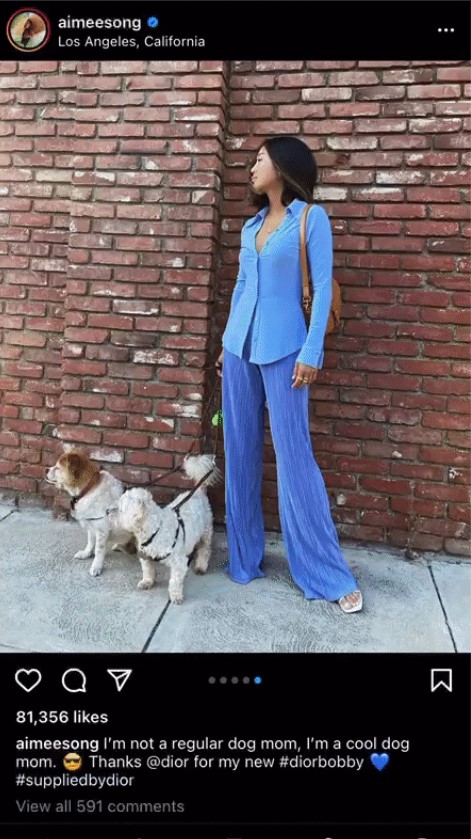 Beyond a user's Instagram feed, which is populated with posts from all the accounts they follow and dotted with ads, there's the Instagram Discover feed. Here, Instagram surfaces posts, stories, and IGTV content that its algorithm determines you may like. A search function and filters allow you to find specific users or content.
In terms of influencer marketing, Instagram rules. In fact, 93 percent of influencer marketers pay for sponsored content on the Instagram accounts of influencers, and 89 percent of influencer marketers spend more on Instagram than any other social media platform.
Instagram is appealing for influencer partnerships in part because the Instagram Stories swipe-up feature offers a seamless path to click-through.
TikTok: The platform of choice for short-form viral video content
TikTok's parent company, the Chinese internet technology company ByteDance, was founded in 2012 and is headquartered in Beijing. In November of 2017, ByteDance acquired Musical.ly, a lip-syncing app with about 60 million predominantly American users, for $1 billion. ByteDance officially rebranded Musical.ly and TikTok into one app in August 2018 and launched in the U.S. market.
In the two short years since then, TikTok has skyrocketed to become the seventh most downloaded mobile app of the past decade.
As journalist Jia Tolentino puts it, TikTok "is a social network that has nothing to do with one's social network." The platform doesn't ask you to upload your contacts or tell it who you know.Instead, you can spend most of your time watching short-form videos in TikTok's For You feed or its Discover page, which will offer you an increasingly personalized stream of global content and a catalog of trending hashtags.
On TikTok, you almost always consume content of creators you don't personally know.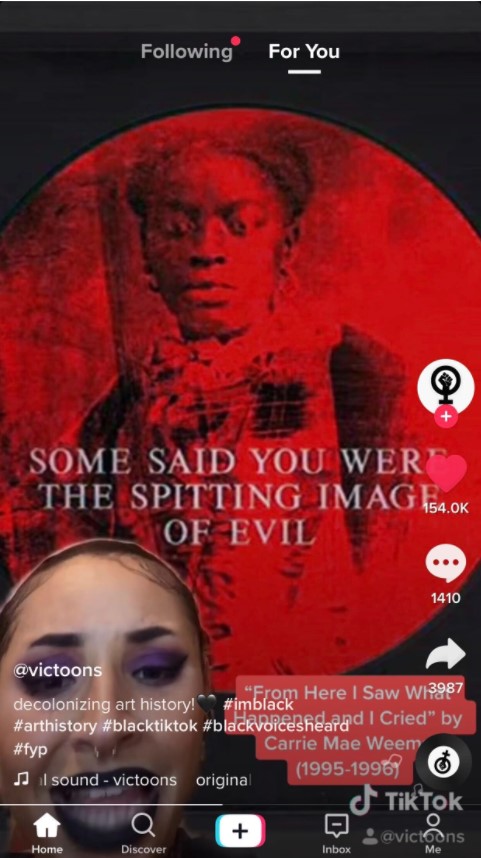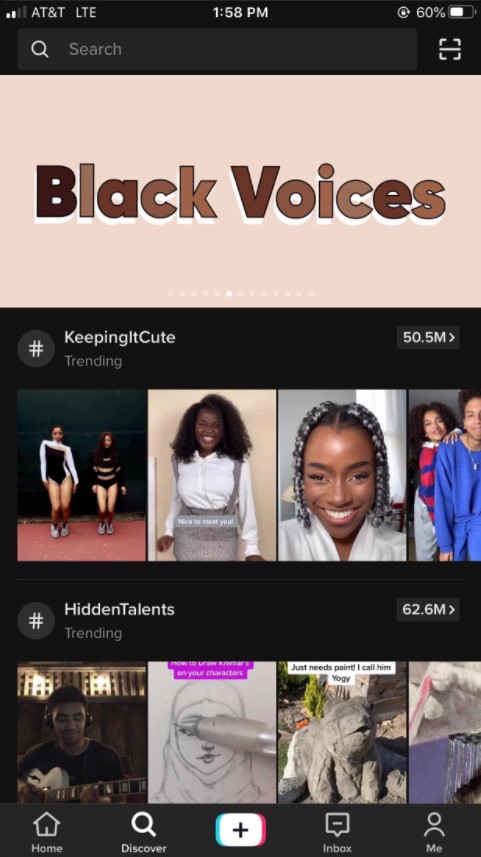 As Casey Newton explains, "In previous eras, most of the spoils went to the platform's earliest adopters — mining value gets harder as the platform ages. TikTok, on the other hand, promotes all content regardless of who made it or how many followers they have."
This means TikTok is a platform uniquely capable of launching individuals into the mega-influencer stratosphere. It also promises the brands that partner with these influencers that their messages and offers will be widely seen.
TikTok also departs from its peers by taking itself less seriously — unlike Twitter, Facebook, and Instagram, there's no "legitimate" use of the app.
While world leaders, decorated academics, and spiritual guides have deemed Twitter and Facebook professional-grade communication channels, TikTok influencers run the gamut from teens creating content for entertainment value alone to budding musicians, micro-influencers, celebrities, and more.
YouTube: The incumbent platform for long-form content
YouTube is an American online video-sharing platform founded in 2005 and owned by Google since 2006. Users can upload, view, rate, share, add to playlists, report, comment on videos, and subscribe to other users.
The mature platform features a huge library of videos spanning formats like video clips, movie trailers, vlogs, original shorts, documentary films, music videos, live streams, and more. Over 500 hours of video are uploaded to YouTube every minute. YouTube has become the second most popular search engine behind Google, and about 38 percent of influencer marketers spend on YouTube.
Despite Instagram's IGTV advances, YouTube undisputedly remains the leading platform for long-form video consumption.
Although like TikTok, YouTube allows you to follow other accounts (or "subscribe," in YouTube parlance), most don't subscribe to many accounts. Instead, like TikTok users, YouTube users seem less concerned with whose content they're watching and more concerned with the entertainment and/or information they extract from it.
These parallel usage patterns suggest users derive similar value from TikTok and YouTube. However, TikTok has one major differentiator: a time constraint. TikTok videos can't run longer than 60 seconds. YouTube creators are allowed much more time and space to relate with their audiences and infuse authenticity into their promotional content.
Interested in learning more?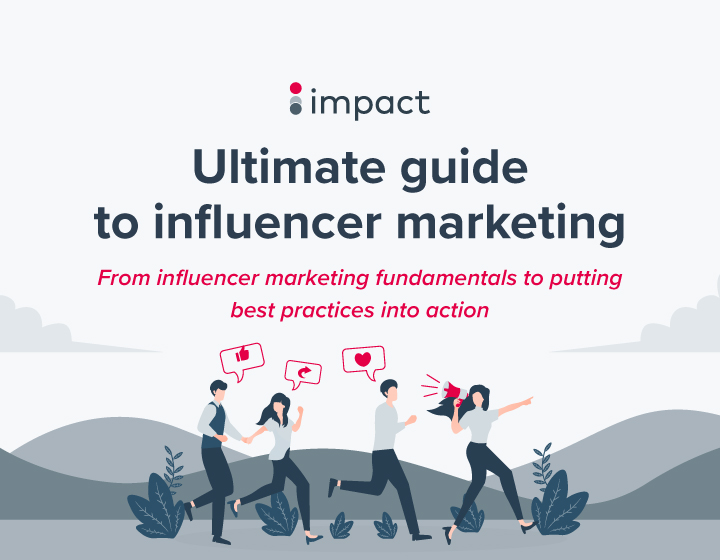 Free guide: The ultimate guide to influencer marketing
Learn all about influencer marketing: what it is, how it works, and how to make it work for you.
Get my free guide
---
Does influencer marketing work?
When managed and tracked properly — absolutely! Influencer marketing has huge potential to deliver results.
So before recruiting influencers to promote your brand, it's important to really think about the type of influencer that will be a good fit for the product or service you want to promote.
Some factors to consider:
Audience/niche: Who do your influencers talk to? What do they specialize in?
Relevance: What content resonates with their audience?
Engagement: What level of engagement do they get?
Geography: Is the location right for your brand?
Quality: Is quality consistent over time? Does it align with your brand's standards?
Channel: Are the channels (blog, Instagram, TikTok, etc.) relevant to your brand?
Authenticity and honesty: Do you see signs of odd activity, such as purchased likes or comments? Here's how to detect scams.
Analyzing an influencer's channel and content to determine fit is just one part of the puzzle.
The next step entails thinking about how an influencer's channel can fit into your broader business goals and, more importantly, how to accurately measure and report on ROI.
---
Tips for using influencer marketing for your business
Whether you define success through brand awareness, content creation, audience acquisition, new market penetration, number of downloads, or subscription rates, influencer marketing — when thoughtfully managed and executed — has the potential to yield tangible business results.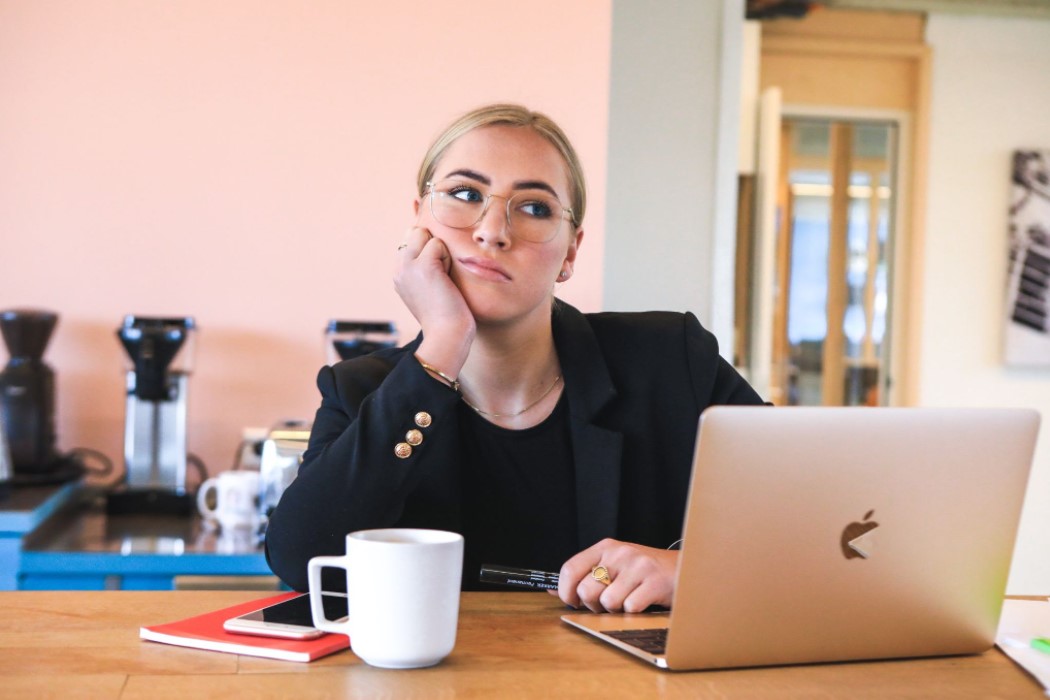 If you decide to earmark some budget for influencer marketing, you owe yourself a critical sanity check: Do I really know what I'm buying?
To avoid the pitfalls of influencer marketing and wasting precious advertising spend, look over these words of wisdom:
Followers, likes, and inane "this is great" comments are not the mark of top-performing content. Demand more than vanity metrics.
While follower counts and retweets can be something to brag about, the bottom line is that they're just vanity metrics. They don't translate into tangible results for your business so why pay attention to them?
Make sure you have insights into audience quality, and hold your campaigns accountable to performance metrics and delivered value.
Ditch the chaos of multi-spreadsheet management. Commit to one end-to-end solution.
Consolidate your patchwork of point solutions into one platform for influencer discovery, recruitment, contracting, campaign management and monitoring, and payments processing. Having a common system of record across all partnerships not only cuts down on subscription costs and saves administrative hours, it helps you make contextualized, strategic decisions for your program.
Don't put all your eggs in one influencer basket. Break out of the rigid influencer model and diversify your roster.
Historically, marketers often made the mistake of partnering only with mega- influencers with deceivingly impressive metrics. They regularly deployed lump sums of cash in exchange for sponsored posts and hoped for the best results.
More often than not, this rinse-and-repeat method led to stagnation and blocked opportunities for discovering tailored approaches that actually deliver real results. Although the influencer universe seems infinite, don't let that keep you from partnering with more than one type of influencer. Diversification is the name of the game.
Enlist hundreds of micro partners, optimize payout terms, and customize your campaigns to satisfy endless objectives.
You can put all this knowledge to work with our guide to influencer marketing.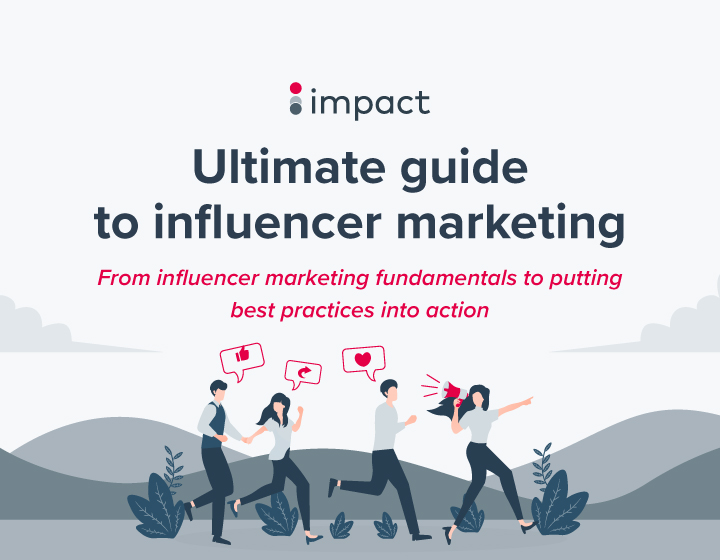 Free guide: The ultimate guide to influencer marketing
Learn all about influencer marketing: what it is, how it works, and how to make it work for you.
Get my free guide
---
2. What are influencer marketing campaigns and how do they work?
Influencer marketing campaigns are coordinated efforts to accomplish a particular business goal by leveraging influencers. As the name might suggest, these types of campaigns target consumers with influencer-generated social media content.
How do you recruit the right influencers for your campaign?
To quote a character from the Netflix show Bojack Horseman, "When you look at someone through rose-colored glasses, all the red flags just look like flags."
When navigating the influencer recruitment process, be sure to take off any vision-altering glasses so you can avoid red flags and pick the best influencers for your campaigns.
Here are three key factors to take into account. When recruiting influencers, look for:
Authenticity. Know they're legit. Look for influencers with meaningful audience engagement who deliver on the authenticity and objectivity consumers want.
Audience quality. Kick third-wheel bots to the curb. Investigate audience quality metrics to avoid burning budget on low-quality followers. Use influencer marketing automation tools like ACTIVATE not only to find the right influencers but to detect fraud. You'll save both money and time.
Performance. Avoid limp results. Look past vanity data and track actionable insights on metrics that matter, including exposure to branding, revenue, new customers, and email sign-ups.
---
How do you measure ROI for an influencer campaign?
Like any top-funnel marketing activity or brand awareness campaign, proving the value of influencer marketing historically has been difficult. In fact, 76 percent of U.S. marketers say measuring ROI is one of the biggest challenges of influencer marketing.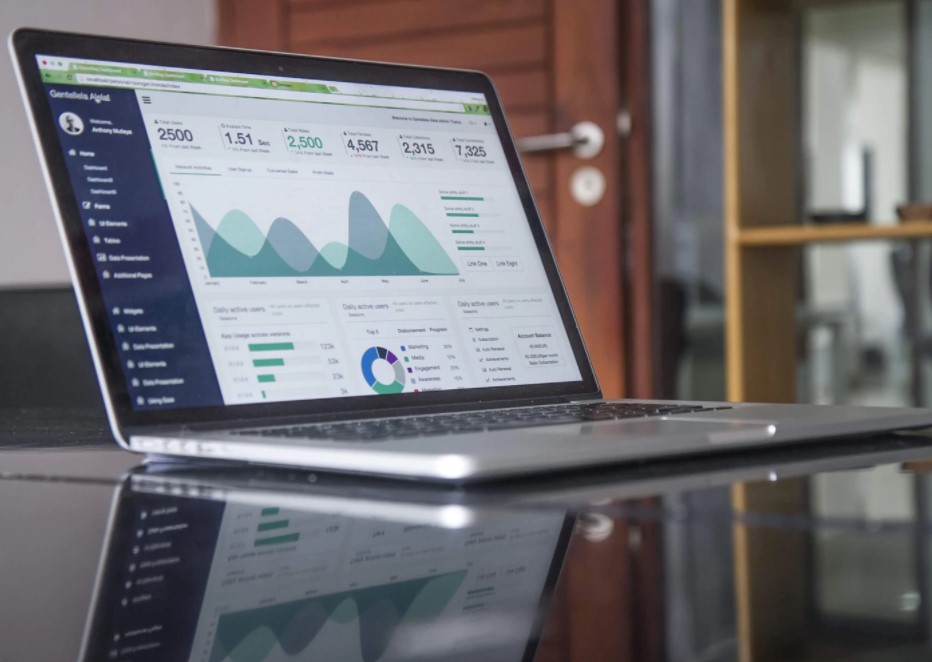 But as budgets for influencer marketing increase, so does the need for accountability.
Many brands make the mistake of only tracking vanity metrics such as followers, likes, and shares. While it's natural to gravitate toward these metrics since they're so common on social platforms, ultimately they're inadequate measures of success.
Avoid falling for the vanity trap and reorient yourself to be ROI-focused. This entails having the ability to track the following data points
Performance attribution, which encompasses actions such as click rates, app installs, and conversions, and how they drive revenue.
Revenue, or (obviously) how much money is coming into your business.
Influencer payout information, which involves the terms of how you compensate influencers for certain actions taken.

Chances are you already realize that much of your influencer performance tracking has consisted of taking your best guess.
To avoid guesswork and the overuse of random graphs to prove a point at board meetings, enlist attribution and conversion tracking tools. These solutions are built to capture the real, measurable value of influencer partners, campaigns, and programs. They tie results to the business KPIs your finance stakeholders really care about.
Once you've gained insight into these metrics, you can more readily define goals and set metrics around influencer campaigns.
---
Examples of successful influencer marketing campaigns
Markers of success may vary across influencer marketing programs, but a universal indicator of achievement is the ability to back up your decisions with data.
With accurate, thorough data in hand, it's easier to speak tangibly to the value you drive.
The following examples showcase three successful influencer–brand campaigns that yielded quantifiable results for players in the fashion and beauty, gaming, and home and family spaces.
1. How environmentally conscious apparel brand, Ivory Ella, grew revenue and maximized return with influencer marketing
Ivory Ella is an apparel company that sells clothing and accessories. The brand donates a portion of its sales proceeds to Save the Elephants, a nonprofit dedicated to wildlife conservation of elephants.
The brand wanted to launch a new partner marketing program so it could reach untapped audiences, leverage its existing influencers in a more efficient way, and form new partnerships, too.
Using promo code tracking and attribution, Ivory Ella was able to quickly scale its program. It also began segmenting partners differently to take advantage of each group's unique value adds.
By the end of its partner program's first year, Ivory Ella saw:
11 percent of its total revenue coming from partnerships
19X partner program return on ad spend (ROAS)
56 percent increase in year-over-year (YoY) revenue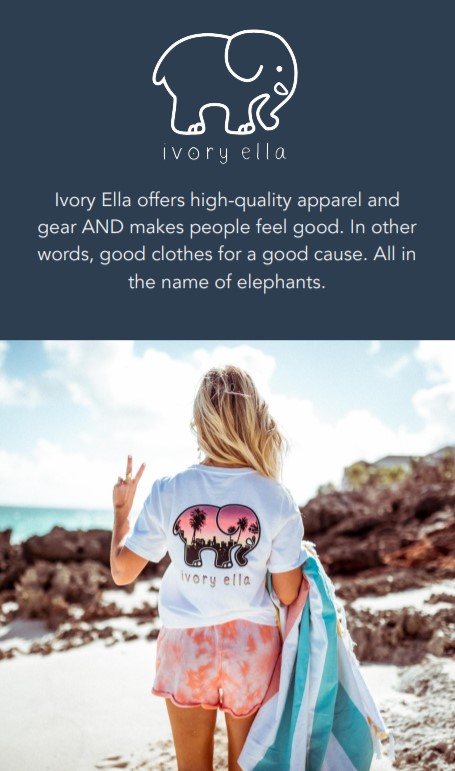 2. How gaming hardware brand, Razer, partnered with gaming influencers to improve efficiency
Razer is a technology company that specializes in designing, developing, and manufacturing gaming hardware.
Before automating its influencer marketing operations, Razer's global partnership program faced inefficient workflows, a lack of granularity on reporting, and a lack of diverse partner types. By migrating to Impact, the company streamlined its operations, gained actionable insights, and scaled its program to include nontraditional partners like YouTubers and video game live-streamers.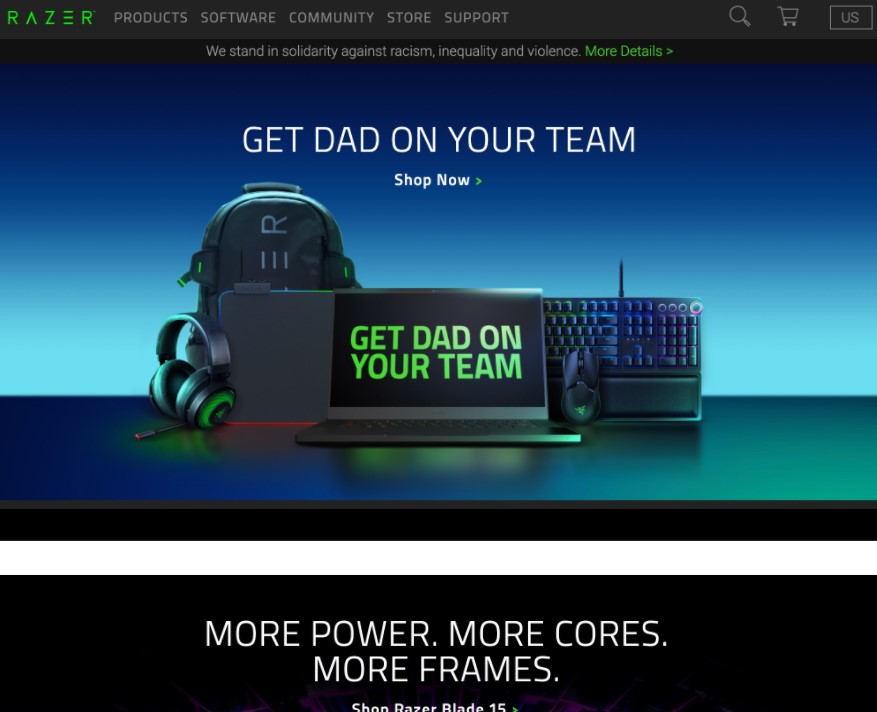 As a result, Razer quickly expanded into new markets across Southeast Asia and has experienced:
33 percent increase in efficiency
33 percent decrease in time spent manually managing partners
34 percent growth in its partnership program
Learn more about how Razer harnessed automation to achieve scalability and success.
3. How custom poster company, Mapiful, improved conversions by partnering with home and family influencers
Mapiful is a poster company that allows customers to create custom map prints of places that hold one-of-a-kind significance.
By automating and streamlining its entire influencer partner life cycle into one system of record, Mapiful was able to recruit influencers who met its specific criteria.
Even more importantly, its six-person team gained the capacity to handle 1,000+ product exchanges each month. Mapiful's product exchanges comprise about 80 percent of its influencer collaborations. In these cases, Mapiful sends an influencer merchandise and the partner posts on its behalf to generate brand awareness (with no sales expectations).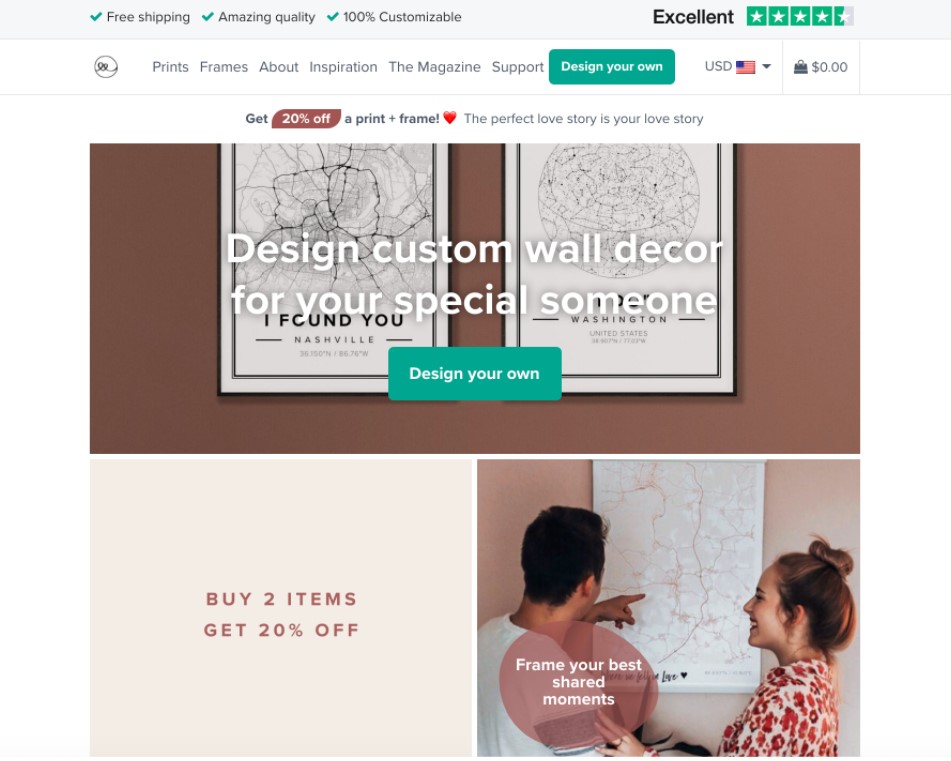 Mapiful further optimized its program by identifying and blocking fraudulent activity, such as partners posting links on coupon sites.
As a result, Mapiful has:
Saved 45 hours per month on partnership administration
Onboarded 13,000 new partners in its first year
Generated 3X more conversions from product exchanges
See how Mapiful achieved these results.
---
3. Best practices for launching influencer marketing campaigns
How do you develop a sustainable influencer marketing strategy?
Marketing is a fast-paced industry, and influencer marketing in particular is always undergoing rapid change. In order to keep up, it's crucial to keep longevity top of mind when building out your strategy.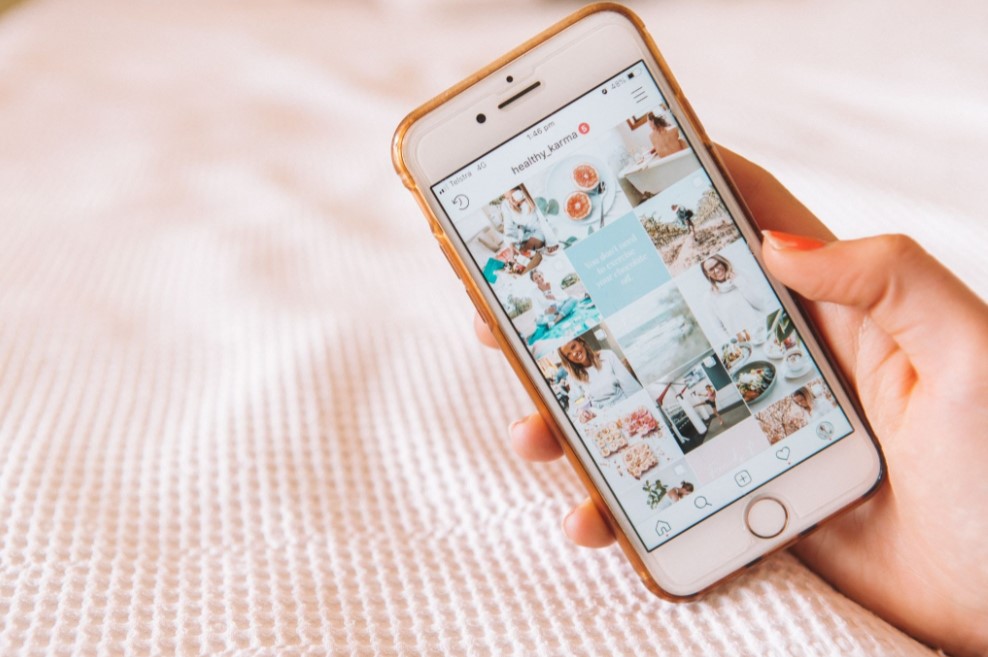 Here are three suggestions on how to keep your strategy sustainable and evergreen:
1. Stop treating influencer marketing like a one-off transaction.
Influencer partnerships are not meant to be set-it-and-forget-it arrangements. Like any relationship, they require transparent communication, collaboration, and care in order to thrive and grow. Yet too many organizations continue to make the mistake of approaching influencer relationships with "one and done"-style engagement.
The one-off approach often finds marketers spending huge chunks of cash on an undiversified roster of mega-influencers in exchange for a sponsored post here and there. This strategy yields mixed results at best and doesn't allow marketers to nurture long-term relationships — especially those that deliver mutual success.
Be patient. Cultivating good relationships requires time.
To create successful relationships and truly see results, think in terms of the full life cycle, similar to the way you would manage other partners like affiliates and media houses. The best way to set up your organization for success with influencers is to adapt a life cycle management blueprint. To get the best out of influencers, shift your approach from just "discover and recruit" to create mature partnerships that consider the full life cycle, from discovery through to delivery, performance tracking, and payments.
Get it right and you'll see a significant lift in the quality, scalability, and efficacy of your influencer program.
2. Pay only for what you can measure.
Marketers often struggle to set goals and understand the results that come with their influencer marketing program. As the era of using followers as currency dies, so does the tactic of paying for influencer posts — especially if you have no way of measuring performance.
Instead of paying a flat fee, consider paying based on performance — whether that's cost per engagement, cost per click (CPC), cost per lead, cost per sale, or a fixed payment when an influencer participates in driving a sale. As long as you can track it, it's fair game.
Data is only useful if you make it actionable. Similar to partnership programs that enable you to pay influencers based on KPI performance, find a platform that allows you to tweak the payout terms of your influencer partnerships. This will better serve your KPIs, from pay-per-post to CPC, and even performance-based compensation such as cost per acquisition (CPA).
3. Diversify your influencer base.
Many brands that previously focused on celebrity influencers and macro-influencers are getting more creative with their partner selection. However, the time commitment and the stress of managing a campaign is causing many to miss out on including more long-tail opportunities with micro-influencers or nano-influencers.
Using a varied mix of influencers is far more powerful than sticking to a single type alone.
---
What are the best influencer marketing tools for brands?
When handled manually, influencer marketing can get a little complicated.
Luckily, many of the influencer marketing software solutions on the market empower marketers to seamlessly discover, track, and manage campaigns — without the hassle of toggling between multiple spreadsheets.
Consider the following points when vetting an influencer management tool for your business:
Prioritize efficient, high-quality creator discovery with large, opt-in creator networks.
An opt-in creator network of prequalified partners is a key tool for rapidly finding the right creators. You can proactively discover influencers, searching and browsing by robust data points (informed by connected social accounts). You'll also receive inbound partner interest by extending surveys, stipulating your campaign criteria, and letting qualified creators come to you.
With over 300k opt-in influencers, influencer management platforms like ACTIVATE (by Impact's partner network) allow marketers to more efficiently find influencers. This means you'll waste less time vetting and pursuing creators and have greater confidence in the partnerships you choose to establish.
Find a platform that facilitates productive partner experiences with dedicated influencer portals.
Many influencer management platforms are built for brands only, and treat influencer user experiences as an afterthought.
Keep this in mind to ensure that the platform you select meets the needs of all parties in building the most productive and strategic partnerships.
Bespoke flexibility with portal tools results in easier, more efficient work for your influencers, saving them time on manual workflows so they can dedicate more time to creative execution.
Treat your influencer channel like an acquisition channel. Gain confidence in decision making with reliable ROI measurement, as well as cross-device performance tracking and reporting.
Without reliable tracking, attribution measurement, and cross-device reporting, you may end up making blind spending decisions that compromise the success of your influencer program.
But if you have trustworthy performance data that accurately tracks how much of an impact each influencer activation generates, you'll have greater confidence in your decision making going forward.
Tool vetting aside, it's critical to keep your influencer partners happy through transparent communication and fair compensation terms.
Influencers can generate revenue and ROI
Like any relationship-driven craft, influencer marketing requires tact to execute it well. When marketers and influencers cultivate mutually productive relationships, the potential to generate revenue and maximize ROI can be incredible for both parties.
---
Now that you've mastered the fundamentals of influencer marketing, schedule a demo to learn how Impact's Partnership Cloud™ can help your brand strategically manage influencer campaigns, and how it connects influencers and creators with the world's leading brands.
For more ideas and guidance on influencer partnership management, check out these other Impact resources for influencer partnership management:
You've learned influencer marketing fundamentals — go to the next level with these free courses. Enroll today.