INFLUENCER MARKETING
Discover, recruit and scale the right creators for your marketing program
Gain full-funnel influencer content performance data in one platform




---
What best describes you?
Find and engage qualified influencers faster
Join our Marketplace and collaborate with 80k opt-in and vetted creators
View creator metrics including audience demographics, engagement, and more
Contact creators directly and receive proposals from creators applying to your campaign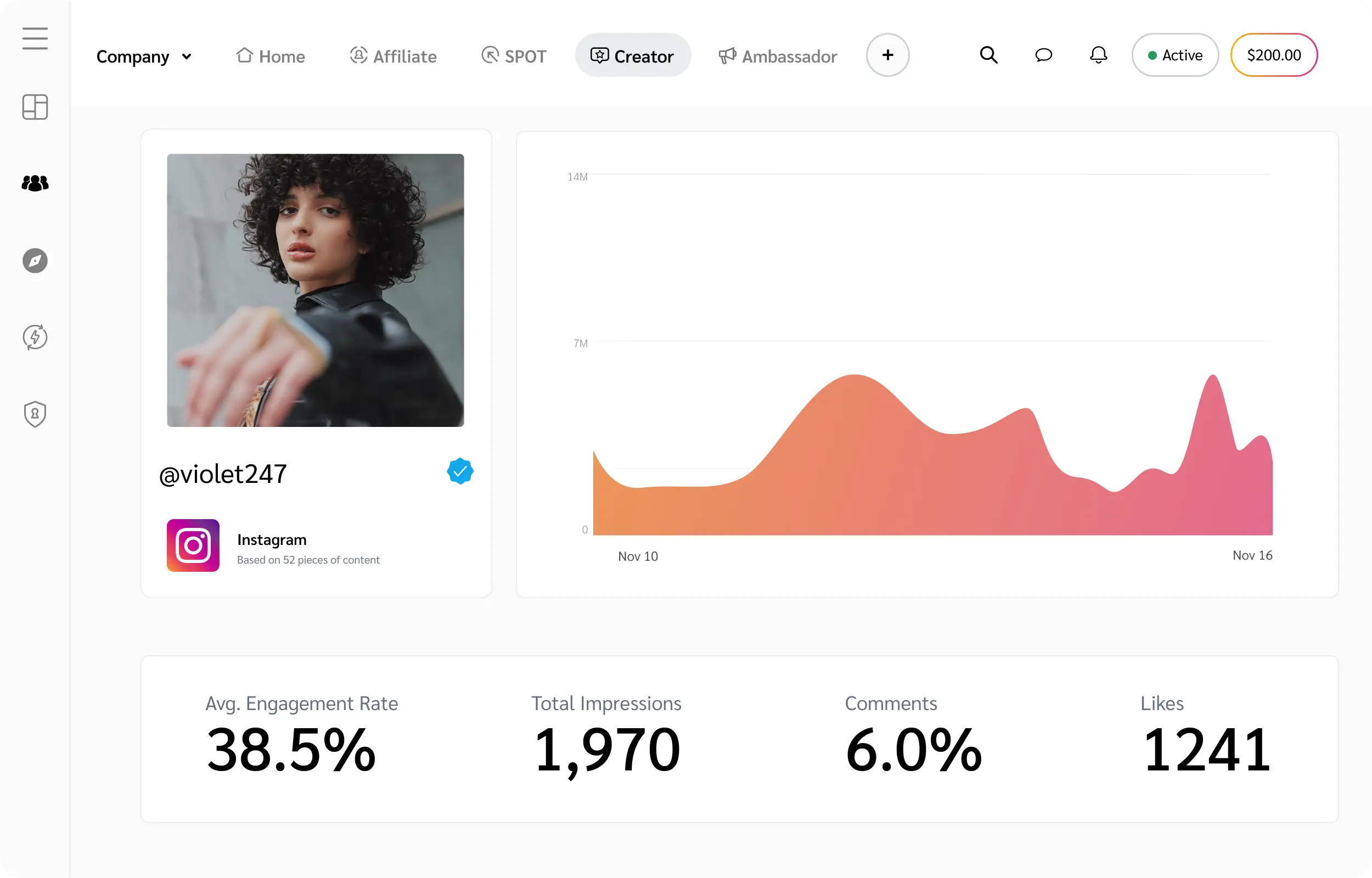 Manage your campaign all in one place
Get flexible contract terms
Automate task reminders and deliverables
Stay in contact with creators
Store, review, share, and amplify content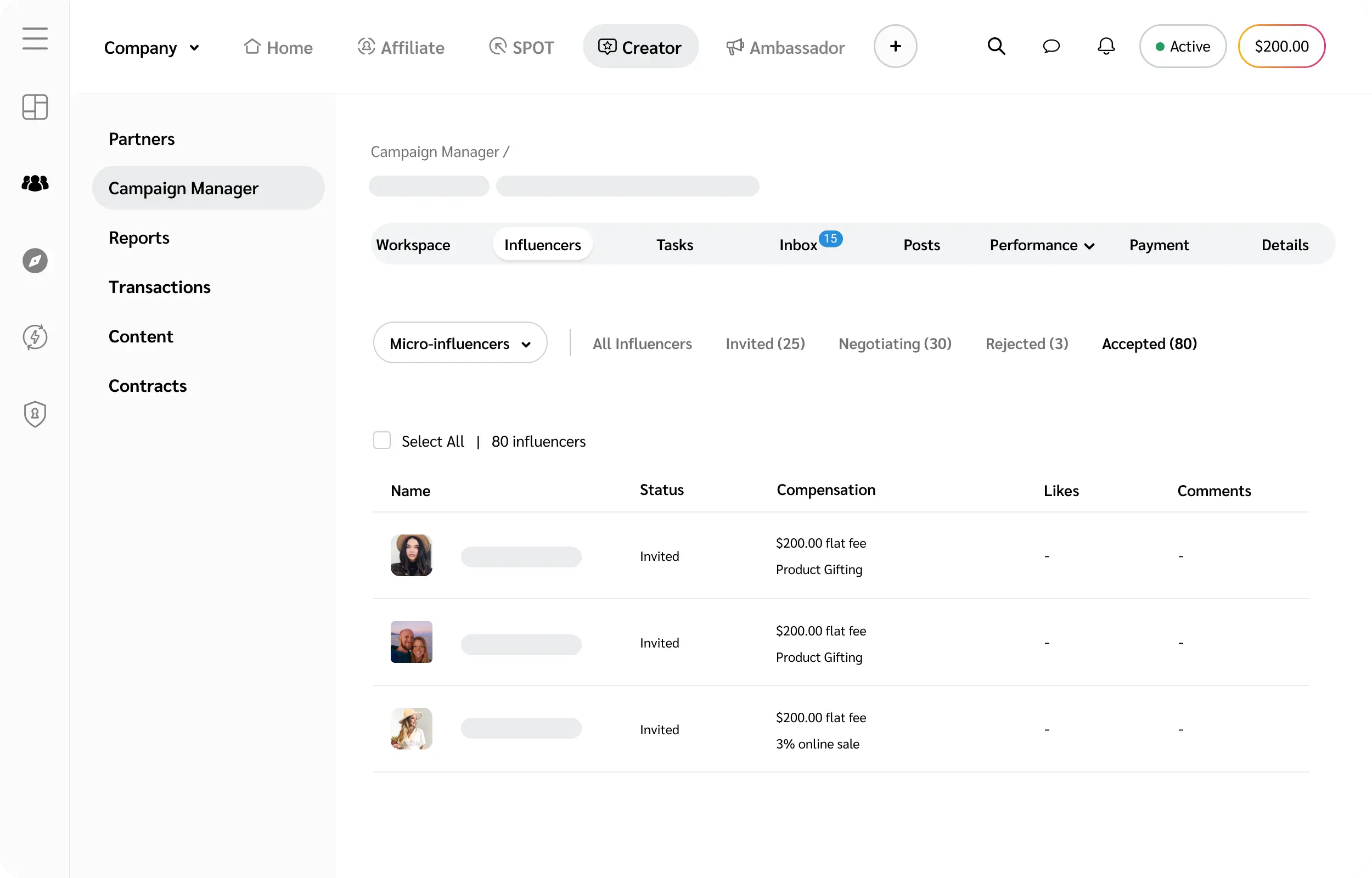 Automate campaigns with expedited creator setup
Manage and negotiate your creators' terms
Specify deliverables, compensation, usage rights, and more up front
Set up qualifying application surveys in just a few clicks
Set payment terms as short as next-day for flat-fee campaigns and 30 days for performance campaigns
Maximize creator impact across the full-funnel with actionable metrics
Gain best in class performance tracking and reporting across all channel
See where you're making the biggest impact
Access first-party creator data
Use the wrap report to demonstrate how your campaign is hitting your business goals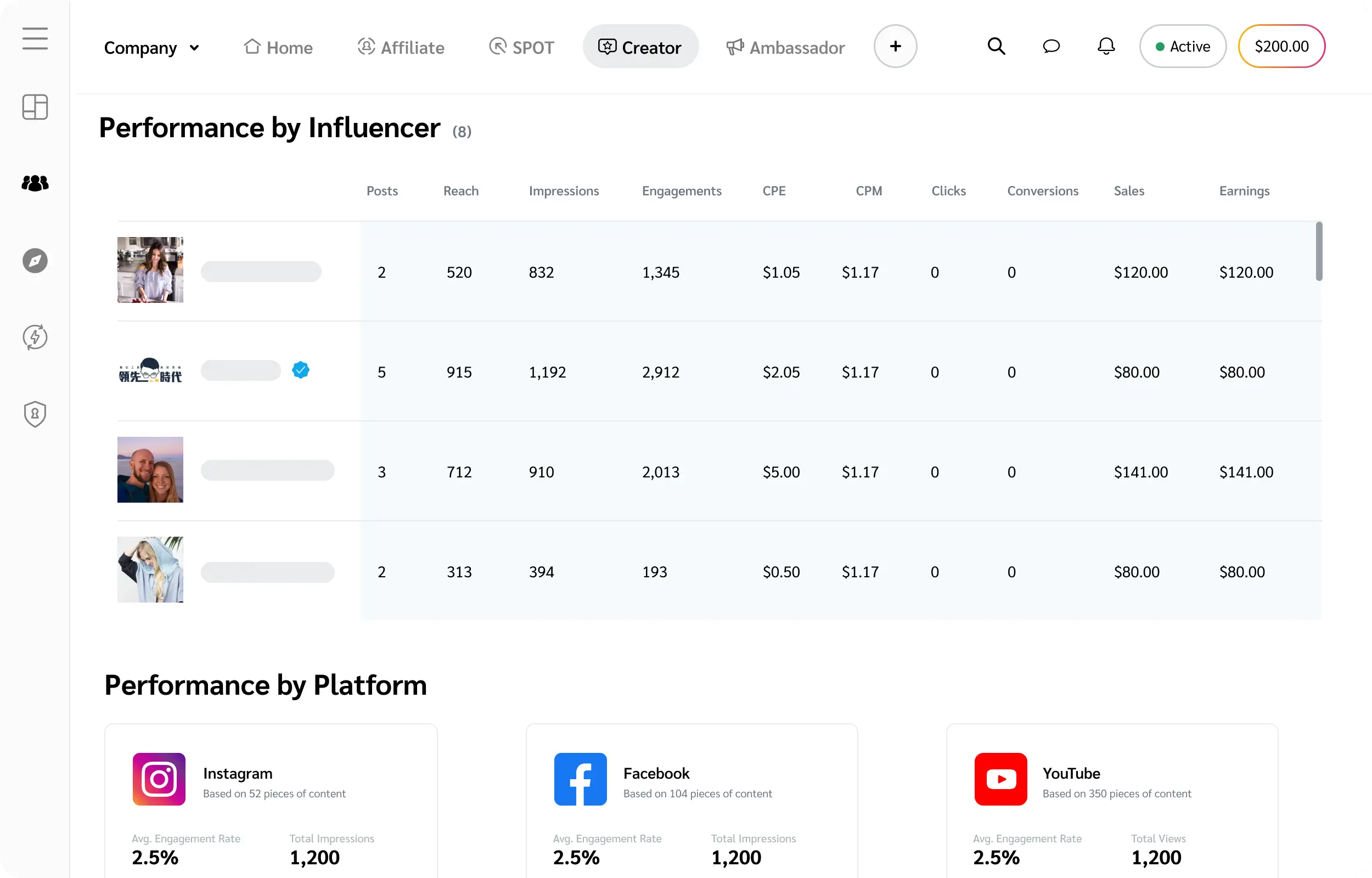 Build campaigns across brands with step-by-step workflows
Manage multiple campaigns across brands
Use toggles to review applications, hire talent, contact partners, and review creative content
Keep your influencer campaigns on track with complete visibility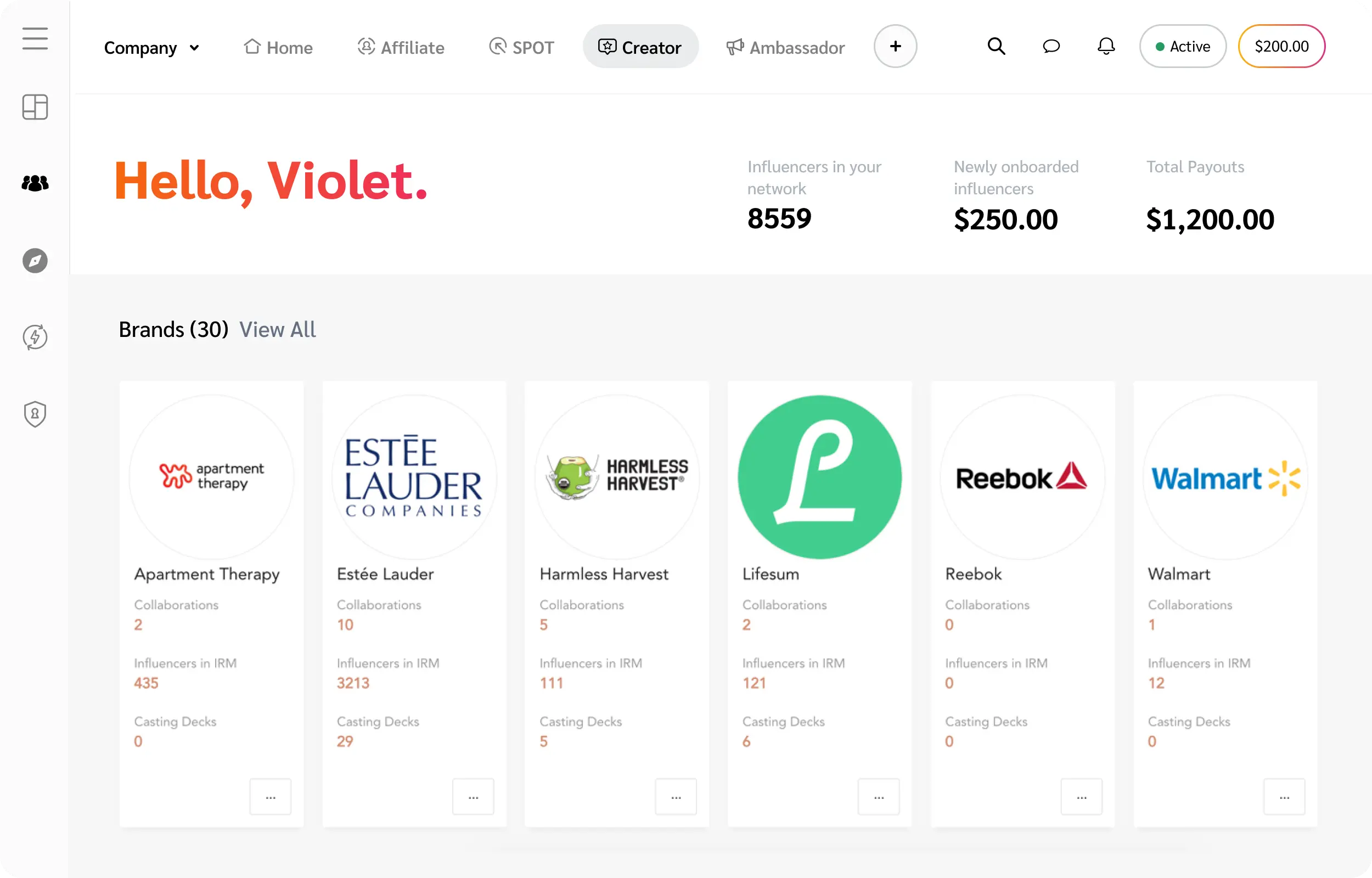 Personalize influencer discovery and recruitment
Generate personalized brand lists
Apply for brand collaborations directly
View your brands, campaigns and invitations
Explore suggested brands, products of the day, and offers of the day
Track all your partner progress in one place
Manage and track all your influencer partners
Store your partners' personalized information, see past collaborations, and pull social metrics
View compensation terms
Create custom fields for each brand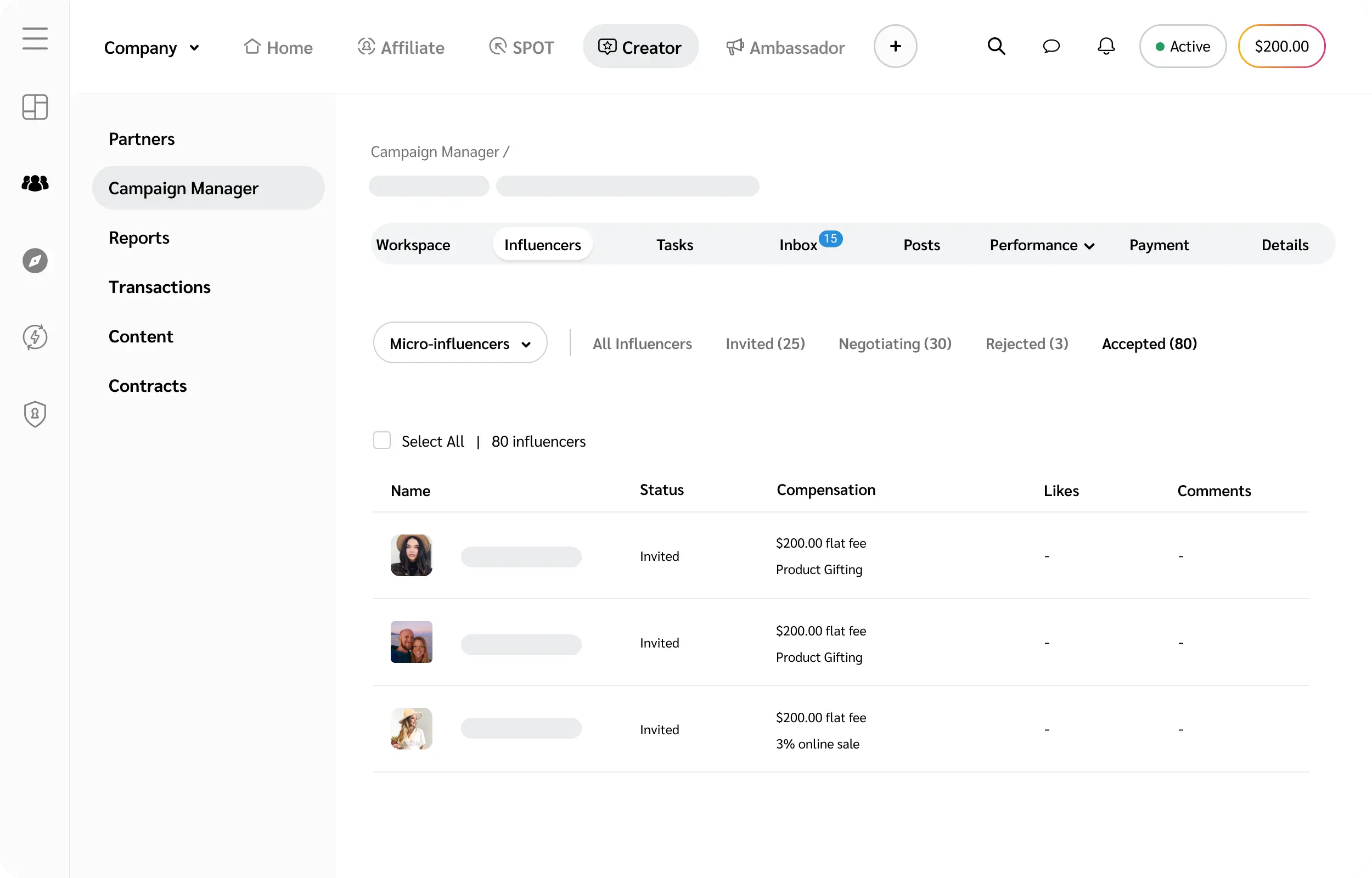 Gain complete campaign performance tracking
Automate and share wrap reports with stakeholders that dive into your performance metrics
View performance by creator including the number of posts, their reach, sales, and more
Track performance across every platform and see average engagement rates and total impressions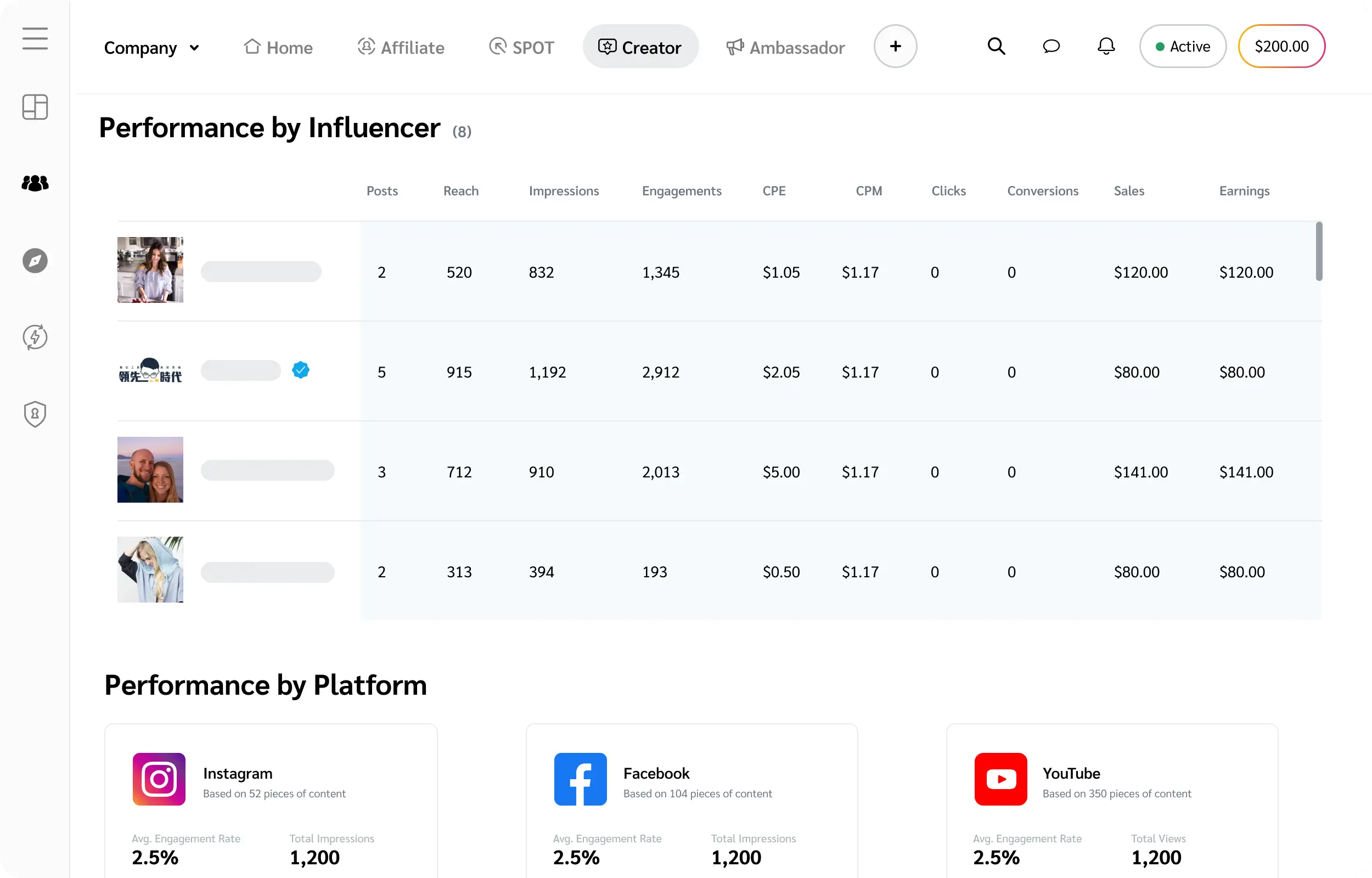 ---
Product highlights
Manage all creator-generated content from a centralized library
Store all your published content in one place for easy reference
View centralized information about usage rights
Pull content to repost or amplify
Filter content by date, creator, or platform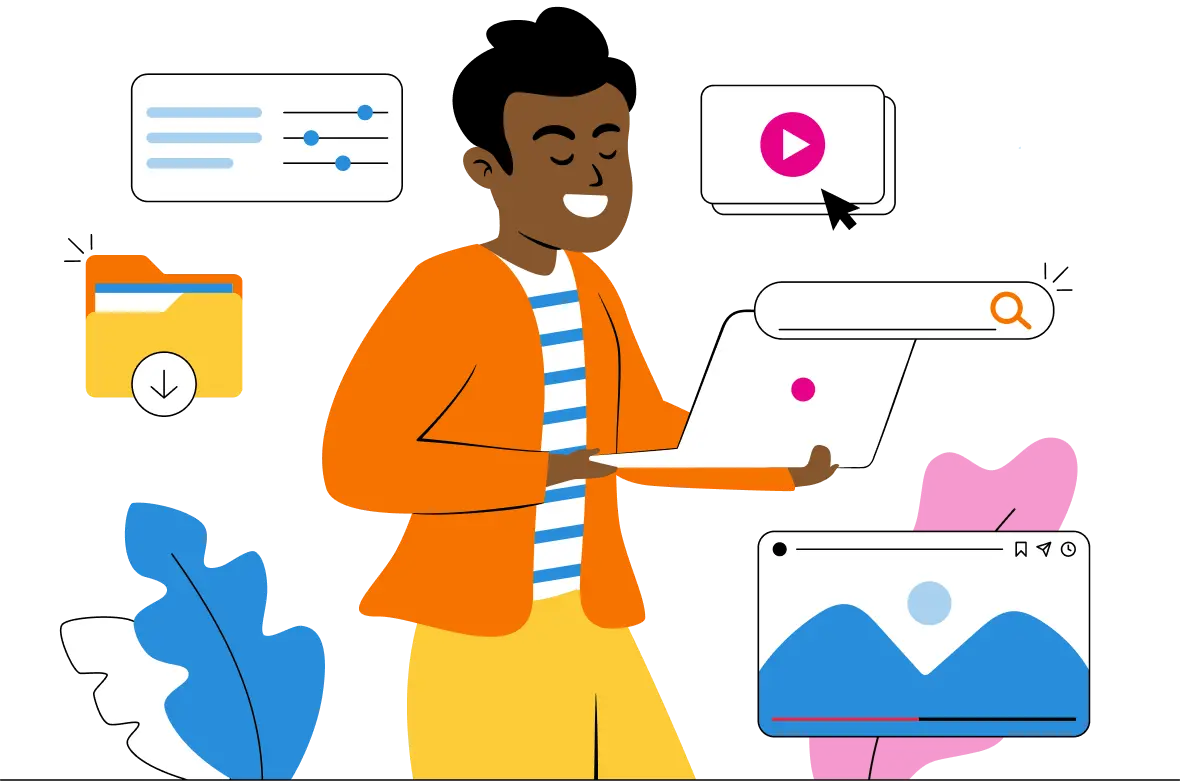 Maximize your reach with paid amplification
View and amplify content directly from the Content library, with insights into usage rights and exclusivity
Repurpose content across your social channels
Access your influencer-generated content any time and use it for paid amplification
Use promo codes to 
track conversions
Let your community of content creators help you convert traffic using promo codes
Create and assign promo codes in the platform
Make attribution easy with insights into the consumer journey and performance reporting
Credit payouts to your partners for their efforts
---
Storefront integrations
Simplify seeding campaigns and sharing promo codes with influencers.

Shopify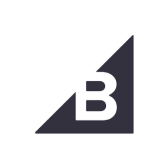 BigCommerce

WooCommerce

Centra

Shopify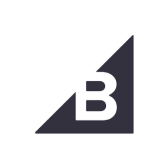 BigCommerce

WooCommerce

Centra
---
Aligning marketers and influencers
Discover how influencers and marketers align, and differ, to create a powerful influencer marketing engine.