INFLUENCER MARKETING
Build authentic brand trust with influencer partnerships
Automate, streamline, and customize your influencer marketing program with ease


---
What best describes you?
Discover and recruit the right influencers faster
Tap into our global opt-in network to find qualified creators eager to join your campaign. Use the creators' opt-in data to hyper-target your recruiting efforts and launch your campaigns fast.
Store creator contacts all in one place
Quickly build and leverage creator relationships with a purpose-built influencer relationship management system. Use custom fields to track your campaign and store unique partner data points. Keep your entire partnership history in one easily accessible place.
Launch campaigns faster with expedited creator setup
Manage and negotiate your influencers' terms and conditions through easy workflows that specify deliverables, compensation conditions, and terms of use for influencer-generated content. Set up qualifying application surveys for your campaign in just a few clicks.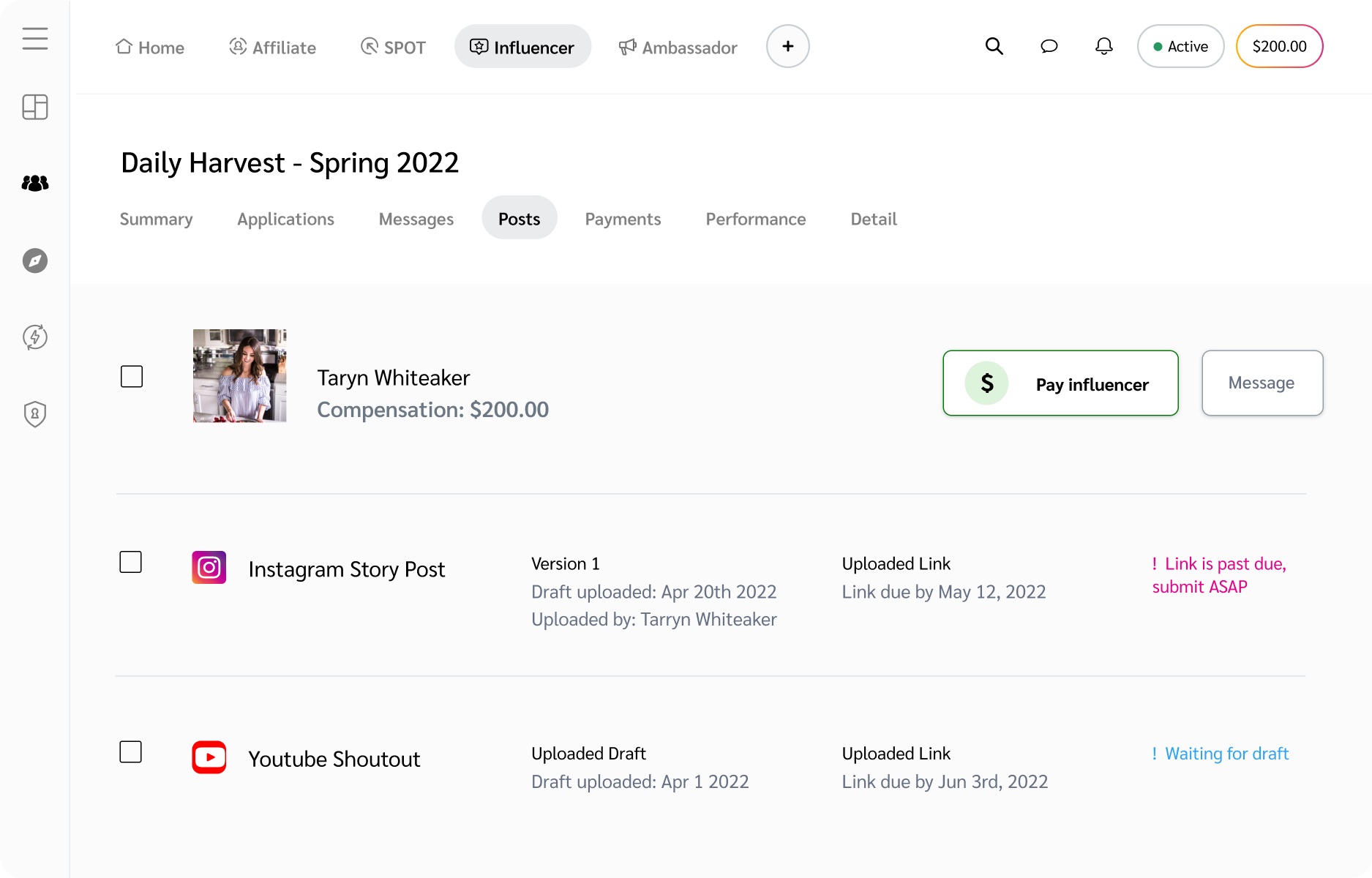 Track and report on success metrics that matter most
Capture each success metric for a full-funnel view of campaign or program performance. Integrate performance tracking — from awareness and consideration to conversion. Use the wrap report to share your success, demonstrating how influencer marketing contributes to your business goals.
Build campaigns across brands with step-by-step workflows
Managing multiple campaigns across brands can be complicated. Easily toggle between your managed brands to review applications, hire talent, communicate with partners, and review creative content. Access these tasks in staged workflows and keep your influencer campaigns on track.
Personalize influencer discovery and recruitment
Identifying and recruiting new partners? Each brand comes with a unique set of requirements and targeting parameters. As you develop new partnerships, individualized recruitment efforts help you to build personalized lists and streamline communication.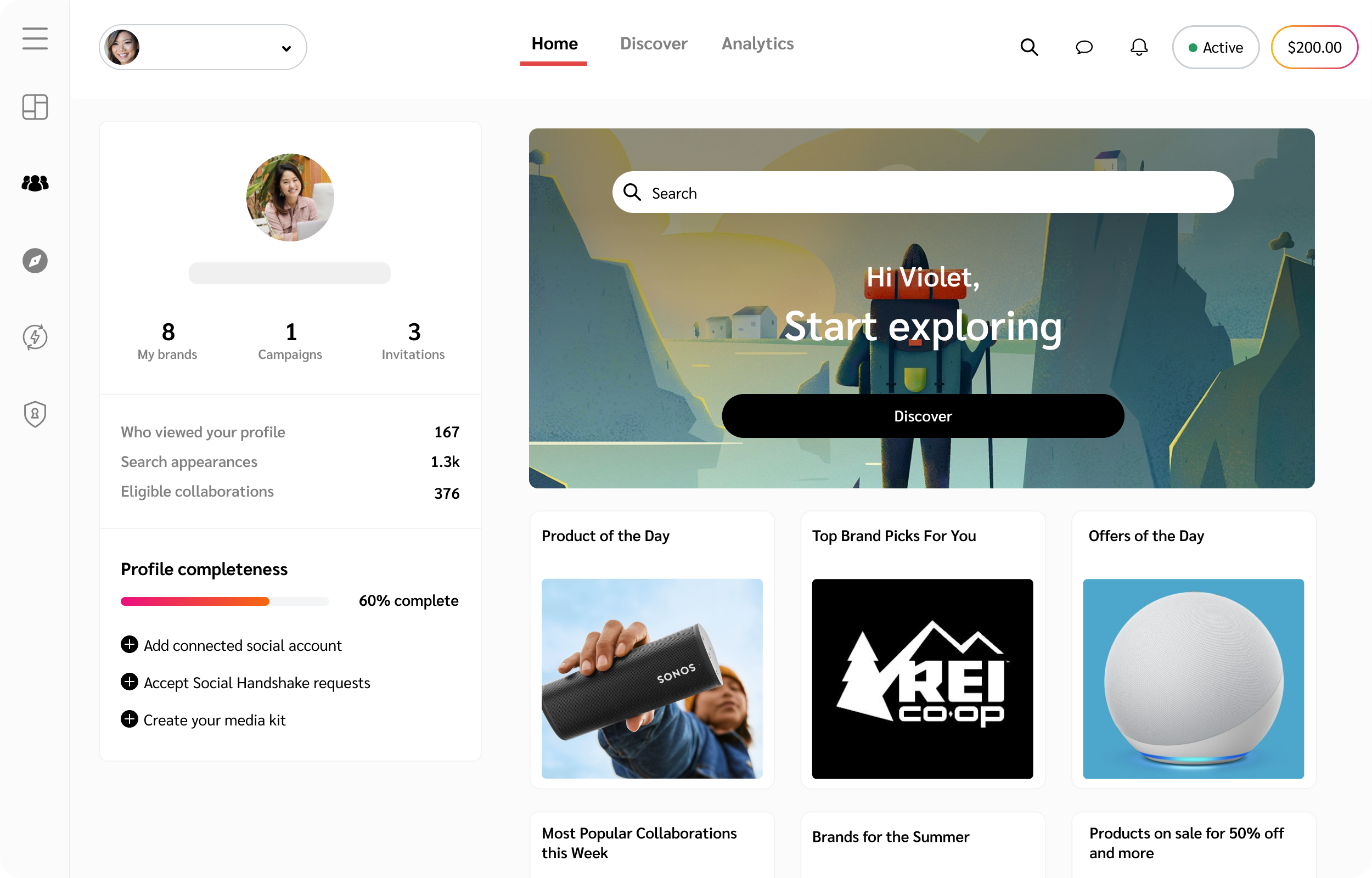 Keep track of all influencer details in a single place
Once you've discovered the right creators, it's time to manage and keep track of them. Save all your influencer details in a single place. Capture basic and personalized information, keep a history of collaborations, pull in social metrics, and even create custom fields for each brand.
Wrap up campaign performance in a nice package
Tracking campaign performance and proving its value earns the trust of brands you represent. The Wrap Report function packages brand performance metrics and influencer content into one beautiful, shareable report.
---
Product highlights
Content library
Product gifting
Paid amplification
Promo codes
Content library
Access and repurpose any content influencers have created for you — all in one place. You can find influencer-generated content (IGC) in the Media Vault, which allows you to easily filter, tag, and download all IGC related to your brand. The content library has additional hashtag and social listening tools to enhance your search for IGC created for your campaign.
Make product gifting easier with storefront integrations
Shopify, BigCommerce, and WooCommerce storefront integrations get your product directly into the hands of influencers. Creators select the products they love and provide personal details based on your guidelines. The integration eliminates capture and tracking details such as shipping or size requirements. Let all details flow seamlessly into both your order management system and the impact.com platform experience.
Leverage paid amplification and get more out of your content
Amplify user content and extend its shelf life. The Advertiser Access feature helps you repurpose content in social channels and directly access your influencers' business Facebook and Instagram accounts. Use social amplication techiniques such as dark posting, allow lists, and boosted posts to gain additional value from user-generated assets.
Use promo codes to track conversions
Let your community of content creators help you convert traffic by leveraging promo codes to track conversion events. Create and assign promo codes in the platform and we will take care of all attribution, performance reporting, and crediting payouts to your influencer partners.
---
Storefront integrations
Simplify seeding campaigns and sharing promo codes with influencers.

Shopify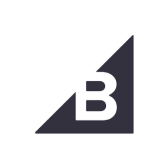 BigCommerce

WooCommerce

Centra

Shopify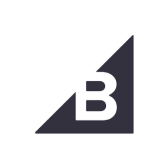 BigCommerce

WooCommerce

Centra
---
Aligning marketers and influencers
Read this important new research to discover how the perspectives of influencers differ — and align — with marketers so that you can create a powerful influencer marketing engine.