Fortify your partnerships
Expose affiliate fraud, influencer fraud, and traffic abnormalities wherever they corrupt your conversion paths. Cut out invalid traffic and reinvest spend in high-quality partnerships.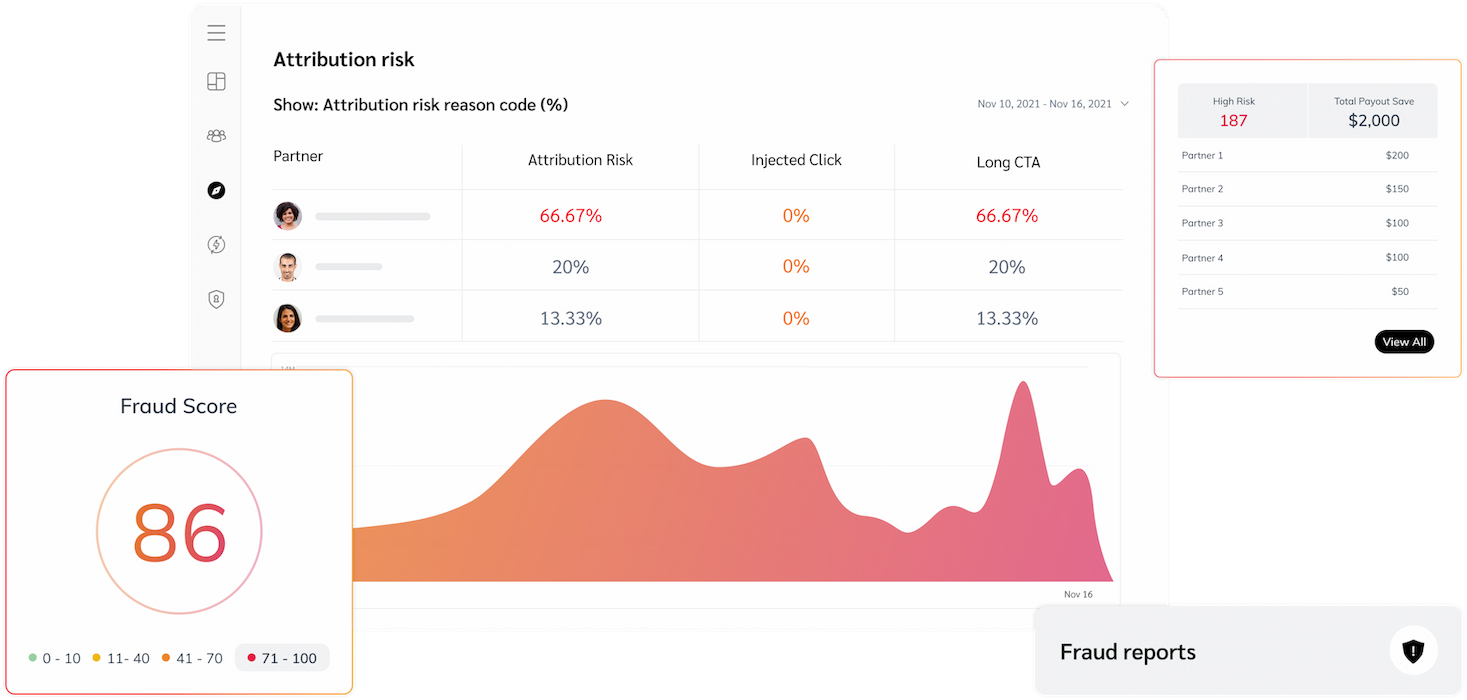 ---
Allocate spend to legitimate partners only
Purge affiliate and influencer fraud and only reward value.
Eliminate affiliate fraud
Bad actors game attribution models to claim payouts for conversion events they didn't drive. Monitor your traffic for simple and sophisticated click-fraud techniques to cut out attribution risk and strengthen relationships with quality partners.
Pay for leads, not dead-ends
Fraud especially targets lead-generation campaigns, collecting high payments for stolen or recycled info. Gain real-time insights into suspicious traffic sources to quickly identify high-risk partners. Block payments for illegitimate lead and conversion events.
Stop funding fake installs
Fake installs can come from human or bot-based fraud farms, achieving scale across hundreds of hijacked mobile devices mimicking legitimate behavior. Leverage layered detection methods to find and flag sources resembling install farms and bots. Pay only for valid installs.
---
Identify suspicious payments
Benefit from an industry first: machine learning-based fraud scoring for your partnership program. Suppress and reverse payouts to high-risk sources. Streamline your quality assurance and partner relationship management all at once.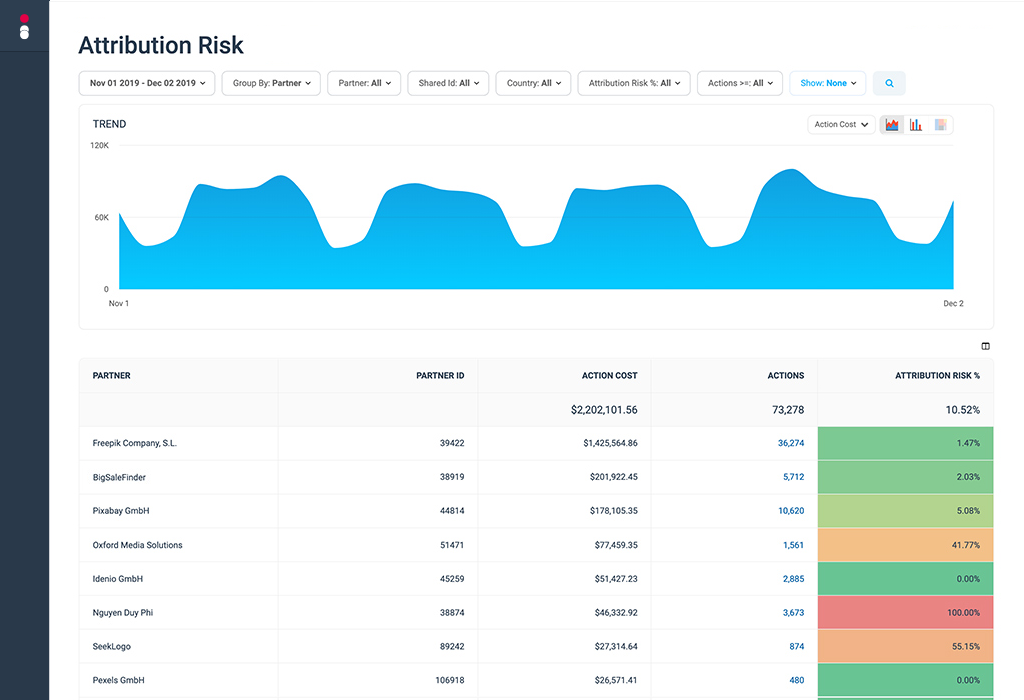 Fraud reports with reason codes
Get transparent reason codes that explain the nature of the suspicious or high-risk traffic. See aggregate views of your traffic quality with summary statistics.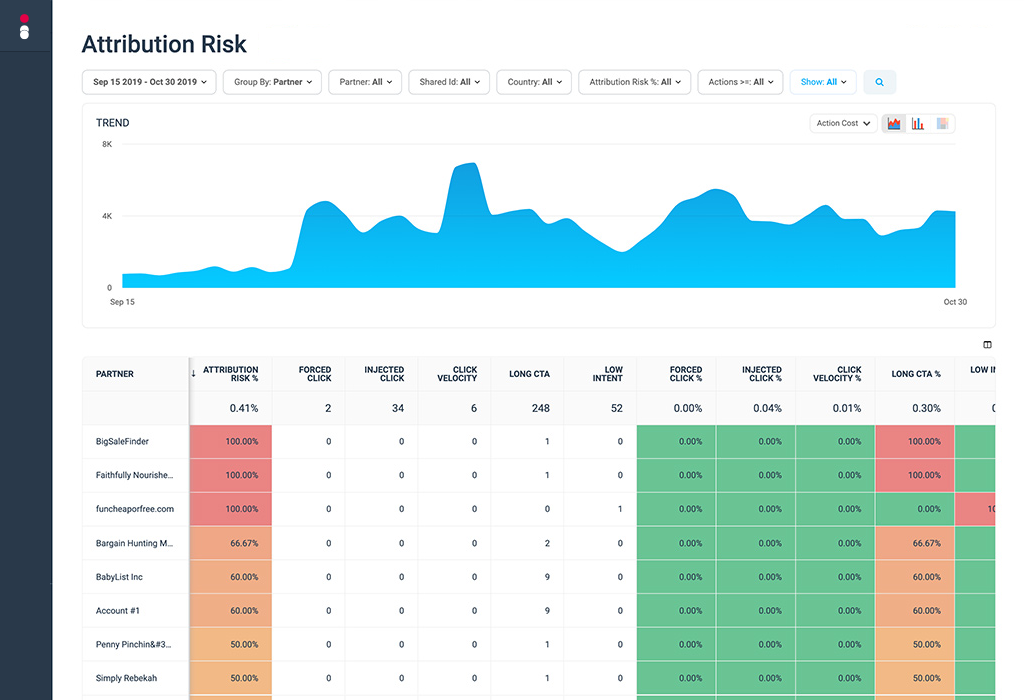 Data science support
Rely on a global team of data scientists who train our sophisticated detection algorithms, maintain fraud intelligence databases, and provide customized service. With their support, you'll always have up-to-date defense against ever-evolving fraud.
Don't fear the regulator
Does the thought of hundreds of independent partners promoting offers in your highly regulated industry keep you up at night? Our compliance tool lets you sleep like a baby.
Prevent liability, ensure accurate content, and avoid nasty surprises with continuous monitoring of your partners' copy, creative, and offer details. If anything is off, we'll let you know.
---
How performance fraud works
Visit our animated gallery of web- and app-based fraud techniques to discover: what is performance fraud? How does it work? What does it look like? Find out how to best protect your partnerships from the wide range of insidious threats you face out there.
Read more
---
impact.com partnership management platform
Manages, protects, and optimizes all of your organization's different partnerships. Learn more about how we can help you scale faster.
Discover & Recruit
Contract & Pay
Track
Engage
Protect & Monitor
Optimize
---