Media-savvy consumers and digital natives look for authenticity in marketing. In recent years, brands have increasingly turned over marketing budgets to influencer marketing as a way to connect with a wider audience. 
But, with the rising trend in creator partnerships, brands are more likely to encounter fake influencers. According to Statista, 49 percent of Instagram influencers on average were involved in fraudulently inflating follower count.
It's crucial for brands to understand influencer fraud, how to spot bots and fake engagement, and how to discover and recruit the right partners to connect with new audiences authentically.
Key takeaways
Brands should learn the five types of influencer fraud and how to detect each one.
Partnering with a fake influencer can damage a brand's reputation, and decrease the possibility of repeat business.
Brands can detect influencer fraud by analyzing engagement, reviewing followers, and auditing comments on suspicious accounts.
Using tools to discover vetted partners, and detecting and monitoring fraud can mitigate risk and protect your brand.
Influencer fraud: what it is and why brands should avoid it
Influencer fraud is the process of social media users purchasing fake engagement, and followers to give the perception of success and popularity. Some users do this to attract new followers and grow organically, while others do this to lure brands into partnerships.
The illusion of popularity can attract unsuspecting brands, leading to partnerships that may not produce results. These bad actors also harm the influencer marketing industry because brands will see diminishing returns on investment and lose trust in their audiences.
The opportunity to reach potential customers by partnering with genuine influencers is more than worth the risk. According to impact.com's latest consumer research report, 64 percent of consumers repeatedly make purchases based on an influencer's recommendation or review at least some of the time.
Marketing teams need to recognize these scams so they can invest their budget wisely: reaching their ideal customer base through influencer partnerships. Fraudsters waste time, effort, and resources—giving legitimate content creators a bad name.
---
Why influencer fraud keeps growing
According to the Federal Trade Commission (FTC), more than one in four people who lost money to fraud in 2021 said it started on social media. In 2022, organizations worldwide lost $1.5 billion due to influencer scams. Scammers find social media the most profitable of any other method of reaching people.
Firstly it's a low-cost way to reach billions of people worldwide. As scammers become more savvy, it's easier for them to create fake personas and even hack existing accounts to reach their followers. Scammers also study their audience, using the same tools as advertisers to target people with fake ads based on personal details such as age, interests, or past purchases.
---
5 types of influencer fraud
Influencer fraud can take on many forms. These strategies keep evolving alongside changing tech and social media platforms. This makes it tough to see past the fakery and separate valuable influencers from the scammers.
These are the five types of influencer fraud:
Purchasing fake followers
Boosting metrics with bots
Forming engagement pods
Creating copycat accounts to pose as legitimate influencers
Failing to post
Let's take a closer look:
1. Purchasing fake followers
Some people buy followers and subscribers directly. Working with a service or network of bots, these bad actors inflate their audience size.
Many of these profiles are as blank as possible—sometimes just using random numbers as usernames. But realism isn't really the point of this scam. Fraudulent influencers aren't expecting potential partners and brands to click-through and check each account. What matters to them are the main numbers: likes and follows.
Bulk-buying an audience makes these content creators instantly more appealing and trustworthy (at first glance).
Tip: Pay attention if an influencer's follower count drastically increased all of a sudden—especially if the influencer has a short history of content publication. Weigh their follower size vs their amount of comments or likes. If someone with 500k followers has few comments or likes in proportion to their follower count, that may be a red flag.
2. Boosting metrics with bots
Some scams use bots for more than just follower counts. These automated networks spam comment sections with emojis, bland exclamations, and generic phrases.
This strategy could pacify suspicious brands focused solely on fraudulent audience sizes. Marketing teams want posts with high engagement and activity. From a bird's eye view, it looks real.
Tip: Look for comments that are specific and genuinely engage with the post. For example: "That navy blazer looks great on you!" or "This book sounds riveting, I've been looking for a good novel. Adding it to my list!"
3. Forming engagement pods
Not all fraud is automated, however. Some influencers participate in engagement pods: real people who like and comment on all posts from everyone in the group. This activity comes from legitimate followers who are actively engaged with each post.
But brands don't want this type of follower. These pods exist to boost each other's credibility and participants aren't looking for real content or product recommendations. Whether or not a human actually taps on each post, these "like-for-like" trades hold little value for partners.
Tip: Go through multiple posts from an influencer and spot comments coming from the same accounts. This can help you determine how many of their comments come from legitimate participants vs engagement pods.
4. Creating copycat accounts to pose as legitimate influencers
Copycat accounts act as legitimate influencers and creators. They recreate the account using the same details and have slight variations in their username to throw unsuspecting audience members off.
These accounts typically copy every post and use screengrabbing to recreate live videos. These clone accounts are created to connect with users and access them via DMs. Brands that partner with copycats can end up losing money because they will earn no conversions from seemingly legit influencer campaigns.
Tip: Look for verified accounts and be weary of spelling errors in the account name. For example, @whiteboardfinance, a YouTube finance guru, is constantly duplicated with many variations of his name, profile picture, and posts appearing throughout Instagram. At first glance, the bot account may seem real. It even redirects to his real YouTube account. But the misspelling of his account name is the first sign.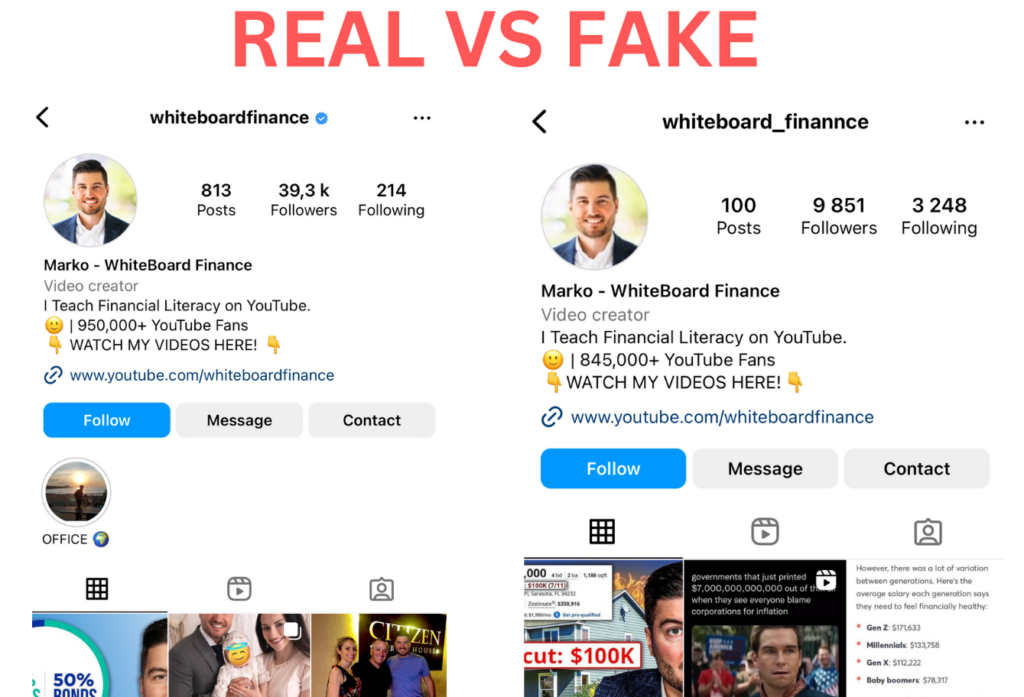 5. Failing to post
Paying for posts beforehand or skipping signed contracts can turn into costly mistakes for brands. Some influencers take payment and never post—even if their audience and engagement are legitimate. With each new influencer partnership, this is a risk you and your team need to consider and watch out for.
Tip: Draw up legal contracts and get your content before paying your influencers. In the contract, specify compensation, deliverables (X amount of posts), and usage rights (for example, amplifying the posts on your own brand account for the next two months).
---
5 ways to detect influencer fraud
Avoiding influencer fraud starts with seeing the scams coming. Whether you're diving into influencer partnerships for the first time or vetting a specific content creator, make sure you:
1. Look for an active following
Do the engagement metrics make sense? Compare likes and comments with overall audience size. Major discrepancies here should start sounding alarm bells.
A feature like impact.com's Influencer Directory helps you screen creators in our Marketplace for audience authenticity and quality, likes-to-comments ratio, engagement rates, and more.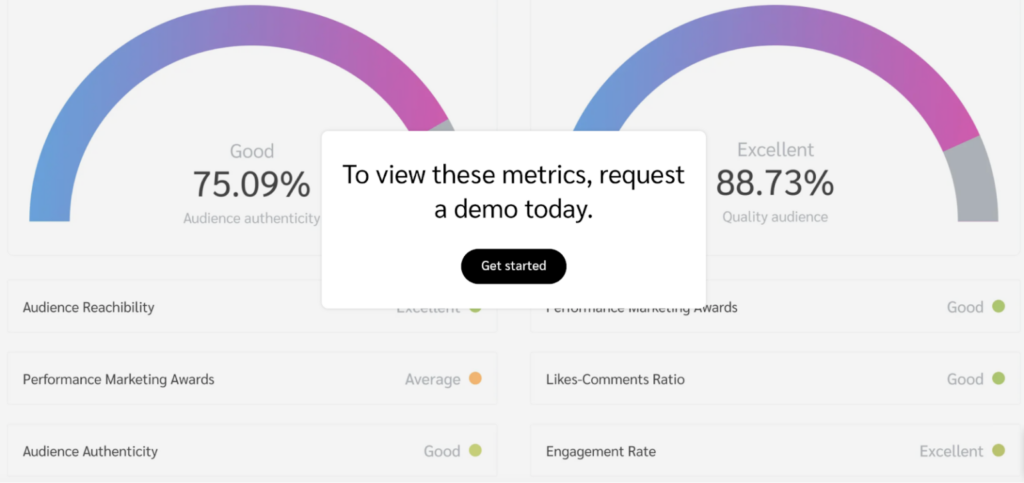 2. Audit comments
Are the comments realistic and specific? Check for comment sections with walls of emojis and simple lines like "love it" or "great pic." Authentic comment sections cover a massive range of lengths and styles—including responses specific to that post.
3. Check for clickbait-like activity
Some influencers openly comment or post "like-for-like" or "follow-for-follow." These engagement-boosting methods don't produce value for partners and brands.
4. Diversify with smaller partners
Build partnerships with influencers of different sizes. Many smaller content creators have highly engaged followings or clout within specific niches. Micro-influencers can deliver maximum impact to audiences at a reasonable rate. These growing influencers provide excellent returns on your marketing budget.
5. Pay for tangible returns
Take precautions against influencers who'll take the money and run. Make sure to spell out your terms in contracts beforehand. Split payments up and wait until the posts go live. Adjust commission rates based on feedback. Especially with newer partnerships, ensure you're paying for real value instead of inflated numbers and nonexistent posts.
---
---
impact.com combines innovative technology with actionable data for fraud protection
Protecting you and your team from bad actors takes time and effort. Forward-thinking brands want to expand influencer partnerships without running significant risks or skipping steps. This is where a custom-built partnership platform like impact.com comes in. With a focus on influencer marketing, impact.com's data tracking and proactive fraud protections will help you avoid scams—no matter the size or scale of your influencer network.
impact.com lets you protect your partnerships and eliminate fraud by:
Identifying suspicious payments
Generating fraud reports with scores and reason codes
Allocating spend to legitimate partners
Paying for leads, not dead ends (including fake app installs)
Relying on a team of data scientists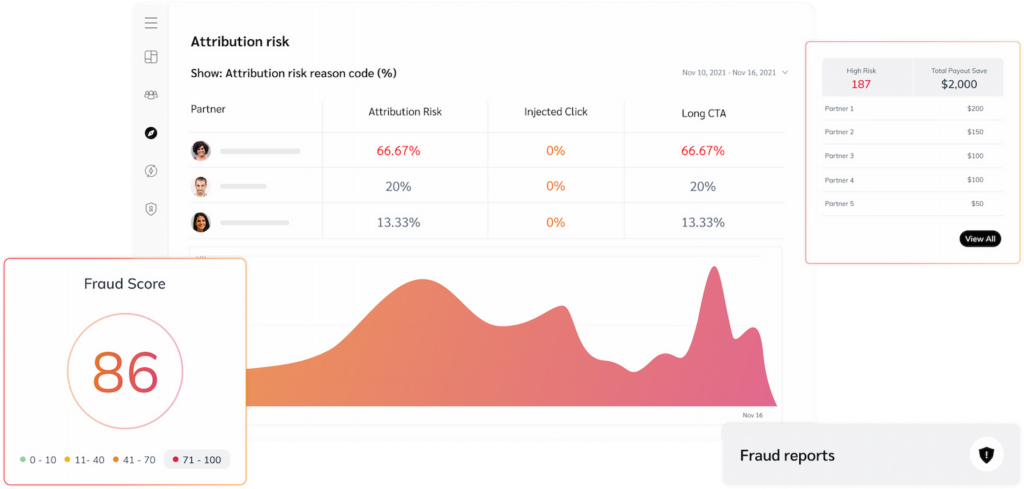 ---
FAQs
How do you know if an influencer has fake followers?
Compare their average likes and comments with their audience size. Read through their comment sections: do they feel generic or specific? Are they directly posting "follow-for-follow" messages? These comparisons and questions are the best starting point. 
What percentage of followers are fake? 
The number varies based on each influencer. Overall, the number of fake or inactive accounts on Instagram could be as high as 55 percent. For brands on social media, at least 25 percent of followers show signs of being fake, on average. Factor this in when you're looking at follower counts—especially for larger influencers. 
How do you know if an influencer is trustworthy?
Look for influencers with unique comment sections and steady engagement. Are they working with reputable brands? Do they follow guidelines for sponsored posts and paid partnerships? Check out influencers with local or niche interests and varied audience sizes. These are all less likely to be fraudulent. 
---
The right technology lets you avoid influencer scams and recruit top-tier partners
Pinpointing influencer fraud is like hitting a moving target. But these tips and strategies for recognizing suspicious accounts set you and your team up for success. Also, you can take the pressure off with impact.com—offering extra security like detailed risk scores for each partnership and customizable contracts to ensure posting and prompt payments.
Plus, discover vetted and verified influencers ready to work with brands like you using impact.com's Marketplace. You'll be able to avoid scams and make the most of influencer partnerships with the right support and safeguards on your side.
Protect your influencer marketing channel by reaching out to our dedicated team at grow@impact.com today.
To learn more, check out these resources: