Influencer marketing rose in popularity along with social media in the 2010s. Today, brands partner with influencers and content creators as the go-to way to engage with target audiences.
According to the Influencer Marketing 2022 Report by eMarketer, U.S. influencer marketing spending will amount to around $5 billion by the end of 2022. This projection is $1 billion more than in 2021, and it's $850 million higher than the previous forecast.
With 74.5 percent of U.S. marketers from companies with over 100 employees planning to use influencer marketing, this is here to stay and continually grow.
Catch this wave and shape your immediate marketing strategies with the latest 2024 influencer marketing program trends. If you're looking to navigate these waters further into the future, keep reading for access to the ultimate influencer toolkit.
Index:
How has influencer marketing changed post-pandemic?
The "origin story" for influencer marketing depends on who you ask. Some might say it started with popular blog writers. Others may point to the career launch of Jeffree Star—a music, fashion, and makeup superstar—on MySpace in 2004.
Brands soon saw the value of influencer campaigns for their products and services, which helped them:
Reach new (and previously untapped) audiences
Connect with receptive audiences on social channels natively
Strengthen authentic brand messaging
The trust, and the impact, are evident:
61 percent of consumers trust influencer recommendations, compared to 38 percent who trust brand-produced content.
60 percent of marketers said that influencer-generated content performs better and drives more engagement than branded posts.
Trust proved especially important when the pandemic rocked the globe. Consumers increasingly looked to influencers during lockdown. Since in-person entertainment was no longer possible, audiences engaged more with influencer user-generated content for entertainment.
Post-pandemic, we have more influencers, and they have more influencer marketing program power, including:
Bigger audiences: from nano-influencers to celebrities, brands can reach various audience sizes and connect with new customers.
More diversified options: brands can work with creators on several platforms, building content in different formats.
Higher-quality content: many influencers have studios to shoot dynamic influencer content, depending on the size of their following.
Strategic evolution: Jeffree Star successfully moved across the MySpace, YouTube, Instagram, and TikTok platforms. If an influencer wants to stay relevant, they must change with the times.
Influencers can influence purchasing decisions. That's why:
In 2022, influencer marketing budgets rose to 7.5 percent of the total marketing budget, up from 6.5 percent a year ago.
In the next three years, influencer marketing budgets will rise to 12.7 percent
2024 influencer marketing trends to grow your business
Influencer marketing changes fast with new trends that pop up quickly. Early adopters take the market lead, so don't wait to see if trends will "stick" before you act.
Predictions for 2024 influencer marketing trends are still coming in, but video and micro-influencer trends are already here.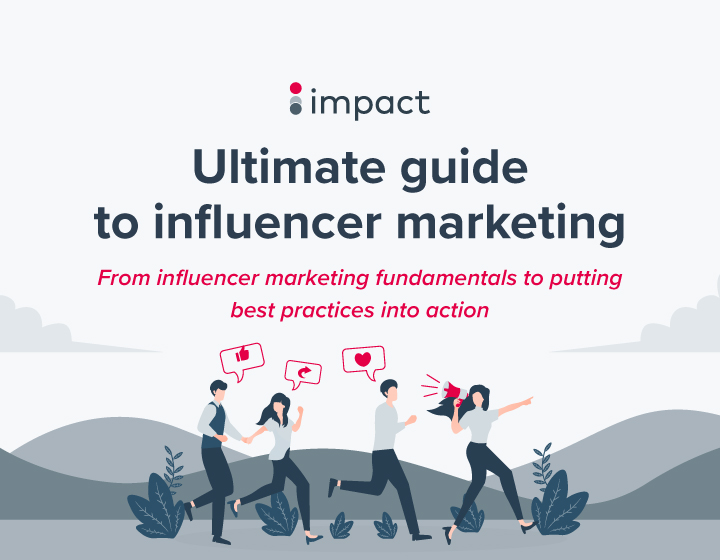 Want to maximize your brand impact with influencer marketing?
Download our free ebook, Ultimate guide to influencer marketing, now.  From influencer marketing fundamentals to putting best practices into action, it's all here. 
Get my free guide
1. TikTok and the rise of video consumption
When COVID-19 shook the world, social media shifted. However, the shake-up created some positive changes too.
Audiences need authentic content. They don't want to feel "sold to," and they will run from sales pitches.
The real world felt raw during the pandemic, and audiences hungered for "unfiltered" and "unscripted" content for entertainment and connection. Influencer videos met this need, and the dramatic rise of many influencers was proof.
Post-pandemic, audiences demand authenticity, and they have picked their viewing spots:
Instagram still commands the highest share of influencer marketing spending, with 43.1 percent in 2019, 44.7 percent in 2022, and 44.5 percent in 2024.
Facebook is declining. The platform received 20.8 percent of the influencer marketing spending share in 2019, 16.5 percent in 2021, and 13.3 percent in 2024.
YouTube is also dropping. It held 25.2 percent of influencer marketing spending share in 2019, 21 percent in 2021, and 17.2 percent in 2024.
TikTok is on the rise. It earned 2.3 percent influencer marketing spending share in 2019, 10.2 percent in 2021, and 18.5 percent in 2024.
TikTok will overtake Facebook in 2022/23 and YouTube in 2024.
Marketers have invested in short-form videos more in 2022 than any other content format.
HubSpot also puts short-form videos as #1 for lead generation and engagement.
Video is essential to your influencer marketing program, and you should choose the platform (i.e., TikTok, Instagram Reels, YouTube Shorts, Google, LinkedIn, Pinterest) that will best reach your audience.
Engaging video content starts with length. While any video under 60 seconds is considered short-form, the optimal length is between 31 and 60 seconds.
2. Micro-influencers deliver maximum impact
You may already know the influencer tiers:
Celebrities (1m+ followers)
Macro-influencers (10k–1m followers)
Micro-influencers (<10k followers)
Nano-influencers (1k-10k followers)

Right now, it's micro-influencers that are making headlines.
Micro-influencers' market share grew from 89 percent in 2020 to 91 percent in 2021. Audiences see themselves in these influencers and connect to their authenticity, relatability, and credibility.
Predictions say this climb will continue, and experts think smaller industries will gravitate toward working with micro-influencers.
The influencer marketplace is a crowded race with no real "winner." It's not about follower count, especially when 82 percent of consumers are likely to follow a micro-influencer.
If you want to go far, find the right influencer that aligns with your brand values and goals.
Keep your program in good shape with the 2024 influencer marketing toolkit
Whether your brand encounters issues from influencer fraud to managing multiple influencer contracts, you need the right tools to keep you on track. Here you can identify any current issues and how to fix them:
Challenge: 67 percent of brands are concerned about influencer fraud. Fraudulent influencers can cost brands up to $300 in losses per post.
There are several types of influencer fraud:
2024 tools: One program, like impact.com, can protect you against these risks. Applying fraud detection to social placements helps you expand influencer programs without restraint. 
Challenge: 28.1 percent of brands that run in-house campaigns say measuring return on investment (ROI) and campaign results are their most significant challenge. This number is up from 23.5 percent last year.
2024 tools: Revenue has long been missing from the influencer marketing conversation, and it is time to move beyond vanity metrics (such as likes or follower counts) to metrics like reach, impressions, and engagements to see how your influencer program is performing. 
Challenge: 86 percent of marketers don't know how influencers calculate their fees.
2024 tools: Here are seven ways to pay influencers today and tomorrow. This ebook covers everything from gifting to licensing fees, sponsored posts, and more. Also, remember to look beyond the last click for influencer marketing commission; it's all about the full attribution path. 
Challenge: Brands are also navigating other pain points, including:
Finding influencers for their campaigns (27.4 percent)
Managing influencer contracts and deadlines for campaigns (14 percent, down from 21 percent in 2020)
Processing payments to influencers (8.3 percent)
Bandwidth or time restraints (13.3 percent, up from last year's 9.5 percent)
2024 tools: Use an end-to-end influencer marketing platform to the remove the limits of your potential success. 
Can influencer partnerships move your brand forward to where you want to go?
Things will continue to change quickly with influencer marketing.
While there are unlimited partners to engage with and unlimited ways to engage them, think beyond influencer size. The right influencers will align with your brand and carry built-in credibility with the audiences you most want to reach.
Far from a single transaction, build a trusted partnership by:
Sharing your strategic goals
Tuning into emerging trends
Producing dynamic content
Nurturing the influencer relationship
With the right influencers at your side, your brand's North Star will shine brighter.
Want to learn how the world's only end-to-end influencer management platform can help you meet your goals? Contact a growth technologist at grow@impact.com.
Need help with your influencer marketing strategy? Check out these other impact.com resources to help you best connect with your target audience: