Meryl Streep holds the record for most Academy Award nominations of any actor. Would she still reign supreme if she pigeonholed herself to a specific cast type? Likely not. By accepting roles such as Miranda Priestley, Margaret Thatcher, and Donna Sheridan, she cemented herself as an iconic actress and a trailblazer in Hollywood.
While diversifying your partner mix might not make you the Meryl Streep of your industry, it introduces you to the true potential and power of partnership marketing—maybe even garnering an industry award or two.  
You don't need to audition to make it big with partners. But your brand should look at active partnerships to emulate or adapt to your business needs. Fortunately, plenty of modern partnerships drive mutual value for both parties.
Channel partners market and sell products or services of other brands and fall into two categories: reseller and referral partnerships. 
Reseller partnerships happen when a company resells products or services of another brand directly, marks them up, and keeps the margin. When reselling products, the company may purchase the product at wholesale prices and carry inventory.
Referral partnerships introduce, influence, or perform some last-mile enticement to refer a consumer toward buying a product or service from the business and earn a commission.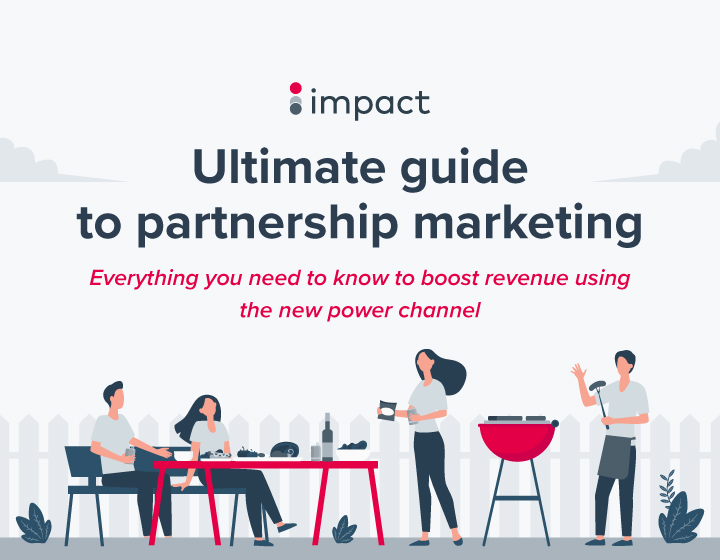 Ultimate guide to partnership marketing
The partnership economy is booming, and now is the time to leverage the benefits of this hot channel to drive revenue and business growth. Download your free ebook copy and learn more. 
Get my free guide
Referral partnerships fall into several different categories, and the chances are that you (and your customers) have already encountered some viable examples.
9 types of partnership marketing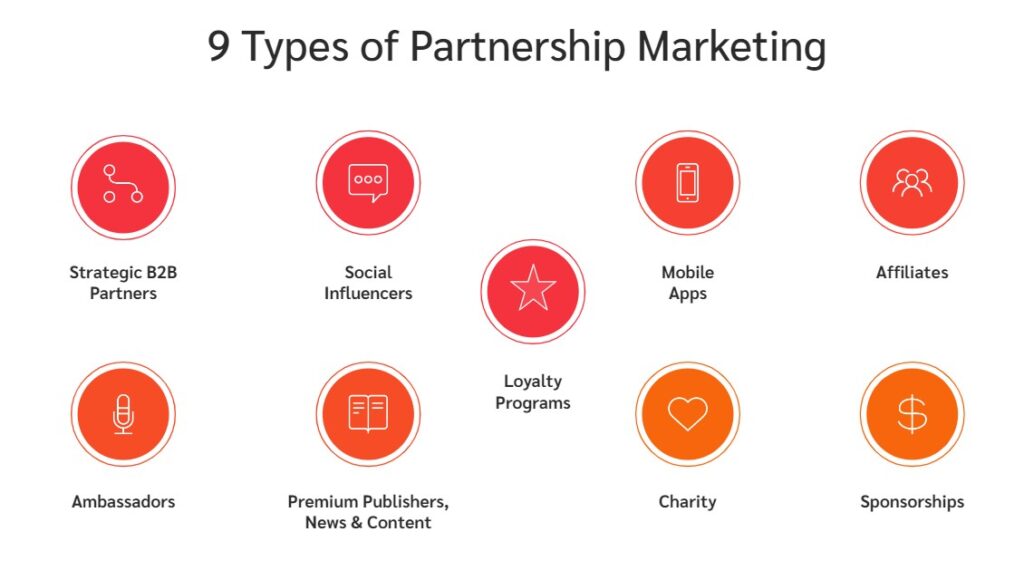 1. Strategic brand-to-brand (B2B) partnerships 
These partnerships leverage complementary industries, or customer needs to bolster revenue for all parties involved. They aim to increase sales, customer engagement, and consumer awareness. The receiving business usually enjoys a new customer, while the referring company obtains a payout for the converting traffic it delivers.
Shipt is an online grocery delivery service that partners with brands across different verticals to drive member subscriptions. These partners included meal planning services, healthcare companies, corporate benefits providers, and healthy eating blogs. Overall, its partners promote healthy eating habits by educating their audiences.
Shipt drastically reduced its customer acquisition cost by paying partners for the true value they generated rather than just for the initial action. Shipt used a hybrid payout model. The company shared a small payout for free trial signups and a larger payout if the same customer ended up subscribing to Shipt's membership plan.
2. Native software integrations 
These offer technologically advanced strategic B2B partnerships. These integrations aid in sharing relevant data with the partner (or vice versa) to activate a more personalized consumer experience.
Ticketmaster's native software integration with Spotify allows users to complete their ticket purchases to their favorite shows within the Spotify app and website.
These integrations are not advertisements but rather enhanced consumer experiences. The native software integration links Ticketmaster event and venue data with whatever artist the user is currently listening to on the Spotify app to create a richer experience for the listener.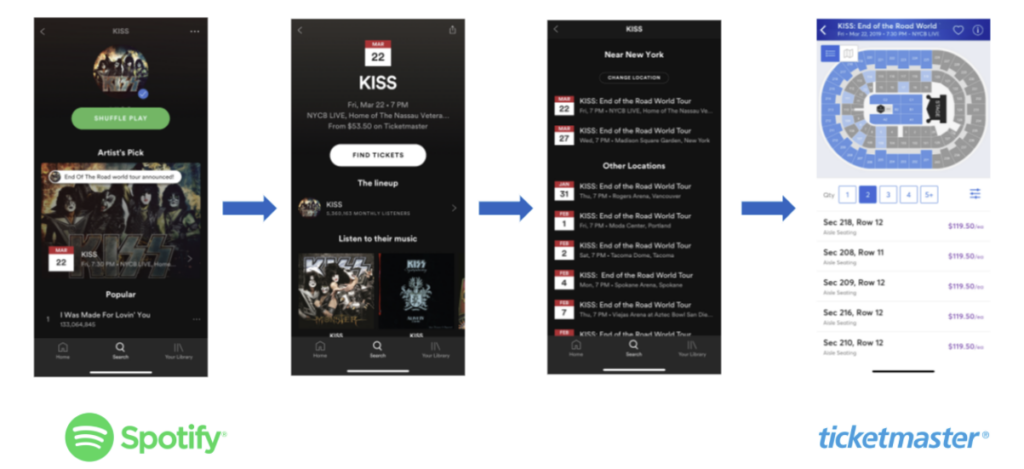 3. Loyalty programs
Loyalty programs represent a particular class of strategic B2B partnerships. Consumers often indicate that their choice of retailer is influenced by where they can earn loyalty points or rewards. That's why many enterprises choose to partner with different businesses through their loyalty program.
For example, The Home Depot has a loyalty partnership with Barclaycard via Cartera Commerce. Barclaycard members earn one point for each dollar spent on its Barclay credit card at the Home Depot online store.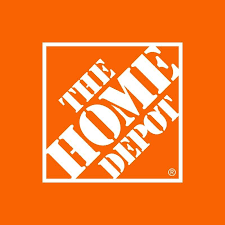 Users can access this rewards information via their portal by logging into their Barclaycard account. Customers who go through this shopping experience get discounts on products purchased at The Home Depot. The brand benefits from exposure and sales from banking customers, while partners earn a payout.
4. Influencers
Influencers are individuals with a large social media following who promote a business on social channels, blogs, and newsletters. They typically receive a fixed fee per post and/or a commission for sales generated.
For example, Fabletics has built strong influencer partnerships with many micro and macro-influencers, like Marla Catherine, a popular YouTube personality with more than 1.3 million subscribers.
At the start of one video about her fitness routine and eating habits, Marla talks about the brand and how much she loves the leggings, all while wearing different pieces of apparel.
The YouTube description contains a personalized vanity link that sends Marla's viewers to the Fabletics shopping experience to buy those leggings and other products.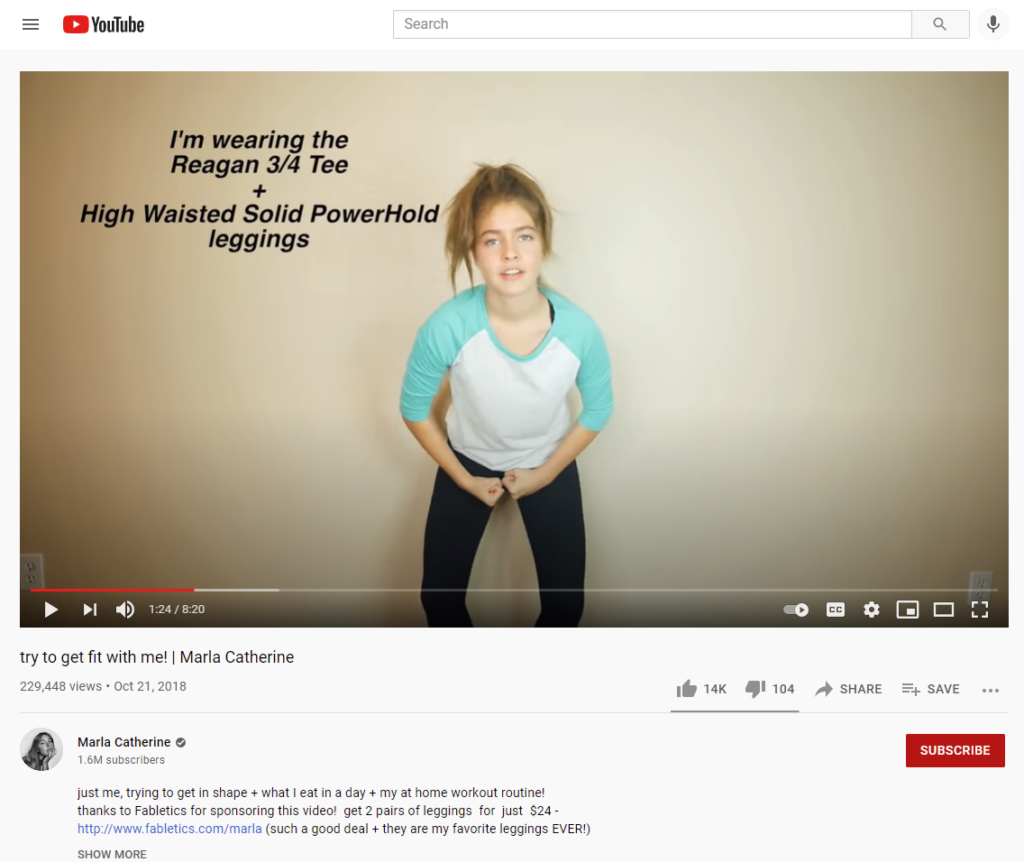 Influencer partnerships offer an excellent opportunity for businesses looking to connect with younger consumers. This demographic often looks to peers and opinion leaders on social platforms to make an informed buying decision. Influencer marketing is so prevalent that it's the subject of university classes.
5. Mobile partnerships
Mobile marketing represents a red-hot part of the partnerships landscape. The mobile app market represents 70 percent of all mobile transactions. It's no surprise, considering users are three times more likely to convert in-app vs the mobile web. Thus, businesses are keen to have partners drive prospects deep into its mobile app experience.
Target built its mobile partnership with Samsung around a pre-installed quick-access link within the internet browser on Samsung devices. Through its quick-access web browser and AI, Samsung can refer phone users to buy recommended Target products. Samsung also can target users by device, browsing history, geographic location, and demographic data.
This partnership is available on 50 million eligible Samsung devices, with the Target quick icon viewed an average of 580 million times a month. Users click through 1 million times monthly, driving direct store sales through mobile placement.
6. Corporate social responsibility/charity partnerships
Charity partnerships embrace a purpose-driven brand strategy or strongly advocate for a robust corporate social responsibility program. Although smaller companies may need deep pocketbooks to donate outright, cause-based partnerships provide an economically accessible way to create a collaboration while helping causes they care about.
BarkBox, a monthly subscription service of quality dog products, has a unique social responsibility partnership with pet shelters like Downtown Dog Rescue. New puppy parents can quickly sign up and purchase BarkBox's subscription boxes at the location, with commissions helping to fund these rescue organizations. This partnership ties into BarkBox's mission of making dogs (and their owners) happy.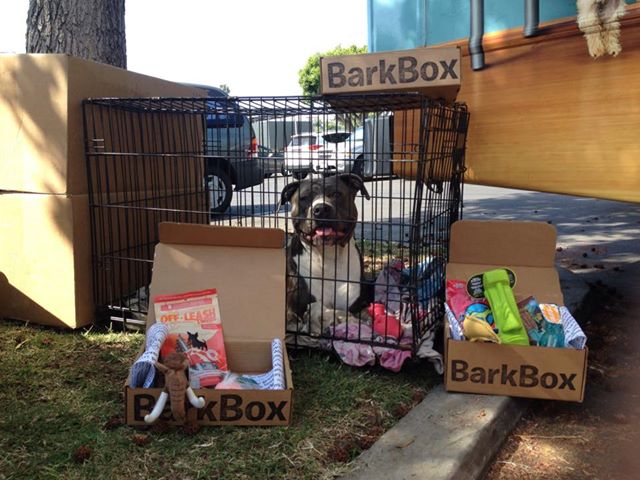 7. Traditional affiliates 
Traditional affiliates focus on businesses driving traffic to a company's owned channels by providing discounts or incentives to their audience. They typically receive a commission for leads and/or sales generated.
Purple Carrot, a plant-based meal delivery service, operates an affiliate program. When the company started the program, it saw a 68 percent increase in orders and a 30 percent increase in return on ad spend in the first few months.
Partnerships in action: Dive into successful affiliate partnerships
Eight brands soured to success with affiliate partnerships. Discover the secret to their success by downloading your free ebook copy.
Get my free guide
8. Content partnerships 
This type of referral partnership offers an efficient way for publishers to escape the traps of traditional advertising. These partnerships, often called commerce content partnerships, benefit both an enterprise and a publisher. In this relationship, the enterprise leverages a publication's audience's trust, which is achieved by delivering relevant brands and services through editorialized content around the products and services they stand behind.
The ability to tap into that offering is more important than ever for publishers, as traditional ad models become less effective and publisher revenue continues its decline.
Some publishers designate sections within their website or publication that allow consumers to shop for products, just as they would on a brand website. These products are often editors' suggestions without paid promotions and are selected because they match the content of the publication and resonate with the audience.
Better Homes & Gardens curates comprehensive content, providing consumers with detailed recommendations — from luxury linen to lawn care. After thorough research, testing, and review, Better Homes & Gardens recommends the best products, linking each suggestion via an affiliate link to that brand's website to convert.
9. Ambassador partnerships
Ambassador partnerships encompass customer and employee referral programs, offline locations that promote your products, organic influencers, and more. Ambassadors swoon over your brand and are either individuals or standalone businesses.
DSW's "Friends & Benefits Ambassador Program" is a perfect example of harnessing the power of brand loyalty. DSW has converted its entire loyalty program into a promotional machine, driving incremental revenue by enticing loyalty cardholders with a friends and family referral program. DSW rewarded these ambassadors with loyalty points for every successful transaction they referred.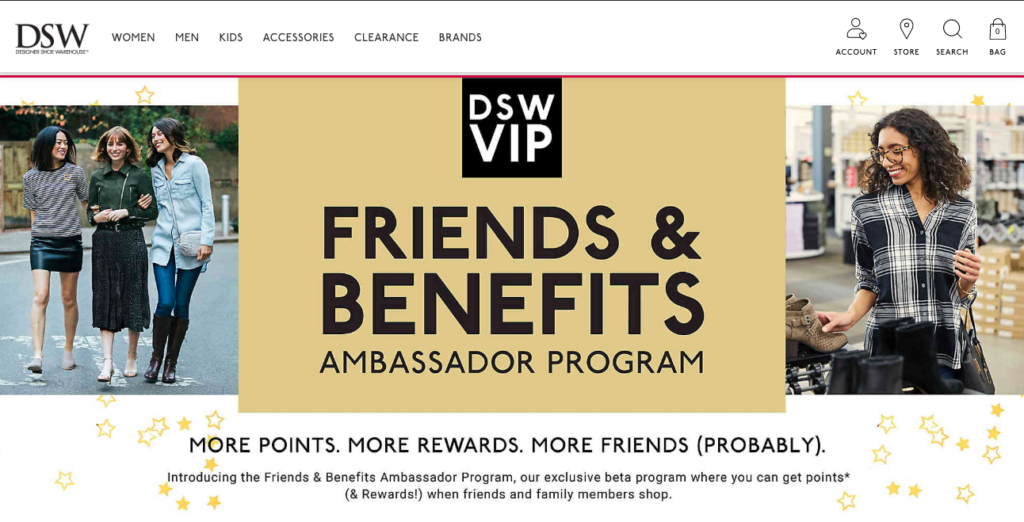 Kickstart your success with partnership marketing by checking out these insightful impact.com resources: