Nearly half of all online sales in the United States begin on a search engine. A little competition among brands keeps our world humming. But you shouldn't compete for web traffic with your affiliate partners when they promote your brand. Brands have come to rely on impact.com's Search Compliance feature to protect trademarks, branded terms, and targeted keywords.
The feature has recently been rebranded as Paid Search Monitoring, offering brands greater protection and encouraging more effective partnerships.
With the newly launched Standard and Advanced Editions, you can have the right protection for your partnership program. This protection allows your brand and your partners to expand the pool of customers rather than fish in the same pond.
Why monitor paid search keywords?
Two things happen when sites not owned by a brand bid on that brand's keywords. First, they drive up cost-per-click (CPC) prices for those keywords on search engines like Google, Bing, and Yahoo. Secondly, it takes direct traffic that would have gone to the brand and siphons it off to affiliate sites – resulting in you paying commission for sales that should be occurring directly on your site.
Both of these consequences cost your brand money. Driving up CPC prices on a brand's targeted keywords makes paid search ads more expensive. You waste precious resources when you pay affiliate partners for traffic that should have gone directly to your brand.
How does it work?
The Paid Search Monitoring feature on impact.com deploys web crawlers to simulate keyword searches on various search engines to uncover which websites are running ads for those keywords. The system then scours the aggregated ad details to find any potentially non-compliant usage of your trademarked terms by partners in your impact.com program.
Could you do this yourself? Sure, but it could be more time-consuming, less efficient, and ultimately less effective than an automated system. Clever bidders can hide by running ads outside your geography or timezone. No need to lose sleep because impact.com's Paid Search Monitoring feature runs 24/7.
Easy enforcement
You set the rules for enforcement, but you don't need to handle every violation yourself. After uncovering a violation, the system will then alert the partner to the problem, give them a deadline to fix it, and you can check their progress via the built-in resolution workflow.
You don't even have to juggle multiple platforms to do it. You can handle everything in the same platform that runs all your other partnership needs.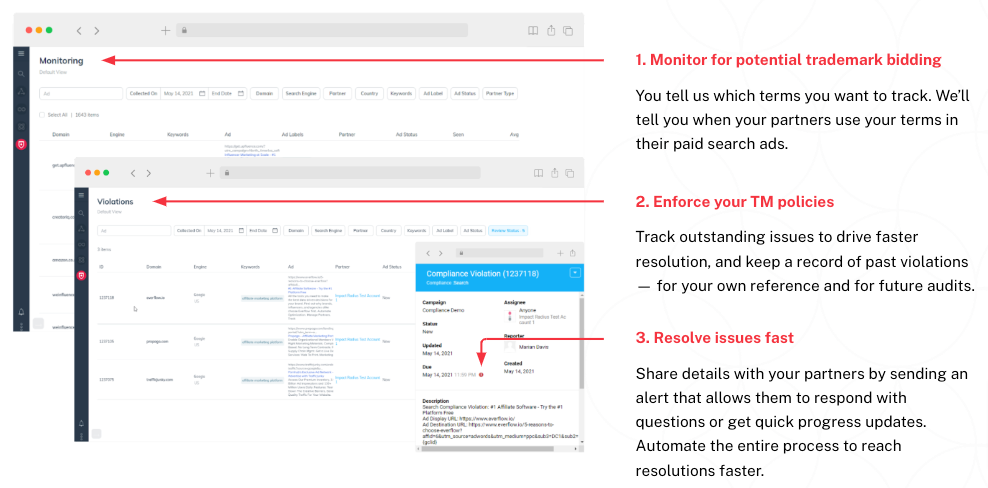 How much protection does your brand need?
Different brands have different needs, so impact.com offers three levels of paid search protection. Some brands may only need to monitor a small number of keywords in a single country, while others may need to monitor more keywords internationally.
The right plan creates a safe environment to protect your CPC and customers while supporting your ability to scale your partnership program confidently. Here's what each plan offers:
Free: Monitor 5 keyword combinations on one search engine in one country, crawling once per day.
Standard: Monitor 50 keyword combinations on two search engines in unlimited countries, crawling once per day.
Advanced: Monitor 50 keyword combinations across 16 search engines in unlimited countries, crawling twice daily.
Paid Search Monitoring maintains brand integrity, protects trademarks, reduces costs, and encourages successful partnerships. This feature is available to all impact.com partnership management platform users.
Want to learn more? Contact grow@impact.com or chat with your customer success manager today.