Figuring out how to pay influencers in ways that are mutually beneficial, cost-effective, and forward-looking takes some knowledge and creativity. The best approach to creating an effective influencer program is to take the time to analyze your partnership and choose the optimal structure for both parties. In other words: personalize and customize.
Contents
The true cost of influencer marketing
Influencer marketing is resilient and growing. The industry will be worth up to $15 billion by 2022, and for good reason. Influencer marketing is an effective channel that's worth the cost. Even during uncertain times, 96 percent of U.S. and U.K. consumers engaged with influencers more during the pandemic. This is great news for the industry, but with rapid growth, there are always challenges and adaptations to make it work best for your company.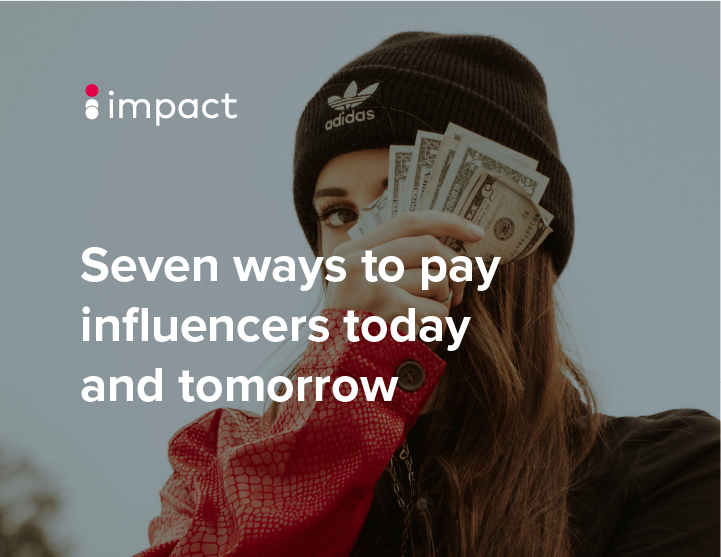 Want this great info in ebook form?
Learn all about structuring influencer payments, which kind is best for you, and how to be ready for the future of influencer campaigns.
Get my free guide
Marketers agree: Influencer marketing is expensive
Popular macro- and mega-influencers come with a huge price tag, with Kylie Jenner, to pick one example, commanding a whopping $1 million per sponsored Instagram post. It's no wonder that marketers have cited the rising costs of influencers as a top challenge. With rapid growth of influencer marketing comes further challenges for marketers. Even though many now diversify their influencer partner portfolio to include more affordable micro- and nano-influencers, many marketers don't have the capability to customize payments and incentives to suit a diverse portfolio of influencers.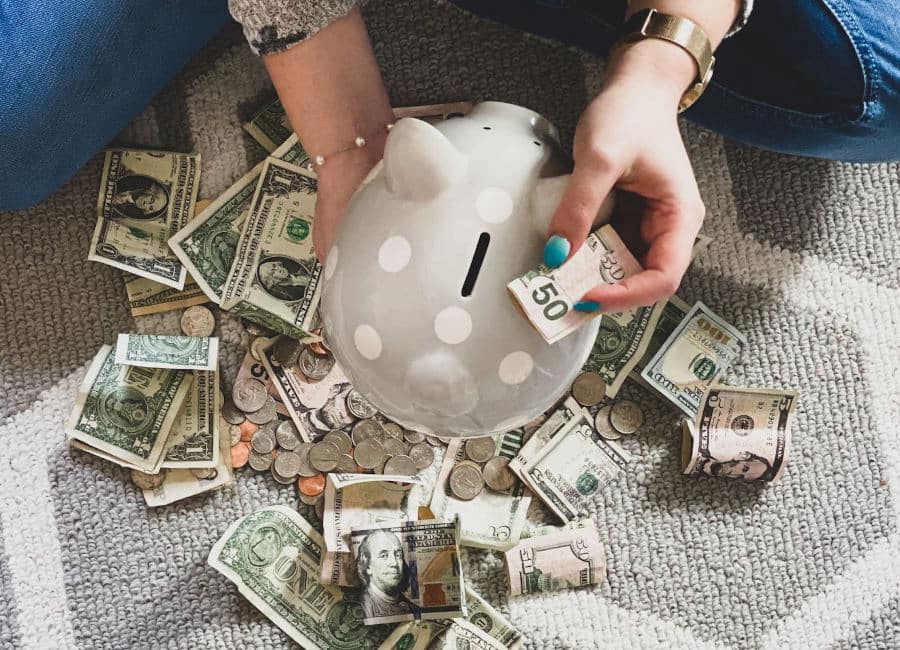 Creating a cost-effective process to pay influencers
One study indicated that 86 percent of marketers don't know how influencers calculate their fees. More than one in every seven influencer campaigns have payment processing issues, including how influencers are paid and determining their rates. To adapt to and even thrive during the rapid growth of influencer marketing, brands need to not only diversify the types of influencers they work with, they need to pay them differently, too.
In this guide you'll discover the top seven ways you can pay influencers so that whether you're working with the Kylie Jenners of the world or smaller, more accessible influencers who often work for a nominal fee or in exchange for a free product, you can develop a relationship that's mutually beneficial and effective.
---
Yesterday's social media influencer payments
To fully understand what's happening today and predict how influencer payments may look in the future, let's first look back at how the influencer marketing industry has adapted since the dawn of social media and the first sponsored and gifted posts hit screens.
2004: MySpace launched the singing/fashion design/makeup career of Jeffree Star, who became the platform's most followed user. Brands rewarded influencers with money or gifts to feature their products in their videos. Monetary compensation and comped attendance at events became commonplace as influencer payment options.
2006: The pay-per-post model was in full swing and the first marketplace to pay bloggers to create content for brands was launched.
2009–13: Some influencers began to charge a fee to merely "check in" at a location. Sponsored posts took off. In 2009 Chris Batty, then the VP of sales for Gawker, proclaimed that "the majority of our advertising revenue will be in sponsored posts."
Not long after, Forbes and the Associated Press jumped on the bandwagon. Even early critics like Mashable started selling sponsored content to different enterprises. Brands began sending gifts to influencers solely to see them unboxed online.
2014–18: Still, only 39 percent of marketers planned to grow their influencer marketing budget in 2018. Brands began to offer store credit and rebating rewards for their partners to get around an Advertising Standards Authority (ASA) ruling and also make posts appear more authentic. The ASA's guide for influencers (U.K.) and Federal Trade Commission (FTC) compliance (U.S.) requires clear labeling for sponsored posts, advertisements, or including gifted items (marked by #sponsored, #ad, or #gifted, respectively).
---
Today's influencer payments
Cost and value of influencer campaigns
In 2021, influencer marketing still costs between $100 and $1 million per post. Pay per post dominates, and engagement is by far the most common metric to measure influencer marketing success, used by 75 percent of influencer marketers. The pressure is on to prove ROI, so influencers are increasingly paid a fixed rate with a performance bonus, and even performance-only payments have become more popular. These types of payments also offset issues from those with paid followers or low-quality engagement, which can be difficult for brands to detect and lead to lower impact and return on investment (ROI).
In fact, 11–25 percent of marketers planned to spend over 40 percent of their digital marketing budgets on influencer marketing in 2020, while almost 20 percent said that they would devote 26–50 percent of their digital marketing spend on influencers. In May 2020, 74 percent of U.S. marketers surveyed said they planned to use influencer marketing as much as or more after social distancing guidelines and the like were lifted.
Tools to make the process of affiliate marketing smooth
Advanced tools and technology have been a game changer for the influencer marketing industry. In addition to data analytics reports and tracking tools, now brands can leverage robust software as a service (SaaS) platforms that manage the entire influencer partnership lifecycle. With a full view of the customer journey from that first click to conversion, marketers can finally build a picture to prove their influencer partnerships' ROI. In fact, 89 percent of marketers now say that the ROI from any influencer marketing is comparable to or better than other marketing channels. Marketers who invested in the channel earned an average of $5.78 back in media value for every dollar spent.
Average costs and rates when working with influencers
These benefits more than pay for the demands of influencers with regard to payments, which average:
$1,000 per 100,000 followers for Instagram influencers
Approximately $2,000 per 100,000 followers for YouTube influencers
$500+ per campaign in 24 hours for Snapchat influencers
For more accurate statistics, head over to our article on how much influencers charge per post.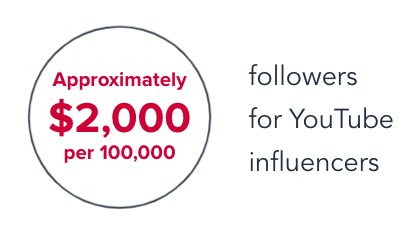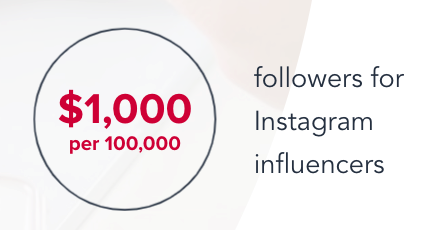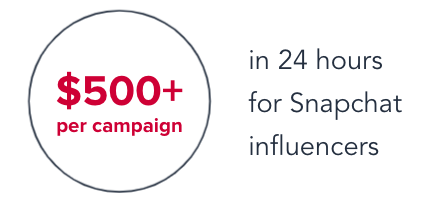 ---
Tomorrow's influencer payments
To get the best out of your influencer program today and tomorrow, you need to expand their view of influencer payments and use the evolved technologies to help them partner at scale.
While paying influencers by follower counts, as with the typical rates above, was once more common, better technology has allowed marketers to move past this "one-size-fits-all" approach. After 20 years of crucial developments, influencer marketing is moving further under the umbrella of "partnerships" with a full lifecycle strategic approach that includes customized contracts and payments, alongside automated personalization across a segmented influencer market.
By looking at the influencer world systematically, companies can manage and nurture influencer partnerships, large and small, to optimize influencer programs.
The right contracts and payouts for influencers
Today and tomorrow, influencers need appropriate contracts and compensation depending on a variety of factors: follower size, brand relationship, channel affinity, content quality, engagement, performance, and overall ROI. At the same time, marketers need to take a more individualized approach across their network of influencer partners.
Contracts and compensations should be customized for each individual partnership. Some common categories of influencer partnerships include:
Celebrities and "cewebrities" (>1m followers): famous beyond social media (i.e., movie, TV, music, or sports stars). Cewebrities made their fame online but now are universally recognized. They charge per post.
Macro-influencers (10k1m followers): Became popular on social media. Some charge per post but others may be open to other payment types.
Micro-influencers (<10k followers): Everyday people with a decent following and influence. Micro-influencers are often undervalued and underused, and these smaller influencers need a customized approach. Most don't expect pay per post,particularly with large brands. They are more likely to work on a performance basis.
Organic influencers (any amount of followers): These influencers represent your true earned media. They may not have many followers, but if they have a strong affinity for your brand they often say good things about your brand.
Personalities: Influencers who produce their social presence like a reality show; you know what they ate for breakfast, who their best friends are, and what their favorite candle is.
Visual informants: Your standard social influencers have followings based on who they are, who they know, or what they've worked on. Because their platforms are built on popularity and good taste, visual informants can lend positive brand sentiment and influence buying decisions just by being seen or associated with a product.
"Creativists": Old-school visual talents, generally coming from an artistic background. They'll post a beautiful picture of, for example, a coffee mug and, while that content may not convert well, it can often be successfully deployed by a brand across their owned and paid channels.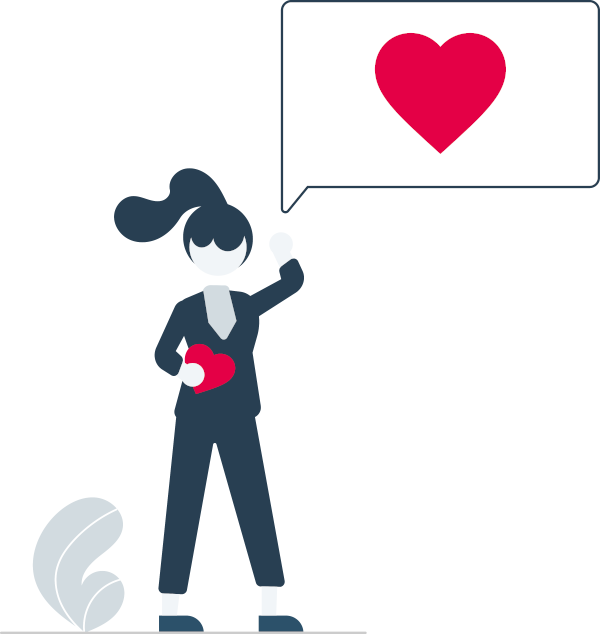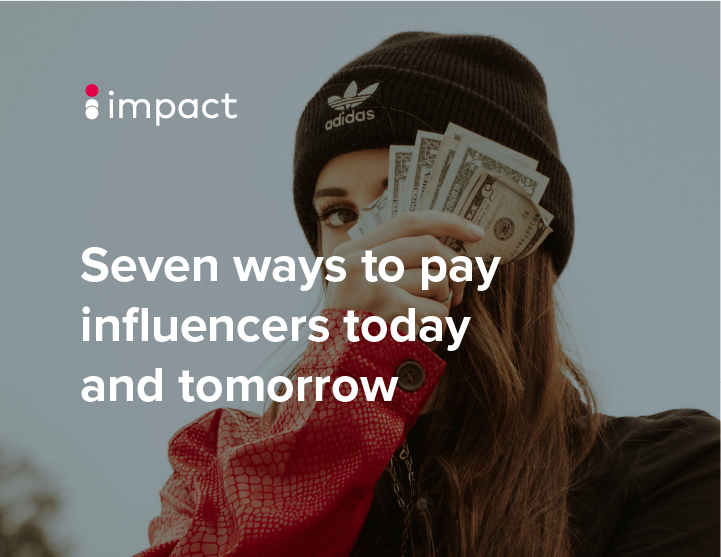 Want this great info in ebook form?
Learn all about structuring influencer payments, which kind is best for you, and how to be ready for the future of influencer campaigns.
Get my free guide
---
7 ways to pay influencers
There are many right ways to pay influencers. How much does it cost to pay influencers and what are the common types of payments for influencer campaigns?
Gifting or rewards
Comped event or trip
Store credit or rebating
Content licensing fee
Pay per post
Performance only
Fixed rate + performance bonus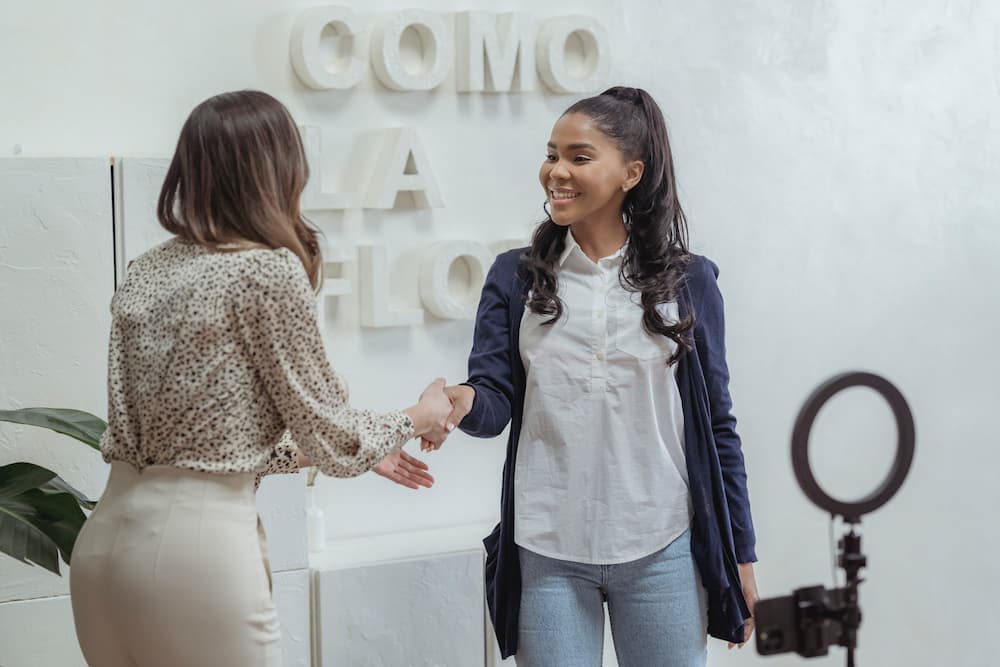 1. Gifting or rewards
The savviest of influencers know gifting can be a vital part of growing their business, which is why even top-level influencer partners still seek out gift-only collaborations. Gifting allows influencers to try out new products and review them, sometimes before their competitors, which draws audiences that want to see someone they trust try a product before they buy it. Influencers also recognize the power of gift rewards as a gateway to future work with brands. From an influencer perspective, gift-only collaborations can:
Make them more valuable to their followers
Provide simple-yet-effective content for their channels
Give them a low-commitment test run of working with a brand
Build their reputation and portfolio
Lead to long-term partnerships
It is important that gift-only collaborations leave the influencer feeling valued. Marketers should be aware of influencers' savvy; a quick Google search is all it takes for them to find a brand's profits for the previous year, and they can easily estimate a realistic marketing budget from that figure. Mid-level, macro-, and mega-influencers are more likely to reject gifting partnerships unless they see real value in the product they're promoting. Therefore, brands may want to consider reserving "gift-only" payments for micro- and nano-influencers (<50,000 followers).
Take into account the influencer's average engagement when you create these partnerships.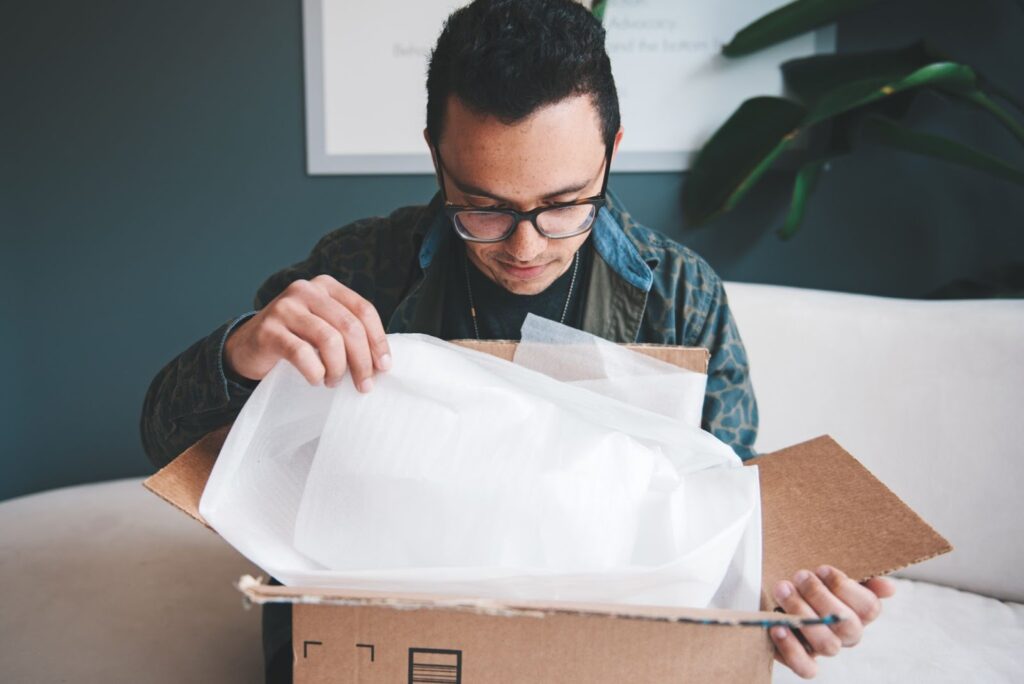 A marketer's perspective on gifting
Getting a product or brand into the mass market can be both difficult and expensive . . . but so is gifting when you consider the sale value and postage to influencers with no guaranteed conversions. That said, when you factor in the value of influencer-generated content and consider the value beyond the sale (with robust cross-channel tracking), gifting is still an effective payment model, especially for brands with smaller budgets. Anyone can gift as payment — from beauty and fashion companies to restaurants. By bringing gift rewards into your partnership payments model, even smaller brands or those with minimal marketing budgets can see their return on ad spend (ROAS) boosted by 2,000 percent. In addition, luxury brands often use gifting as a way to introduce their product to a bigger audience, which they achieve by targeting a variety of different bloggers or influencers who are key figures for a particular demographic.
For what type of business is gifting ideal?
Gifting is ideal for small to mid-level businesses in almost any sphere with lower budgets. These programs are best suited to nano- or micro-influencers.
---
2. Comped event or trip attendance for influencer content
In travel marketing, offering free trips in exchange for coverage of a destination is long established. Offering a free stay to the select few who can make a product more marketable, or admission to an event for a celebrity presence or endorsement, has long been a draw used to boost sales.
Inviting influencers on a trip or to an event offers reciprocal benefits. Travel brands can offer influencers higher value in-kind items, such as a holiday package, than the influencer would usually charge for a series of posts — and often to destinations or resorts that would be out of their reach. Events, premium product launches, and awards ceremonies have the same effect on audiences, as they can give the impression that influencers have authority in their field — at least, enough to warrant an invitation. If audiences see someone they respect or admire enjoying themselves on vacation or at an event, they may want to visit the same destination or attend another similar event.
For influencers, comped trips and events can also widen access to other opportunities and partnerships. For this reason, For this reason, many influencers don't expect additional cash payments on top of comped travel or an event opportunity they've already been afforded.
A marketer's perspective on comped events or trips
Comped event or trip attendance is a great solution for marketers keen to save on influencer fees, especially if they don't have robust attribution modeling in place to truly understand the influencers driving conversions. While other industries are increasingly seeing the value of using influencers in their campaigns, it's difficult for travel marketers in particular to track ROI due to consumer habits of booking vacations as much as six months to a year past the end of a campaign.
Influencers can offer premium content and access to their follower base. By taking their own unique photos of their experience, influencers' content surrounding a comped trip or event will be more authentic and exciting for their audience. They can also give live insights and exclusive access through Instagram Stories and Reels, or other posts.
For what types of businesses are comped events or trips ideal?
Comped events or trips are ideal for larger companies and organizations in travel or entertainment that have a high-value product to offer. This payment performs best as a noncash alternative for macro- and mega-influencers.
---
3. Store credit and rebating
"Offering [no payment] and wanting a huge amount of work shows that they don't respect you or value your work. Unless the brand is offering something that I personally want to try or they are offering a very generous store credit/gift card, I'm not a fan. Especially huge brands that clearly have the money to pay people and advertise paid partnerships on Instagram with other influencers, some who have WAY LESS engagement and 25 percent the following." — Lifestyle influencer Marisa, @sweetnewyork (219k followers)
Store credit and rebating works similarly to gifting — it tends to target the same influencers and yields similar results — but with some key additional benefits for the brand. Unlike gifting, where influencers must disclose these partnerships to their followers (usually by adding the hashtag #ad or #gifting) in accordance with the U.K.'s CAP Code, rebating through store credit requires no such disclosure.
However, many high-follower accounts may still pass on unpaid partnerships. As Marisa of @sweetnewyork stated above, influencers can find noncash alternatives to payment disrespectful — but they're much more likely to accept store credit/rebate-based partnerships if the store stocks high-value items or addresses a personal need. This is where referral fees come in. They are a way to monetize content and take a step beyond gifting.
Seek "authentic" influencers for store credit and rebates; there's no better place to start than your own customers and those who are already fans of your brand.
A marketer's perspective on store credits and rebating
You may have some powerful influencers sitting on your client roster or already talking about your product in their Instagram Stories. And these, the people that would (and do!) scoop up your wares for free, would readily amplify their efforts for store credits and/or rebates. That's where a referral program comes in. If an influencer (or customer with influence) wants to increase their income, they can opt-in for 10 percent commission paid in cash through your referral program. A referral program is a win-win scenario for influencers and marketers alike. The influencer shows off your clothes on her beauty and lifestyle blog and monetizes her content with her unique Kickbooster referral link. Meanwhile, marketers can reach more potential customers.
This is a great way to target hyper-specific buying centers and learn more about your addressable market. Let organic fans lead you to others like them and you just might gain watershed insights into who your buyers are and who they can be — all while keeping your margins trim.
This type of gifting is ideal for small to mid-level businesses that want to reach hyper-targeted audiences and engage customers with influence or work with nano- and micro-influencers. Premium businesses with more clout may also use a referral program to reach macro-influencers or engage with niche audiences, too.
For what types of businesses are store credits and rebates ideal?
Store credits and rebates are ideal for larger companies and organizations in travel or entertainment that have a high-value product to offer. This payment performs best as a noncash alternative for macro- and mega-influencers.
---
4. Content licensing fees for brand awareness
User-generated content (UGC) is a powerful marketing tool for any business. No matter how professional or on point professional product photos and editorial shoots are, customers wearing or using your product will get the clicks. In fact, 87 percent of brands take advantage of the authentic power of UGC, and 72 percent say it helps with engagement. Meanwhile, 47 percent of millennials and 36 percent of baby boomers trust UGC, and 35 percent of gen Z believes that UGC will have more credibility than branded content in the next three to five years.
When you want to build up content for your website or social channels, paying influencers a content licensing fee could be an easy win for you, and a great way for influencers to increase their income. You can do this using a third-party platform or integrate content licensing as a payment model in your influencer partnership platform. When you agree to a license fee, you will also reach an agreement about where the licensed content can be used: across your website and social media channels or in marketing literature, and how long you are able to use it — whether for a set period or in perpetuity.
A marketer's perspective on content licensing fees
Consumers are consuming content faster than ever. When you consider how fast content expires across platforms, it's no wonder marketers are under pressure to constantly generate new content. Not only that, it needs to stand out, get noticed, and lead to clicks and brand awareness or engagement. In fact, when you consider the shelf life on a visual platform like Instagram, marketers need to create and share new content every single day. A licensing payment model is an easy win for marketers keen to get more content that they can share across their social media channels and on their website.

For what type of business are content licensing fees ideal?
Content licensing fees are ideal for brands that know their products need to be authentically seen, worn, or used to drive engagement. Travel and consumer goods brands also benefit from licensing user-generated content to increase engagement and reinforce brand values by using influencers that resonate with their target audience.
---
5. Pay per post and sponsored posts
In 2017, research indicated some brands in the U.K. were willing to fork out as much as £75,000 for a single post on Facebook from a celebrity. They'd pay £67,000 for an identical sponsored video on YouTube. This is a huge charge considering the price point for smaller scale influencers that can actually offer higher engagement rates and reach more targeted audiences. There is a wide price range, depending on follower count, audience engagement, type of content, and a variety of other factors. But how do influencers even begin to calculate what their posts are worth? The largest celebrities with the biggest, most engaged followings can command the most, with Kylie Jenner (196m followers) and Christiano Ronaldo (238m followers) both reported to have a set fee of $1 million for a sponsored post. But the good news is that not every sponsored post has to be as expensive as those created by the Jenners and Ronaldos of the world.
Pay per post, and its impact, is also achievable for those who simply can't splash out and pay five, six, or seven figures on one post. It's about selecting the most relevant and effective influencers for your product.
For the nano-, micro- and macro-influencers of the world, here are some benchmarks on pay-per-post costs in 2021:
Facebook. Influencers on the platform charge an average of $25 per post, per 1,000 followers
Instagram. A cost-effective channel with an average price of $10 a post, per 1,000 followers
Twitter. At $2 per post, per 1,000 followers, Twitter offers the lowest influencer marketing prices
YouTube. On average, influencers charge $20 a video, per 1,000 subscribers
Snapchat. Influencers on Snapchat charge $10 per post, per 1,000 followers
Blogs. Influencers charge around $60 per post, per 1,000 unique visitors
A marketer's perspective on pay per post and sponsored posts
Pay per post can be a great asset to any influencer partnership campaign. It can also give marketers a better idea of the process of the campaign, and help shape future planning. If you pay an influencer, you have the leverage to negotiate access to the most precious marketing commodity of them all: data. Prioritize direct response activations and establish the tracking and attribution infrastructure to understand an influencer's contributions to your business goals, even if you're not paying them on performance. Depending on platform and medium, you can ask influencers to include swipe-up links, unique promotion codes, links in their bios and descriptions, or directions to a unique landing page. You can even attribute credit based on point-of-sale surveys, where a customer self-designates if an influencer pushed them to convert. Baking this data into your strategy will help you to be better informed for future campaigns in terms of expectation vs delivery. By analyzing influencers' performance, you can refine and reshape your campaigns — and improve your ROI over time.
While in the past brands could get away with more gifting and cashless incentives when paying influencer partners, most now expect compensation in the same way marketers would pay any other resource. In fact, a lot of influencers are seeking longevity in their partnerships, and are looking for long-term contracts rather than one-off payments. Specialist influencers who have taken a long time to develop and get to know their audience know the value of that when it comes to marketing.
For what types of businesses are pay per post and sponsored posts ideal?
While everyone can have a stake in the pay-per-post game, larger businesses with a budget to pay more than one influencer will see a bigger ROI compared to smaller businesses choosing only one or two to sponsor content for. They are best when used as a starting point for more robust, enduring partnerships with experienced influencers who have large followings.
---
6. Performance-based partnerships
Performance-based partnerships are popular with both influencers and marketers alike for the simplicity of execution and trackability. Whether these partnerships are for specific campaigns or products, to increase sales, or as a stand-alone payment model for influencer partner segments more suited to performance-based payments, they are clear and flexible. For example, they work for influencers with a huge follower base or micro- or nano-influencers with fewer followers that tend to have high audience engagement.
Under a performance-based payment model, influencer partners either post on their feed or Instagram stories as they usually would to recommend a product, and brands only pay them when a user converts or triggers a "success event."
Possible actions that could trigger a performance-bonus for influencer partners include:
Purchase. The user buys the merchant's product.
Subscription. The user signs up for a program or monthly subscription.
Booking. The user books a hotel stay or flight on the website.
Inquiry. The user becomes a qualified lead and gets in touch with the merchant.
Download. The user enters their details to download something of value.
Account-funded. On a fintech website, a user signs up and adds money to their account.
Registry-created. The user registers for a wedding or baby registry to produce a list.
Newsletter signup. The visitor provides their details to receive email newsletters.
Account-created. The user registers for a given service or account, or joins a community.
Reservation. An airline purchase, car rental, or hotel stay is put on hold to book within 24 hours.
A marketer's perspective on performance-based partnerships
The influencer knows that what they earn depends entirely on the actions users take after clicking their link, which places the onus on the influencer to convince their followers to convert their posts into sales. This gives them an incentive to put more effort into creating quality content that sells. Often arrangements between marketers and influencers are percentage-based, with a commission falling between 5 and 30 percent on average. For reference, professional bloggers can earn between $1,500 and $8,000 per month through affiliate marketing relationships.
To manage performance-based payments for influencers at scale, you need partnership technology and automation that allows you to customize contracts and payouts and effectively track performance, but there are some alternative tools that can help.
For example, affiliate links can be effective when using the "swipe up" option on Instagram Stories — available to influencers with more than 10,000 followers. Influencers can easily reference a product in their stories, and then link to the product via an affiliate link. All the customer has to do is swipe up, and an affiliate program automatically tracks conversion.
Those with fewer than 10,000 followers, or who include entire outfits in a single post on their feed, may prefer to use platforms such as LikeToKnowIt, where they can individually display all affiliated products with cataloged affiliate links.
Promo codes and unique landing page shoutouts are other effective tools for tracking an influencer's contributions. YouTube makes it easy for influencers to include as many links as they want in their video descriptions. Tracking and measurement options evolve with social platforms, so it's important to partner closely and directly with your influencers to ensure you're always leading the market.
For what types of businesses are performance-based partnerships ideal?
Performance-based partnerships are ideal for high-engagement, growing influencers open to direct response activations. They predetermined measurements of performance and terms to be properly laid out prior to a campaign going live.
---
7. Fixed rate + performance bonus
A hybrid fixed rate + percent-of-sale approach brings together the best of both pay per post and performance-based payments, and equally benefits influencers and marketers. This payment sees a higher ROI, generally yielding a higher bonus for the influencer but with a fixed pay "cushion" to cover their upfront work.
With the fixed rate plus performance bonus model, everyone wins. The brand pays the influencer a base sum for the post, but sets sales targets and terms with the influencer that they must reach to receive bonus payments. From the influencer's perspective, they're rewarded for every sale they make. This gives the influencer two means of incentivization: first, the fixed rate demonstrates that the brand values their work, and second, the more sales their content generates, the more lucrative the partnership becomes.
Brands can construct a bonus system in a number of ways, for example:
Clicks
Conversions
Order value
Specific product sales
If you're looking to drive sales and engagement at scale with a payment system that rewards only genuine, quality results then this might be the best route for you.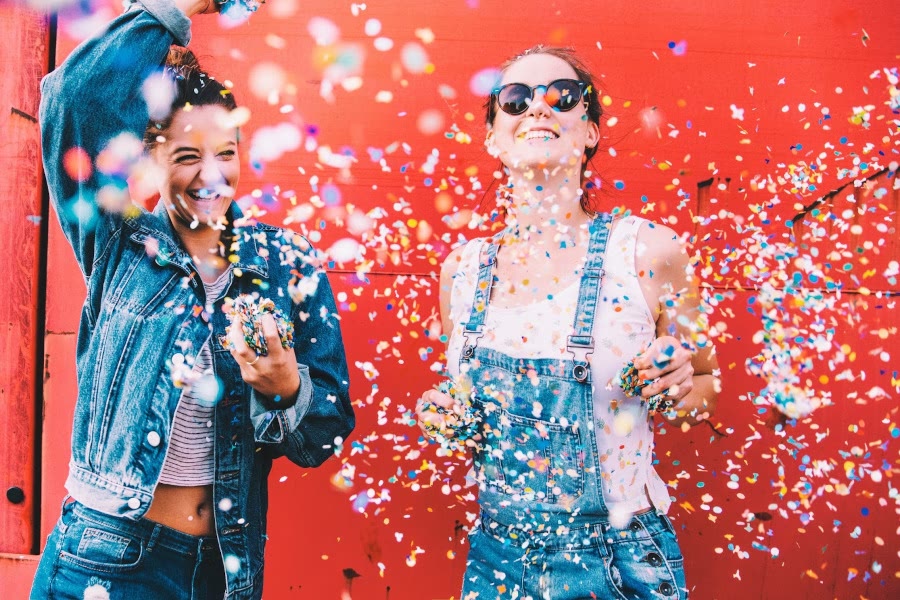 A marketer's perspective on fixed rate + performance bonus
A fixed rate + performance bonus payment model is a great way to build trust with high-value partners. By making an upfront investment you're proving that you value their time and content creation, and influencers will put in more effort to benefit from the performance bonus. This creates opportunities for:
Content collaboration. Influencers want their content to perform, so they will be keen to work together.
Review cycles. Fewer delays and less pushback along the way to improve quality and performance for both parties.
Amends and feedback. Making sure you get the final product(s) just right.
Future campaigns. Influencers will be more engaged and ready to help on your next campaign.
As a marketer, a fixed rate + performance bonus payment model enables you to work with influencers who command fixed fees, and is economically advantageous for both you and your partners. Not only do influencers drive returns for you, they can potentially earn more than they would have settling for a fixed fee. Both parties are motivated to work collaboratively across different campaigns and objectives, which means they are also likely to endure and reduce turnover on partnerships. By nurturing high-value influencer partnerships you will waste less time on onboarding and training new influencers on your brand voice and style.
For what types of businesses are fixed rate + performance bonus payments ideal
Fixed rate + performance bonus payments are ideal for bridging the gap between commission-only (more likely to be influencers with lower follower counts) and macro- or mega-influencers.
---
Why you need to follow best practices for paying influencers
"You would be amazed how much photographers sometimes get paid to take a picture, but we value that; why do we not do the same for an influencer – because they are still delivering great creative in that way. I think more respect for the craft would help."
— Cody Eastmond, Senior U.K. Director, The Communications Store
Gone are the days when brands could rely on gifts as payment or promotional posts for exposure — influencers are more business savvy and they know their worth now, more than ever. Marketers also know how much influencers impact their sales, so the benefit is mutual. Influencer payments have not only developed and changed over time, but there are multiple ways to pay them, dependent on a number of factors:
Expertise of the influencer
Follower count
Audience engagement
Content quality
Brand product value or brand size
Brand budget
Length of partnership (short term/long term)
The single greatest thing you can do to ensure the efficacy of your influencer program is to take the time to analyze the different factors that come into play with your influencer partnership and choose wisely what kinds of payment structures work to create the optimal partnership for both parties. Influencer marketing is no longer a plug-and-play "hope for the best" channel and there is no one way to pay influencers. But there are two things you can do to get with the times on influencer payments: personalize and customize.
Beyond getting the best ROI for your organization, remember that influencer partnerships work best when they are beneficial to both sides. Influencers want to be paid fairly, on time, and in a way that motivates them to produce and share great content. Big brand or small, do what it takes to get with the influencer program for today and tomorrow so you can create a mutually beneficial relationship. The enduring partnerships that result will provide sustained value. After all, paying your influencers in the right way will pay you right back.
Want more information about diversifying your influencer payments and creating the right structure for the right influencers?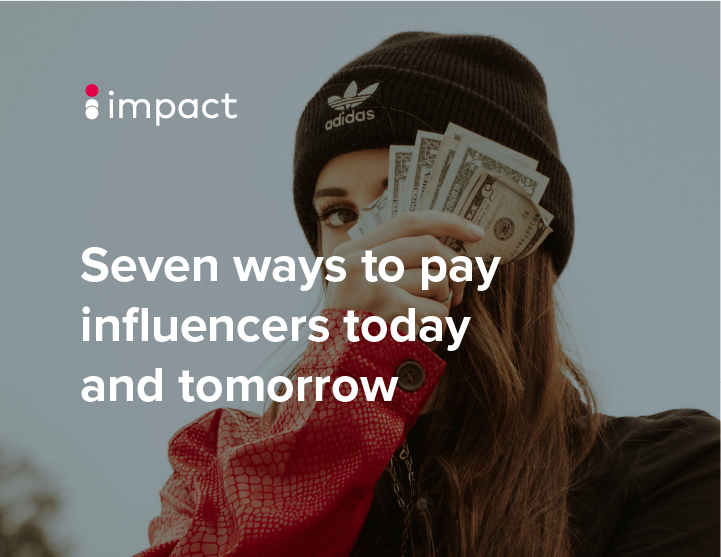 Want this great info in ebook form?
Learn all about structuring influencer payments, which kind is best for you, and how to be ready for the future of influencer campaigns.
Get my free guide
For more ideas and guidance on influencer partnership management, check out these other impact.com resources for influencer partnership management: