Imagine writing a beard-shaping guide geared toward millennial men. You'd likely list all the steps to shape and maintain specific beard styles. Within these steps, you'd mention items they need to complete the look.
Now you can add affiliate links to helpful products from brands that align with your audience, ensuring they achieve the best results. Plus, when the product and audience line up just right, you drive more sales for your brand partners and commissions into your bank account. 
However, creating that spark takes a lot of research, testing, and number crunching. With the millions of products available for affiliates to promote, finding those that suit your audience can feel overwhelming.
It doesn't have to be. These simple strategies can help you lay the groundwork today for higher earnings as you grow.
4 Steps to finding the perfect products for your affiliate marketing content
What makes a product suitable for your audience?
---
Pick the right products to supercharge your affiliate income
Finding the right match creates a virtuous cycle that strengthens your affiliate business. The products you promote meet your audience's needs, which leads to more traffic, sales—and better negotiation power in payout and contract negotiations.
Remember the most important thing: be authentic and always keep your audience in mind. 

An audience-first mindset applies to publishers of all types and sizes. According to a recent study by Morning Consult, 88 percent of people say it's important for influencers to be authentic and genuinely care about their interests.
For large media publishers, creating commerce content that's authentic to the publication's voice and style can:
Boost brand awareness
Keep audiences engaged
Increase audience size
Grow commission earnings
Ultimately, authenticity builds trust, and the trust of your audience is truly your greatest resource.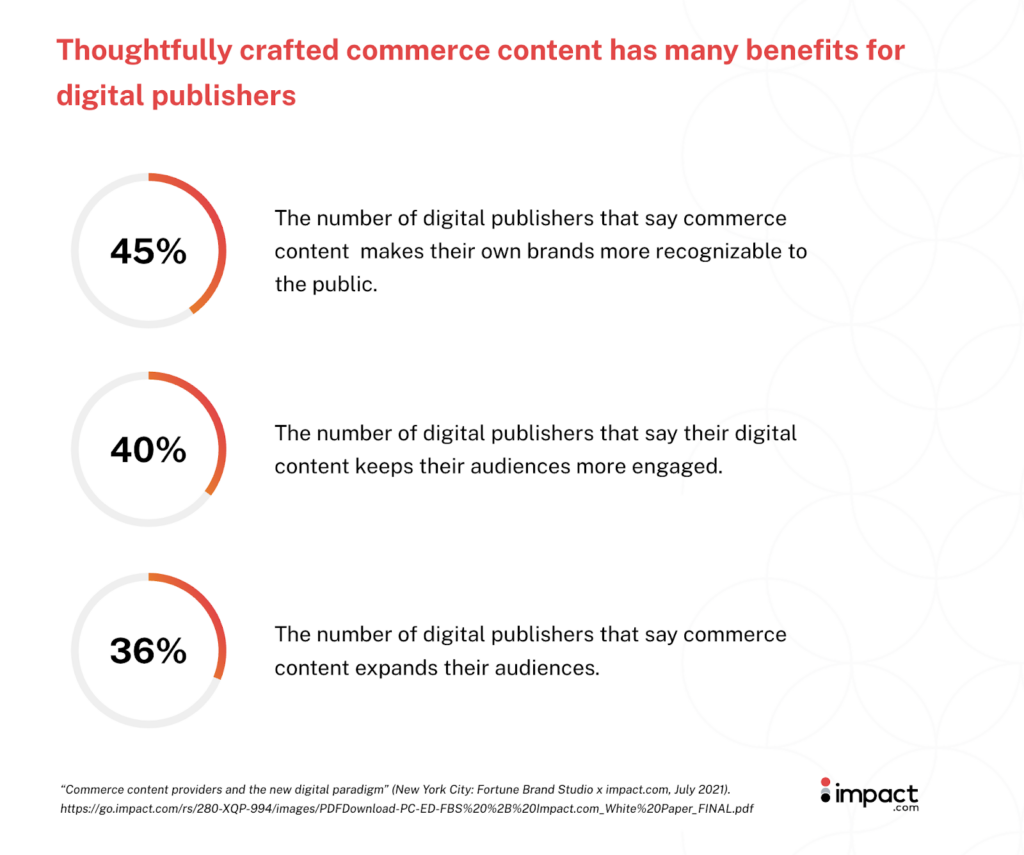 ---
How to find the perfect products for your affiliate marketing content in 4 easy steps
To create trustworthy affiliate content, promote products and services that meet your audience's needs. Follow these four steps to start your journey into affiliate marketing.
Step 1: What affiliate content do you want to create?
Consider your niche before starting your search. What products does your audience like? Then, think about the type of content you want to create.
Affiliate content—also called commerce content—can take many forms. Each type lends itself to different product promotions. Most of it falls into a few genres:
Product reviews. These focus on a single product, promoted with an affiliate link.
Product comparisons or roundups. This content promotes several products related to a category or theme. You may include multiple products to rival products.
How-to guides. These guides may contain affiliate links to products in multiple categories under your guide's topic.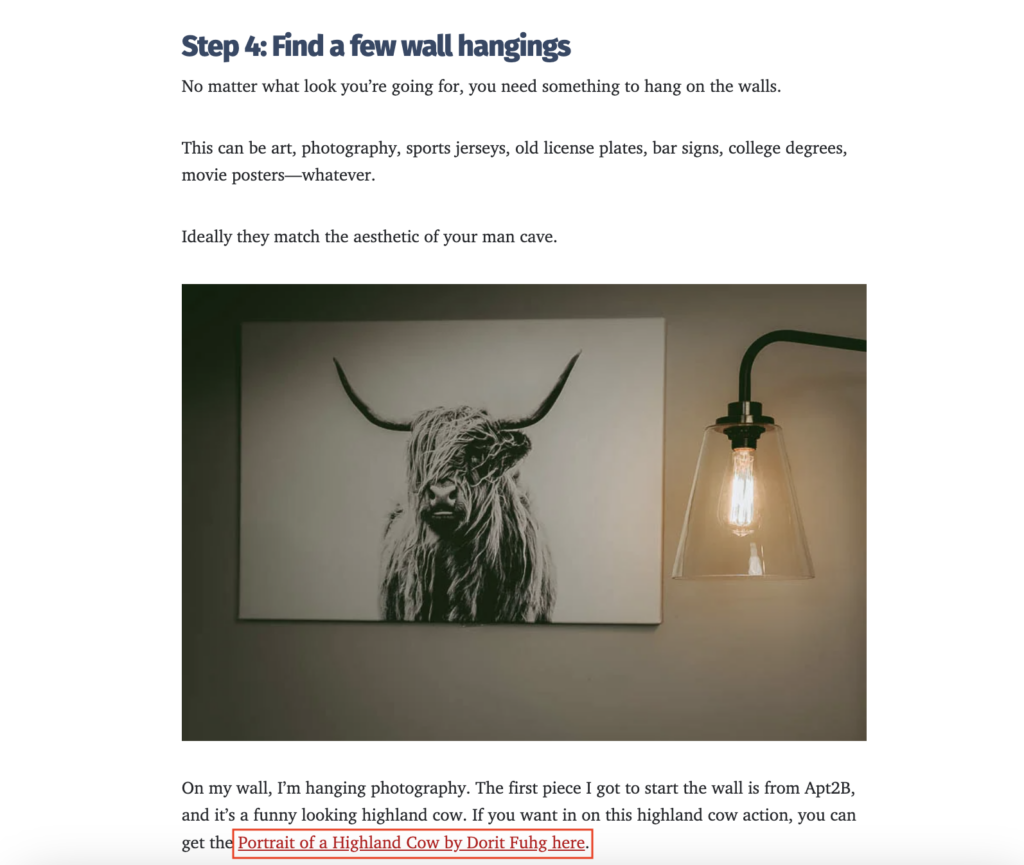 For example, content publisher The Adult Man embeds affiliate links for home products in their guide to creating a classy man cave. The writer selected products to align with:
The content type
The publisher's niche
Audience interest

This curated approach enhances the reader experience and offers multiple opportunities to convert.
Step 2: Sign up for affiliate programs
Now, you can find affiliate programs and networks that suit your content type and audience. Many publishers find that the flexibility of affiliate networks provides easy access to various brands.
For example, the impact.com Marketplace opens opportunity to monetize content with affiliate links by partnering with thousands of brands worldwide.
You can also seek individual affiliate programs managed by brands you love. According to a study by Forrester Consulting, 81 percent of advertisers reported working with affiliate partners.
Step 3: Browse affiliate product feeds
Once on an affiliate network or program, look for products to promote. Most affiliate networks allow you to search for high-ticket products by niche, helping to identify items that will net the most revenue.
Scan product listings for the following info to determine which products to promote:
Commission amount. Does the commission rate align with your revenue goals?
Average performance with other partners. What do other affiliates earn from this product on average? Find this information listed as average earnings per click (EPC), average sales, or average commission.
Commission structure. What actions must you accomplish to get sales "credit"?
Promotions. Products with offers or discounts attached to them typically have higher conversion rates.
Locality. Consider the delivery options available to your audience and whether the product ships to where your audience lives.
Joining multiple affiliate networks
If you're using multiple networks, compare the same product to find the best payout. This is an easy, effective way to increase incremental revenue.
Manually unearthing the best payout for individual networks is time-consuming. Automated solutions streamline this process. Trackonomics by impact.com has a Chrome extension that shows you different prices for the same product across networks in one place.
Step 4: Monitor your favorite categories and promotions
Opt into their email list if the affiliate network or program you work with doesn't automatically inform you of new products and promotions. This keeps content fresh with the latest products and offers.
---
What makes a product suitable for your audience?
Joining affiliate networks open new options. The trick is narrowing that list down. Sharing irrelevant products damages trust and mars the user experience.
To avoid this, develop a list of criteria a product must meet for you to promote it. These criteria may include:
The brand's ethics and image
Whether or not you've tested the product
How the product serves your audience
If the product aligns with your publication, blog, personal brand, etc.
To know whether a product is a good fit, you'll have to do some research.
Understand audience needs
Your audience constantly looks for products to help solve problems. You drive more sales when you effectively answer those challenges.
There are many ways to understand what problems your audience wants to solve and how products can contribute to the solution. The internet provides plenty of research opportunities like:
Google Trends. This free service allows you to compare the popularity of search terms and trends. See what people are interested in and capitalize on that interest with timely content and recommendations.
Keyword research. Diving into keyword research reveals the problems your audience wants to solve. It can also identify opportunities for your affiliate content to rank on search engines.
Competitive research. See what products competing publishers recommend. Aside from browsing content on their websites, keyword research also helps in this area. Analyze the competitor keywords or gaps using a tool like SEMrush. High-volume keywords may point to potentially profitable topics for your niche.
Quora. This is a forum for people to ask and answer questions. Relevant questions with upvoted answers could help you understand what topics connect with your audience.
Online communities. Find conversations relevant to your niche in groups, forums, and online communities. You'll learn a lot about your target audience by reading posts.
Just ask. Go straight to the source to ask questions through social media, polls, surveys, and elsewhere.
Aside from selecting the right products, this information supports your editorial calendar and refines your content amplification strategy.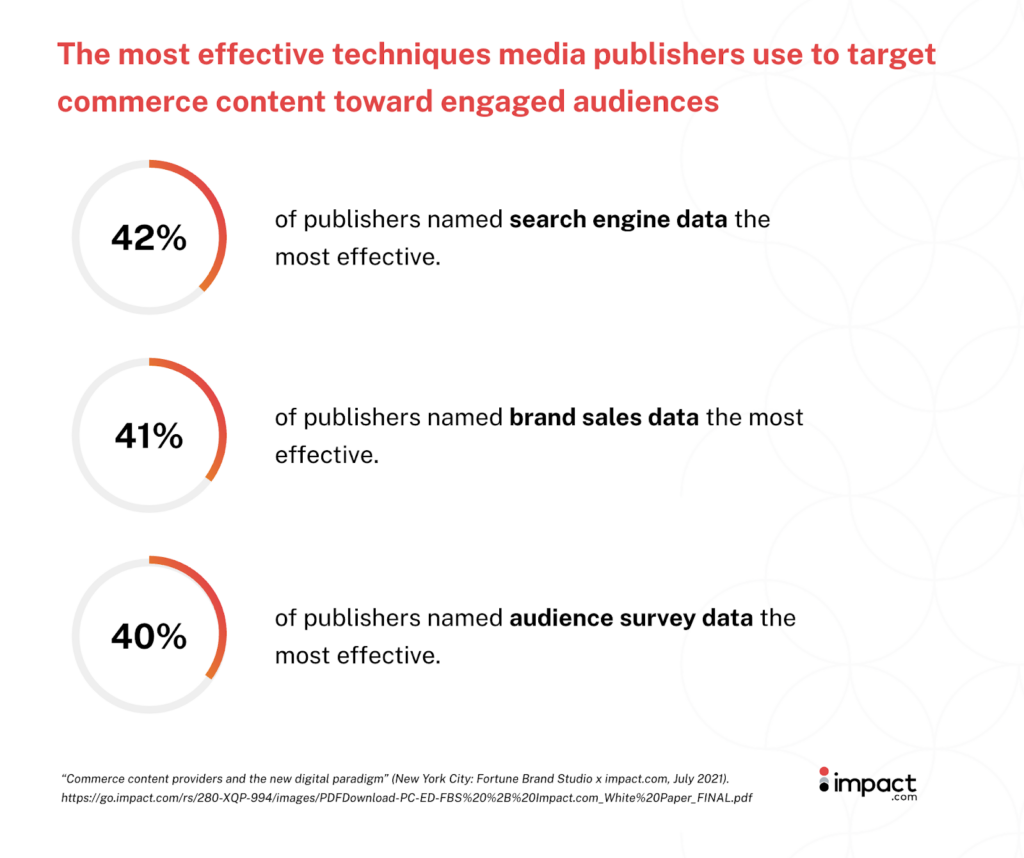 Consider products you've used and loved
Authenticity is the key to connecting with your audience and driving sales. People appreciate first-hand-experience content and value seeing the product in action.
If your audience comes to you for your niche expertise, they value your opinion. Maintain this integrity by recommending products you know you can stand behind.
Keep a running list of products you love (regardless if they offer affiliate support). You can use this list as a source of future content, especially product comparisons and review roundups.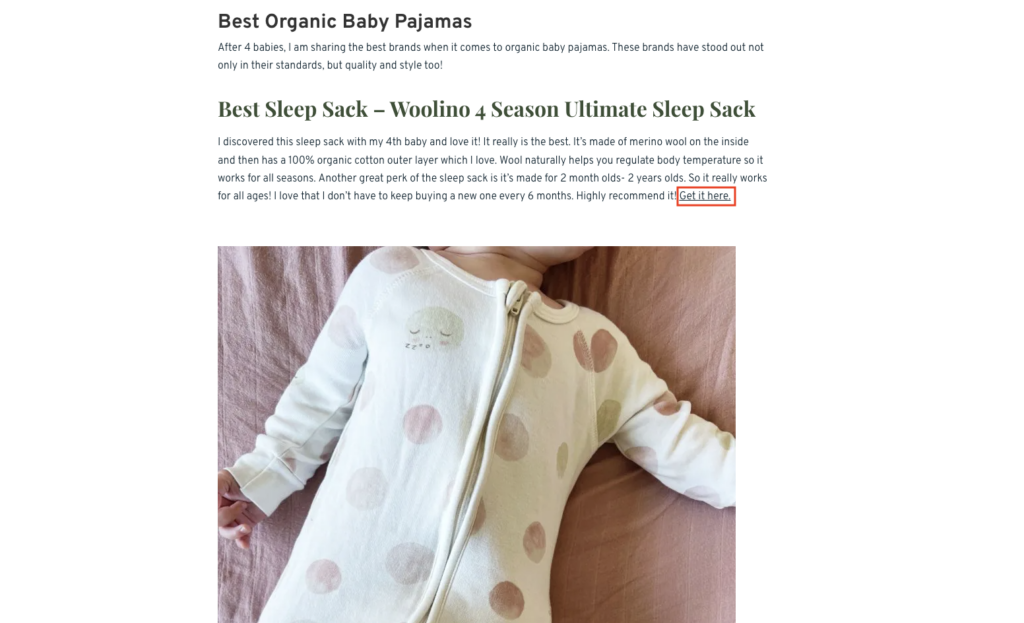 For example, organic lifestyle blogger Gurl Gone Green created a roundup of her favorite organic baby pajama brands based on her experience as a mom of four focused on clean living. Taking this approach accomplishes several goals:
Meets audience interests and needs
Maintains authenticity and expertise
Drives incremental revenue
Let your previous performance guide you
After you spend some time in the affiliate saddle, you'll amass a trove of usable data to hone your product selections. Dig into affiliate network reports to evaluate past performance and adjust your strategy accordingly.
Look for patterns in the data. Ask yourself: 
If certain products sell well, are they from a particular category?
Do some brands have a better conversion rate than others?
Does your audience go wild for promo codes?
This process helps you identify the products, brands, and promotions to focus on.
Even the stragglers can shed light on what to trim or improve. You may find some products and brands simply don't connect with your audience. Some may rack up sales but offer little commission earnings.
Make finding the right products easier
All of these strategies can connect your audience with the products they need. But accessing the data you need to make the best decisions for your audience is challenging.
The impact.com for Publishers suite provides multiple solutions for boosting your affiliate sales, including:
Connecting you to thousands of brands looking for partners
Aggregating data across multiple networks for deeper insights
The ability to manage all your partnerships in one place
And much more!
Make your affiliate marketing content more profitable than ever with the power of automation and robust data. Schedule a demo today.