With increased customer data insights come difficult conversations around privacy regulations. Since 2018's General Data Protection Regulation (GDPR), marketers face new regulations and must scrap their strategies. Traditional advertising deals don't deliver as effectively as before.
Publishers like you must rethink how they learn about consumers, generate revenue, and implement a strategy. On top of that, consumers lose trust in advertising. This presents another challenge for publishers relying on advertising to bring in revenue.
What's the best alternative to advertising? If you asked yourself this question over and over (or even just once), take a look at content partnerships. They're currently one of the best alternatives to digital advertising in the new "cookie-free" marketing world.

Spoiler alert: once you master the art of forging content partnerships with brands, you'll be able to scale your business and launch your revenue into the stratosphere. Ready for takeoff?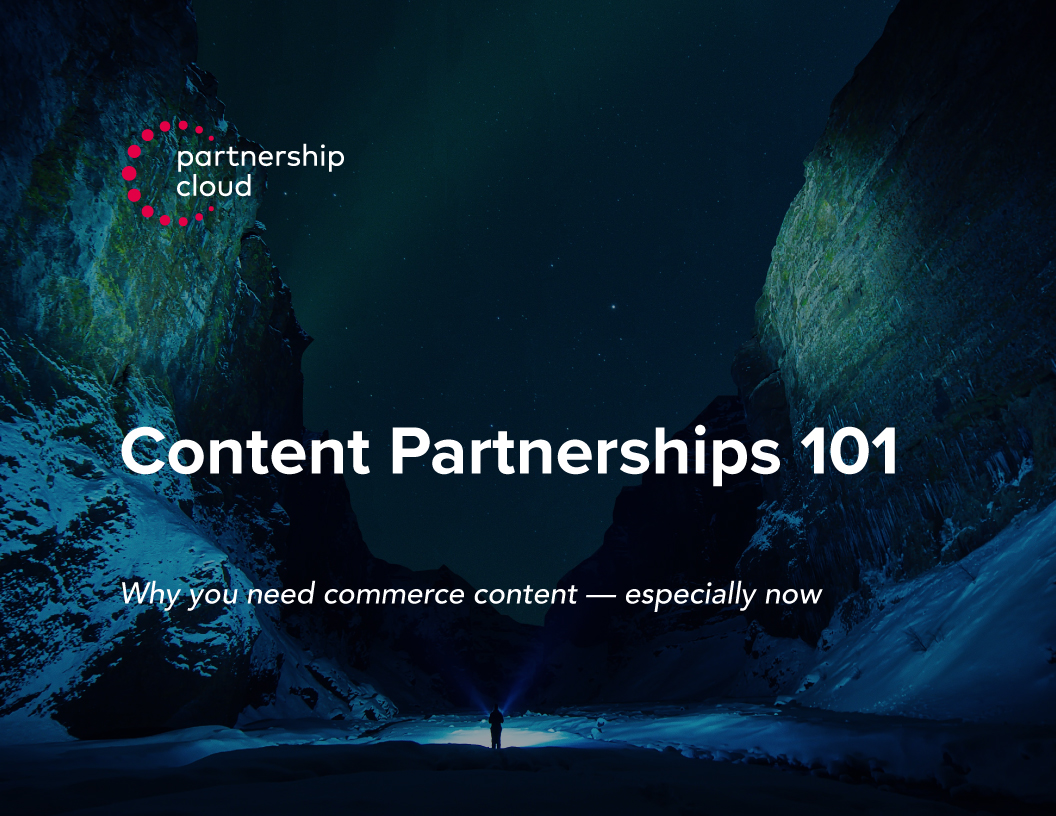 Content Partnerships 101: Why you need commerce content — especially now
Want insights on the latest revenue-generating strategies? Download How publishers can scale with commerce content.
Get my free guide
Current challenges in the publishing industry
With consumers longing for more quality content, you've likely already noticed several challenges.

First, traditional ad placements are on the decline, and so is ad revenue. To maintain satisfactory cost-per-milles (CPMs), publishers must remove unprofitable ad spaces. This is a short-term fix, but still problematic in the long term. The industry continues shifting away from advertising, making finding new revenue streams top priority.

Second, publishers struggle to access detailed audience insights. Faced with the limitations of new privacy laws and a lack of cookies, publishers can no longer depend on third-party data and intermediaries. Despite this, 41 percent of publishers still rely mostly or exclusively on third-party data to target their audiences.

Some publishers build a repository of first-party data to combat this change. This method relies on companies collecting information on website activity, purchase history, and other profile data using a pixel and storing it for future use. Unfortunately, only 28 percent of publishers implemented or established a first-party data monetization strategy.
Content partnerships 101
Commerce reached new heights with the help of social media and advertising. Many brands look to content marketing as the new go-to strategy, but only a select few unlock the full power of content. Partnerships forged around content help publishers avoid the traps of digital advertising and establish stronger sources of revenue.
Commerce content partnerships happen when a brand and publisher join forces to create editorial content that guides consumers through their buyer's journey. This content suggests relevant products and services to a publisher's audience base.
Both brands and publishers benefit from this partnership. As a publisher, you can maintain editorial integrity and satisfy your readers. Meanwhile, brands leverage your build-in trust with audiences.
This content feels authentic and engages your audience in a way that doesn't seem like traditional advertising. As a result, the audience feels a more meaningful connection with the brand and becomes more likely to buy from it, while you get points (and revenue) for quality recommendations.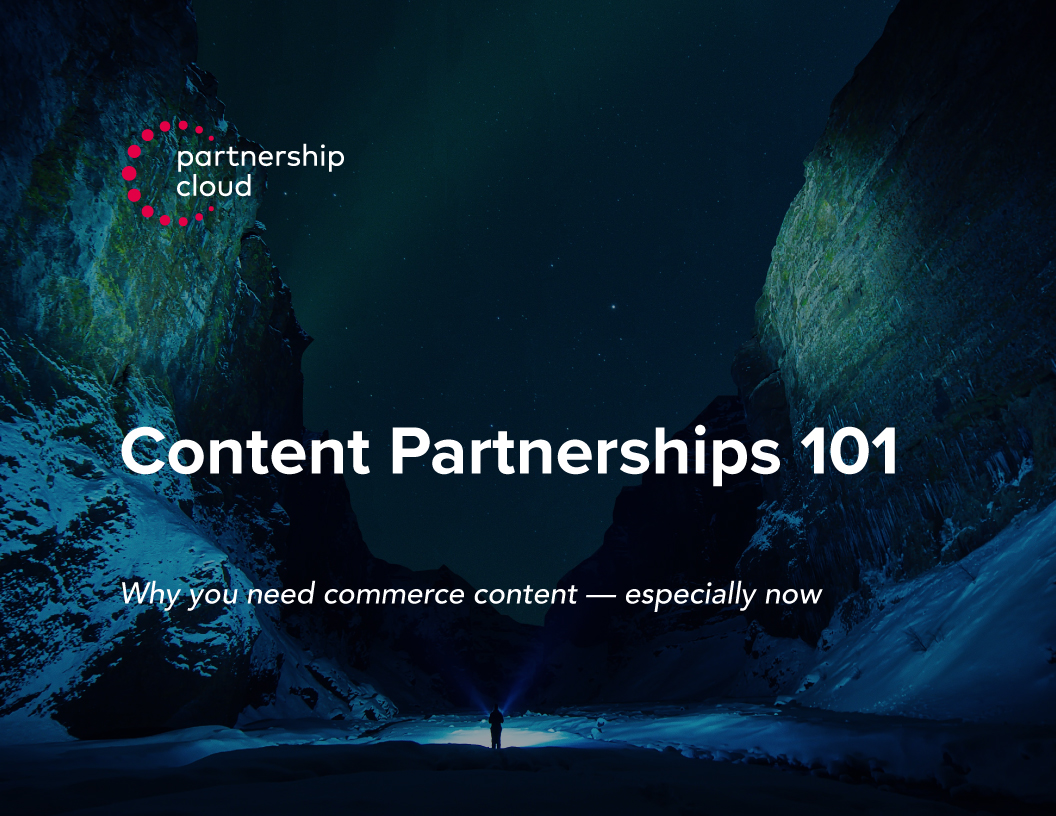 Content Partnerships 101: Why you need commerce content — especially now
Want to work with brands and monetize your content?  Download How publishers can scale with commerce content.
Get my free guide
Four reasons publishers are shifting away from advertising
Brands need new, creative forms of marketing to engage ad-weary consumers. But to create something new, the players must understand what led to the downfall of the old.
Let's examine the four key reasons why traditional advertising isn't the only go-to channel anymore.
Evolving consumer behavior
In the early days of advertising, brands bought ad spaces on publisher sites and shared product deals with the publisher's audience. The continuous flow of display ads and pop-ups led to the rise of browser ad blockers. 40 percent of U.S. internet users say they use ad blockers and Edelman's Trust Barometer found that 3 in 4 consumers avoid ads altogether.

Today, consumers prefer to read an online review, scroll through a "Top 10 products" article, or watch an unpacking video to evaluate their options. This type of content feels more authentic to them. Although traditional ads still generate conversions, consumers long for more genuine, long-term connections with brands (and the publishers recommending them).
Decreasing revenue for publishers
Publishers' revenue slowly declined due to changing consumer behaviors. According to several studies and Digiday research, the rate of decline will only increase within the following year. Although site traffic rose for most publishers, revenue and net income consistently decreased. It seems ads, specifically programmatic and direct-sold ones, have some of the worst conversion rates compared to other channels.
Changing attitude toward CPMs
Many digital advertising contracts in the past used metrics like cost per mille (CPM) to evaluate and pay publishers. This statistic presents some challenges for brands today:
Failing to convert. When brands base payment on CPM, they pay the publisher based on the number of people that see the ad. But just because a person sees an ad doesn't mean they click on it – let alone make a purchase. If advertisers want an ad campaign to drive purchases, they won't always get their desired return on investment.
Incorrect traffic counts. Sometimes duplicate views of the same ad count as multiple impressions, meaning that brands potentially pay for duplicate views. If a brand doesn't stay on top of managing campaign analytics, they could miscount the number of impressions an ad received and pay more than they need to.
Ad fraud. Many brands spend money on fraudulent ad traffic. Researchers estimate that digital ad fraud cost businesses $81 billion worldwide in 2022 and that 11 percent of global digital ad traffic is invalid. As this vulnerability to fraud grows, so do brands' concerns about investing in digital advertising.
As a result, advertisers move away from such contracts, leaving publishers with empty ad space.
Weakening relationships between advertisers and publishers
Programmatic advertising takes up a large chunk of advertising revenue and impairs relationships between advertisers and publishers. When customers don't click on ads, publishers generate fewer conversions. Performance worsens and advertisers invest in other channels. Publishers who view advertising as their primary revenue stream face a smaller bottom line and tighter profit margins.
Competing against the Google and Facebook duopoly
When it comes to competition, even the biggest publishers struggle against the two major advertising giants, Google and Facebook. As advertisers take their ad budgets to these popular advertising platforms, the duopoly makes it unlikely for you to grow your market share and capture new leads.
How content partnerships solve the publishers' biggest challenges
While content partnerships aren't new, several key trends indicate that publishers can look into this form of partnership as a solution for declining revenues.
1. Relevant content increases traffic
Today, consumers experience an endless emotional rollercoaster from current events. During the pandemic, people spent more time at home, consumed immense amounts of content on social media, and shopped online more as they maintained social distancing measures.
In the U.S., a similar trend occurred in 2008 and 2009 with the onset of the Great Recession. In this case, publishers supplied their audiences with much-needed content savings and deals to encourage purchases.
In both cases, relevant content connected to current events drove greater consumer engagement. Both brands and publishers can use this trend to connect to their audiences, increase traffic, and drive conversions.
2. Current consumer spending habits rely on content
As pageviews increase, so do website clicks and, more importantly, conversions. More than 2 billion people made online purchases and spent $4.2 trillion as recently as 2020, according to research by Fortune Brand Studio and impact.com.
Stay-at-home measures aren't the only driving factor behind this trend. Though the world has returned to a greater sense of normalcy in the last two years, worldwide retail ecommerce sales still increased by 30.5 percent from 2020 to 2022. People consume and shop online more than ever before.
Consumers also avoid spontaneous purchases more than ever. With smartphones and laptops always within reach, consumers now look up product reviews and do their research before going to checkout. In fact, 53 percent of shoppers surveyed by RetailMeNot searched for deals online before buying a product in-store. You can capitalize on this behavior by producing more review-type content your audience will enjoy.
3. Commerce content provides an effective revenue channel for publishers
Not only do consumers prefer this organic content, but publishers also generate more income from it. According to Lotame research, commerce content makes up more than one-third of all publisher revenue in the United States, and two-thirds of publishers claim commerce content as a top-three revenue source.
Direct partnerships between publishers and brands
The need for intermediaries disappears with content partnerships. Instead, publishers secure contracts directly with brands. Direct partnerships cut costs and remove the need for expensive programmatic technologies.
On top of this, a direct partnership between a brand and publisher allows for flexible performance-based deals. Traditional advertising deals often use cost-per-thousand-impressions (CPM) metrics, which can misalign expectations on both sides of the partnership agreement.
Better, more lucrative partnerships emerge from direct communication. Both parties align on metrics like cost-per-click (CPC) or cost-per-acquisition (CPA), opening candid conversation and transparency backed by shared data. Additionally, brands and publishers can negotiate exclusive commission rates. Sometimes brands can even give specific publishers exclusive codes for their readers.
The leading players in content partnerships
The content partnerships system has several key players, from advertisers to agencies and even editors. If you understand the role of each stakeholder and how you'll interact with them, you'll maximize the benefits you can receive from content partnerships.
Advertisers (retailers/brands)
Retailers and brands want to sell their products and services to consumers.
Content partnerships increase top-of-funnel awareness and purchase intent for a brand. When brands communicate directly with publishers, retailers and brands set clearer expectations with potential partners and have more flexibility in performance-based contracts. Such "outsourced" content marketing also helps expand the brand's online presence.
Brands want to create as many authentic types of content as possible to promote their offerings. Publishers offer a reliable source of relevant, quality content that drives brand awareness and increases purchase intent higher up in the funnel.
Publishers
Publishers are people or entities like you that create sponsored and editorial blogs, videos, and other types of content on websites and apps. Publishers face revenue challenges as the market becomes oversaturated and advertisers spend less.
Commerce editors
Editorial teams represent the voice of publications and media houses by writing unbiased content and providing product recommendations independent of brand partnerships.
These teams usually have complete control over the content. Advertisers often find it challenging to land a mention in editorial content, as editorial teams value the trust they've established with their readers and prefer to hand-select product recommendations.
Agencies
Agencies act as intermediaries between publishers and brands. They work closely with a brand to learn its goals and audiences, then contact multiple publishers on behalf of the brand to forge potential content partnerships.
The most popular types of commerce content partnerships
Among the many forms of content partnerships, commerce content gives publishers the upper hand.
Commerce content relies on targeted editorial materials and you can use trend data and audience insights to decide what works best. You can also highlight specific deals or competitive promotions and create an even greater incentive for purchasing.
Brands look at site data to see if a particular publisher drives increased conversions for a product. Brands and publishers can also form a direct partnership around a campaign or occasion to create more targeted content with each other's input. The opportunities to create engaging content that appeals to your audience while boosting revenue are endless.
See the common types of content partnerships and diversify your brand partner mix to secure a continuous, stable income.
Organic content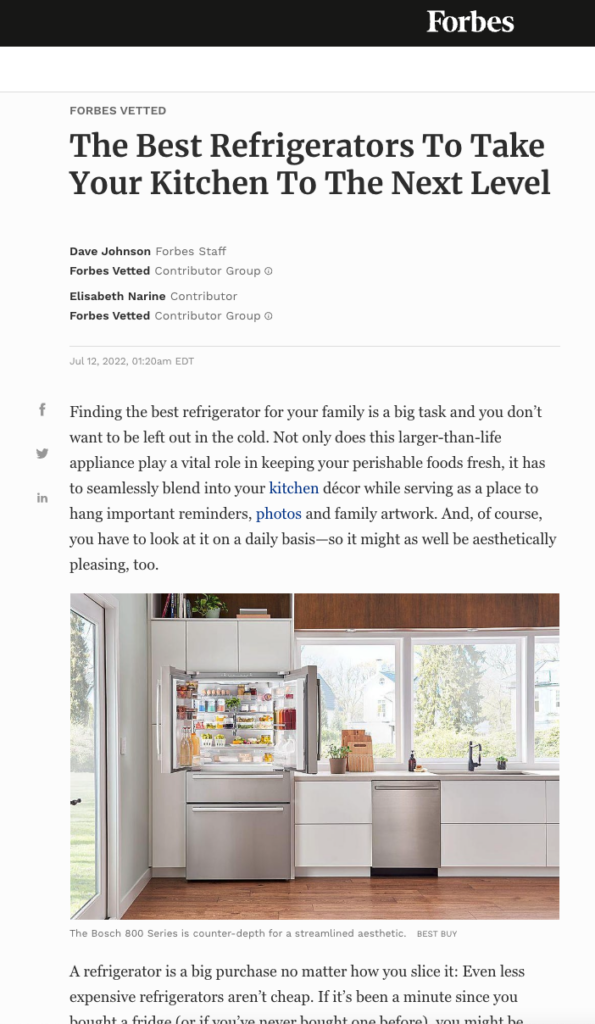 Organic content incorporates brand mentions and affiliate links without an official agreement between the publisher and brand. With this type of content, publishers exclusively focus on offering helpful information and recommendations to their audience instead of meeting the parameters of an official partnership agreement.
For example, a Forbes refrigerator buyer's guide lists multiple brands that editors selected based on their opinions. The article may include affiliate links, but it wasn't born out of an official sponsorship or other kind of deal.
When it comes to organic content, many publishers invest in evergreen pieces. Relevant, quality editorial content has a significantly longer life cycle than other revenue sources. It's the gift that keeps on giving in clicks and profit.
Evergreen content generates site traffic and revenue long after publication because consumers can keep returning to it. Even when trends change, evergreen pieces always helps audiences, drives clicks, and boosts revenue.
Sponsored posts

In the commerce content world, sponsored posts hold a unique position. Similar to traditional advertising sponsorships, brands sometimes pay publishers directly to create a piece of content that promotes them.
Whether it's an article, video, or some other type of content, sponsored posts look like any other piece of organic content on your site. However, they may include a disclaimer notifying the audience that it's a paid placement.
For example, advertisers can purchase sponsored educational videos from Wine Enthusiast that promote their product and brand. One sponsored post for DFJ Vinhos' Escada Touriga Nacional bottle gives wine lovers an enticing peek into the product, enriching their understanding of the wine's origin and flavor profile while encouraging them to buy.
Sponsored content can be distributed through organic or paid means. In some instances, native advertising helps promote the content and in others, readers simply find the article on the publisher's website or even click-through to the post from the brand's site.
Loyalty, rewards, and coupon partnerships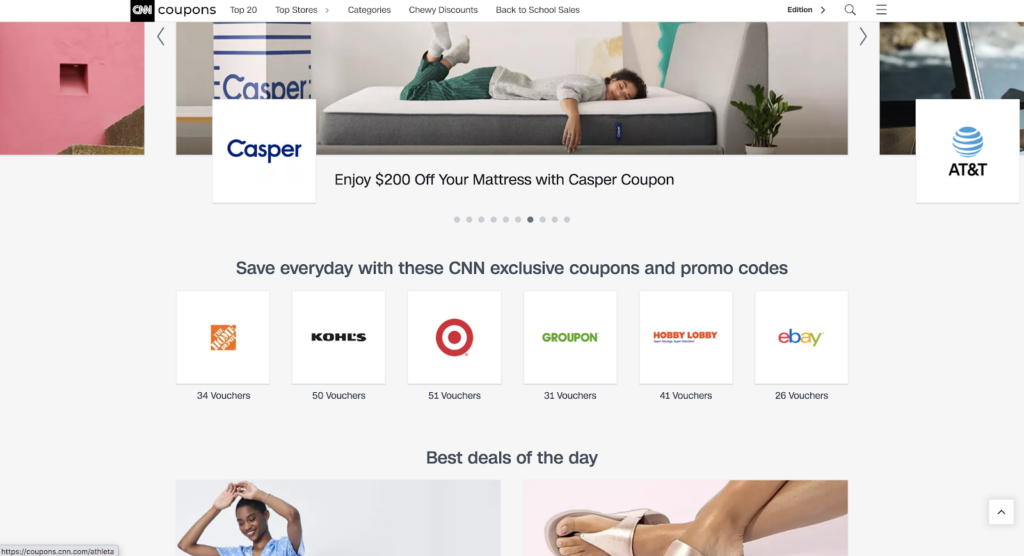 Some publishers partner with brands to create exclusive promo codes for specific products. As seen on CNN's site, publishers house these promo codes on separate deals pages and within articles. A web page developed for a smooth customer journey elevates the entire commerce experience and increases engagement.
Understanding the full scope of commerce content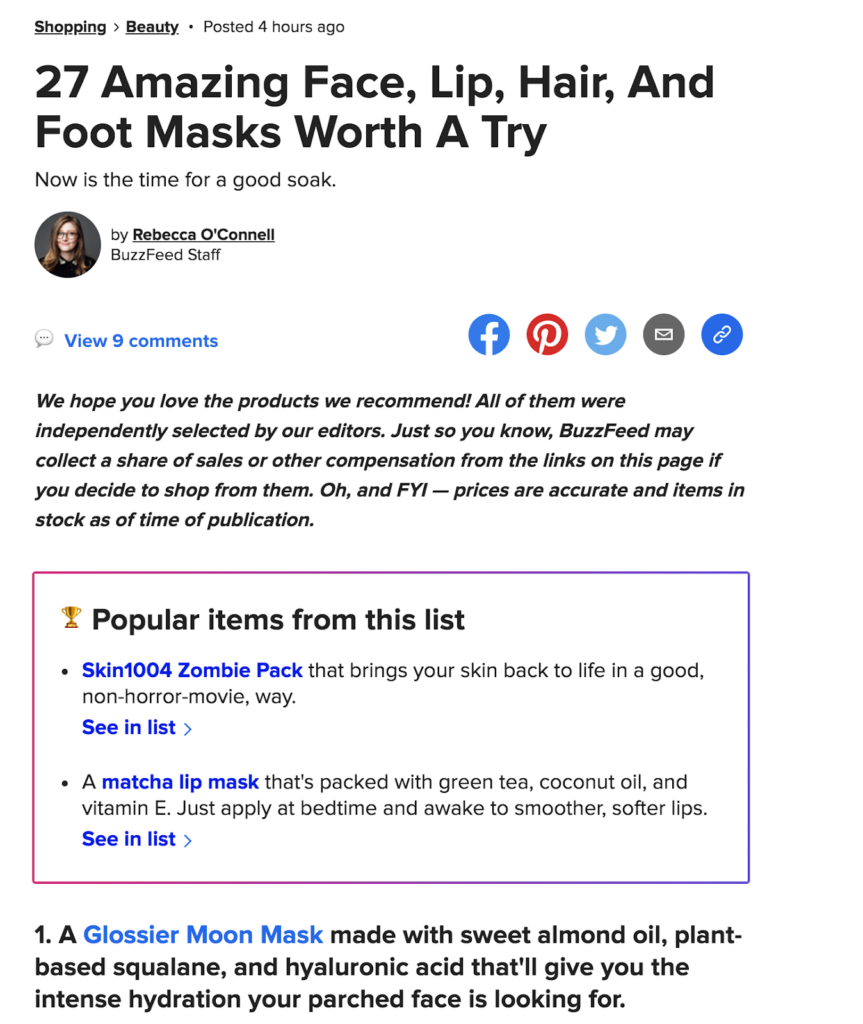 Commerce content often features more traditional product roundups, reviews, and buyer's guides. Readers frequently find them on websites like PCMag or BuzzFeed.
This content's primary objective isn't monetization – it's to create engaging, well-curated content pitched by writers and editors.
The BuzzFeed article outlines 27 recommended beauty products curated by BuzzFeed editors. Brands didn't pay for these product placements, according to a statement on the page. However, BuzzFeed still uses affiliate links and earns commissions from conversions.
BuzzFeed works with advertisers to recommend affiliate-friendly products, then turns them into revenue-generating product mentions on its website.
Like the above examples, commerce content applies to any stage of the consumer funnel:
New product launch (awareness)
Listicles (awareness)
How-to's (education)
Gift guides (education)
Buyer's guides (consideration)
Internal search — for example, "best chrome books" (consideration/validation)
Reviews (validation)
How publishers can design an effective content partnership strategy
Content partnerships provide opportunities to generate reliable income and create valuable evergreen content. At the end of the day, you want to provide the best content (and recommendations) possible in the most profitable way possible. You can monetize your current audience and achieve both through commerce content partnerships.
Where to start: Tools for building your content partnership strategy
It takes many steps to build a successful partnership program and generate revenue. The right technology can turn it into a scalable, efficient, revenue-generating machine.
Whether you want to grow an existing program or start one from scratch, a partnerships platform like impact.com will power your efforts, scale your current processes, and enhance your program.
Find advertisers. Rather than allocating one person or department to find the right brand partners, choose a centralized tool to save time and access thousands of potential brands.
Earn more revenue. Save time on manual tasks and open the door for additional income streams. Remove unnecessary costs along the advertising supply chain and get higher margins by working with advertisers directly. 
Understand your total value. Use your partnership platform for pre-purchase tracking and detailed customer insights. These features serve as accurate determinants of your partnerships' value and how you allocate your budget. For example, Ziff Davis used conversion data to pinpoint which content resonates the most at different funnel points.
Get payments quicker. Old revenue models from traditional advertising might result in brands paying publishers as late as six months after the campaign ends. When publishers work directly with the brand, they remove all necessary blockers and get paid when the content goes live.
Though marketing trends change quickly and often, quality content never fails to generate good results. Embrace content partnerships and stay ahead of the game. Regardless of industry trends, your audience always gets the right content at the right time and converts.

Want to establish and grow your commerce content program? Learn more about the impact.com for Publishers suite.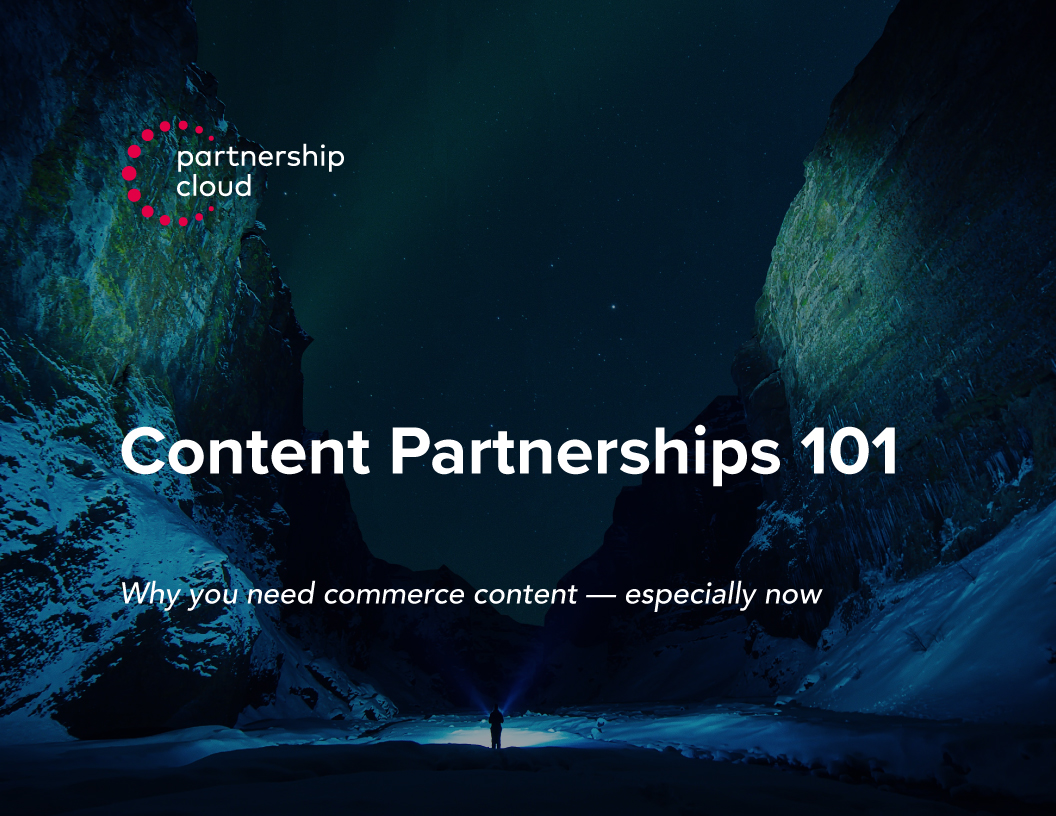 Content Partnerships 101: Why you need commerce content — especially now
Want to work with brands and monetize your content? Download How publishers can scale with commerce content.
Get my free guide
For more ideas and guidance on commerce content partnerships, check out these other impact.com resources for partnership marketing: