Sailing into 2023, programmatic advertising's role as a primary publisher revenue source stands on shaky ground. As regulations tighten and powerful platforms like Apple crack down on online tracking and storing browsing data, programmatic ads become less profitable.
Publishers with diverse revenue streams are ideally positioned to benefit from changing public expectations, new restrictions, and golden opportunities to connect directly with consumers.
See how upcoming shifts could affect publisher revenue models and how you can invest in optimizing your revenue channels this year.
Programmatic advertising in 2023 and beyond
Despite market growth over the years, the tide is turning on automated auctions and targeted ads based on third-party information. A September 2022 Lotame and PureSpectrum survey found that over half of marketers expect to decrease programmatic ad spend in 2023.
To add insult to injury, a World Federation of Advertisers (WFA) survey of 43 multinational companies found that nearly 30 percent of major advertisers say they're cutting ad budgets in 2023.
As regulators become increasingly concerned over digital privacy, programmatic advertising faces great disruption. Up to 10 billion dollars of publisher ad revenue currently hangs in the balance, according to an Interactive Advertising Bureau (IAB) study.
Since more than 35 percent of publishers now rely on programmatic ads as a significant revenue source, this shift could spell disaster long-term—especially for US publishers.
The impending cookie-pocalypse set to arrive in 2024 
In 2024, Google plans to phase out tracking cookies in response to calls for more user privacy. While many other browsers have already retired cookies, Google Chrome will make the most impact with an estimated 3.2 billion users worldwide.
Without cookies and other device tracking methods, brands will struggle to measure and quantify their return on ad spend (ROAS). From an advertising perspective, this makes the large online audiences publishers cultivate less valuable.
What the third-party cookie's demise could mean for ad spend
The effect the cookie-pocolypse will have on brands' willingness to pay for publishers' programmatic ad offerings is yet to be seen. But the results from an Emodo Institute survey of brand marketers may provide publishers a glimpse into the future.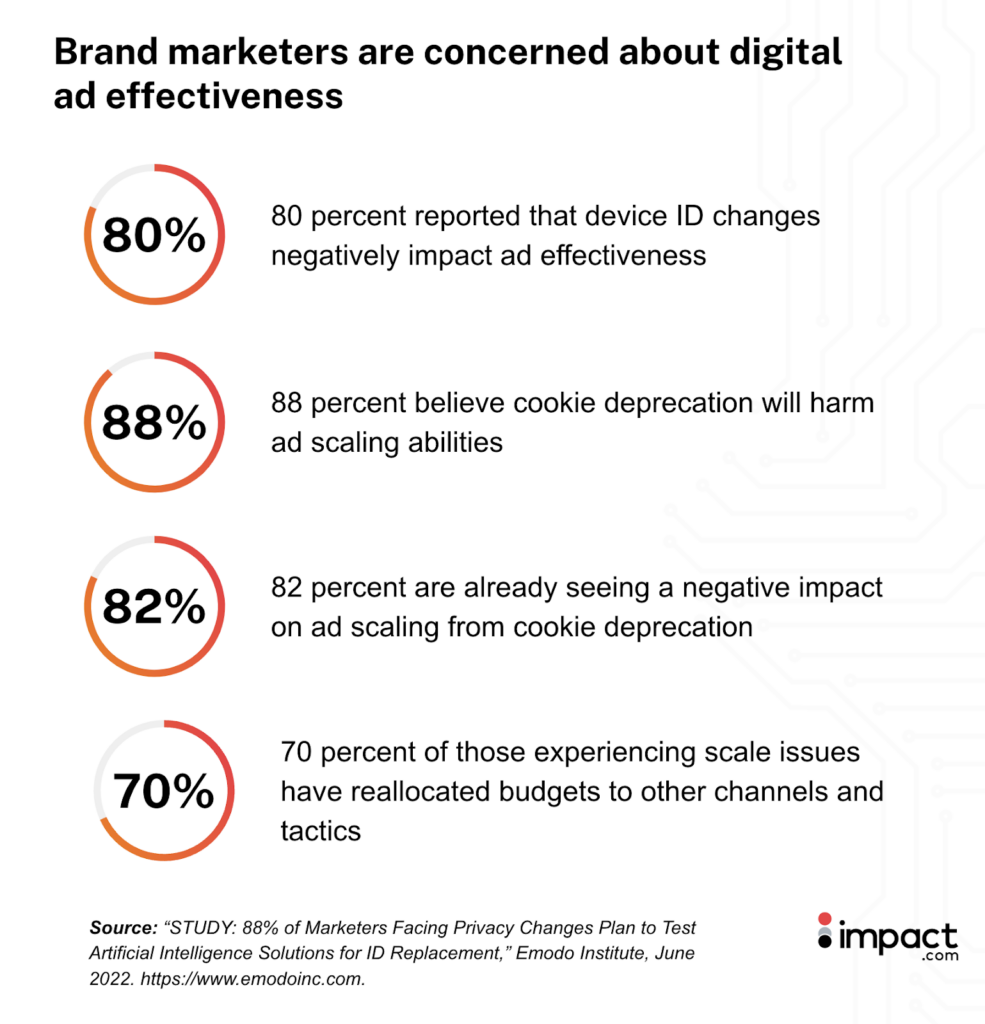 Additionally, a recent Lotame and PureSpectrum survey found that over one-third of marketers intend to increase their investment in walled gardens in 2023—an 18 percent increase from 2021.
4 Alternative sources of revenue worth investing in
Moving away from programmatic ads as a primary revenue source may seem like a risk. But the reasons for cultivating new avenues—and making them more efficient—keep piling up. Alternative revenue streams that align with consumers' hunger for content and first-party data marketing strategies offer the best possible lifeline for publishers.
Instead of hoping programmatic ads will bounce back, treat these industry changes as an open invitation to explore or reinforce alternative sources of income. With different revenue streams offering key advantages, it's crucial to understand what combination will work best for your publishing model.
1. Premium advertising
Premium advertising, such as banner ads, has historically been a key revenue driver for publishers. As an established form of online marketing, premium advertising has been stress-tested by countless publishers. Unfortunately, ads often harm the audience experience and deter readers from engaging with your content. Also, with hefty upfront setup costs and slipping CPMs, premium advertising faces increasing challenges as a primary revenue source.
2. Subscriptions
Revenue from subscriptions provides a clear advantage: predictable payments and potentially stronger reader retention. For many publishers, subscriptions are a fantastic way to build long-term audience relationships.
However, subscription models face drawbacks. Readers often consider subscriptions discretionary spending, leaving subscriptions vulnerable to unforeseen events or financial ups and downs. Setting up and managing subscriptions can be a hurdle for some publishers—especially those still establishing and building an audience.
It can also require you to create even higher-quality content that encourages your audience to subscribe. While this can increase audience trust and loyalty when done correctly, it also puts extra pressure on overburdened editorial teams.
3. Branded content
Branded content continues to grow as a reliable revenue stream for publishers. Branded content allows publishers to bolster the reader experience and increase loyalty.
Additionally, brands often pay a premium for branded content campaigns, which often include social ads. These paid ads drive traffic to your stories, essentially growing your audience for free.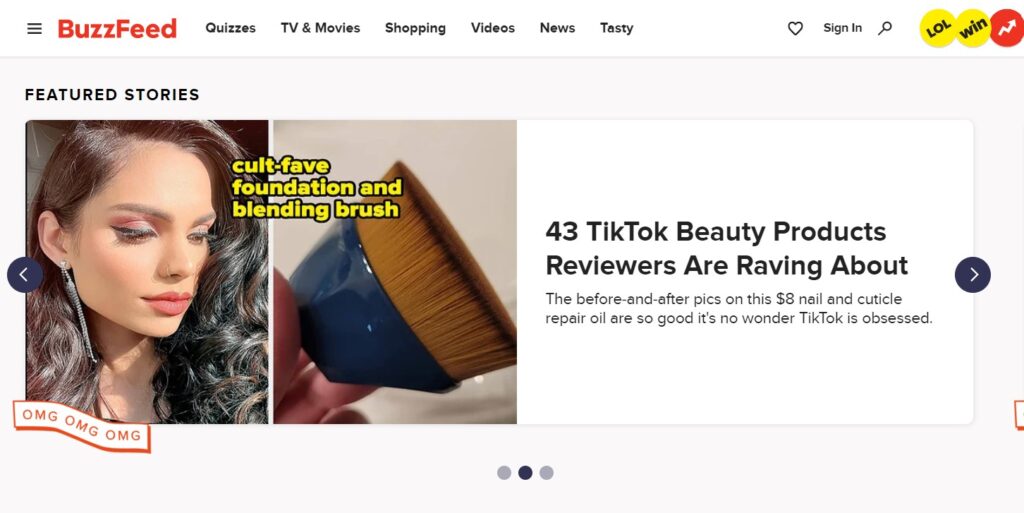 4. Commerce content
Commerce content has exploded as a source of publisher revenue in recent years. According to a Lotame survey, commerce content makes up more than one-third of all US publisher revenue—and for a good reason. Commerce content fits in the publication's unique voice and tone, enhancing the reader experience and working in alignment with current content consumption habits.
Revenue diversification has never been more important
Building sustainable, profitable revenue streams takes time and effort. But laying the foundation for future growth and stability is more than worth it.
Start by streamlining your operations and focusing on real-world data. You can use marketing automation to stay one step ahead of the competition. Use these tools to:
Pinpoint the products and brands your audience loves the most
Identify content creation or positioning strategies that produce the best results
Optimize your content amplification strategy and better understand the consumer journey
Discover high-value brands and create deal structures that better align with your goals
Investing in commerce and branded content, along with other revenue options, offer publishers a clear path through the upcoming turmoil and changes online. Maximizing the productivity of these revenue sources takes time and resources. But the investment will pay dividends as your expanded revenue streams continue to grow and mature—providing solid support in changing seas.
Make 2023 your most profitable year yet
No matter what the future holds, content-based revenue streams help you continue to build relationships with your ideal audience. The impact.com for Publishers suite offers the tools you need to diversify and grow incremental revenue streams that will mitigate the disruptions due to upcoming shifts in digital advertising. 
With the right tools and brand partners on your side, you won't just survive the impending changes to programmatic ad auctions and third-party tracking: you'll thrive.
For more ideas about increasing your revenue, check out these impact.com resources: