Buzz Lightyear once said, "To infinity and beyond!" What was he referring to? The power of branded content to your business's success, of course. After all, the first Toy Story film's popularity brought The Slinky Dog toy back to life after 10 years off the shelf. From the film's ad placement, 20,000 orders for the toy rushed in and put the toy's manufacturer back in business. That's the power of branded content.
So as display ad budgets dry up and performance flatlines, more brands and publishers turn to content-driven marketing methods such as branded content, commerce content, and social media. Commerce content, in particular, dominates this landscape. It fills the need for monetizable, shoppable, and sponsored content formats that bring brands and consumers to a publisher's site.
The branded content universe—and why it's a star performer
Branded content is a piece of content created by a brand specifically for publication on a media platform such as NBCUniversal, USA Today, or Bustle. Successful branded content provides value to the consumer, tells a story, and takes on many formats, including native ads and sponsored posts.
These types of placements tap into the credibility and reach of premium publishers so that brands can connect and build trust with new and targeted audiences. Wildly popular with publishers, the branded content market was estimated at around $20 billion in 2021, with 88 percent of publishers driving revenue from it.
Branded content differs from commerce content. Commerce content comes from publishers that produce digital content that doesn't feel like content because it's relevant to the consumer. This content guides the consumer with helpful information during any stage of their purchasing journey. Publishers then monetize the content through affiliate links.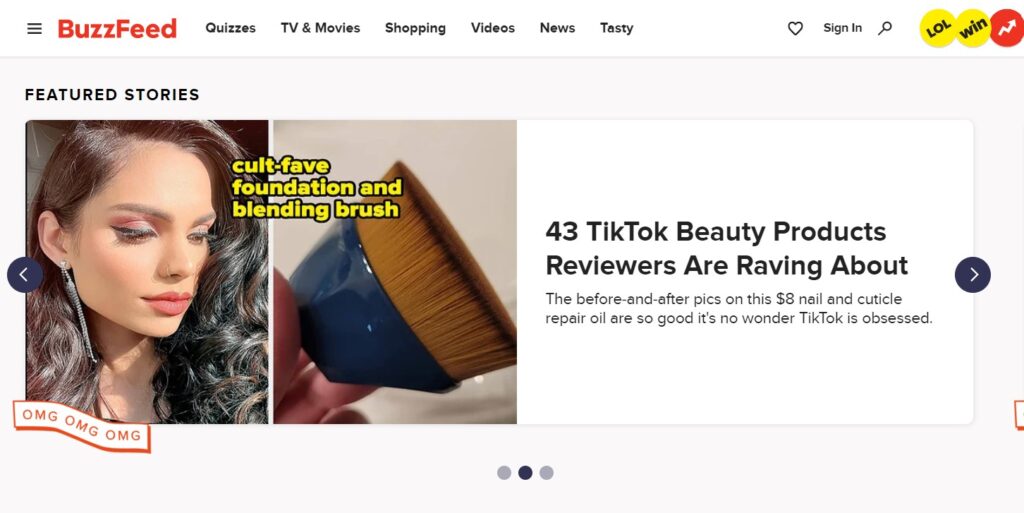 Branded content examples include:
Article features
Reviews
Buyers guides
Seasonal content (i.e., Christmas gift guides, Halloween costume lists, etc.)
Product roundups
Listicles
And more!
The astronomical value of consumer values
Today's consumers are particular about who they buy from. They're attuned to brand values and will pay premiums to support companies that share their views. Branded content can go beyond the transactional and communicate company values to consumers in a powerful way through immersive storytelling.
For example, direct-to-consumer bidet brand Tushy and its agency DMi Partners used premium branded content placements to educate mainstream consumers about the water conservation and tree-saving aspects of Tushy's products and business. That's a much more enticing pitch to a consumer than an intrusive banner ad.
Branded content creates a connection between consumer and company, and users who feel a kinship with a brand will spend twice as much as those who don't.
Why branded content works when ads don't
To build relationships, connect, and engage new customers, companies of all sizes need to tell stories, not run ads.
An estimated 25 percent of internet users use ad blockers. The rest ignore intrusive banners, which can deliver click-through rates (CTR) of less than 0.1 percent.
Consumers prefer ads that blend seamlessly into their feeds, and publishers can expect the native advertising sector to be worth $400 billion by 2025. Now that's a slice of the revenue pie you want to indulge in!
Branded content also allows brands to engage with readers who actively search for product information, which increases consumer intent and interest. Brands can expect close to 60 percent more brand awareness with branded content than display ads and engage audiences 22 times more. At the same time, publishers maintain editorial integrity when providing readers with relevant content.
Get started with branded content
To learn more about the power of branded content, its best practices, and how to develop and manage branded content partnerships, read Pressboard's complete guide to branded content.
Pressboard by impact.com—part of the impact.com for Publishers suite—is the branded content analytics platform that facilitates all kinds of branded content partnerships.
Learn more about what impact.com can do for your publishing business today.