It's no surprise referral marketing is a rising force for brand promotion. After all, referral customers are 50 percent more likely to purchase than your non-referral audience.
As 2024 approaches, this channel is taking a larger piece of the marketing pie due to its low customer acquisition cost (CAC) and higher return. With evolving technology and changing consumer habits, brands can benefit from tried and true word-of-mouth marketing.
Key takeaways
Capitalize on the power of word-of-mouth by incorporating real stories and experiences in your referral marketing.
Don't underestimate the power of social media. Make it easy for your customers to share and refer within their networks.
Embrace the mobile-first approach. Ensure your referral program is as easy to use on a tiny screen as it is on a desktop.
Personalize, personalize, personalize. Tailor your incentives to match your customers' tastes.
Combine influencer marketing with your referral program for an even greater impact.
Make your referral program fun. Add elements of gamification to boost engagement.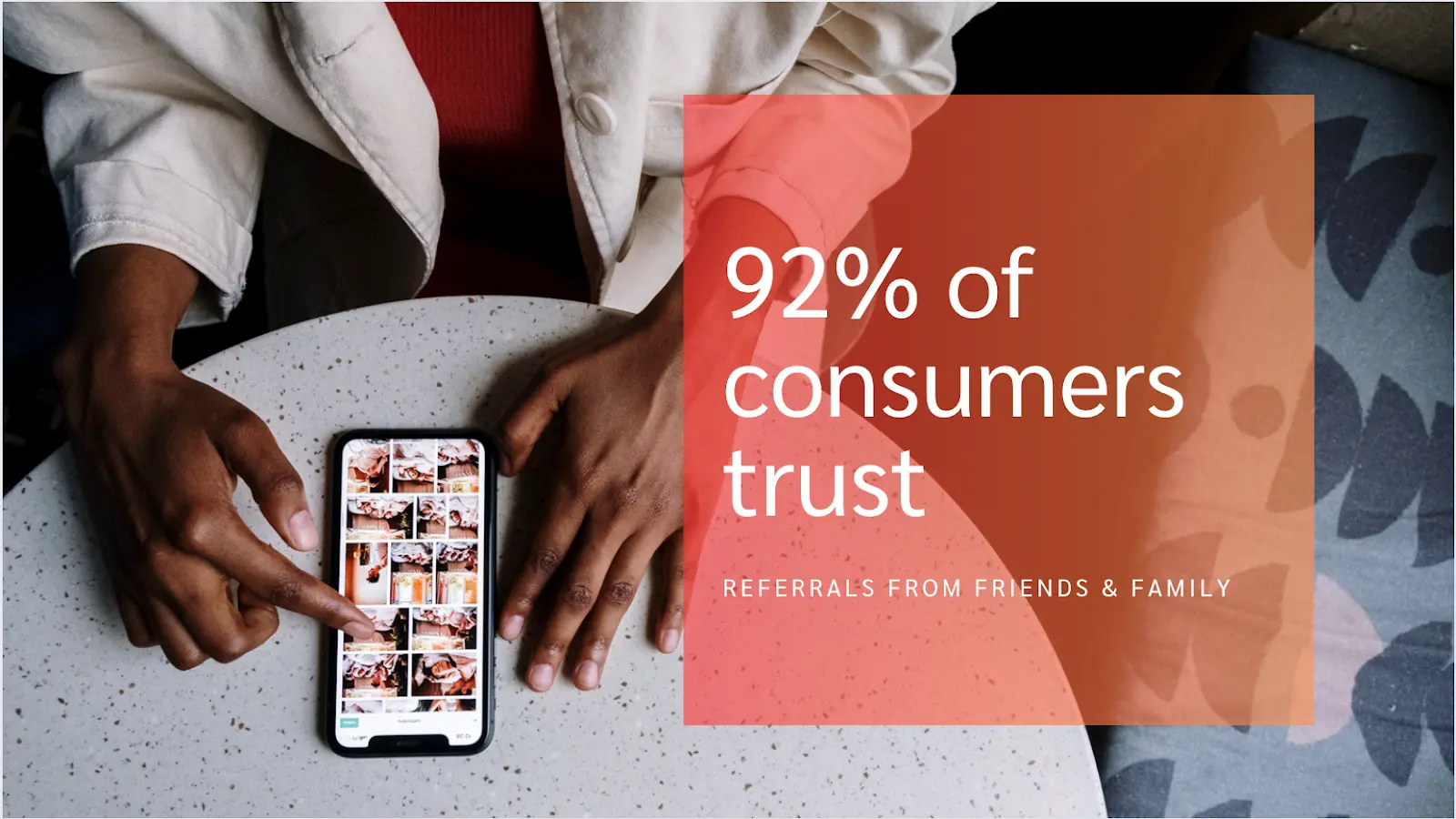 Top 6 referral marketing trends for 2024
---
1. Building instant trust with referrals
Let's face it: trust is a valuable commodity in today's business world. Roughly 92 percent of consumers trust referrals from friends and family over any other type of advertising.
Why?
Because people trust people they know. Consumers are inundated with dozens of daily advertisements, and they easily tune out brand messaging. Instead, they rely heavily on recommendations and research to make informed purchasing decisions.
So, it's time to leverage this trust factor in your marketing strategy. Use personalized, genuine customer testimonials or case studies in your referral programs to build credibility and trust.
Dropbox gained a 3900 percent increase in signups by offering extra storage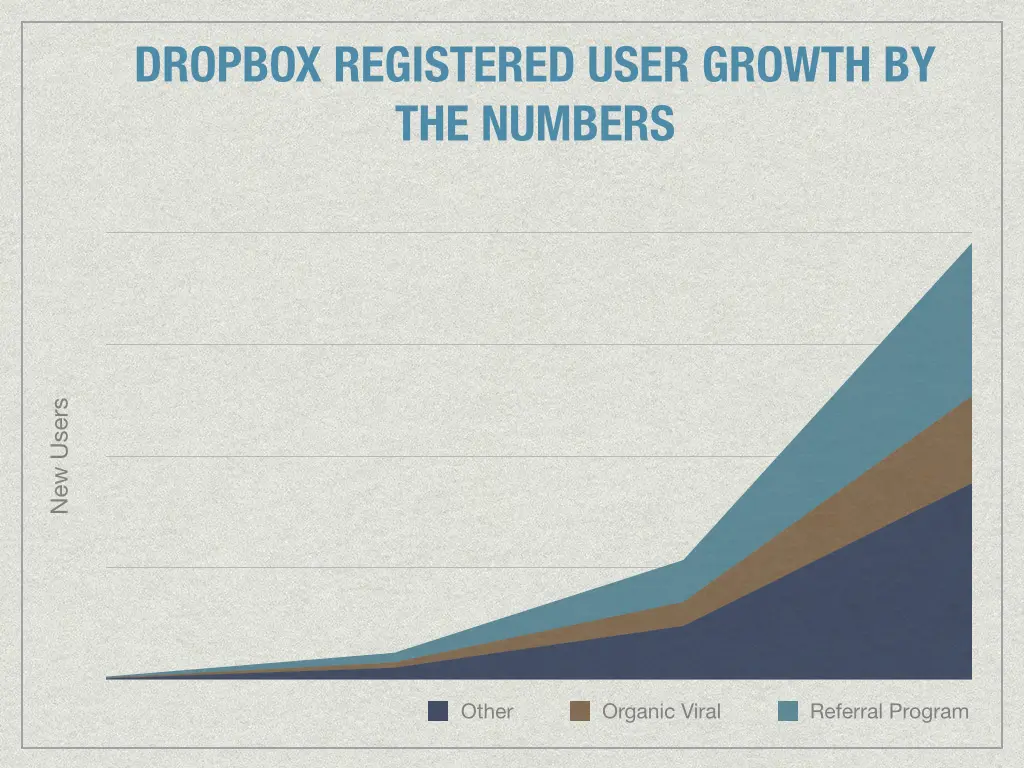 The company offered extra storage space to both the referrer and referee as an incentive for every successful sign-up. Within a short period, this strategy led to 4 million registered users in 15 months, illustrating the massive potential of referral programs.
What made Dropbox's approach so successful was its simplicity and mutual benefit. The rewards were valuable, straightforward, and relevant to the users' needs. This strategy can serve as a guidepost for businesses venturing into referral marketing.
How you can build trust with referral partners
Consider your customers' needs when deciding on referral incentives. Extra service features could be your go-to if you like what Dropbox offers. If you sell products, offer discounts or freebies. The key is to make the rewards enticing yet relevant, encouraging customers to participate and spread the word about your brand.
---
2. Engaging on social media
Social media isn't just for outlandish cat videos anymore. It's a powerful tool that can supercharge your referral marketing. By encouraging your customers to share their positive experiences with your brand on social media, you will authentically increase your reach and create a sense of community around your brand.
Glossier turned customers into brand ambassadors on social media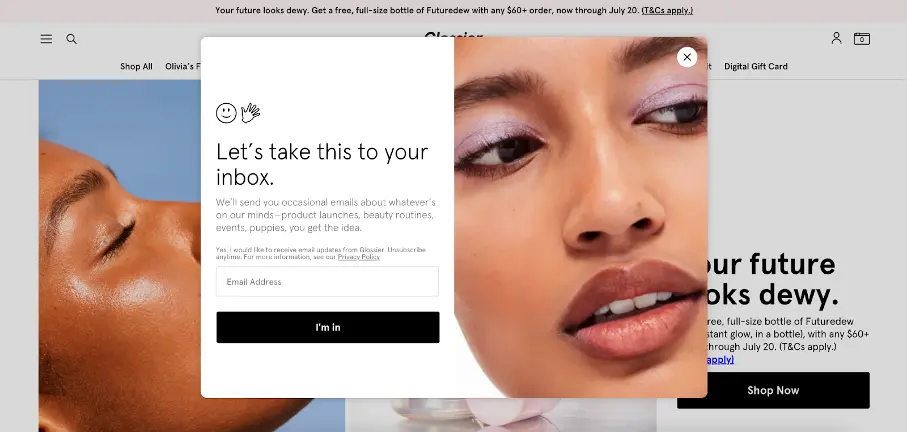 The brand created a close-knit community by turning its customers into loyal supporters and brand ambassadors through social media platforms. These customers share product reviews, skincare routines, and makeup looks using Glossier products, acting as trustworthy micro-influencers for the brand.
They're encouraged to use hashtags and create user-generated content (UGC) showcasing the product. This strategy generated 70 percent of online sales and traffic from peer-to-peer sales, with eight percent linked directly to its brand ambassador program.
How you can grow your brand through communities on social media
Like Glossier, you can engage your audience by encouraging them to share their experiences with your product or service. Develop a unique hashtag for your brand, stimulate user-generated content by hosting contests or giveaways, and spotlight your customers by featuring their content on your social media channels.
Involving your customers in your brand's narrative fosters a sense of community, enhances customer loyalty, and strengthens your referral marketing strategy.
---
3. The mobile-first approach
With smartphones practically becoming an extension of ourselves, it's no surprise that mobile-friendly referral programs are rising in the ranks. Ensure your referral program is optimized for mobile use and offers a seamless experience for users on the go.
Uber made it easy for users to invite friends to sign up from their phones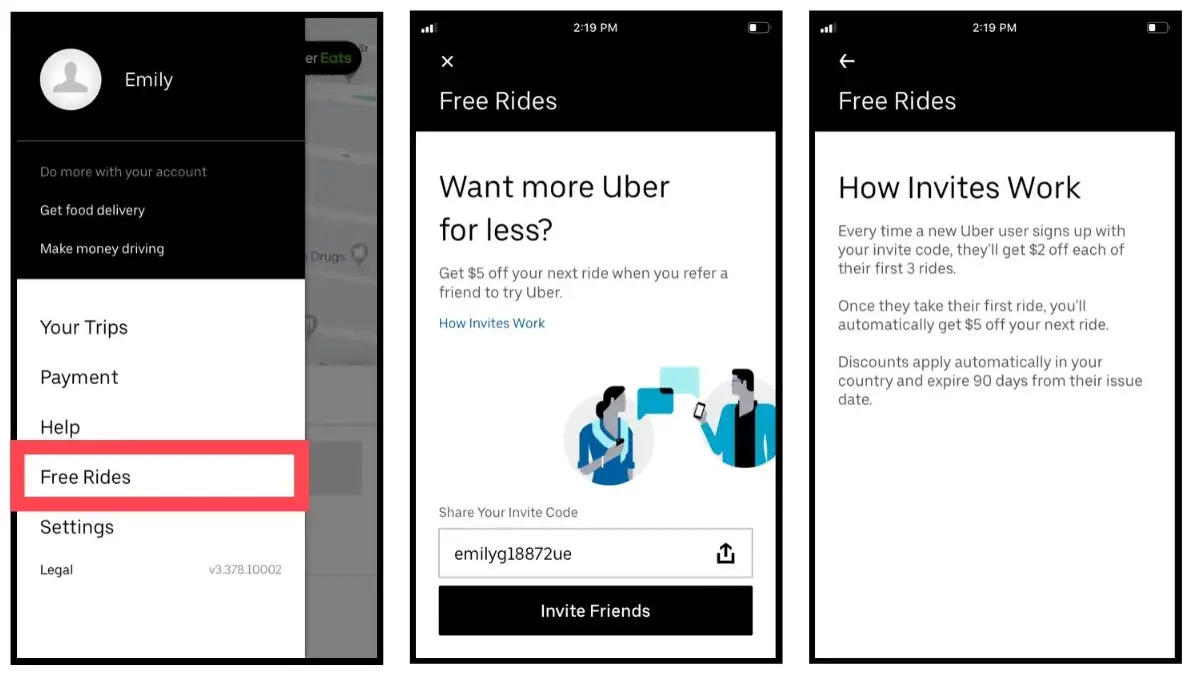 Uber's referral program seamlessly integrates into the mobile app. Users can easily invite their friends to sign up for Uber directly from their phones and while using the app. When a friend signs up using the referrer's unique code, both parties receive a discount on their next ride. This mobile-friendly approach has significantly contributed to Uber's worldwide popularity and growth.
This program is wildly successful because of its mobile-centric approach, easy-to-share unique codes, and double-sided referral program.
How you can win more referrals with a mobile-first approach
To implement a mobile-first approach in your referral program, ensure your website is mobile-optimized and mobile users experience a seamless referral process. Make sharing referral codes or links as easy as a few taps on the screen.
Consider integrating your referral program into an existing mobile app, if applicable. Then you can offer mobile-friendly rewards, such as app-exclusive discounts or features. This ease of access and use on mobile devices will encourage more customers to participate in your referral program and share it with their networks.
---
4. Personalized incentives
One-size-fits-all? Not anymore. Personalization is key in modern marketing, and referral programs are no exception.
Tailor your incentives to fit your customers' preferences and needs. This could range from discounts, credits, gift cards, cash rewards, or even double-sided incentives that reward both the referrer and the referred.
Airbnb rewards both referral parties with travel credits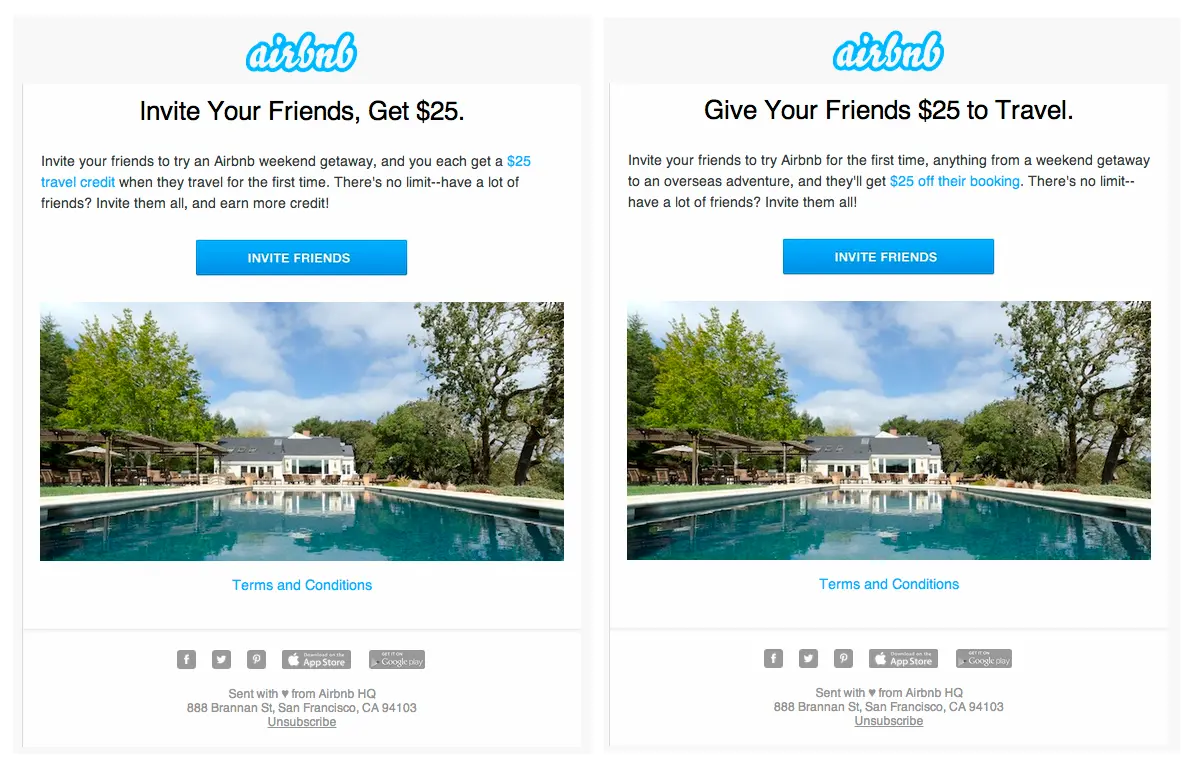 Airbnb offers travel credits to both parties involved. The referrer gets rewarded when the referred makes a booking, and the referred gets a discount on their first booking. This double-sided incentive is a win-win that motivates both parties to participate.
What distinguishes Airbnb's referral program is its ability to personalize the referral message sent out, allowing users to share their experiences or reasons for recommending it. This clever move adds a personal touch that builds authenticity and rapport.
How you can use personalized incentives to grow your business
Here's a suggestion for your referral program: why not try implementing a double-sided incentive system? It can be a great way to motivate more participation from your customers. And for a personalized touch, how about letting them customize their referral messages? This way, they can spread the word in their own unique way.
---
5. Integrating referral marketing with influencer campaigns
Influencer marketing and referral marketing are two sides of the same coin. Both rely on trust and personal connections. So, it makes sense to integrate these strategies.
Collaborate with influencers who align with your brand values and can introduce your products or services to their loyal followers.
Daniel Wellington blends influencers with referral incentives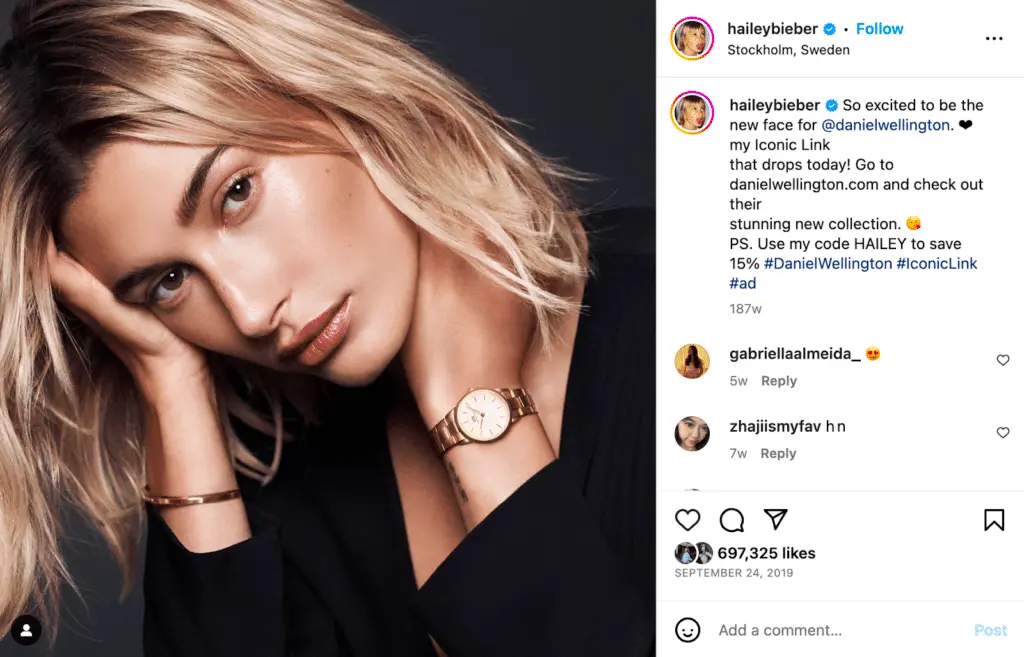 This watch brand built a strong online presence through a blend of influencer and referral marketing. The brand has effectively collaborated with influencers across various social media platforms, providing them unique promo codes to share with their followers.
The influencer posts showcase the product in a relatable, lifestyle-oriented context, while the promo codes offer a sweet deal for newcomers, essentially acting as a referral tool. This innovative strategy greatly expanded the brand's reach and boosted online sales.
How you can bring influencers into your customer referral mix
When it comes to expanding your brand's reach, it's crucial to identify influencers whose audience aligns with your target demographic. Collaborate with them on posts and offer unique promotional codes to amplify brand exposure.
Remember, authenticity is the key to success with this strategy. It's important to partner with influencers who genuinely appreciate your products or services so they can effectively communicate your brand's value to their loyal followers.
---
6. The rise of gamification in referral programs
Who doesn't love a good game? Adding gamification elements to your referral program can make it fun and keep your customers returning for more. Consider creative ways to incentivize referrals, such as a points system, badges, or a leaderboard. This move motivates customers to participate and creates a sense of community and competition.
Starbucks started a points system to encourage customers to purchase
This iconic coffee company has successfully implemented gamification with the Starbucks Rewards program in its referral program. Starbucks customers earn stars (points) for every purchase, which they can later redeem for free drinks or food items.
Additionally, the program has tiers, encouraging customers to level up from Green to Gold by earning more stars, adding a competitive edge. This strategy has increased customer engagement and fostered a strong sense of loyalty among Starbucks customers.
How you can gamify your customer referral strategy
Building on the Starbucks example, you can incorporate gamification into your referral program. Start by identifying suitable rewards for your customers—discounts, exclusive products or services, or early access to new launches.
Implement a points system where customers earn points for every successful referral. You could introduce tiers in your referral program to increase competition and incentivize customers to make more referrals.
The key is to make the referral process an enjoyable and rewarding experience for your customers, encouraging them to participate and refer more actively.
Remember, the world of referral marketing is constantly evolving. Keep these trends in mind as you plan your strategy for 2024, but stay flexible and ready to adapt to whatever comes next.
---
FAQ
What is customer referral marketing?
Customer referral marketing is when you leverage the power of recommendations from your existing customers to attract new ones. It's all about turning your customers into advocates for your brand. People tend to trust recommendations from friends and family more than any other form of advertising. 

Customers you get through referrals are 18 percent more likely to refer others to your brand. So, you get a never-ending cycle of referrals. To make the most of this, you must make it easy for customers to refer their friends.
What is a customer referral marketing strategy?
A customer referral marketing strategy is your game plan for turning your customers into your biggest fans. It's all about getting them to spread the word about your business. Your referral marketing strategy is how you encourage and reward those recommendations. Give your customers a discount or offer a rewards program.

The goal is to make referring friends so easy and rewarding that your customers can't resist. Because when they share their love for your brand, it's more convincing than any ad you could run.
How do you promote customer referrals?
Brands create referral marketing strategies to encourage their biggest fans to spread the word about their products or services. They offer incentives through rewards, discounts, or other benefits to customers who refer friends, family, or colleagues to their business. 

A platform like SaaSquatch by impact.com allows you to run fully automated referral campaigns. These campaigns can track, report, reward, and engage customers at every stage, making managing your referral program easier.
Ready to learn more about referral marketing and other types of partnerships? Check out these impact.com resources to get you started: