With no clear action plan for development, many of the world's iconic buildings, like the Sydney Opera House or the Empire State Building, would have remained a mere thought. Similarly, once you've decided to invest in partnership marketing, the next big step is determining how to start a program within your enterprise. No roadmap fits every type of business, but you can take some essential steps to launch a successful partnership marketing program:
Identify the right time to start.
Solidify organizational buy-in.
Build your vision and strategy.
Assemble a partnerships growth engine to guarantee you get the most out of your effort.
Build the vision for partnership marketing
An effective partnership program increases revenue, drives growth, heightens brand awareness, and improves the price of customer retention. This success is only possible when your team sees partnership marketing as a cross-functional discipline. It's critical to integrate all departments in your company into the process, including:
Marketing
Public Relations
Product Marketing
Business Development
Customer Success
Finance
Legal
Pursue executive endorsement
Once you've built out a partnership vision, it's best to seek executive help to cross corporate borders. Endorsement from the executive suite will likely first require some education. You may need to update leadership on how things have evolved since the early days of affiliate marketing or demonstrate how and why the modern partnership economy is collaborative, mutual, and transparent.
What's the channel hotter than paid search?
Did you know high-maturity partnership programs contribute 28 percent of overall company revenues? Download your free ebook copy and tap into the modern partnership economy to drive success.
Get my free guide
Develop your partnership marketing strategy
Once you've gained executive buy-in, you'll need to consider precise questions about your partnership marketing program. Think about how it will fit into your enterprise:
What are the value propositions/drivers and differentiators for your partnerships program?
Who will run and staff your partnership effort?
Which business objectives your partnerships program would like to achieve?
What is your timeline?
Do you have the talent in-house, or will you need to look externally?
How will you promote and drive interest in your program?
How will you launch your program?
How will you measure success?
Measurement and evaluation are critical, so set key performance indicators (KPIs) and program goals to align with your company goals. In partnership program management, goals are usually related to increasing revenue, acquiring new customers, or improving efficiency.
Tie your goals to quantifiable metrics (e.g., percentage growth, quantities of actions) that are easy to identify, monitor, and track. Make it simple to share progress with stakeholders across the company.
Aligning partnership marketing goals with company goals can also help in later stages. For example, if a broader company goal is to acquire customers, that can emphasize the partnerships program. Partners that drive more new customers can receive higher payouts, and you may also choose to work more closely with those partners to ensure their continued success.
Bring in a partnership marketing agency
Brands that want to quickly and successfully get their partnership marketing program up and running may enlist the help of a specialized agency that focuses on the channel. Hiring a partnerships agency brings in people with deep experience in building and running partnership programs.
But partnership marketing cannot be (and ideally is not) completely outsourced. Even with an agency, your enterprise needs to work closely on partnership marketing strategy and execution. After all, partnership marketing is a cross-functional discipline. An agency on board needs an internal point (person or team) to share your company's underlying business goals and strategy, brand knowledge, guidelines, and creatives.
Follow the partnership life cycle process
With buy-in secured, strategy in place, and important questions answered, it's time to work on your partnership marketing program. Run effective partnership management through a unified framework covering the complete activities to forge, deepen, and optimize your relationship with your partners. This optimized framework is known as the partnership life cycle.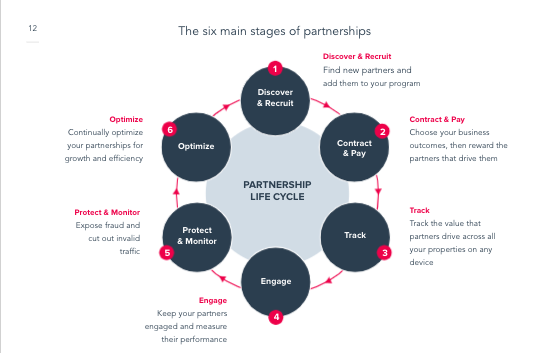 Discover and recruit potential partners
The first stage of the partnership life cycle is Discover and Recruit. There's a universe of potential partnership candidates across the internet. This initial stage is about casting a wide net to find the appropriate partnerships and then recruiting those enterprises to join your program.
Take an entrepreneurial approach when you first start with partnerships. Experiment, and don't be afraid to fail or start over with your initial partnerships. Your goal is to demonstrate growth before scaling up, so think outside the box.
Best practices: Discover and Recruit
Your partnership program's success relies on finding and recruiting the ideal partners. But how do we achieve this? Learn more by downloading your free ebook copy.
Get my free guide
Construct an ideal partner profile to serve as the foundation for your discovery and recruitment efforts to kick things off. Discover millions of potential partners — from publishers, influencers, and apps to strategic business-to-business (B2B) alliances. Chances are, they won't all align with your business goals. Consider the following questions as you identify your ideal partner profile:
Who (or which business) is a fit for your brand?
Can they endorse your brand with credibility?
Do they have access to the types of customers you want to acquire?
Do they have access to the right touchpoints for influencing their audiences or customers (e.g., email, inserts, video, audio)?
Are they interested in a potential partnership for the right reasons?
Do you share brand values?
Do they work with your competitors?
These answers allow you to filter, refine, and pinpoint which partners best align with your goals and audiences.
Cast a wide net when recruiting
Since some potential partners may not be familiar with how partnerships work, it's essential to launch an extensive search in the early stages. Others may resist collaboration because they fail to see its value or have had negative experiences in the past. Since you won't immediately get started with every potential partner, you have many targets in mind.
As a rule of thumb, the more non-traditional the partner, the more upfront work it may take to explain, unlock, and achieve the value. This heavy upfront lifting often drives companies to sign up with traditional affiliates to gain quick, broad exposure. But it doesn't mean you need to start there.
When looking for fresh ideas to kick things off, consider what your customer does when not shopping with you. Think about ways to engage with them in other places while doing something else and whether that engagement will seem natural or helpful. These thoughts may trigger other questions:
What kinds of companies would be good partners?
What other brands attract your audience(s)?
Come up with some companies that aren't competitors but have an existing relationship with your desired audience.
Reach out with something to share
Before approaching the companies you'd wish to partner with, build a few ideas on how you can add value to their existing customer experiences. Partnerships aim to give customers a greater experience than they're already receiving. When approaching prospective partners, give them an idea of how you may collectively achieve that goal.
Since you're going broad, collect all your early partnership ideas in a centralized resource. Now you're ready to build.
Each company treats partnership marketing differently, so part of your outreach will identify the right person to work with at each partner enterprise. Once you've found the correct individual, ask if they are already using partnership marketing and whether they're interested in collaborating.
Simplify efforts with partnership management software
In the past, casting a wide net would have been a laborious and time-consuming task of sorting, evaluating, and assessing each partner. It wasn't feasible to steadily and continuously identify and reach out to new partners, so many partnerships programs confined themselves to an annual discovery and recruitment push.
Today's automated software makes the task much easier. Partnerships managers can now access directories full of eager potential partners — and the tools to recruit prospects at scale.
A sound partnership management system gets your program off on the right foot, with all underlying capabilities and no limit to competitiveness. Today's partnership management systems enable enterprises to:
Manage a growing and diverse set of new and existing partners efficiently and transparently.
Create a record system for various customer journeys by tracking the trustworthy source of each sale and lead across multiple channels and partners. The best partnership management systems allow businesses to track accurately.
Streamline and automate all aspects of the partnership life cycle, including discovery and recruiting, contracting and paying, tracking, engagement, protecting and monitoring, and optimization.
Generate performance results and KPI scorecards with hundreds of variables in real-time.
Ensure partner compliance with brand guidelines, consumer privacy regulations, and tax law.
Enable global partnerships programs with global tracking, local compliance, and the ability to pay partners in local currencies.
Both partnerships agencies and in-house partnerships teams work with partnership management systems to get the best results for their clients. Enterprises that manage their programs in-house will want this capability, too.
Start your partnership marketing program with partnerships technology
Want to learn more about how partnership management software can simplify the launch of a thriving partnerships program?
Reach out to a growth technologist at grow@impact.com, or request a demo to learn more about how impact.com's partnerships solution can support your business.
Want to know more about partnership marketing? Check out these resources: