Swipe right. It's a match! Attracting the right brand partners is a lot building a dating profile. As a creator, you want to present your personal brand in a way that gets attention.
According to impact.com research, two in three brands plan to expand their creator programs in the next year, so there's no shortage of eligible brands to add to your portfolio. Close to three-quarters of brands partner with five or fewer creators—which opens the opportunity to build strong relationships with brands that have smaller influencer programs
However, reaching out isn't simply hitting a brands DMs and hoping for the best. It's all about presenting your unique strengths in a way that compels brands to connect with you.
Find out how you can stand out and build authentic brand relationships through outreach. 
Key takeaways
Most brands want creators to reach out to them to collab
Brands like to hear from creators via email instead of a DM
A polished visual media kit will help you stand out from other creators
Smaller brands may offer more opportunities than larger brands
Creators work best with brands they already love (and their audiences love it, too)
How to reach out to a brand for a collab
Surely that cosmetics brand notices you tagging them in your Reels? If you comment enough times on that fashion label's posts, they'll tap through to your profile, right?
These situations are the exception—not the rule.
Brands want creators to make the first move. Only 5% of brands want to source and recruit the creators they want to work with.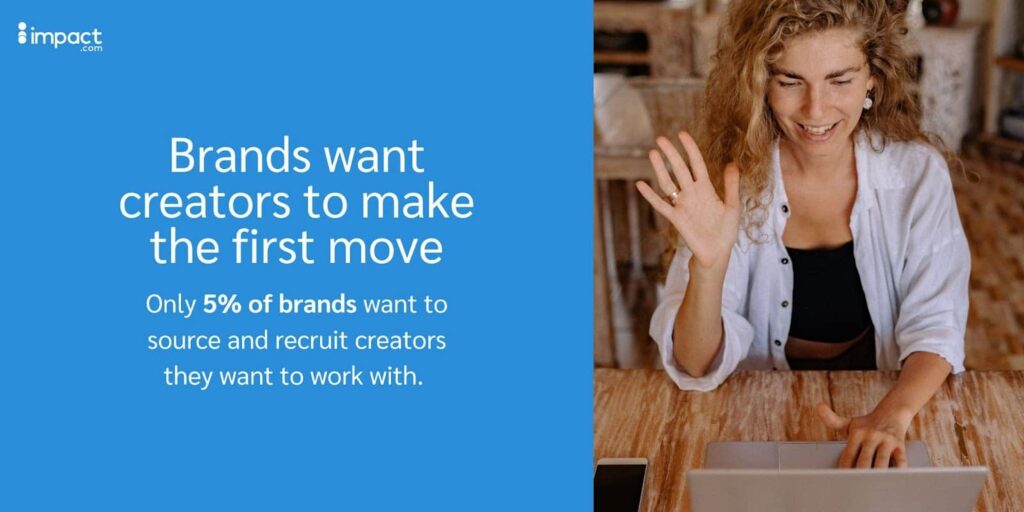 Don't wait to be noticed—be proactive. Blind outreach feels intimidating, but brands aren't getting the number of requests you might expect. 42% claim less than five creators approach them in a week.
If you craft a thoughtful pitch, you can get the right brands to notice you.
---
What's the best communication channel for brand outreach?
Email takes the gold for best brand outreach channel—52% of brands prefer email.
Using email helps you rise to the top. Just over half of creators reach out to brands via social media DM.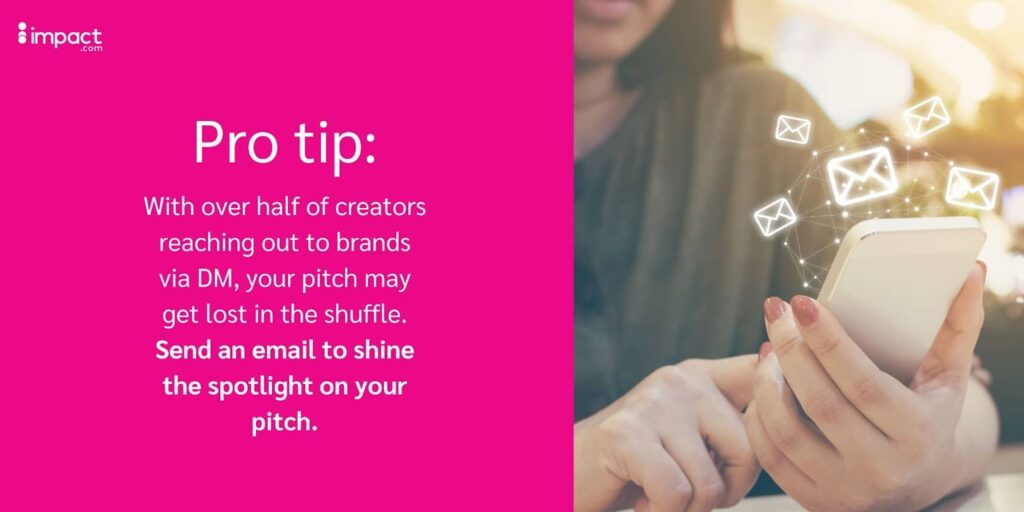 ---
Finding the right brand contact person
Here's how to find the right contact at a brand:
Search LinkedIn to find marketing pros who work for the brand. See who heads up partnerships, content, or social media marketing. Check if their email is listed on their profile, and note their name so you can customize your pitch.
Use a creator platform like impact.com to search, filter, and apply for campaigns that make sense for your audience. It's easy to discover high-value partnerships and work together on content all in one place.
Comb through the brand's website to identify which team members you should contact. Sometimes, email addresses are on the "Contact Us" or "Our Team" page.
Use a sales intelligence platform, such as Apollo.io or RocketReach, if you can't find the person's email address using the above tactics. You only need to type in the person's name, and the platform will pull up their contact details.
---
Writing a standout pitch email
Your email pitch needs to highlight what you can offer and why you're the perfect creator for the brand.
Your email pitch should include:
A quick intro of who you are
Link to your social profiles
Platform analytics and following info
A customized hit list of content ideas
Your industry experience
Case studies of successful brand partnerships
Keep your pitch short and sweet. Being direct makes it easier for the recipient to respond.
Here's what a quick and simple intro email looks like:

---
5 research-backed tips for pitching to brands
No matter what content you create or how big your following is, the fundamentals of a successful pitch remain the same.
Here's how to put together an eye-catching and relevant brand partnerships pitch.
1. Create a media kit that puts your expertise front and center
Including a highly visual media kit sets you apart from other creators.
Think of your media kit as a resumé. It highlights your skill set, experience, and campaign results.
A knockout media kit should have:
Bio: Talk about who you are, your background, and main socials.
Content samples: Include screenshots of recent Instagram posts, Reels, TikToks, and any other content you publish.
Performance metrics: Share engagement rates, follower growth, clicks, conversion rates, monthly views, and other relevant metrics. (Hot tip: Always get your partner's permission before sharing campaign-specific numbers.)
Testimonials: Including a couple of glowing customer reviews will build trust with potential partners.
Rate card: Share some ballpark rates so partners can determine if you're in their budget.
Media kits prove that you can meet (and exceed) brand expectations—and have multiple examples to show. Close to 60% of brands rank delivering good, consistent quality work as the number one factor that inspires them to establish a long-term partnership.
Plus, 83% of brands say that delivering on campaign KPIs solidifies a successful partnership.
2. Tailor your pitch to each brand
Just like your audience doesn't want cookie-cutter content, brands don't want to read generic pitches.
Don't send the same pitch template to multiple brands. Focus on quality over quantity and take the time to tailor your pitch.
Always address the person or team by name, if possible
Reference specific products or campaigns that resonate with your content
Focus on your audience demographics, follower size, and past clients and how it could match with their business
Show that you know your stuff and that your values align with the brand. These personal touches will differentiate you from other contenders.
In impact.com's recent study, brands said that finding the right creator was the top challenge they faced when working with influencers. So show what makes you a perfect fit for them specifically.
Here's an example you can use to inspire your personalized pitches: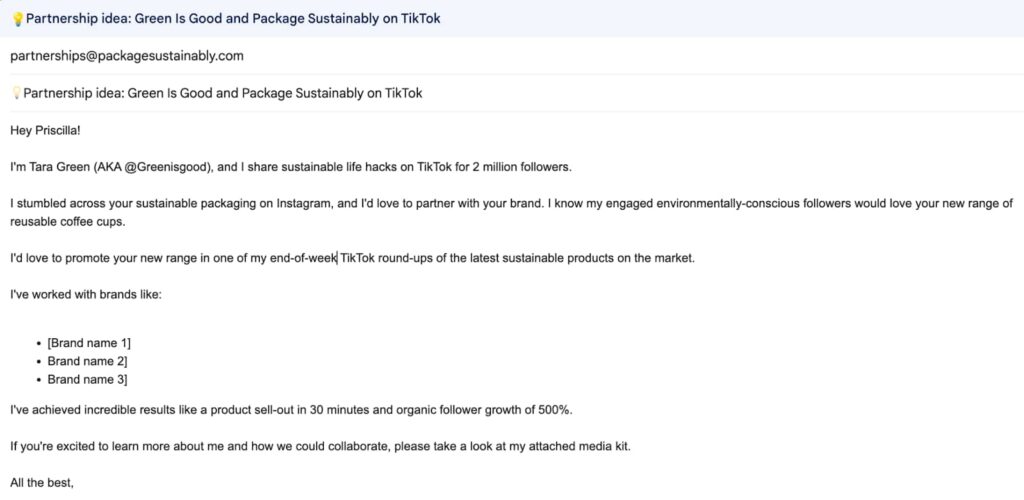 3. Communicate quickly and efficiently
Never underestimate the power of follow-through. Brands value creators who show up and deliver the goods when they said they would.
43% of brands would commit to a long-term partnership with a creator who prioritizes prompt, professional communication.
Creators sometimes ghost brands and leave them with a bitter taste about partnerships. Don't be that person. Put yourself at the top of the pile by responding to partners quickly and clearly.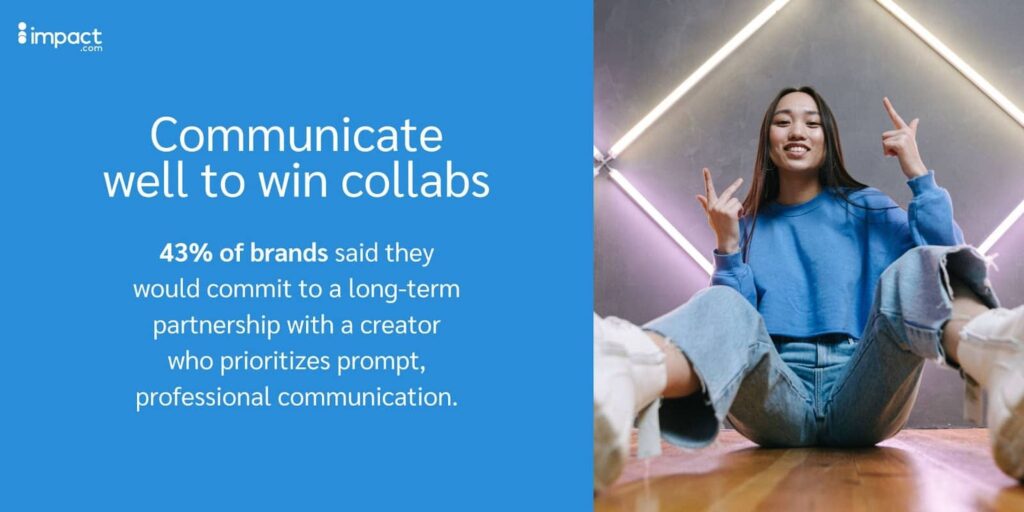 4. Pursue smaller brands
Brands with less mature influencer programs generally hear from creators less. This means more opportunity for you.
81% of brands with influencer programs less than a year old have fewer than five creators approach them in a week. That means your pitch is less likely to get lost in their inbox or go unanswered.
Research companies with a smaller (or even no) influencer program––they may be the perfect fit for your content. As a bonus, fewer competing creators give you more chances for future collabs.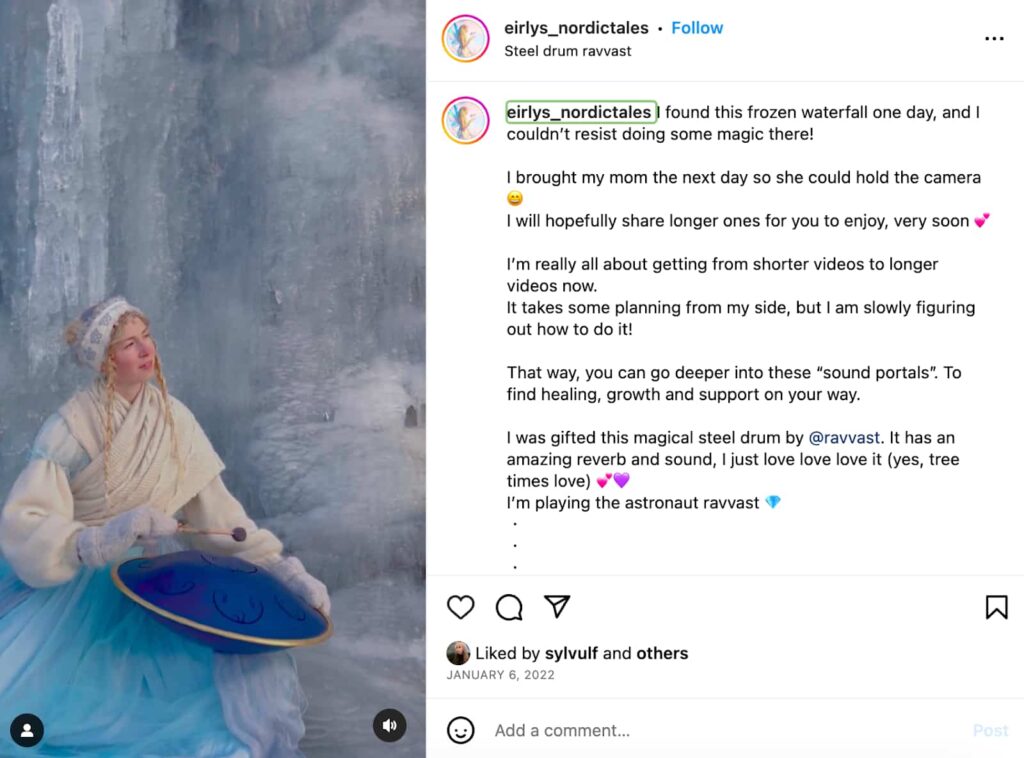 Ambient music creator EIRLYS found the perfect partner in niche steel drum brand Rav Vast.
5. Reach out to brands you love
The best partnerships are born from a creator's genuine love for a brand's content or products. 83% of brands see a deep love and understanding of their brand as indicative of a successful partnership.
When you partner with brands you love, it builds a feeling of authenticity and trust. This keeps your audience engaged while increasing your performance as a partner.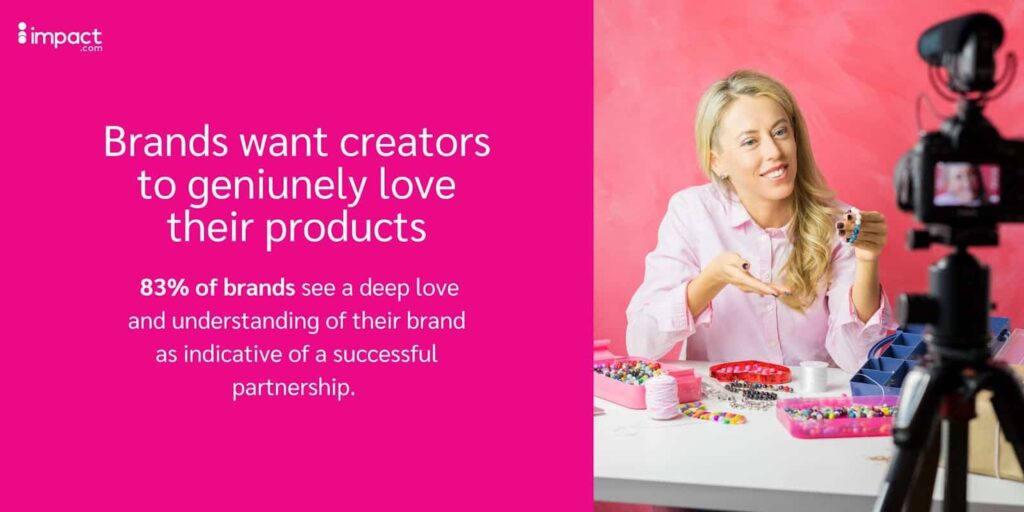 It has benefits for your followers, too. Audiences are savvy––they can spot fake-looking collabs from a mile off. Now more than ever, your audience wants to connect with authentic content that resonates with them.
The best collabs make your content naturally blend in with the brand and vice versa.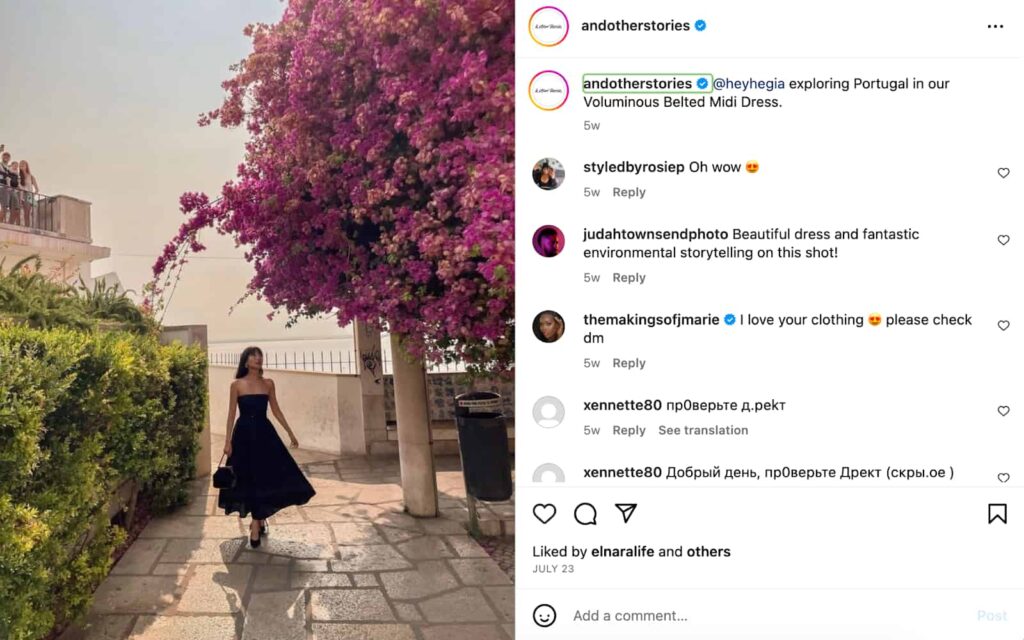 Fashion brand & Other Stories often collaborates with creators that share a similar brand aesthetic, such as HeyHegia
---
Fortune favors the brave when it comes to brand collabs
Proactive creators who reach out to brands they love have the best chance of building long-lasting successful partnerships. Make the first move instead of waiting for brands to find you on social.
Start by pitching brands on your dream list. Then dig deeper and uncover other brands looking for authentic content that resonates with their target audience.
Want to find brands to collab with? Sign up for impact.com Marketplace to discover brands that want to hear from creators like you.
Keep on learning with these additional resources:
FAQ's
Brands partner with influencers or creators to promote products, services, or even brand values.
Creators reach out to brands they feel align with their content, and brands work with creators that have specific audience demographics. Both parties agree on the scope of work, including the type of content and payment.
There are seven main ways brands pay creators:
– Gifting
– Comped trip or event
– Store credit or rebating
– Content licensing fee
– Pay per post
– Performance only
– Fixed-rate + performance bonus
Brands work with different types of creators, depending on their specific goals and budget.
Creators are often categorized according to their following size:
– Mega-influencers [celebrities] (1m+ followers)
– Macro-influencers (250k-1m followers)
– Mid-tier influencers (75k-250k followers)
– Micro-influencers (15k-75k followers)
– Nano-influencers (Less than 15k followers)
Brands partner with creators of all kinds, depending on their goals and budget.
A polished presence on social will impress, but most brands are unlikely to notice you unless they're conducting active social listening.
Only 5% of brands want to source and recruit creators, meaning that creators should rely on their own outreach to connect with potential brand partners.
Companies of all sizes run influencer programs, so there's a lot of opportunity for creators out there.
71% of brands planning to expand their creator programs started working with creators less than a year ago. And in 2024, 83% of brands expanding their programs plan to onboard more creators.
The best way to figure out if a brand sponsors creators (if not advertised online) is to ask them.