One day you skim through a "top 10 anti-aging skincare" article filled with links to products. Then you click a link to purchase a hydrating cream. Now you're part of the commerce content world.
Commerce content happens when brands and publishers partner to create unique shopping experiences with digital content. This content adds to the publisher's trusted reputation and benefits the brand with increased sales — while the consumer benefits with the best purchasing information.
When brands and publishers blend commerce and content, it takes their businesses to new heights. Commerce content gives more than 25 percent of brands greater access to audience data and insights — and expands more than 36 percent of publisher audiences.
Before you build a commerce content program, you should know what commerce content means, why you need it, and how to take the next steps.
Commerce content puts your brand front and center for your target audience
Brands and publishers yield better results together than apart when they partner for a commerce content piece. Commerce content gives target audiences a front-row seat to brand products and services with editorial content.
Essentially, commerce content is publisher-produced editorial content about a brand or service. Publishers can monetize content through affiliate links and make the content appear native or a 'natural fit' with their publication.
For example, a brand that sells women's activewear can partner with a women's health publication. Together they create a "10 must-have pieces for your activewear wardrobe" article. The article highlights several pieces from the brand, with links to the brand's site. Readers can then click the links to purchase their favorite pieces.
Publishers leverage the trust of their loyal audience and recommend brands or services that they feel will resonate with their consumers. This strategy creates a publisher cycle that generates authentic educational content with the intent to drive purchases.
But what about brands? Brands benefit from the trusted audiences of publishers and see increased sales and access to audience insights — what works and what doesn't with audiences.
Commerce content takes on many forms and fits into any stage of the buyer's journey. Types of commerce content include:
Listicles (awareness)
New product launches (awareness)
How-to guides (education)
Videos (consideration)
Articles (consideration)
Buyer's guides (consideration)
Comparison articles (consideration)
Reviews (validation)
Many publishers (the supply-side) and brands (the demand-side) see commerce content as the future of online shopping. An estimated 87 percent of publishers have a dedicated commerce content team, while digital commerce increased by 25 percent over the last year3.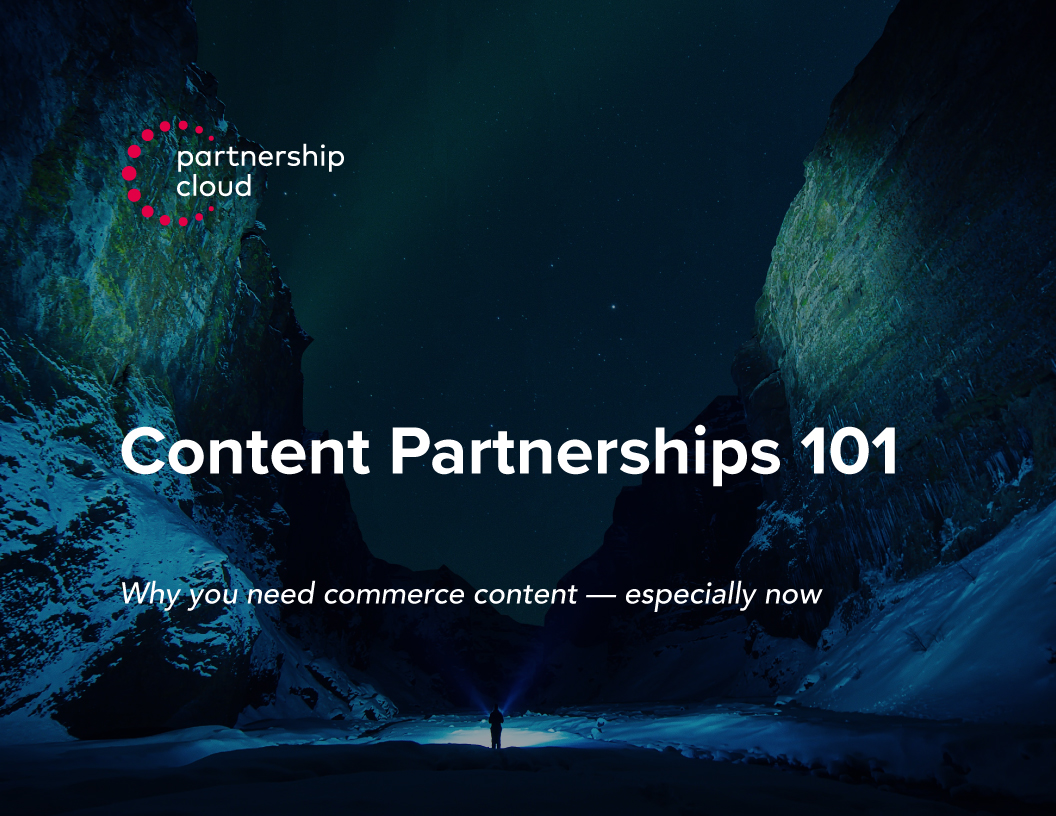 Want this great info in ebook form?
Download Content Partnerships 101: Why you need commerce content — especially now
Get my free guide
How publishers supply commerce content
While publishers and brands collaborate toward a common goal for commerce content, each plays a different role. Two main groups live within the publisher space and work together to create commerce content:
Editorial teams directly responsible for the content
Commercial teams establish partnerships with the brands that feature in the publication
Both groups work to produce commerce content with unbiased journalistic integrity, fulfill contractual brand obligations, and integrate automation tools like Trackonomics to streamline affiliate link creation. Collaboration ensures transparent and marketable content for a valuable feature with the associated brands and intended audience.
Publishers can also survey audiences and use trend data to inform their editorial team on what pieces of content to write. This strategy ensures the audience receives helpful and relevant information, increasing web page traffic for the publisher.
Brands view commerce content as a top source of revenue in 2022 and beyond. They leverage it as a third key source of revenue alongside advertising and subscriptions for publishers such as Buzzfeed, Meredith, and Condé Nast.
How the brand fulfills demand in commerce content
Brands make up the demand side of the commerce content equation because their readers want access to the best products, and they want to serve their readers.
To gain insight into how brands use commerce content, impact.com surveyed its global brand users and found that:
72 percent already use commerce content in their partnership programs
65 percent used commerce content as an important part of their strategy
40 percent expect an increased commerce content budget for the following year
Why brands and publishers need commerce content as a new revenue channel
Commerce content puts brands directly in front of audiences in a less intrusive way. Consumers will more likely engage with brands through content that doesn't feel like advertising. Brands can gain many benefits from commerce content such as:
Better customer experiences. Commerce content speaks directly to customers during every phase of the buyer's journey. Whether it's a product launch during the awareness stage or comparison articles during the consideration phase — commerce content works alongside your other paid media efforts to better the buying experience.
Earn additional revenue. Commerce content partnerships open up a new revenue source for businesses. It also provides a solid foundation for future partnerships between brands and publishers. For example, a future affiliate partnership where a publisher rewards one or more affiliated businesses for each website visitor brought in by the affiliate's marketing efforts or promotions.
Access to an established audience. With commerce content, brands don't need to build audience trust — with publishers it's already there. Readers will feel like they've discovered a new brand thanks to the publisher and engage with the brand's products or services if it fits their interests. For example, if a perfume brand partners with a beauty publisher, the audience's interest will most likely align with the brand.
Commerce content also benefits publishers. Audiences respond well to resourceful content that aligns with their values and follows the publisher's values. Benefits for commerce content include:
Authenticity. Quality publishers attract loyal audiences with authentic, relatable, and trustworthy content. Investing in commerce content means that consumers will read your content with the same level of integrity.
Data insights. This reveals which types of commerce content benefit your business the most when you partner with the right publisher — and use the right technology.

According to the digital media executives impact.com surveyed, brand sales data (41 percent) make up the most effective tools for targeted commerce content. Third-party audience data (32 percent) comes in second, then user data from affiliated brands (31 percent), and wish list data from retailers (18 percent).

Engaged readers. Commerce content should feel organic and guide the user along their buyer's journey. 40 percent of publishers say that commerce content keeps their readers more engaged.
When a brand does well from commerce content, so does the publisher. So a benefit for a publisher could also mean the same benefit for a brand, for example, increased revenue and reader interest.
How brands can get started with commerce content
Commerce content opens up a third revenue channel and lets brands and publishers build stronger relationships with their audiences. These three steps will get you started with commerce content as a brand:
Step 1: Think like an editor
Editors who work at top publishers receive 50 to 60 emails a day from brands just like yours. It's time to climb inside their thoughts so you can make a statement and grab their attention.
Thinking like an editor means you:
Align your content with their audience — including their wants, needs, and interests.
Request to be included in an existing review to increase your product or service's likelihood of being featured.
Get feedback from publishers to improve on your elevator pitch.
Step 2: Offer data
Publishers want to know what they're investing in. Share first-party data on key trends to back up why your content earns the right to be featured.
Showcasing your success generates "the fear of missing out" (FOMO) for other publishers, especially if your data lands your content on one of your top publisher's platforms.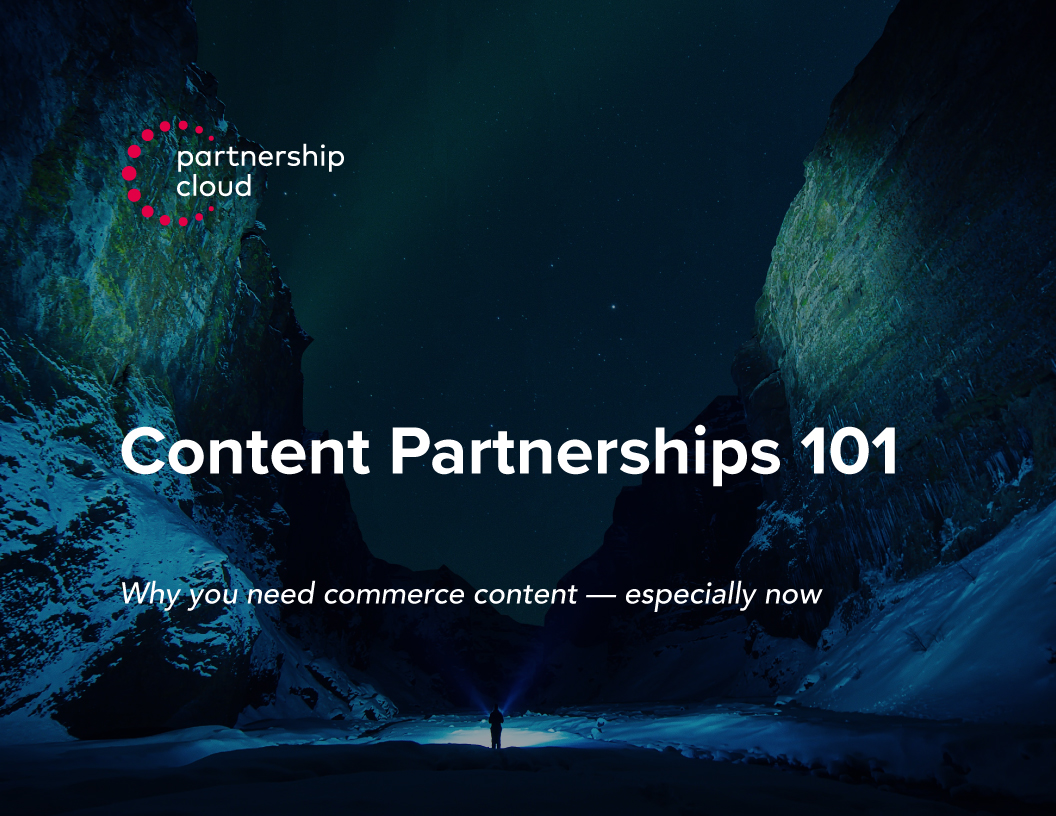 Want this great info in ebook form?
Download Content Partnerships 101: Why you need commerce content — especially now
Get my free guide
Step 3: Consider lead time
Quality commerce content doesn't happen overnight. If your content revolves around a popular commercial holiday, the best time to pitch it to your publications of choice would be three-to-five months before the ideal publication date.
For example, if you want your product included in a publisher's "top Father's Day gifts" article, pitch your product no later than March and reference the upcoming Father's Day edition. This initiative helps the publishers, and your brand, plan ahead.
How publishers can get started with commerce content
Publishers form the vehicle that drives commerce content to a targeted audience. Kickstart your commerce content vehicle with these three steps:
Step 1: Engage with readers
Gain valuable insights on what type of content to produce with reader feedback. Publishers can use various methods to engage with readers:
Read comments. See what users respond well to and if they request certain brands or kinds of products they want to see. Reading user comments also allows you to tap into trends and inform the type of content you'll produce in the future.
Use reader surveys. Surveys can help publishers improve the reader experience and answer questions like "What kind of content do you want to see more?" and "What products interest you most?"
Step 2: Consider your commerce-to-content structure:
Brands and publishers should benefit from commerce content. But before the coins start rolling in, you should outline a clear agreement between yourself and a brand. Here are two types of commerce-to-content models to consider:
Affiliate models: Most affiliate partnerships use affiliate links — which send consumers to purchase publisher-recommended products. A publisher can create a product review, for example, and add hyperlinks to the products mentioned.
Many publishers use affiliate software, such as Trackonomics, to automatically generate affiliate links. Affiliate links give insight into website traffic and track which pages led to a purchase. These insights help publishers track each content partner's expected commission.
Attribution marketing: This method can be more complex than affiliate links. Here a publisher can receive commissions for leading consumers during different touchpoints on the consumer's journey. As consumers interact with multiple channels before purchasing — including emails, referrals, or social media — this method could benefit some publishers more than just affiliate links.
Step 3: Use questions to form your approach
Now that you've researched your readers and decided on your commerce-to-content model, the next step is to form your approach. Ask yourself four key questions to identify the right ecommerce model for you:
What can I offer my readers that will benefit them?
How can I get it to them in the shortest time?
How can I increase revenue from doing that?
How can my content break the mold?
Commerce content grows every single year and is here to stay. As consumer habits change, commerce content keeps brands and publishers ahead of the curve. Now that you've mastered the fundamentals of commerce content, schedule a demo to learn how impact.com's partnerships management platform can grow your business — or contact grow@impact.com.
Want to know more about commerce content marketing? Check out these impact.com resources: