As the digital landscape evolves, publishers play a pivotal role in shaping the future of affiliate, driving innovation, and raising the bar for excellence in content creation.
Despite increasing pressures arising from macroeconomic conditions and new technologies, the future of affiliate publishing holds immense potential for innovation and revenue generation. However, it's essential to prepare for the changes ahead.
Hear from some of the world's top experts about what affiliate publishing might look like in the coming years and how you can stay ahead in a competitive industry.
Using social media to its full potential
Many publishers already use social media to expand their reach, but some experts believe the industry still has more ground to cover.
Building a presence to cultivate younger audiences
In 2023, seven social media platforms claim to have one billion or more monthly active users. While most publishers want to incorporate more social into their content amplification strategy, many struggle to identify which platforms to invest in. This challenge grows as teams find themselves increasingly budget-strapped.
However, many publishers are laser-focused on one key platform: TikTok.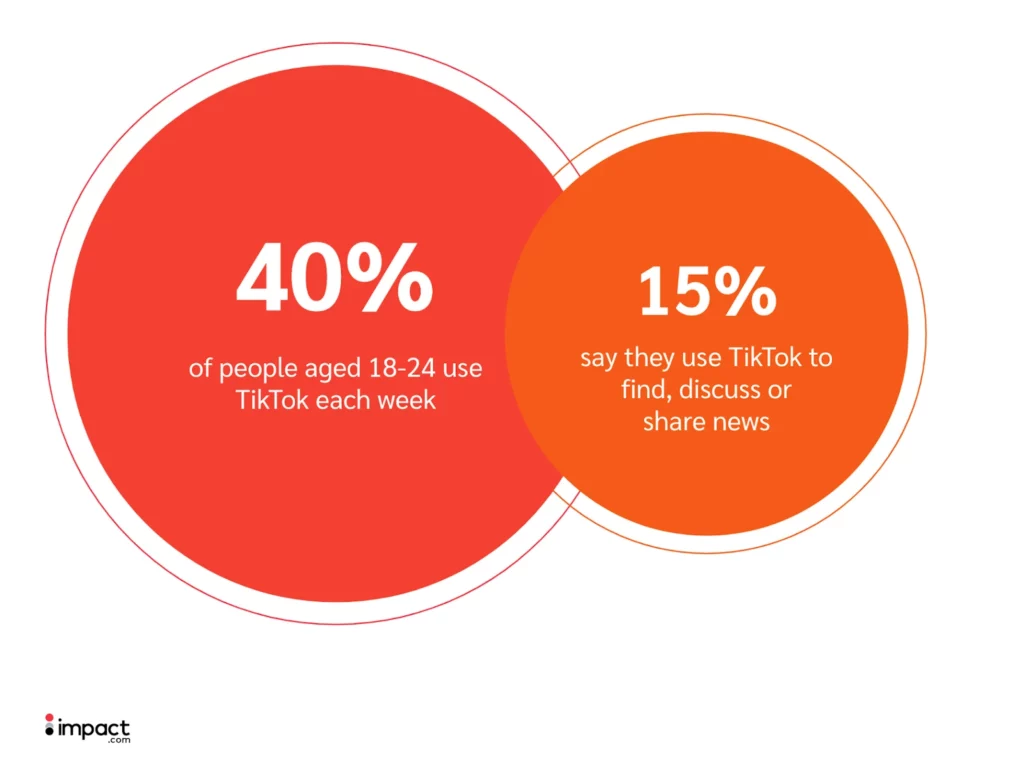 Source: 2022 Digital News Report
"Being able to reach younger audiences is a big opportunity. TikTok offers the chance to tap into that demographic," says Jennifer Birkhofer, VP of Commerce at NBC News Group. "Our Shop TODAY [the TODAY Show's shopping arm] has a big following, and we're starting to see some traction. More people are organically following us, and many are young."
Source: What's New in Publishing
Many premium publishers—especially those specializing in news media—struggle to maintain relevance with younger audiences. Seventy-eight percent of people ages 18-24 access news through side doors such as aggregators, search engines, and social media each week. Creating content for these platforms can provide an avenue for engaging younger audiences.
Key takeaway:
To cultivate the next generation of readers and maximize affiliate revenue, continue investing in content creation on up-and-coming platforms.
Harnessing the power of short-form video
The average person spends 100 minutes per day watching online videos. With similar stats pervading the industry, it's little wonder that there's been buzz around video marketing for over a decade.
Despite the format's popularity, many publishers struggle to translate video into affiliate revenue. Twenty-four percent of publishers identify video as one of their worst-performing commerce content assets.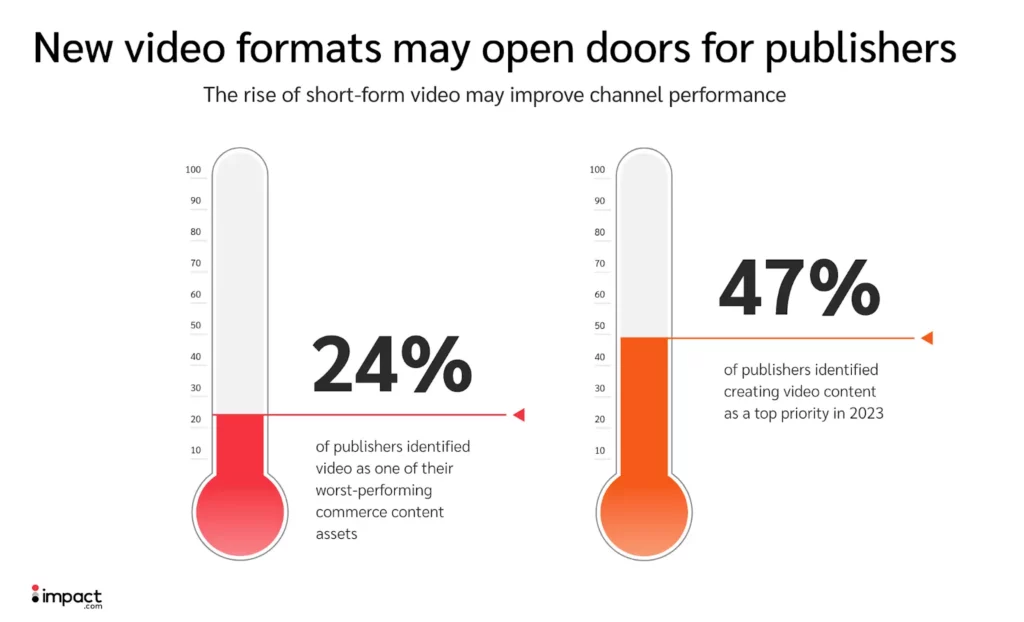 Source: impact.com x Digiday State of Commerce Content Report, EchoBox's Publishing Trends Report
However, video is taking a new shape thanks to the rise of TikTok, Instagram stories, and YouTube shorts. Today's consumers prefer watching one to three minutes of video content over other lengths.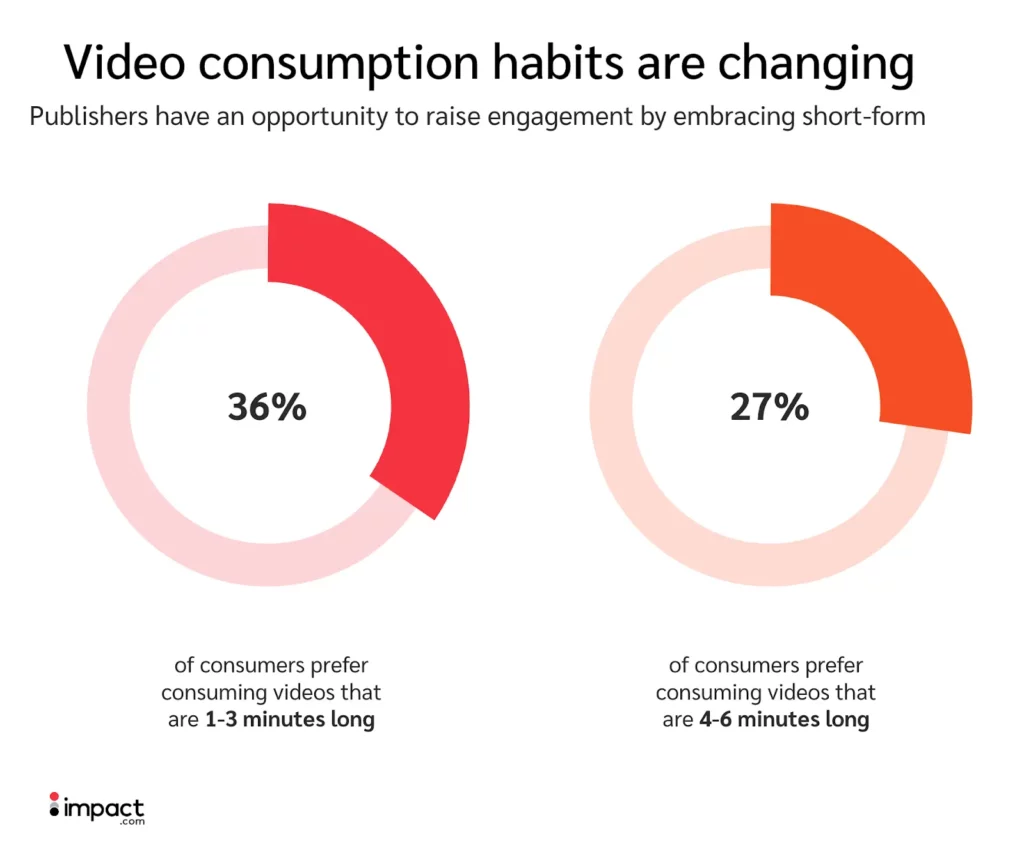 Source: HubSpot

"For the first time, we're seeing a prioritization of short-form social video that feels truly authentic. The 2015-2017 era of social video was clouded in misdirection and ultimately fell short of expectation. This is different," says Graham Howes, VP of Marketing and Distribution at Bustle Digital Group

"Video is incredibly important because it's where a lot of people are going to consume content en-masse, but it needs to be done correctly. If a publisher can nail that space, they have a valuable commodity on their hands," says Howes.

Many publishers agree—with 47 percent indicating that video content creation is a top priority in 2023.
Key takeaway:
Understanding how to create and optimize short-form video content that engages today's users will put you ahead of your competition.
Finding new and trending products
Finding the right products for affiliate content is an uphill battle for many publishers.
The products must:
Appeal to your audience
Align with your publication's brand
Provide quality commissions

With 80 percent of brands running affiliate programs, sifting through product options can feel like finding a needle in a haystack. Sourcing commerce content brands is among the top five challenges faced by affiliate publishers.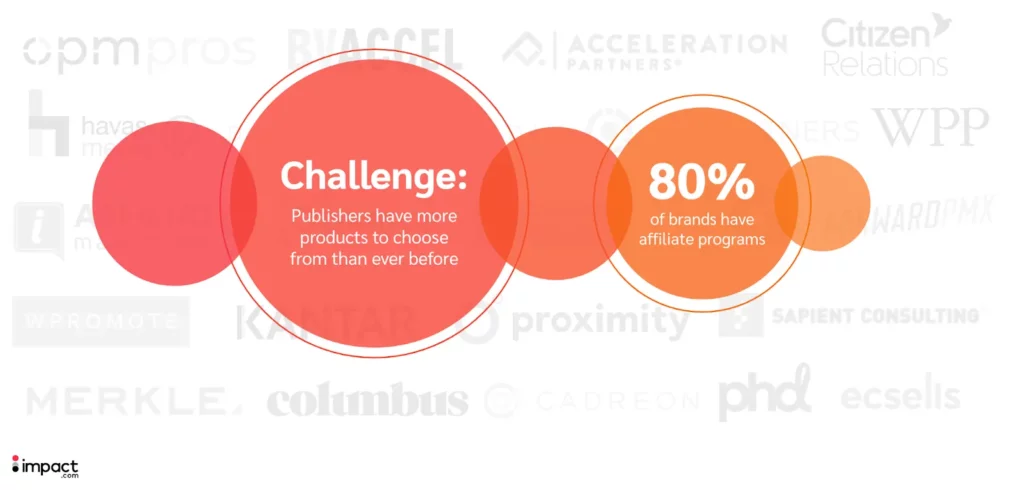 Source: How affiliate and influencer partnerships help brands scale and succeed on Shopify

"Publishers will look more to social media for product discovery. We have people dedicated to going through social media and finding new and interesting products for us to try, order, and put on broadcast," says Birkhofer.
Social media allows publishers to find trending products with viral potential that can maximize affiliate revenue. Additionally, social listening gives publishers more refined insights into products their audience (and others like them) are excited about.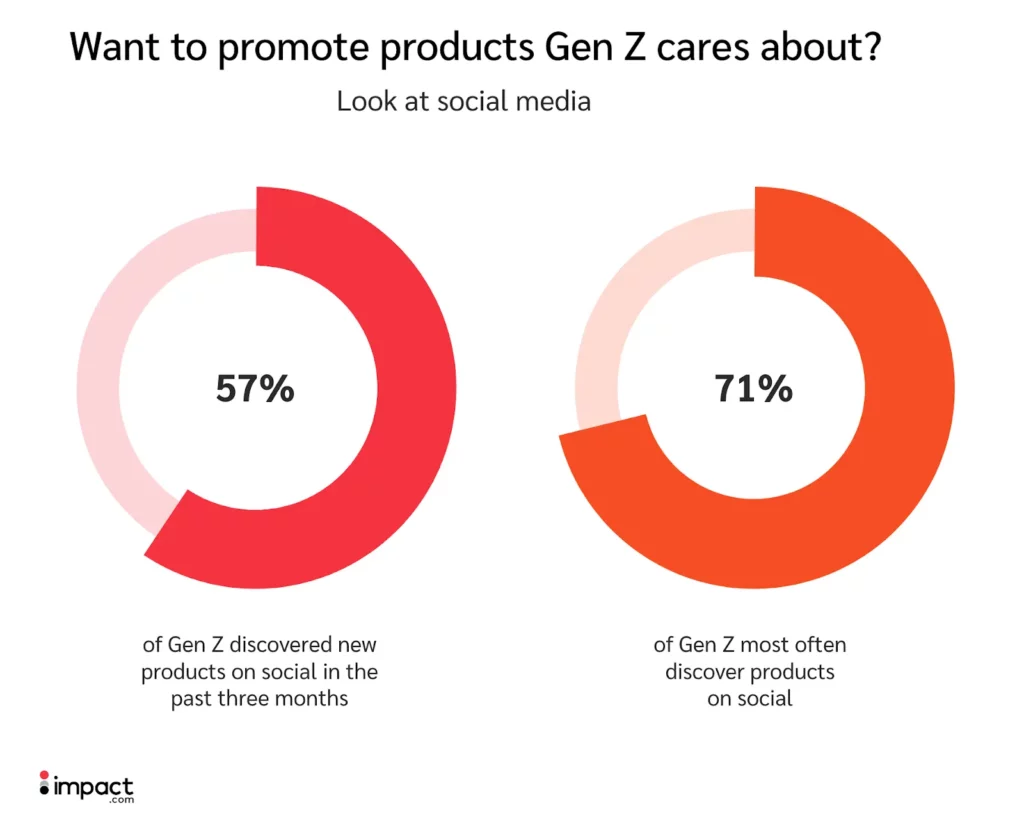 Source: HubSpot

Publishers that use social for product discovery are also more likely to find items that appeal to one of the most coveted reader demographics. Fifty-seven percent of Gen Z discovered new products on social media in the past three months. A further 71 percent said they most often find products on social.
Key takeaway:
Exploring social media can open a new world of engaging (and even viral) products to feature in your commerce content, potentially boosting revenue.
Helping brands reach audiences with first-party data
Brand's expectations of their partners are rising—especially for more in-depth partnerships, such as branded content or loyalty programs. More specifically, many brands want more refined targeting for ads and deals.
"A lot of brands want to do more targeting and hit specific groups of people with deeper messaging. We just had a client say they wanted to better target the French-speaking Quebec market. As a loyalty publisher, we have a rich data set to work from, so this desire for granular targeting presents a great opportunity for us," says Andrew Noonan, Lead of B2B Development for Aeroplane, Air Canada's loyalty program.
Source: Adobe, What's New in Publishing
This demand could be a potential boon for publishers. Eighty-five percent of all web traffic will be unauthenticated when third-party cookies fade, and less than two in five brands say they're ready for a cookieless future—despite the 2024 deadline.

Publishers' first-party data will become more valuable than ever in this environment. With publishers of all kinds constantly collecting real-time information on user behavior, they have the potential to offer granular consumer insights that will be difficult to find elsewhere.
However, to maximize their data, publishers must allocate resources to:
Collect as much data as early as possible to form fuller user profiles
Organize the data to optimize profiles and avoid gaps
Foster transparent, direct relationships with advertisers
Key takeaway:
As advertiser demand for refined targeting increases and third-party cookies retire, investing in a robust first-party data strategy could give you a competitive advantage.
Supporting brands under pressure
Brand marketing teams receive increasing pressure to deliver growth with the same—or less—budget.
In 2023, 74 percent of top advertisers said the economic downturn influenced their budget decisions, with 75 percent saying their budgets are under "heavy scrutiny." Additionally, 75 percent of CMOs report increased pressure to "do more with less."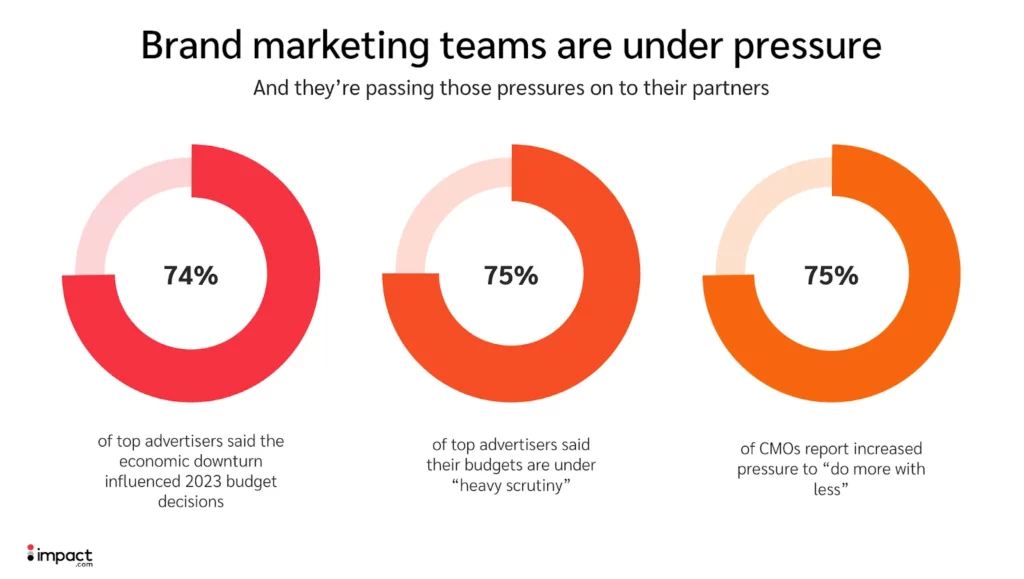 Brand marketing teams inevitably pass these pressures on to their partners. With stricter budgets, brands want publishers to provide greater ROI and more proof points that they can show internally.
However, many brands face obstacles that compromise their ambitious goals.
"Due to the nature of CPA relationships, you'd think the channel would always be running and have unlimited funding. But often we find that brands aren't able to budget properly and have to pull back, meaning they lose momentum," says Vincent Senerchia, Manager of Business Development, and Travis Abbott, Head of Business Development, at Rakuten Rewards.
In this challenging environment, publishers must become problem-solvers and trusted advisors to their brand partners. Providing solutions that lead brands to success adds another layer of value and strengthens the foundation of the partnership. Ultimately, this approach opens opportunities to foster more profound, lucrative relationships in the future.
Key takeaway:
Revisit your brand experience. Ensure you're prepared to help your brand partners reach their goals under increased pressure and deliver results in suboptimal conditions.
Adapting fast is imperative
Today's publishers face a sea of changes:
The rise of AI-driven content generation threatens traditional business models
Tumultuous economic conditions add complexity to revenue generation
Shifting consumer behaviors redefine what it means to deliver value
And much more
The publishers that consistently come out on top in a competitive landscape have one thing in common: A willingness to take risks and adapt.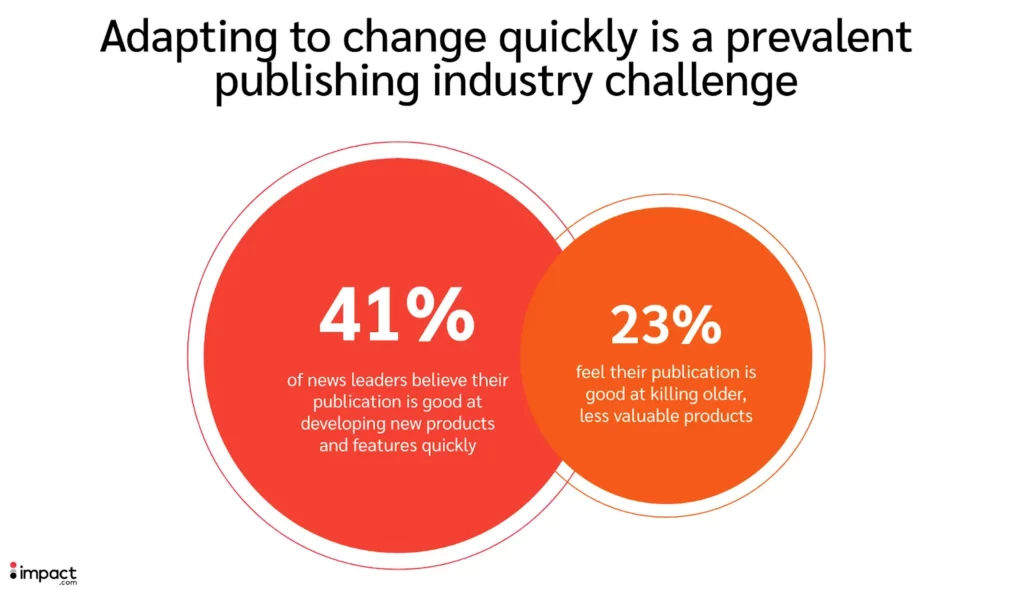 Source: Journalism, Media, and Technology Trends and Predictions 2023
Only 41 percent of news leaders believed their publication did a good job of quickly developing new products or features. Even fewer felt they were good at killing ineffective products with less value.
According to Senerchia and Abbott, willingness to adapt may be the greatest challenge for publishers to overcome.
"Publishers need to be ready to react quickly—that's always been the key. You need to have the people and budget to be a first-mover. For a bigger company, that's a challenge at times. You have to be able to get out of your own way," they say.
Key takeaway:
Cultivate an agile company culture by looking ahead and frequently shifting resources to quickly adapt to new trends.
When it comes to staying competitive, knowledge is power
Want more information that puts you ahead of the competition? Learn how today's top affiliate publishers are shaping their commerce content programs in the impact.com x Digiday research report State of Commerce Content in 2023.