The first and most crucial step to grow a successful SaaS affiliate program is, of course, to find the right affiliates for the job. With so many potential partners out there, this may sound daunting. How do you know what to look for? Where do you look? What are the best ways to recruit them? With impact.com, you can streamline your discovery and recruitment process, and the rest can be helped along with a bit of advice.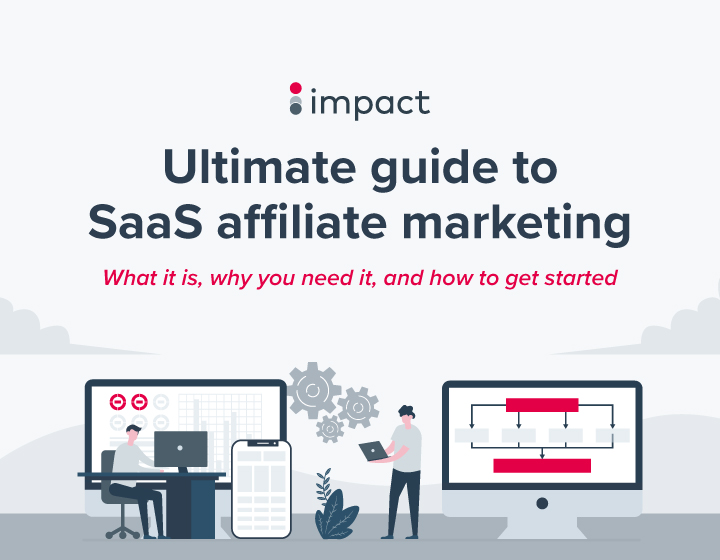 Ultimate guide to SaaS affiliate marketing
Want to learn more about SaaS affiliate marketing? Download the ebook: Ultimate guide to SaaS affiliate marketing
Get my free guide
What types of affiliates are best for my program?
No two businesses will have the same needs and goals for their partnerships programs, so it's hard to say what affiliates and referral partnerships are "best.". Today, SaaS companies' most common referral partnerships are content partnerships, strategic brand-to-brand, and B2B influencers such as independent consultants, educators, and trainers. Engaging in a diverse range of partnerships will help your program reach maturity.
However, some guidelines can help you find the best partners for your business. You want partnerships that fit your marketing strategy, but you also want partners compatible with you and your brand. When assessing partner compatibility, there are five essential criteria to consider:
Complementary business objectives. Aligned objectives are the starting point for a successful partnership. What do you both hope to achieve? How does this partnership help meet those goals?
Brand fit. Evaluate the partner's brand and audience. Is their tone and perspective in alignment with ours? Would they pose any risk to our brand? Do they have access to your target audience?
Competitor status. If the partner works with a competitor, what does their partnership look like? What can you do to ensure that the partner prioritizes you over your competitor?
Ability to work together. Check out the partner's history. Have they collaborated with other brands in the past? Are there any obvious red flags with how those partnerships went?
Desire to work together. Beyond a mere willingness to work together, evaluate what brings you together as well as what drives you apart. What do you each need that the other has? Is this partnership appropriate for and credible to your target audience?
If your prospective partners meet your needs in those categories, they will likely be a good fit for your program.
How can I find affiliates with impact.com?
Now that you know who you're looking for, you have two options for finding them: an affiliate marketplace or your own research and discovery process. A partnership management platform like impact.com can help you with both.
Affiliate marketplaces and networks can do a lot of the legwork for you. However, many affiliate marketing networks restrict your business to the partners already in the network. Impact.com's marketplace uses crawlers to identify over 7 million potential partners throughout the internet, across social networks, and more. No matter how you find them, impact.com's open platform means there's no restriction on who you can and can't partner with.
Click the Discover tab on the impact.com platform to begin your hunt. There you'll find curated collections of partners to meet particular needs, recommended partners for every level of the conversion funnel, and a search tool to help you comb through the millions of potential partners to find the most compatible prospects.
As you explore, you can click on each partnership opportunity to drill down into the available details as you explore. Here you can find information ranging from affiliate stats like their Alexa rank and social audience to their primary promotional methods. If you like what you see, simply click the green checkmark to add them to your running prospect list.
You can also discover new partners through your own research. Mediarails by impact.com can help speed this process with tools like social listening and targeted search, and its capabilities can be expanded through integrations with other services. For example, you can set up a Bing integration to expand your net to catch partnership opportunities on sites like Linkedin and Youtube.
How do I convince affiliates to join my program?
You convince affiliates and other referral partners to join your program through outreach and setting proper incentives. This should be an ongoing process to continually expose your company to new audiences and manage the natural wax and wane of partner value.
The first part requires mass outreach to potential partners. Mediarails can help you build email templates and contact your list of prospects from the discovery phase en masse, and nurture campaigns can ensure you try more than once to entice new partners to apply to your program.
Once the responses from interested parties start rolling in, you can do your due diligence to make sure they'll be a good fit. By starting the outreach, you'll avoid wasting hours of your time vetting potential partners who might ultimately turn you down.
Competitive analysis
The second part requires some research. You're competing in a marketplace, so you want to match or improve on the competition. That requires knowing the competition's compensation structure and other program terms. To see what they're offering:
Visit competitors' websites and look at the footer for a link to their affiliate program. Here, you'll find more information about their program terms.
Create a free publisher account on various affiliate platforms and networks to view what competitors reveal about their program.
With this knowledge in hand, you can update your contract templates under the Engage tab of the impact.com platform to bring your contract terms in line. The next time you reach out to a prospect to start a contract negotiation, you'll be prepared with a competitive offer.
With the right combination of technology and process, partner recruitment becomes a breeze. Want to learn more about how impact.com can automate and streamline every part of the partner life cycle? Reach out to a growth technologist at grow@impact.com or request a demo.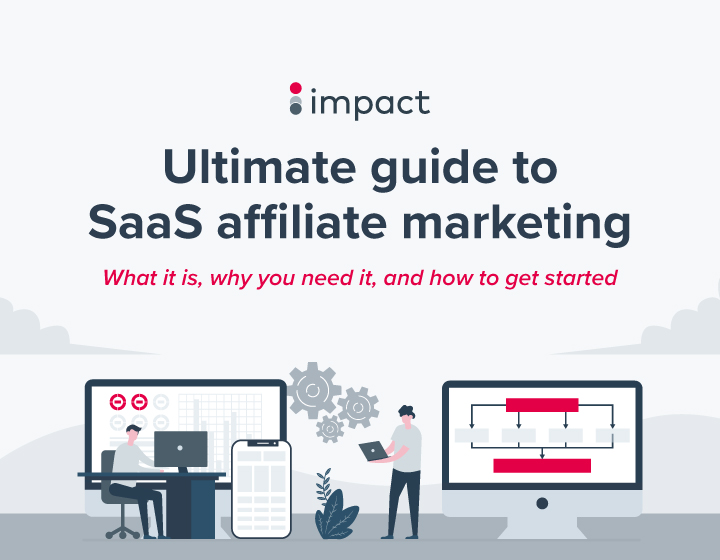 Ultimate guide to SaaS affiliate marketing
Want to learn more about SaaS affiliate marketing? Download the ebook: Ultimate guide to SaaS affiliate marketing
Get my free guide
For more ideas and guidance on SaaS affiliate marketing, check out these other impact.com resources for SaaS affiliate marketing and the basics behind successful affiliate marketing: