February marks Black History Month, acknowledging the legacy and celebration of Black people and African Americans' innumerable contributions to society.
This month is an opportunity to reflect on the injustices that Black people have and continue to experience throughout the United States — and across the world. It is also a way to pay homage to their resilience in the face of them.
The origins of Black History Month
---
"If a race has no history, if it has no worthwhile tradition, it becomes a negligible factor in the thought of the world, and it stands in danger of being exterminated." — Carter G. Woodson
---
The inspiration for Black History Month came in 1915, fifty years after abolishing slavery and the passing of the Thirteenth Amendment in the United States.
Frustrated by the omission and misrepresentation of Black people in both American and diasporic history, Harvard-educated historian Carter G. Woodson (along with four of his contemporaries) founded the Association for the Study of Negro Life and History (ASNLH). Together, they aimed to research and promote the previously ignored achievements of Black Americans and peoples of African descent. Later that same year, Woodson established The Journal of Negro History, a quarterly journal to chronicle African-American life and history, to broadly amplify the ASNLH's efforts in academic circles.
For ten years, Woodson and the ASNLH worked to grow scholarly interest. Compelled to recognize Black contributions with even greater significance, in 1926, he and the organization would institute Negro History Week. Launched during the second week of February to coincide with the birthdays of U.S. President Abraham Lincoln and American abolitionist Frederick Douglass, the precursor to today's Black History Month would spark public appreciation and celebration of Black accomplishment for decades to come.
By the late 1960s, following the increased awareness of Black identity and the civil rights movement, Negro History Week evolved into Black History Month. Lectures, seminars, assemblies, sermons, performances, and parades took place to commemorate the month throughout the U.S. As Woodson intended, Black history became accessible to everyone.
In 1976, U.S. President Gerald Ford officially recognized February as Black History Month. He encouraged the public to "seize the opportunity to honor the too-often neglected accomplishments of Black Americans in every area of endeavor throughout our history."
Most recently, U.S. President Joe Biden proclaimed that "National Black History Month serves as both a celebration and a powerful reminder that Black history is American history, Black culture is American culture, and Black stories are essential to the ongoing story of America — our faults, our struggles, our progress, and our aspirations. Shining a light on Black history today is as important to understanding ourselves and growing stronger as a Nation as it has ever been."
---
"Black history is indeed American history, but it is also world history." — Angela Y. Davis
---
Did you know? In addition to the United States, countries around the globe also observe Black History. Check out these interesting facts about the adoption of Black History Month in these countries.
Defining Blackness
The classic dictionary definition of Blackness falls flat. It fails to capture the complexity of identity or account for its impact on lived experiences.
Blackness is the embodiment of being Black. It is the essence of culture, pride, heritage, ancestry, belief, traditions, community, and genetic inheritance expressed through human existence. To omit, misrepresent, or ignore Black history and its ties to Black culture intentionally disconnects entire people from themselves.
Who is Black?
Despite labels and categorizations, Black people are neither monolithic nor their experiences. To illustrate this, we invited our employees to express what being Black means to them
The pride in being Black
---
"Say it loud, 'I'm Black, and I'm proud!'" — James Brown, 1968
---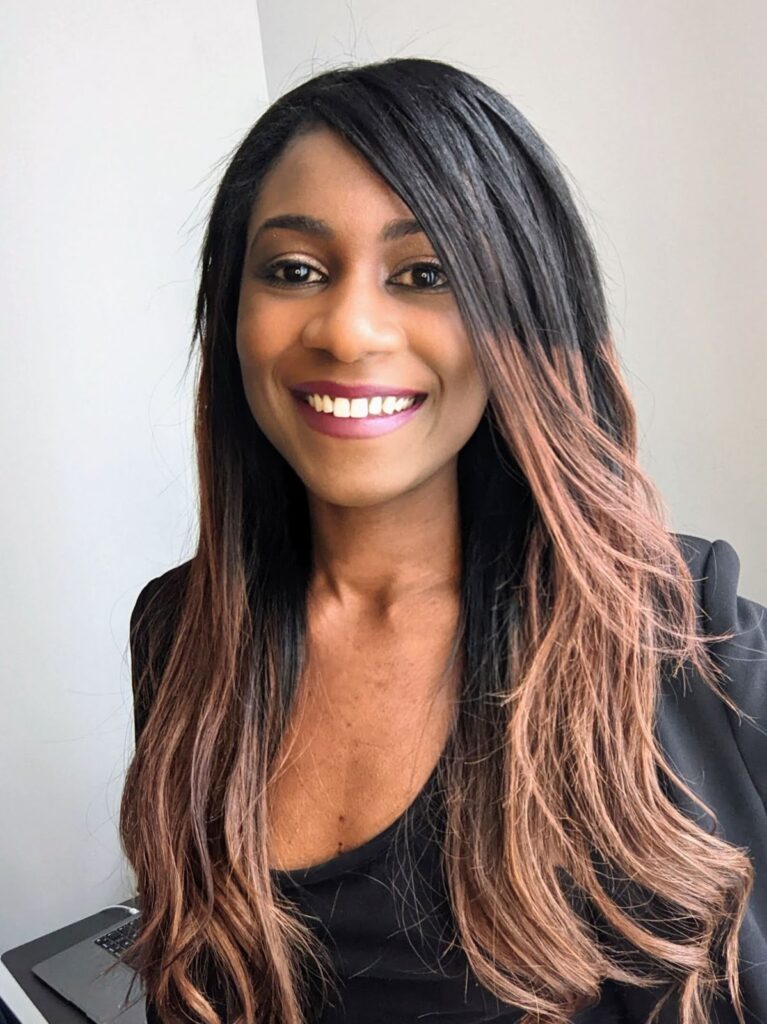 Tiguida Dembele
Strategic Sales Manager, France
"Being Black to me isn't just defined by my skin color. For me, it's also about my roots and how connected I am with my history. I describe my identity as a source of personal and collective pride and empowerment. Every day, I give thanks for having such a beautiful heritage."
Phila Manyika
Business Intelligence Engineer, South Africa
"Being Black empowers me to strive for a better future for myself, my family, and generations to come by educating myself and upskilling with every opportunity presented to me. My mere intention is to lead an exemplary life that will inspire other young Black people.

I want to overcome our disadvantaged past while sharing our success with the world and overcoming any stigma known to us. I celebrate being Black by embracing who I am and following in my ancestry's footsteps. I achieve this by practicing and sharing my IsiXhosa customs and culture with the world as part of my daily life."
Sherrice Green
Associate Customer Success Manager, United States
"I'm a product of hundreds of years of activism and social change, and I have the potential to be just as influential as my brothers and sisters before me. History can be instrumental in defining who you are, but the bulk of your identity comes from the expectations in your head.
Though it comes with its hardships, I wholeheartedly believe there's no bigger blessing than being Black. It's knowing that Black women and men paved the way for the civil rights movement and that you
should continue the path of advocacy and justice. Being Black isn't about adhering to a specific set of characteristics; it's about making sure you live as truly as you possibly can. It's about having pride in who you are and knowing that your skin color gives you the power to assert yourself the way you want to. Above all, being Black means learning to live comfortably in your skin, however you choose to do so."
Making history
As history has proven time and again, Blacks are a multi-faceted people with much to take pride in. Though very few know of Black people's many innovative accomplishments, fewer still know whom to pay homage to.
Black inventors have contributed tremendously to people's lives worldwide, from everyday items to beloved foods to life-saving technology.
For example, Elon Musk, Jeff Bezos, and Richard Branson have successfully piloted their respective spacecraft into outer space thanks (in part) to Mary W. Jackson. In 1958, Jackson, a mathematician, became National Aeronautics and Space Administration's (NASA) first Black female aeronautical engineer. Her decades worth of research on aerodynamics was instrumental in improving flight functionality and performance of airplanes and spacecraft traveling at supersonic speeds. In 2021, NASA renamed its main offices to the Mary W. Jackson NASA Headquarters.
And, if it wasn't for "Archie," there may be no "Google". In 1990, while working as a system administrator for the School of Computer Science at McGill University, computer scientist Alan Emtage created a program to automate the time-consuming process of finding software for teachers and students. The "Archie" program – widely considered the world's first Internet search engine – was born. He co-founded the world's first company expressly dedicated to providing Internet information services two years later. In 2017, for his work in creating the standard for Uniform Resource Locators (URLs), Emtage was inducted as an Innovator by the Internet Society into the Internet Hall of Fame.
Mary W. Jackson and Alan Emtage are just two of the hundreds of activists, artists, athletes, educators, entertainers, engineers, physicians, scientists, legislators, business professionals, and others who have — and still do— shape our world.
How many of these useful inventions from great Black inventors do you recognize?
---
"No human culture is inaccessible to someone who makes the effort to understand, to learn, to inhabit another world." — Henry Louis Gates Jr.
---
To learn more about Black culture, history, and innovation this month and throughout the year:
At impact.com, our global community spans 15 geolocations, represents more than 20 cultures, and comprises over 800 innovators and trailblazers. While we are proud of our achievements and work hard to celebrate each one, we recognize that our success would be "history" without the invaluable contributions of our employees and talent like yours. If you are seeking to make your mark in the world, join us at a company that fully supports the multitude of you.
Want to take the next step in your career with good people who do good? Find your place at impact.com