More and more brands rely on affiliate partners as a reliable channel for revenue. Companies with mature affiliate programs gain as much as 28 percent of their revenue from it, and the spend on affiliate marketing is expected to reach $8.2 billion by 2022. Affiliate marketing is popular for several reasons:
Brands only pay when they get results, which makes affiliate partnerships a low-risk, low-cost investment.
Affiliate partnerships rely on trust and deliver more authentic brand promotion than traditional advertising.
Brands easily plug into this tried-and-true channel.
Brands can work with partners based on specific target audience segments.
The flexibility of affiliate partnerships offers a lot of potential for revenue growth and expansion into other types of partnerships.
As you begin your brand's journey in affiliate marketing, start from the basics and understand how affiliate marketing works. Learn the mechanics of affiliate marketing, the players involved, and its benefits.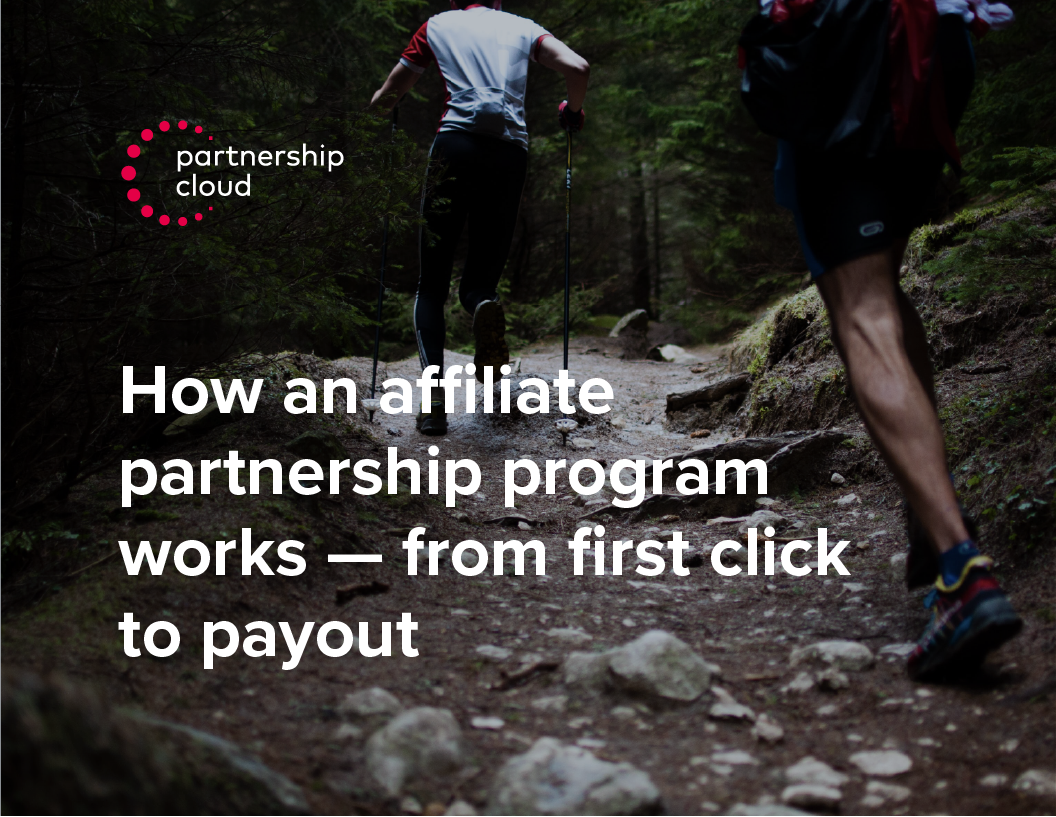 Want this great info in eBook form?
Learn the basics of affiliate partnerships, how they've evolved over the years, and how to get the most out of them for your business.
Get my free guide
How does affiliate marketing work?
The key players
As a performance-based marketing channel, how affiliate marketing works is that it allows brands to collaborate with publishers for a commission to promote their products or services. As such, affiliate marketing involves three players:
The affiliate (also known as publisher or partner)
The brand (or the advertiser)
The customer
The affiliate includes a content publisher or partner with an owned content platform. Affiliates promote a brand's products or services on their platforms and receive a commission for any conversions or sales they drive. Some affiliate types are:
Content publishers
Coupon or deal sites
Loyalty or rewards sites
Mobile apps
Email newsletters
Other brands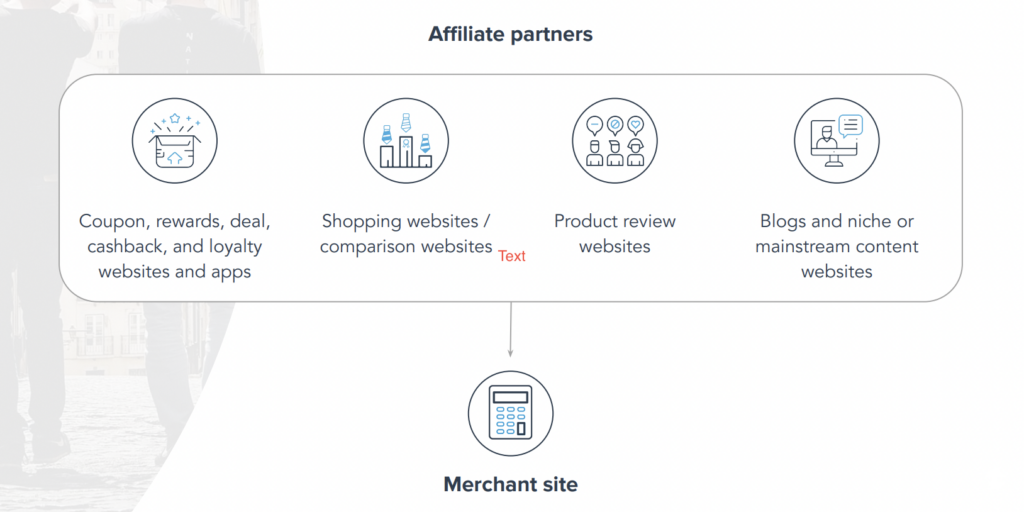 Brands use affiliate marketing to promote their products or services. They partner with affiliates and provide them with a trackable link with an affiliate's unique ID to a certain product they want customers to buy. As soon as the sale (or any conversion) happens, the brand pays the affiliate a commission.
Customers buy the brands' products via a referral link from the affiliate. Usually, they are both the affiliate and the brands' target audience.
The affiliate marketing process
Now that you are familiar with the key players in the affiliate marketing world, let's look at the logistics. The affiliate partnership process covers several steps: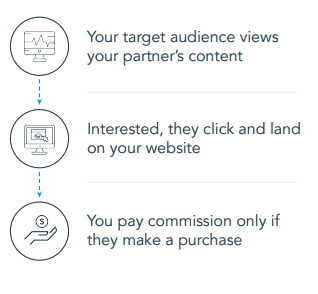 A brand starts an affiliate program. It outlines the terms and conditions for affiliates to join the program, including the commission rates for eligible conversions.
The brand recruits affiliates to join the program, and the two partners establish which of the brand's products or services the affiliate will promote.
The brand supplies the affiliate with a trackable affiliate link, which will allow it to attribute a conversion back to the affiliate.
The affiliate publishes that link on its channel.
Customers click on the affiliate link, which redirects them to the brand's website, and they purchase the product or service.
The brand confirms the customer's purchase.
The affiliate receives a commission for the sale.
Brands and affiliates outline the terms and conditions of each partnership in a contract. A written agreement establishes the guidelines for the affiliates to participate in the brand's affiliate program. It also sets the commission and any additional payments the affiliate may receive from the brand after referring a new customer.
Tracking and attribution in affiliate marketing
The success of a brand's affiliate program relies on the accuracy of its tracking system. When an affiliate partner refers a new customer (who hopefully converts), the brand must have a way to track and attribute the conversion back to the affiliate partner. Accurate tracking will:
Ensure that the affiliate partner is paid fairly for the value it brings to the brand
Help the brand discover any suspicious activity, such as click fraud or duplicate crediting
Provide deeper insights into their customer's journey
Affiliate tracking can be set up using various methods, including Javascript tags, image pixels, FTP tracking, and API calls.
API calls or server-to-server tracking are among the most futureproof tracking methods currently available. It does not use third-party cookies, which are no longer reliable anymore because of developments like Apple's Intelligent Tracking Protection (ITP). Instead, API calls submit conversion data via a web service API call to a SaaS platform or an affiliate network (more on that in the next section). This way, you can ensure that the advertiser receives accurate attribution data.
How affiliate commissions work
Affiliate commissions vary from partnership to partnership, but they work on the same principle. Brands can choose to reward their affiliate partners based on these metrics:

CPA (cost per action)
CPL (cost per lead)
CPC (cost per click)
The performance-based nature of affiliate marketing offers many benefits. Brands only pay their affiliate partners when they see the results — an actual purchase, download, or any other type of conversion they deem valuable. So the cost per action model is the most common one used in affiliate programs.
Brands set and adjust the commission amount as needed. They also offer one-time bonuses, campaign-based incentive payments, or reconsider their entire compensation as their affiliate partnership evolves.
How to manage an affiliate program
Affiliate management technology helps organize your affiliate program and enables you to accurately track and protect your program from fraud, automate processes, and communicate with your affiliates more efficiently.
Brands with a traditional approach to affiliate programs can use affiliate networks to manage affiliates. Affiliate networks act as intermediaries: they have a set of tools, access to a certain pool of affiliates, and some helpful management features. However, changes in affiliate marketing make it a more dynamic partnership industry with a vast potential for growth and scalability. If you want your program to flourish, have a more diverse pool of partners, and have full control over your revenue growth, affiliate networks may be limiting.
Partnership platforms enable brands to forge stronger, more profitable affiliate partnerships. SaaS partnership platforms allow brands to automate almost every partnership life cycle stage of their affiliate program: discovery, recruitment, contracts, payouts, tracking, engagement, protection, monitoring, and optimization. Partnership platforms provide more functionality for tracking the buyer journey across multiple devices.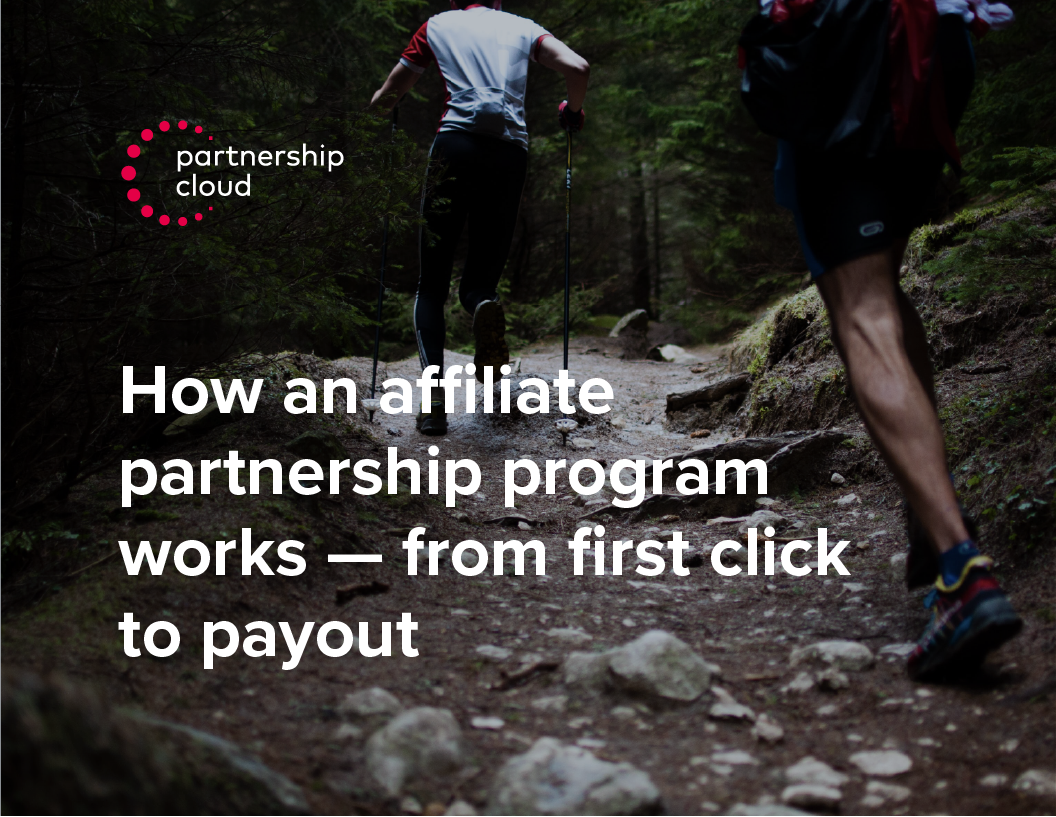 Want this great info in eBook form?
Get timeless tips on launching and growing your affiliate partnership program.
Get my free guide
If you want to start in affiliate marketing, visit impact.com or reach out to a growth technologist at grow@impact.com.