For both technical and business reasons, the mobile universe is still in many ways divided into web-focused partners and app-focused partners. The former exists in one technology silo focused on driving revenue with the latter in a separate technology silo focused on installs. When these worlds collide, the user journey isn't always a smooth one.
The importance of good mobile customer experience
Here's a common scenario. Imagine an online retailer partnering with a digital coupon app. A customer reaches the retailer's app via search and at checkout is encouraged to toggle over to the partner's coupon app to check for discount codes. What frequently happens is that when the consumer tries to toggle back to the retail app, they are instead redirected to the retailer's website, where they find their cart empty and the path to purchase disrupted.
This disruption is costly to both the retailer and the partner, because the customer is unlikely to follow through with the purchase, and the partner won't get paid. Data backs that up. A whopping 88% of users are likely to leave a website after having a bad experience, and 52% likely won't return. 
What do customers want from your mobile partnership?
Customers aren't asking for much. When they click on your partner's referring URL — regardless of device or channel — they want to end up at a relevant location. For example, if your app is already installed, consumers want to be routed to the right place within it. If your app is not installed, consumers want to be routed to a relevant mobile web page or the app store (or given a choice). And after digressing to install an app, consumers want it to open where they left off in their journey, with the cart items they've chosen ready to purchase and any discounts already applied. It may require some cultural and technical bridge-building, but it's by no means impossible.
4 Real-world examples of seamless mobile customer experience partnerships
Here are a few partnerships that have successfully converged their goals and built technical pathways to create a customer experience that wins for everyone.
Example 1: Meal delivery.
At this partner's mobile website, the partner is both driving sales and installs. For instance, the promotion of the food delivery app pictured here links to both: to the app's website to drive a meal order and to the App Store.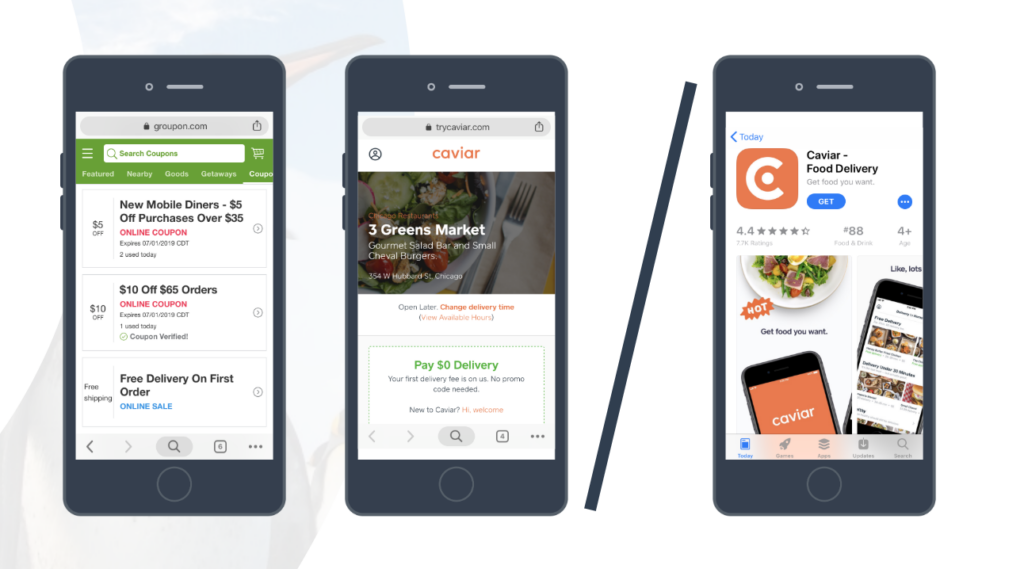 Example 2: Mobile gaming.
In this example, if a user is playing the Jurassic Park game and runs out of credits, they're brought to an offer wall, which encourages users to download a video streaming app while also linking to places like the streaming app's mobile website, encouraging the user to signup for a subscription.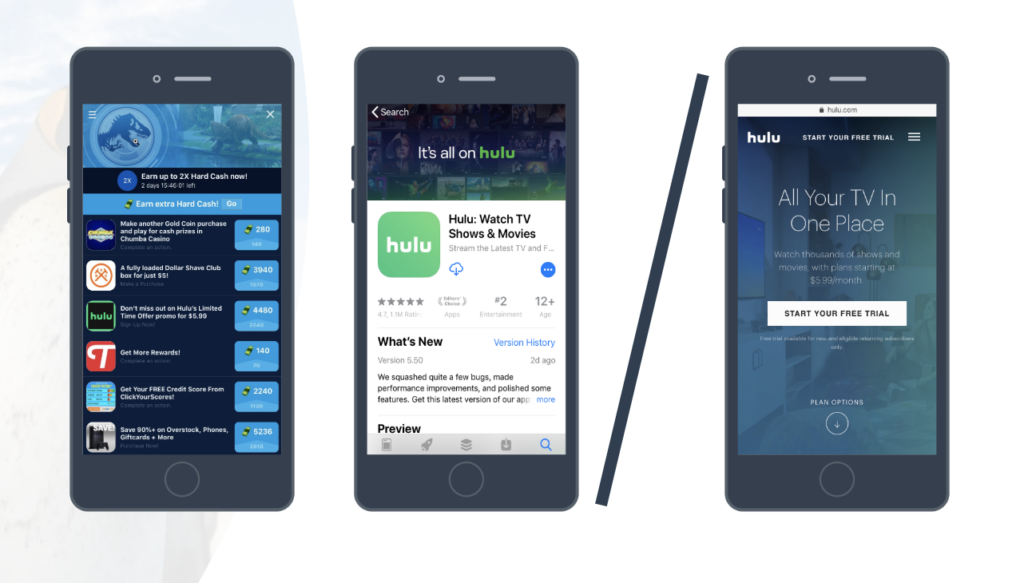 Example 3: Music streaming/ticketing.
When deep linking technology is applied, the partnership experience gets even more fluid. Check out the journey pictured here — a user finds a concert they're interested in seeing within an app and prepares to buy tickets. They exit the app to find a coupon code through a search engine on the mobile web. Under ordinary circumstances, exiting the app in search of a coupon code means the user would have to start all over again in their purchase process. But with deep linking, they're able to toggle seamlessly between the mobile web and the app. The result? The user is happy. The partner gets paid. Everyone wins.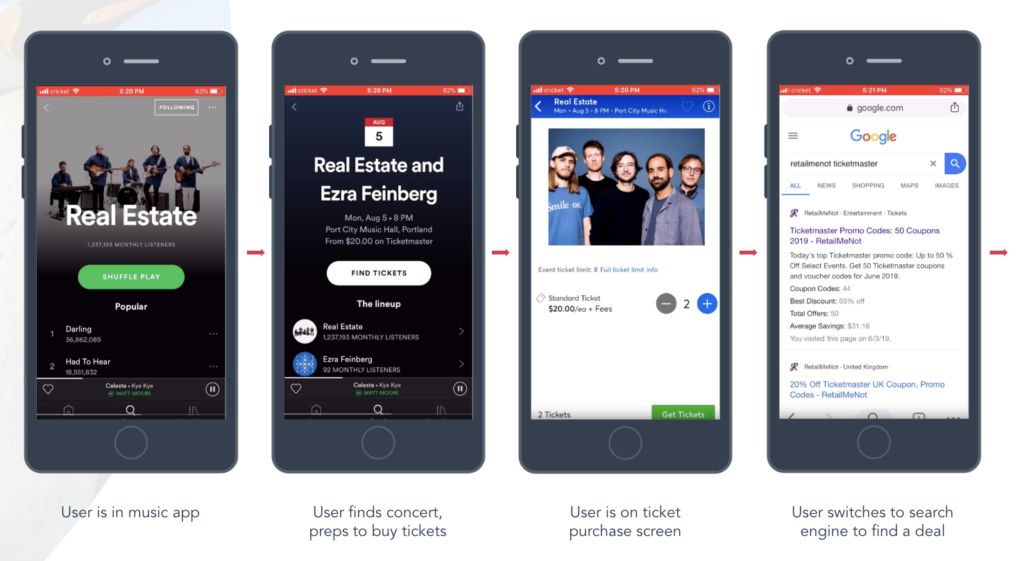 Example 4: Social responsibility.
This meal-delivery service has developed a streamlined partnership experience with a social responsibility partner that lets customers donate their change during the app checkout process. One reason the program has been so successful, generating millions of dollars in donations for a worthy cause, is that it causes zero disruption at checkout — it's a simple click, and all the work is handled behind the scenes.
As the mobile universe evolves, it's time to think holistically about how you and your partners engage your customers. Web and mobile cannot continue on in siloes, but instead needs to adapt and work together to create a seamless customer experience as these partnerships have. For more insights on this, check out our ebook, What Darwin Can Teach Mobile Marketers, or one of our other resources, like Exploring the Deep Linking Frontier.
Or, you can always reach out to an Impact growth technologist any time at grow@impact.com.