Once marketing and sales mature, many businesses run into limitations for growing revenue dramatically. Doubling the marketing budget doesn't double paid search or social revenue. Likewise, doubling the sales team doesn't double sales throughput.
This begs the question, "What else can drive more revenue outside sales and marketing?"
Any company with a partnerships program should consider whether it has siloed activities in its organization. Often these programs look something such as this:
Affiliate teams managing affiliates
Influencer teams managing influencers
Public relations (PR) teams managing ambassadors
Business development teams managing business-to-business (B2B) partners
There is nothing inherently wrong with this, but unlike sales and marketing, one leader doesn't oversee a single strategy—we could call this leader a Chief Partnerships Officer. Some partnership activities might live under marketing, sales, or even the CEO.
Other departments have linear operations. Sales activities happen within the purview of the Chief Revenue Office (CRO). Marketing activities occur inside the marketing department with the guidance of the Chief Marketing Officer (CMO). 
Yet, different teams manage partnerships, each with its own objective. These departments often conflict with one another or, at the very least, duplicate efforts that result in excess spending and inefficiencies.
Considerations for building a new partnerships strategy
Partnerships mean different things to different companies. There's no one size fits all strategy. But you should consider some basic things to help you determine the first steps for your company.
The first thing is to agree upon your partnerships strategy. Discuss these questions:
What partnerships do you have today?
Who owns them?
How are these partnerships similar or different?
How is it being measured, managed, and paid?
Are there growth opportunities?
Are there partnership types you want to work on but haven't started?
What is needed to scale partnerships faster and/or more efficiently?
Who should own the overall partnerships strategy?
What should roll up under this new team?
These are two basic first steps to formalizing a partnerships strategy:
Consolidation. Some or all partnerships move to a single team. You may also structure a reorganization to create or expand this team. This happens by combining some existing teams with the potential of adding new hires.
Coordination. One person orchestrates a broader strategy across multiple teams. These may include affiliates, influencers, ambassadors, and business development. You'll have less effort duplication and more efficiency across the whole company for partnerships— increasing revenue opportunities.
One team, in particular, has specific expertise from which the other teams can benefit. The affiliate team understands how to contract, measure, optimize, and pay partners. This put them in the perfect position to become a "center of excellence" to create processes and strategies for other teams.
You can consider this capability "partnership enablement." The affiliate team can support other teams with tools and knowledge to consistently track and measure all partnerships while streamlining reporting and payments.
One leader, one team, and one partnerships management platform
A united partnerships team needs a single platform to manage all partners. A solution such as impact.com's Partnership Cloud is the foundation of a modern partnerships strategy. The platform allows anyone in the organization to:
Onboard
Contract
Measure
Optimize
Payout
Engage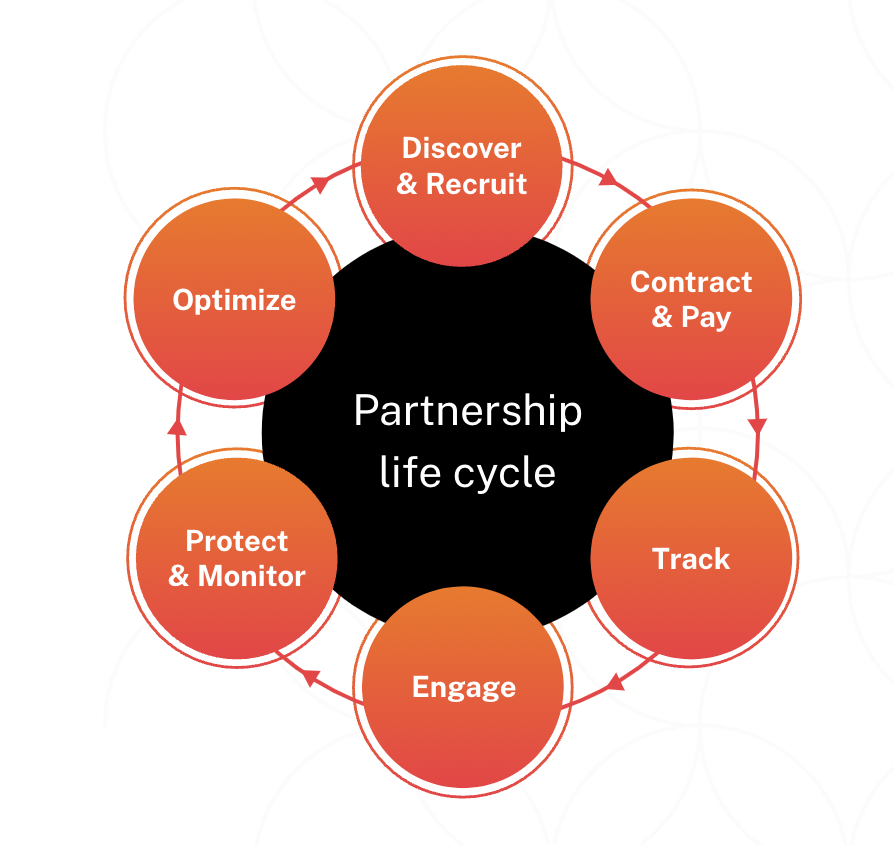 The affiliate team can tag or group partners by type or team. The team can then build dashboards using Data Lab for specific partnerships. These reports are available to deliver via email to anyone needing the data to manage specific partnerships.
The key to this foundation is automation, controls, and data. You'll spend less time administering partnerships and more time building and optimizing them. Companies that do this avoid overlap, duplicative efforts, and disparate partnership measurements and evaluations.
Think about it. Sales teams do this by using a solution like Salesforce. Marketing uses analytics to measure budgets and return on ad spend (ROAS) across multiple channels. The partnerships teams need a suitable solution to manage various partnership types.
When your team uses affiliate networks or influencer platforms, it only has the capabilities to manage one partnership type. It bumps against many limitations when managing other partners. This will limit the scale and success of your modern partnerships strategy.
So technology is key to the overall success of your partnerships strategy.
A single owner who can drive the strategy and execution is essential to success, which is why impact.com offers the right solution. If these two things are not in place, you won't leverage the value of partnerships, nor can your business take advantage of the potential of partnerships over time.