You can't listen to a podcast or watch your favorite Youtube channel without being pitched a unique code that leads to a special promotion. Experts project promo code redemptions to surpass $90 billion by the end of 2022. Customers love a deal, and these enticing deals are an easy way to incentivize them to buy.
Due to popularity, publishers often use promo codes to increase their web traffic. Publisher sites that aggregate coupons, deals, and discounts for multiple brands commonly use this tactic.
Sometimes, publishers may unintentionally promote expired and inactive codes or publicly share promo codes intended to be kept private. However, some publishers may intentionally not act in good faith, promoting expired or unauthorized codes strictly to increase their site traffic with little concern for brands and customers.
Tracking down these types of violations, whether innocent or nefarious, requires time and effort from the brand. Many brands need to gain knowledge of how and where affiliate partners and publishers use these codes, but manually monitoring promo code activity takes time and energy away from other tasks.
Promo code violations can make brands vulnerable, deteriorate customer experience, damage brand reputation, and eat away revenue. This can reduce a brand's confidence in the channel and make scaling a program challenging, which causes brands to miss out on viable marketing and revenue-generating opportunities.
Why Promo Code Monitoring prevents misuse
The impact.com Promo Code Monitoring system catches two types of promo code misuse. The first involves unauthorized publishers intentionally exploiting codes not intended for their use. This type exposes the discount to a broader audience than intended, resulting in lower revenue for the brand.
Your affiliate partners may also be using out-of-date promo codes, leading to missed opportunities for your business and customer savings. When expired codes prevent customers from getting an expected discount, they're upset and may blame the brand rather than the affiliate. This misuse creates a poor consumer experience and damages a brand's reputation. 
In many cases, brands need to manually track offenders and resolve issues without an automated solution. This process can become time-consuming, inefficient, and potentially expensive. Fortunately, brands on impact.com can now save time and improve efficiency by monitoring promo codes through the same platform they already use to track partnership programs.

How Promo Code Monitoring works
Promo Code Monitoring allows brands to create policies that track where they promote codes and how customers use them. Brands can also set up rules that define violations.
The system then tracks the brand's selected promo codes across the web using a crawler to surface where and how customers use these codes. This tracking provides insights for each promo code in a policy, including data from affiliate partners outside impact.com.
When the crawler finds promo code use that violates your policies, the system surfaces the violation in reporting. Brands then have the opportunity to remediate by messaging the partner directly. Brands can even automate this messaging process to save additional time.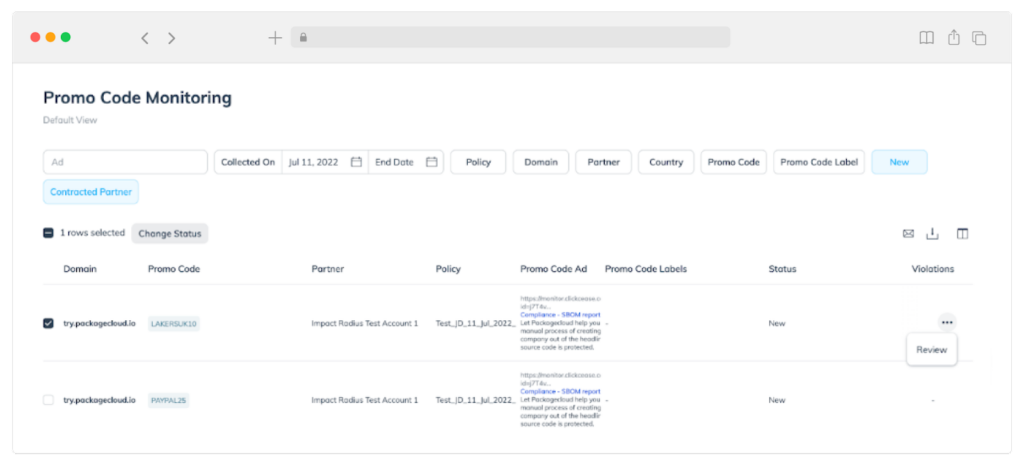 How to enforce promo code violations with automation
Without an automated solution, fighting promo code misuse can become a never-ending game of whack-a-mole. Manually dealing with every case of misuse takes time and resources away from what matters most – being able to confidently and effectively grow your programs.
You quickly resolve violations through impact.com's Promo Code Monitoring system as they occur automatically. When the system discovers an infringement, you can set up the Promo Code Monitoring system to respond based on a customizable set of rules.
With increased transparency, accountability, and visibility into partner-generated content, impact.com's Promo Code Monitoring creates a safe environment for brands to scale their programs and partnerships. This feature is available to every brand on the impact.com platform. Chat with your customer success manager today about adding it to your subscription, or contact grow@impact.com to learn more.