You typically grow an affiliate program by optimizing existing partnerships or recruiting new partners. The most successful programs focus on both to maximize new opportunities. 
Many brands manually track their partnership recruitment progress, making it challenging to scale. Old-school spreadsheet tracking creates information silos between team members and leaves the potential for human error.
For example, multiple team members might reach out to the same prospect with two different offers. It's also possible that team members forget when they last communicated with a prospect or what they had agreed upon. These errors lead to an awkward interaction with the partner—and can leave them feeling undervalued.
That's why brands rely on Prospects by impact.com, a tool that provides a unified system of record to collaborate and recruit partners at scale using workflow automation.
Why Prospects helps bolster recruitment efforts
The impact.com Prospects functionality brings powerful CRM functionality from Mediarails directly into the impact.com partnership management platform. It gives you a real-time centralized location for managing and tracking your recruitment efforts. This eliminates the need to toggle between the platform, spreadsheets, emails, hand-written notes, and other resources. 
Prospects gives you complete visibility into your recruitment funnel, making it easier to identify which opportunities need your attention. Prospects effectively eliminates information silos by ensuring all users have access to the same up-to-date information.
Lastly, Prospects helps you save time through workflow efficiencies, such as the ability to send emails to prospects in bulk.
How to leverage Prospects on the impact.com platform
You can find new partners you're interested in working with inside the Discover Marketplace. When you find a partner that could be a good fit, you'll click on the checkmark in the partner tile (see screenshot below) to add them to the prospecting workflow.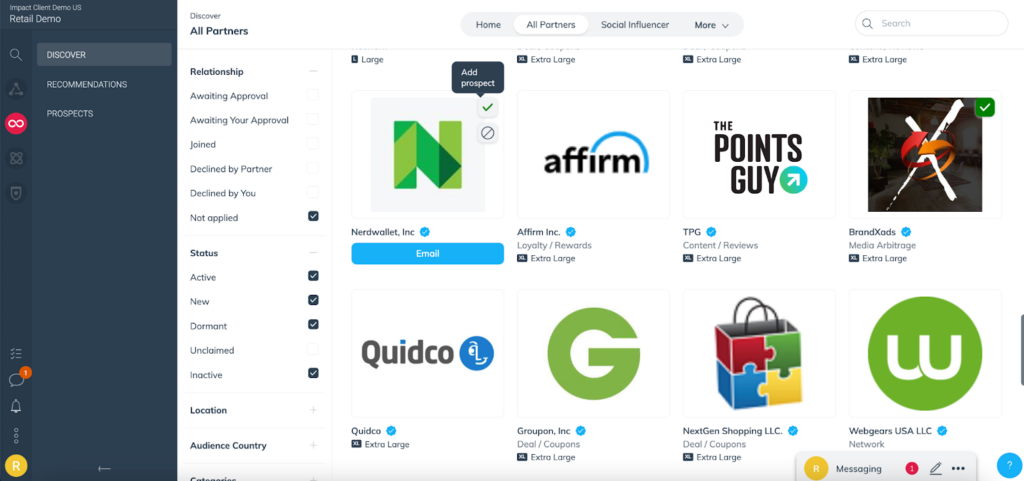 The Prospects screen helps you track each prospect's position within the recruitment funnel. Suppose you have more than one person in charge of recruitment. In that case, you can easily assign prospects to specific team members—helping to eliminate missed opportunities.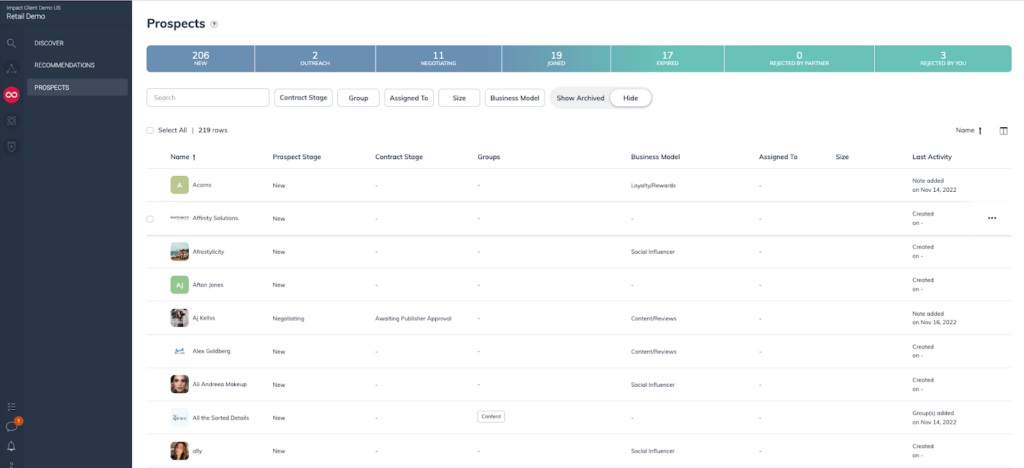 An activity log acts as a CRM by helping you keep track of:
Internal notes
Email sends
Assigned partner groups
Contract stage changes, and more.
You'll record your interaction history within the platform to save time and help keep you on track with conversations. Plus, you can ensure prospects feel valued by not having to ask them to repeat information.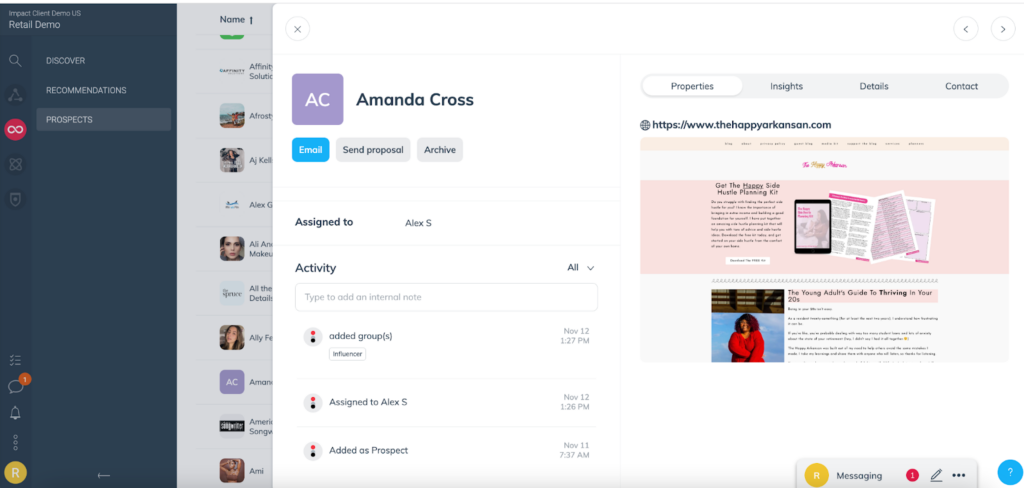 A revamped slide-out gives you many helpful data points to evaluate your prospective partnership opportunities faster. You can see partner web and social properties, size, and audience insights. Plus, get details about relevant categories and promotional areas.
When you're ready to reach out, you can send the prospect an email or proposal. The prospect will automatically move into the appropriate recruitment funnel stage. You can use the multi-select on the prospects screen to send bulk emails if you have many opportunities to communicate with.
A look ahead: Partner CRM
Prospects currently supports partner relationship management during the recruitment phase. But you also need to manage your relationships with existing partners. That's why in the coming year, the Partners screen will get a massive refresh to include many impactful CRM features from Prospect—such as the activity log and the ability to categorize partners into stages. Prospects, together with the Partner CRM, will give you end-to-end CRM capabilities, helping you more effectively manage relationships with prospective and existing partners.
Drive revenue growth through new partnerships
Partner recruitment is critical if you want to grow your partnerships. With impact.com's Prospects functionality, you can manage and track recruitment efforts at scale, helping you convert prospects into active partners. This feature is available to every brand on the impact.com platform.
Already using impact.com and want to find out more? Contact your customer success manager or connect with one of our product experts by clicking "need help?" within the platform.
Ready to see all that impact.com has to offer? Reach out to a growth technologist at grow@impact.com or request a demo.