Whether 100, 1,000, or 1 million fans follow you, brands want the opportunity to partner with you so they can reach a new audience. You may already earn revenue with sponsored posts or similar partnerships, but have you thought about cultivating additional revenue streams by becoming an affiliate marketing publisher?
Brands will spend $4.14 billion on influencer partnerships this year, according to eMarketer. Even if social media marketing sits at the helm of your marketing strategy, a dedicated affiliate marketing website or blog provides ample opportunity to earn more revenue while expanding your digital footprint.
How influencers boost revenue with affiliate marketing
Affiliate marketing programs are one of the oldest and most popular forms of partnership marketing. Brands will spend $8.2 billion on affiliate programs in the US in 2022, despite the changing economic landscape—doubling influencer partnerships spend.
Affiliate marketing allows you to earn a commission on the sales you drive for brand partners. To do this, you embed unique, trackable links into your content. Every time an audience member uses these links to make a purchase, you receive credit (and payment).
Many influencers find affiliate marketing offers key advantages over the traditional influencer partnership structure:
Increased independence. You invest a lot of effort into meeting your brand partner's standards when making sponsored content. Sometimes, you may need to revise or recreate sponsored content multiple times before it's approved for payment. With affiliate marketing, you don't have to go through arduous approval processes—giving you more space to create lucrative content that your audience loves.
Greater authenticity. Your audience craves sincerity and authenticity. It's a big part of what makes influencer marketing so powerful. Unfortunately, some sponsored content can feel scripted and inauthentic. With affiliate marketing, you simply monetize content that already aligns with your brand and audience.
More content ideas. Affiliate links easily fit into review-type content and product roundups. Discovering a partner brand you enjoy can generate new ideas for your existing content calendar, taking some of the creative burden off you.
Generate passive income. Unlike traditional sponsored content, which typically pays a lump sum per post, affiliate marketing allows you to earn income on content long after publication. For example, if you create a "Top 10 makeup brushes" YouTube video and put affiliate links in the description, people can discover your content and purchase through your links for years to come.
Aside from all the benefits affiliate marketing offers, you'll also find many brands actively searching for affiliate partnerships with influencers. This type of partnership gives brands increased customer awareness, better brand retention, and expands their reach to highly engaged audiences.

Established influencers may already use affiliate links in social media content. But there are other ways marketing helps you earn more revenue and expand your reach online.
Why influencers should set up a blog or website
Even if you have a large social following, you benefit from creating a dedicated blog or website that uses affiliate marketing techniques.
For example, Epic Gardening is a popular YouTube channel by Kevin Espiritu with 1.75 million followers. Espiritu also has a website, epicgardening.com, that hosts blog posts, product reviews, how-to articles, and links to his social accounts. These pages contain both affiliate links and embedded YouTube videos, maximizing the revenue opportunity.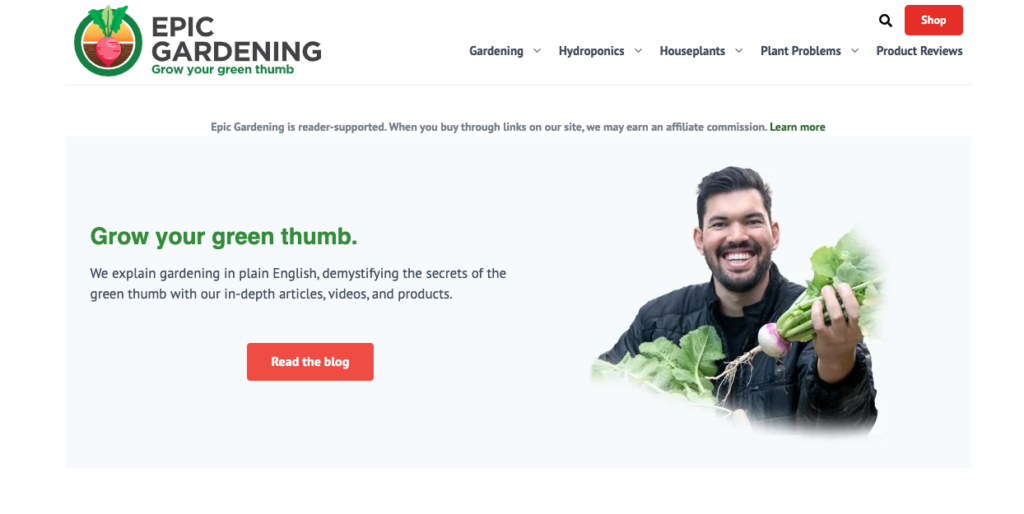 Building a website independent of social media platforms allows an influencer to become a publisher. By creating evergreen content in a space you own, you take control of your content's future instead of building your brand on rented social media space. Your content is also searchable organically—not just via a social media platform.
Use your blog to its fullest potential
Your blog or website acts as a portfolio, collecting your work in one place and linking to your social pages. The blog makes it easier for followers to connect with you across all channels where you create content. If you've collaborated with other influencers in the past, use your blog to showcase all the press coverage you received.
In cases where you're in the process of brainstorming new ideas or can't create new content, tweak existing assets and repurpose them.
For example, Kevin Espiritu of Epic Gardening cuts up his long blog pieces and repurposes them into bite-size YouTube videos. It may be content he's talked about before, but now it's presented in a different format on another platform.
Blog posts also give your audience a new category of content to consume. Everyone prefers different types of content. The more content variety you offer, the wider your audience reach.
From a monetization perspective, each blog post represents an opportunity to add affiliate links for the products you already promote on social media. It creates more opportunities to drive traffic and earn a commission from your brand partners.
Your blog, your space: Show them who you are
You're not just an influencer—you're a person. You're complex. You may sometimes want to create content that doesn't necessarily fit into your primary channels. A blog allows you to explore that content and reveal more about yourself, which builds even more trust with your audience. Content people look for includes diary-like entries, photos, or videos that feel "outside" of your usual content.
Of course, this also gives you another channel to post affiliate links.
A personal website that collects your work also boosts your visibility online. People who look for you via search engines are more likely to find your website than your social channels. The website also provides a way to engage with your followers, earn affiliate revenue, and drive people to your social pages, where you continue highlighting your brand partners. That's a lot of value.
How do I monetize my blog?
Typically, affiliate partners make a commission when they use affiliate links to send followers to a brand's website, and those followers make a purchase. Each affiliate link has tracking information that tells the brand when someone has made a purchase thanks to your referral.
Typically, you create affiliate links through a direct partnership with the brand or through an affiliate network.
If you have existing brand partnerships, you don't need to start over again as an affiliate publisher. Instead, share your plans to start a blog with your current partners. Before you make a post or create new content, see how this project could fit within your existing agreement and compensation for affiliate traffic.
Building a blog also creates an opportunity to work with new brands. Many brands have an affiliate program—even those that don't often have influencer partnership programs. An active blog with regular content can increase the number of brands you work with and, thus, your income.
Turn your success into affiliate publishing revenue
Join the impact.com marketplace—a part of the impact.com for Publishers suite—to monetize your content seamlessly. Go deeper and build out your program to maximize revenue.
The marketplace allows you to connect directly with top brands that match your readers' and viewers' preferences. Create a seamless blend between the content and the products you promote. A suite of automation tools helps you own your partnerships and build deeper relationships with brands and your audience.

Want to know more about affiliate publishing? Check out these resources: