A lot happened in 2021. At impact.com, I mean. A lot happened in the world at large, too. But I'm here to tell you about a dozen new features the impact.com team brought out last year to help you get even more out of your partnerships channel.
I'll start off with some features impact.com built for brands, then close with a few ways we made life easier for publishers. Let's take a look.
1. Data Lab makes it easy to visualize any data, any time
What makes impact.com's Data Lab so great?
Visualize your data. One of Data Lab's strongest benefits over the custom report builder, even as a standalone feature, is the ability it provides users to easily visualize a data set — and do so via multiple types of tables and charts.
Use your data to answer highly specific questions and envision multiple scenarios. Let's say you want to look at which of your partners drove the highest amount of revenue and clicks over the Black Friday/Cyber Monday weekend. You also want to find and compare your top partners in a specific grouping. Data Lab allows you to execute niche tasks such as this one within minutes.
Reduce query times. Data Lab features quicker load times and faster response times in the user interface, making report creation speedier than ever. Its drag-and-drop functionality expedites report creation and, given its customizable environment, eliminates the need to export your reports into PowerPoint or other formats.
Accelerate time to insight. Data Lab's charts now automatically load when dimensions and measures are added or removed. No need to refresh pages or load entire data sets over and over when you want to make changes.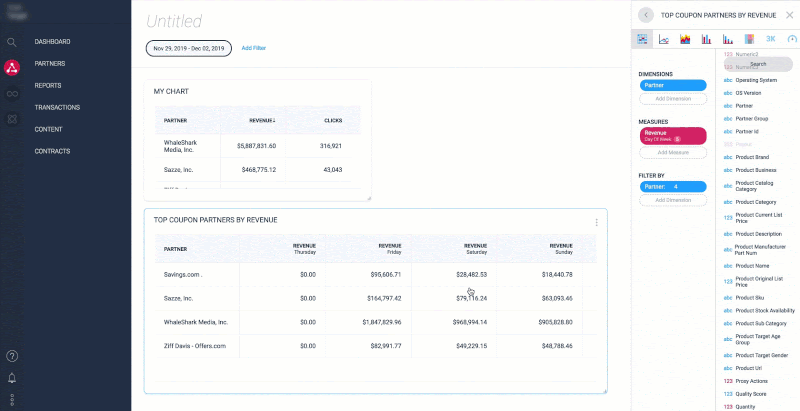 2. Boost conversion rates with deferred deep linking
Deep linking in the context of a mobile device simply means sending a user to a specific location within an app (as opposed to the home page). Deferred deep linking, in turn, means deep linking through the app installation process. The user clicks a specific product link, installs the app, and is redirected to the in-app product page the first time they open the app. Learn more about how to set up in-app deep links in this help article.
3. Find and recruit publishers and creators at scale with Discover
Selecting the right partners for your business is a big job. Selecting enough of the right partners to scale your program and optimize returns? A Herculean task. That's why impact.com built a tool that gives you the information and automation you need to sustainably find and recruit great publishers and creators.
In 2021 the impact.com team made key additions to the Discover tool, including personalized partner recommendations generated by the nicest group of algorithms you'll ever meet. The same way Netflix knows what you should watch or Spotify knows what you should listen to, Discover knows which partners you should recruit. If our algorithms think your partnerships program needs more micro-influencers in floppy hats, you may see something that looks like this:
4. Our all-new API portal emerged from its cocoon
And wow, it's one beautiful butterfly. The impact.com team has been working on a brand-new set of application programming interface (API) documentation for a while, and we're pleased to share this new API portal with you! The first thing you'll notice is that it looks better. We're now using ReadMe to power the portal, bringing major improvements such as the ability for users to suggest edits and built-in search functionality.
When you dig into the documentation you'll notice that the actual content is better, too. Our superstar documentation team (fresh from the task of completely rewriting all of our help documentation, I might add) has also rewritten every single API doc from the ground up. Our API team helped to ensure accuracy. The new documentation is both more accurate and more comprehensive.
5. Peer into the future with Forecasting and Anomaly Detection
The impact.com Optimize module now has three additional reports to help you predict the future and optimize your performance. Forecasting and Anomaly Detection is packaged into three distinct reports: Forecast by Partner, Performance by Partner with Anomaly, and Anomaly Detection Summary. The reports consider performance metrics, all historical data, and seasonal trends to forecast performance up to 90 days out — and to give you a heads-up when things aren't going as expected.
6. Save time and money with in-platform Search Compliance
If you use impact.com to manage your partnerships and a separate platform to manage search marketing compliance, you probably wish there was a better way. We agree that juggling multiple platforms takes up time and budget and can be a punishing user experience, so we built a native Search Compliance tool.
All brands on the impact.com platform can now enjoy trustworthy partner discovery, easier remediation, and time-saving automation — all in one user-friendly interface. Search Compliance makes it easy to determine when your partners are bidding on your protected keywords so you can take action to end it.
7. Salesforce and HubSpot CRM integrations
Some businesses don't directly sell their products and services on their websites — they prefer partners that produce quality leads for their sales teams to pursue instead. Our integrations with HubSpot and Salesforce customer relationship management (CRM) technology makes it easy to:
Map your CRM lead fields to impact.com
Track referrals as they progress through CRM and measure the incremental value each partner drives
Trigger automatic payouts at specific points in the buyer journey (e.g., when a lead is qualified, when a free trial user upgrades to paid subscription)
8. Drive growth by funding your partners' marketing efforts
Many high-consideration products and services (e.g., B2B software) require partners to put in some in-depth promotional effort. Events and targeted campaigns can drive incredible results, but partners often need to pay upfront costs. Marketing development funds (MDFs) are an easy way to guarantee funding for promotional efforts so your partners can drive results without worrying about their own budget.
For example, your partner wants you to cosponsor a booth at a trade show that will have a lot of high-value attendees, but the partner is out of budget for the quarter. Or a partner wants to run an educational webinar but doesn't have the funds to make it happen. In both cases, MDFs allow you to assess the plan and choose whether to fund the activity.
Next let's look at a few features impact.com built to help publishers grow revenue.
9. The Product Listing experience makes it easier for publishers and creators to find new products to promote
Promoting products that are consistent with your brand and appealing to your audience is key to remaining authentic, engaging, and successful. But finding products that are an exact fit for your content and preferences takes time and manual effort. You may need to spend hours visiting each partner's website, then copy and paste to create tracking links.
Similar to online shopping, impact.com's Product Listing user experience makes it easy to find great products. Search and browse a partner's product inventory from any device (e.g., mobile, tablet) and you'll actually see the image, price, and payout for each item. You're then just a click away from grabbing the link and the image-embed code you need and promoting it to your audience.
Use filters such as brand, category, label, and availability to find the right products for your audience. If you've got a specific product in mind, you can directly search by product name, SKU, or product description. Since keyword search results are populated by relevance, it's easy to pinpoint what you're looking for.
10. What's better than great partnerships? Instant great partnerships with Prequalified Brands
The impact.com team added a search filter and label for Prequalified Brands: brands whose auto-approval rules you already satisfy based on the information you've provided in your marketplace listing. Prequalified Brands are a great high-intent prospecting pool. Knowing that you meet a brand's requirements frees you to focus on whether it meets yours. When the fit is mutual you're on a fast track to a productive partnership, and you won't have to wait for manual manager approval to begin promoting.
11. Cast a wide net: Bulk apply to brands
Many brand programs have the potential to be a great fit for your audience, content, and business, so it should be easy to reach out and apply at scale. We've added a new action for bulk applying to a maximum of 10 brands at a time. Just select the brands you're interested in and click "Apply" at the top of the feed.
The modal that pops up next lists the brands you've selected on the left. Without ever leaving the modal, you can click into each brand and see its respective contracts.
12. Confirm that you're credited for the leads you drive
Some brands (e.g., B2B service providers, software companies) rely on their partners to source leads, which the brand's sales team can then pursue. Partners are typically paid when leads are qualified by sales or when leads finally convert.
A brand can now surface its own lead form in your dashboard. The Lead Submit widget shows up in your dashboard when a brand takes advantage of this feature. Entering a lead's information into the form automatically feeds it into the brand's Salesforce or HubSpot CRM. Logging a lead in the platform is the best way to ensure that you're appropriately credited once the lead advances through the sales funnel and triggers a payout.
Since you also need to know what's going on with the leads you've submitted, we've added the My Leads report. This report shows leads you've submitted, their current stage, expected close date, and your expected earnings.
Phew, that was a lot
I'm wired just thinking about all the Diet Coke the impact.com engineers must have consumed last year to get all of that done. If you want to learn more about these features (or anything else on the platform, really — we love to talk about this stuff), reach out to your customer success manager or drop us a line at grow@impact.com.