In the right hands, partnerships drive incredible growth. A benchmark survey by DemandGen revealed that almost 60 percent of channel leaders expect partner-generated revenue to climb more than 10 percent in 2023, and just under a quarter predicted more than 20 percent financial gains.
Dave A. Yovanno, CEO of impact.com, spoke at a panel discussion at Affiliate Summit West. He highlighted tips for creating sustainable partnerships and leveraging them for business growth.
Key takeaways:
Using diverse payment methods will keep partners motivated and interested.
Combining partnerships with traditional advertising can significantly boost business growth.
Using a partnership management platform to integrate partnerships and advertising can save time and resources.
Business-to-business (B2B) brands should recruit partners who align with their goals, monitor customer sentiment, and create dedicated partnership teams.
Weathering the storm: A partnership manager's guide to surviving economic downturns and uncertainty
Discover five steps to thrive during a downturn and tips to ride out the storm with thoughtful decision-making.
Tell me more
Reward partners beyond last-click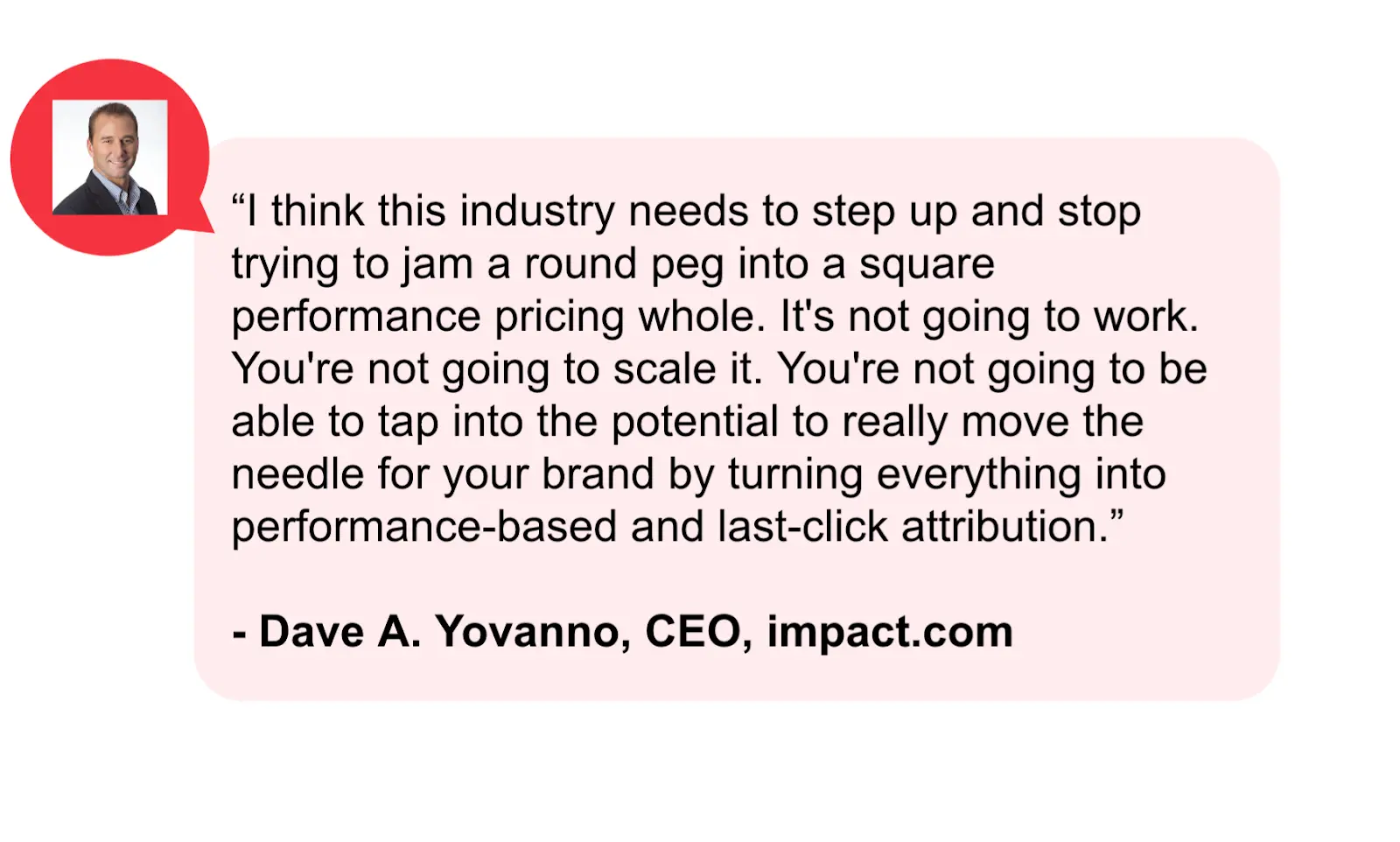 How to compensate affiliates
Affiliate marketing operates on a performance-based model. Affiliates gain commission payments when specific "conversion events" take place. A conversion event could be any action users take on-site, such as product sales, newsletter sign-ups, or account registrations.
The affiliate performance-based model generally uses a set of standard payment structures, including:
Cost per action (CPA)
Cost per lead (CPL)
Cost per click (CPC)
Previously, brands paid affiliates when they generated the last-click. Now, many brands customize payouts and decide which actions to compensate for. Brands can set commissions based on other goals, such as:
First-click to website
Conversion path participation
Monthly performance thresholds
Customer status
Promo code
Certain SKUs
This type of flexibility and diversification in payments benefits brands and affiliates. Brands understand the role affiliates play in the entire consumer journey, and affiliates are paid for playing a part in moving a customer toward a sale—whether through awareness, engagement, first-click, or last-click.
How to compensate influencers
To adapt and thrive in influencer marketing, brands need to diversify the types of influencers it works with and how it compensates them.
Compensating creators fairly helps you attract partners that align with your business goals. Influencer marketing payment usually goes far beyond just last-click payments.
Brands can strengthen partner relationships by negotiating payments that suit the brand and the creator. Payment models that reward upper-funnel goals, such as engagement and brand awareness, and lower-funnel goals, such as sales or subscriptions, will most likely appeal to influencers.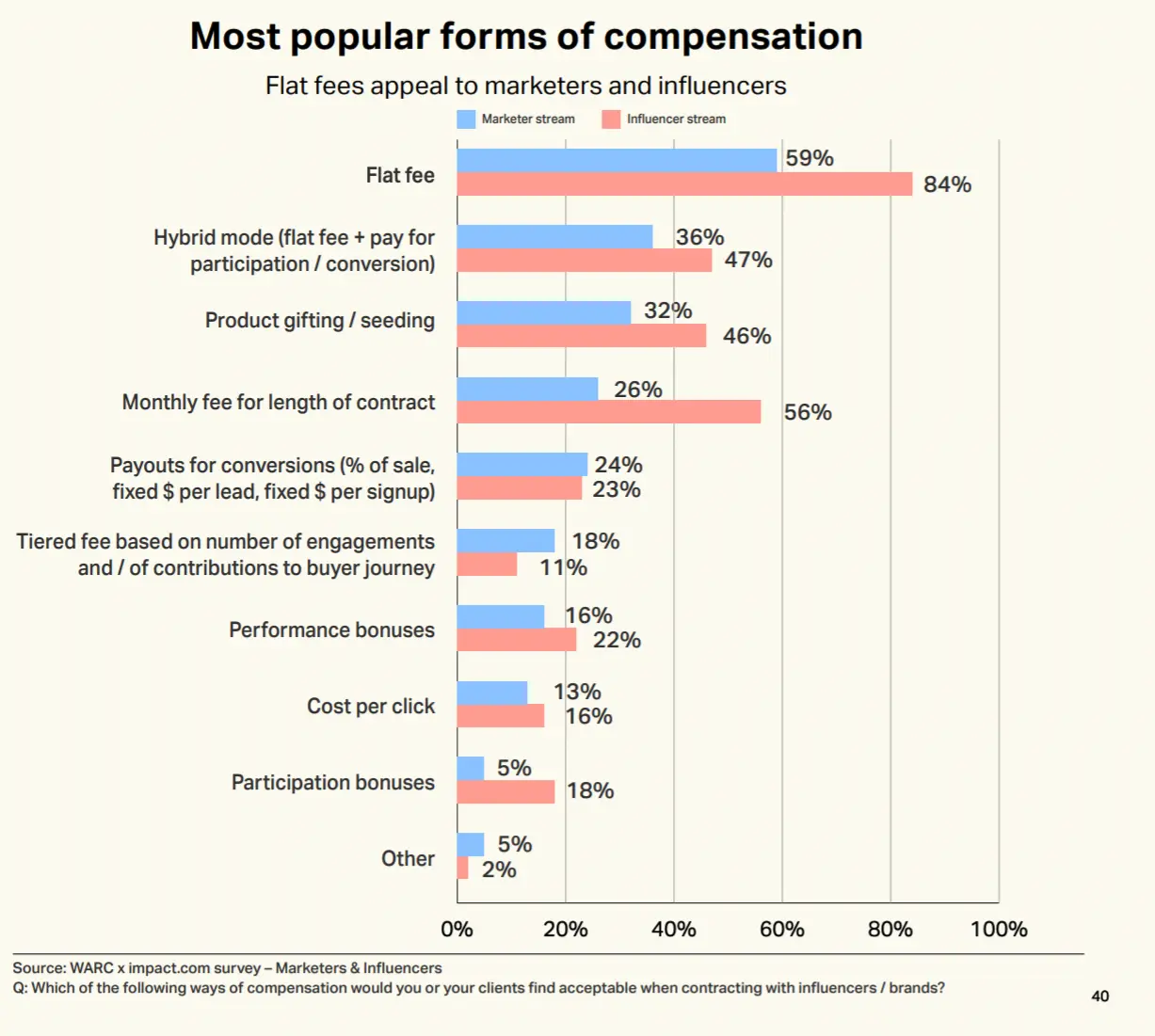 Source: WARC and impact.com white paper
Gifts were enough to attract creators in earlier years, but this model is fading—only 32 percent of marketers and 46 percent of influencers use this method. The most popular payment is a flat fee, and the hybrid model combining a flat fee with payment for conversions is gaining popularity.
Partnerships and traditional advertising need to work in harmony for business growth
Trust in advertising is dying—supplement with partnerships
Although advertisements are still a relevant part of our lives, there's been a significant shift in how consumers engage with them. Consumers experience "ad fatigue"—they see ads so often that they become bored and stop paying attention. Ad fatigue is prominent—225 million people worldwide filter ads.
So how do you reach your ideal customer? In the past, advertisements may have been enough to secure a sale. These days, if someone wants to buy a product, they don't trust an ad alone. They look for validation from sources other than the brand selling the product.
Consumers check reviews to compare different brands — 9 out of 10 consumers read online reviews before buying, and over half read at least four reviews before purchasing a product. Consumers also check social media for product opinions and search for bargains online.
Most times, buyers go through multiple touchpoints before making a purchase. Brands need to adjust marketing strategies to meet customers where they are.
Despite the pitfalls of digital advertising, it remains an essential pillar of any marketing strategy. To amplify success, brands can supplement ads with partnership marketing. Take the financial app M1 Finance. While both advertising and partnerships brought in revenue, partnerships became the brand's top channel regarding return on ad spend (ROAS). Partnerships also achieved 50 percent lower cost-per-quality-user vs. paid search and 80 percent lower than paid social. M1 Finance's partnerships program also brought in 10 percent of all new customers.
Use a partnership management platform to integrate different campaigns easily
Integrating multiple tasks related to digital advertising and partnership campaigns makes it easier to manage them from one place. Tools such as impact.com have proactive messaging to keep partners informed, productive, and on-brand. Automated workflows allow you to create tasks, send emails, and alter payment methods.
Brands can use automated contracts and messages to ask partners' permission to use their content in the brand's advertising materials. Then, brands can access and repurpose this material from the Content Library.
B2B partnerships open up a wealth of revenue streams
Dave notes some tips for B2B brands to build successful partnerships:
Look for partners who understand your brand's mission
Dave believes the gold standard for authenticity is whether a brand meets customer needs instead of just trying to reduce costs or gain cheap marketing wins. The customer experience should be the top priority in any B2B relationship. This means putting your brand mission front and center when evaluating potential partnerships.
Dave recommends breaking the customer lens into two elements:
Brand relevance: Is this potential partner relevant and/or valuable to my customers?
Product relevance: Will working with this partner improve our customer experience?
Monitor customer sentiment
When assessing partnerships, brand equity is a good measurement. When customers feel a brand is inauthentic or lacks their best interests, this could result in lower sales and customer trust.
As partnerships develop, brands must rigorously and consistently measure customer sentiment. This means tracking sources such as social media comments, online reviews, surveys, and focus groups.
Customer sentiment data can provide an early warning if your partnership fails to deliver authentic customer experiences. This data will help you optimize and adapt your partnerships to suit customers' needs.
Create partnership teams with enough resources
Organizations need more structures and teams to run strategic and mature partnership programs. Partnership activities often sit within the division of marketing or business development. But partnerships require dedicated teams, resources, and proper marketing and product development management to thrive.
A dedicated team can help your brand engage with audiences in broader ways and achieve more business objectives. Traditional marketing is all about the last-click and lower funnel goals. With a partnerships team, you'll have more resources to drive both upper-funnel (interest and awareness) and lower-funnel (sales, signups, and subscriptions) events. Diversifying partnerships introduce consumers to products or services they hadn't considered before, driving incremental sales down the funnel.
Key insight: Partnerships give your business a competitive edge
Dave predicts that big business success stories will have a network of compelling partnerships at its core in five years.
Stay one step ahead of the competition and set a high standard for success and business growth by adding partnerships to your marketing mix. Investing in partnerships helps achieve incredible results, such as:
Greater revenue
Improved brand image
Increased brand loyalty
Stronger community relationships
Greater brand visibility
Higher customer retention
Step up your partnerships game with a platform like impact.com that tackles the full partnership life cycle.
Ready to boost business goals with partnerships? Check out these impact.com resources:
FAQs about partnership marketing
What's the best way to build a successful partnership marketing strategy?
A partnership management platform can help you manage the full partnership life cycle:
Discover and Recruit the right partners.
Contract and Pay partners fairly and accurately.
Track attribution to see which partners are providing real value.
Engage with partners to ensure your partnerships make the most impact.
Protect and Monitor your partnerships against campaign fraud.
Optimize and adjust your partnership efforts to empower future decision-making.
What are three examples of partnerships in business?
There are many types of partnerships. Some of the most common are influencer marketing, affiliate marketing, and commerce content.
What are the benefits of partnership marketing?
Partnerships offer several benefits, including increased revenue, brand awareness, and customer retention.