One-sided relationships sometimes feel like a sinking ship. Successful partnerships—business or personal—need the right foundations, with both parties collaborating and investing in mutual goals.
Partnerships offer a fantastic lifeboat to save brands and partners from drowning. Affiliate partners drive traffic and sales for brands and receive compensation in return. As a performance-based marketing channel, affiliate partnerships nurture thriving, mutually beneficial relationships. More than 80 percent of brands choose to leverage partnerships and benefits, including:
improved brand image
increased brand loyalty
stronger community relationships
greater visibility
competitive advantage
Beyond the traditional last-click model
Uniquely, brands can use affiliate partnerships to connect with customers at different stages in the marketing funnel. Affiliate partners in the upper funnel successfully boost brand awareness, while others excel at closing the deal—catching the last-click on the customer journey. Partners that target lower-funnel customers often bring in all the credit and commission earnings in more basic partnership structures. 
To succeed with partnerships, brands must look beyond the traditional last-click payment model. The customer journey takes many twists and turns, opening up opportunities for more creators and voices to play a role along the way. Brands need a flexible way to make commissions and attribution as fair as possible. 
Dynamic Payout offers the perfect solution to foster fair partnerships and get the most out of your program. Take a deeper look into: 
---
How Dynamic Payout works
Dynamic Payouts work by splitting credit between partners across the whole conversion journey—instead of just the final step. Customers often interact with multiple partner types and platforms throughout the research and buying process: 
seeing influencer posts on social media
checking product guides on blogs
reading reviews on comparison sites
clicking tracking links or using unique coupon codes

Each partner should receive a share of the commission earnings in healthy partnership programs. If only the final click gets rewarded, what's motivating other partners to invest time and effort into creating compelling content and brand recommendations?
With a balanced payout system (customizable for each partner or business model), everyone gets paid fairly for their contributions. Adjust commission on performance rather than arbitrary positions in the marketing funnel. Partnerships benefit from increased transparency, and brands can adjust commission payouts based on specific criteria and goals. Side by side, Dynamic Payouts blow the last-click model out of the water. 
Plus, a purpose-built partnership management platform like impact.com provides accurate attribution and commission options to make payment structures easier.
---
3 ways brands benefit from Dynamic Payouts
Dynamic Payouts are a slam dunk for brands. Marketing teams can use dynamic contracts and payment options to refine their strategy and boost return on investment (ROI). When appropriately implemented, Dynamic Payouts help brands achieve the following.
1. Compensate partners across the marketing funnel
Brands use Dynamic Payouts to ensure their partner program fairly rewards partners of all shapes and sizes. 
Instead of just rewarding traditional affiliates or publishers offering the steepest discount codes, companies can distribute commission payments based on each step in the consumer journey.
2. Acquire new customers
Dynamic Payouts encourage marketing teams to expand and experiment with new partners. Brands tap into new audiences through niche influencers, blogs, and content creators. 
Last-click payment models can lead to a stale marketing funnel—maintaining the status quo through rigid commission options. With dynamic payments in place, brands connect with new customers through fresh partnerships and out-of-the-box campaigns. These steps diversify and broaden the customer base, strengthening brand recognition and loyalty for the long haul.
3. Stay cost-efficient and boost revenue
Brands benefit from Dynamic Payouts by focusing on what matters. Plus, you can boost revenue and eliminate waste at the same time.
Instead of paying flat fees for leads or sales, marketing teams adjust priorities and add bonuses to reward top performers. Affiliate partners feel inspired and motivated to invest in upping their performance across the board. Brands can also inform partners upfront about lower commission rates on discounted items or other similar details. Partnerships will thrive and stay cost-efficient simultaneously with clear, transparent contracts.
How Dynamic Payout helps brands smash goals [example]
Dynamic Payouts offer an efficient, low-risk way to boost revenue and streamline partnerships. 
Love, Bonito, a prominent fashion and lifestyle brand, focuses on connecting with and empowering its customers by being Asia's largest vertically integrated, omnichannel women's fashion brand. Love, Bonito tapped into partnerships to help expand into new markets worldwide and needed a platform to manage partners across multiple locations. 
The team used impact.com's powerful Dynamic Payout tools to align partner incentives and campaign objectives—whether to generate revenue, acquire new customers or drive traffic. The fashion brand's partnerships program added different payment structures for new or returning customers and rewarded upper-funnel partners for driving traffic.
Using the platform's customizable payment options, Love, Bonito achieved the following results: 
253 percent increase in revenue quarter over quarter (QoQ)
60 percent of revenue from partnerships came from new customers
---
How Dynamic Payout helps partners get ahead
Customizable payment plans also open up opportunities for partners. Publishers, influencers, and creators often gain more visibility and transparency to determine how to optimize content. Instead of falling behind because other parties took the actual sale, partners get rewarded for every part played in the customer's journey.
Affiliates

have access to over 100 factors for payouts, including customer status, margins, new traffic, and discounts. Instead of fighting for the last-click, affiliates can play to their strengths and prove themselves within partnerships.
This wide range of payout triggers incentivizes partners to drive sales naturally. With so many more options for attribution and commission, affiliates are free to experiment and put their best foot forward.
Influencers

thrive as upper-funnel partners by sharing knowledge and excitement with followers. These creators benefit from the bonuses offered by Dynamic Payout models for bringing in new customers.
Additionally, this partner type can earn a higher commission for driving sales in specific communities or locations. Social media influencers can leverage their niche online audience or geographical region to make the most of dynamic contracts.
Mobile app partners'

mobile and in-app traffic allow brands to connect with new audiences and keep customers returning. With impact.com's performance tracking and reporting capabilities (as well as customizable payout options), dynamic payment plans help mobile partners support themselves.
---
6 ways impact.com's Dynamic Payout features help you succeed
Partnership management platforms, like impact.com, grant brands access to powerful Dynamic Payout features and other helpful tools, including a private marketplace of vetted partners and in-depth performance reporting. Discover how to capitalize on impact.com's Dynamic Payouts and implement them into a winning partnerships strategy.
1. Growing your app userbase
Specific payout options can boost your app user base. Set specific payments per install, such as detailed bonuses and rates for each country or region. Additionally, brands can finely tune their partner program to focus on Android or iOS users. Dynamic Payouts helps brands establish a lasting app user base by reaching new users and keeping current customers engaged.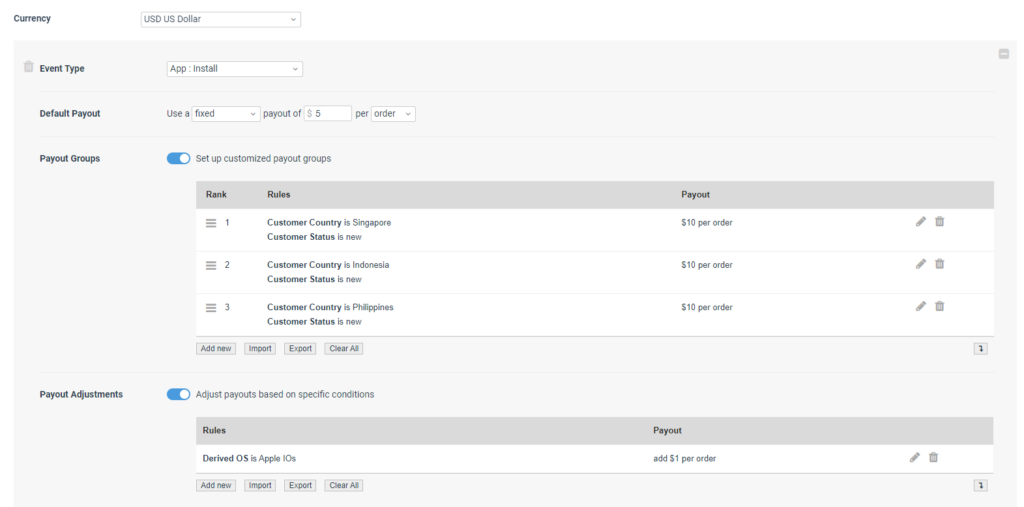 2. Protecting your margins
Dynamic Payout places control of costs and payments in the hands of brands. Setting specific commission rates for high-demand items or discounted products ensures partner earnings don't affect your margins. Flexible payment features allow you to optimize partnerships by rewarding top performers and incentivizing others to improve performance.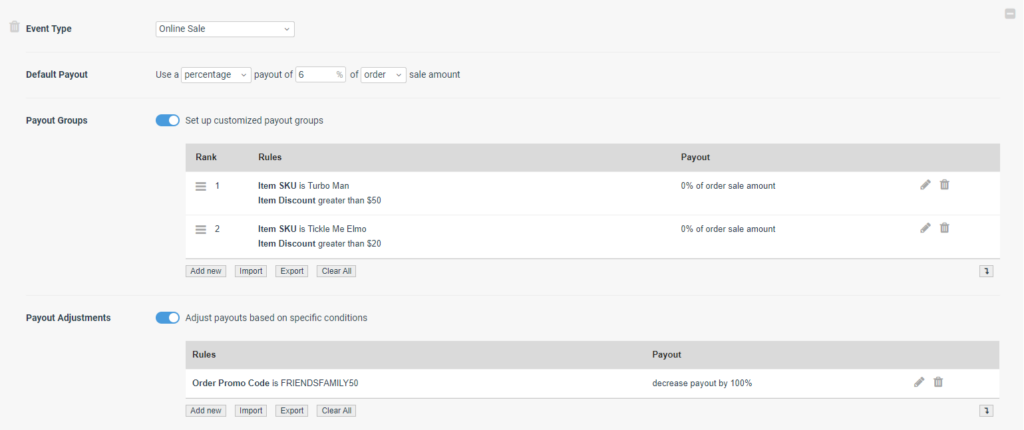 3. Promoting brand-specific campaigns
Customizable payment plans provide the tools to promote new products and amplify marketing campaign success. Encourage sales of specific products by adjusting payments to include higher rates and bonuses. Ensure you hit campaign goals by rewarding partners for driving traffic—even filter to the traffic source like a webpage or app.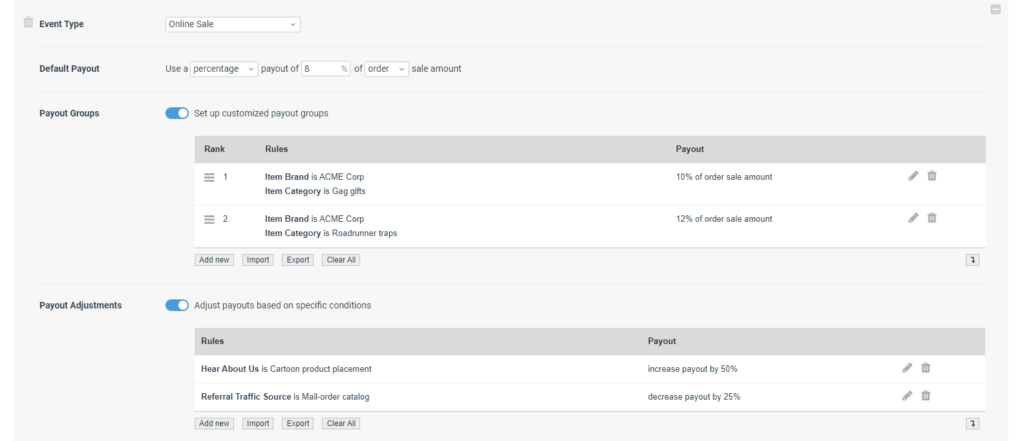 4. Driving high-value leads
Industries like financial services shift focus from purchases to applications or sign-ups. Dynamic Payout offers fantastic ways to target specific leads and high-value traffic.
To offset the inherent risk of paying for a lead that may not turn into a new customer, brands can tailor payments to reward partners for leads with specific criteria—like higher FICO credit scores. These lead-based payment options help ensure you secure and award top-performing partners while increasing lead quality.

5. Motivating partners with tiered performance bonuses
Gamifying your partnerships program to include tiered payments boosts productivity and engagement. Tiered payment structures grow partner earnings as each partner drives more conversions.
Setting incentives and commission rates that match performance inspires partners to move up the ranks by finding fresh ways to connect with potential customers and promote traffic. For example, brands can adjust payout increases for actions past each tier or implement fixed bonuses when a new level's reached.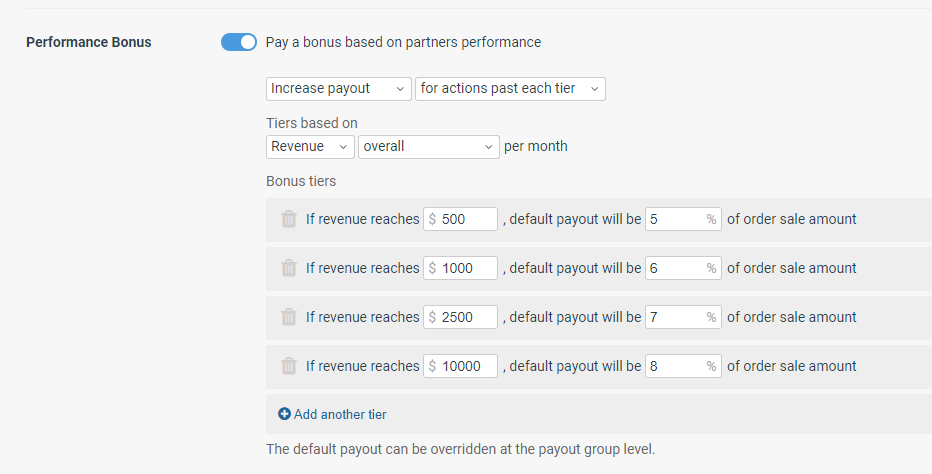 6. Paying for incremental conversions
Dynamic Payout features, such as setting path-based conversion rules, offer robust solutions for brands focused on efficiency. Partners receive payment only if other marketing channels don't influence the consumer during their purchasing journey.
Ensure transparency and that partners co-sign for path-based conversion rules to be effective. Implementing this type of payment terms can ensure confidence about incrementality and position partnerships as the organization's highest-ROI channel.
Note: path-based payout adjustments require access to the Optimize feature suite.

---
Embracing Dynamic Payout as the future of partnerships
Dynamic Payout is more than an extra feature to add to your affiliate program. Flexible contracts and commission payments form the foundation for thriving partnerships. Revenue and commissions expand when publishers, influencers, and marketers receive fair and transparent treatment. Each party knows where they stand and how to hit their next goal.
Use impact.com's platform to set up contracts per partner, ensuring each one is optimized. Detailed performance metrics can provide vital context, while tiered incentives keep affiliate partners pushing ahead. It's time to leave the last-click attribution model behind and allow brands and partners to earn (and receive) their fair share across the board.
Learn more about leveraging Dynamic Payouts for partnership growth with these insightful impact.com resources: