The ancient Romans lured residents far and wide to gladiator contests using hand-drawn promotional posters. While the medium has shifted from a physical wall to a modern digital one, you're part of a long lineage of businesses attracting customers through enticing messaging.
To ensure your partners get the word out, you need to give them everything they need to start promoting your products and services. For many partnerships, this means creating assets like ads for partners to use on their platforms.
Overview of ad types
Just as in ancient times, ads can take various forms. However, impact.com generally breaks down ads into three categories:
Text link ads: These visually simple ads utilize short, hyperlinked text to attract partner-driven traffic to your chosen landing page. As you might guess, they rely on text to get the point across and hook the customer.
Banner ads: You've seen these all over the internet since the first one appeared in 1994. Banner ads rely on visuals to grab the audience, usually combined with text and branding.
Lifestyle images: Not all partners want to use your ad exactly as it comes. A lifestyle image captures your brand's vibe or showcases products, providing partners with something they can customize to fit their style. This image should be free of your copy and branding. You can upload lifestyle images in the same way you uploaded banner ads
How to create scroll-stoppings banner ads
You can find a variety of easy-to-use design programs like Canva to churn out visually pleasing banner ads for your partners. Brand kits can also create consistency when designing ads.
With good design solutions, it's time to consider what will perk up your audience.
With a good design solution, it's time to consider what will perk up your audience. What problems do they face, and how do you have the right solution? Choose relevant images and craft copy that speaks to those needs while staying on brand. And, as Shakespeare once said, "Brevity is the soul of wit." Say as much as possible in as few words and images.
For example, in this banner ad, Disney+ uses exclusivity and a free trial as unique selling points (USPs). The ad uses minimal words and one striking image to say that Disney+ has content you can't get anywhere else.
A rectangle banner ad by Disney+
To maximize the usefulness of your ads, offer multiple size options for each ad for your partners to choose from. The standard sizes include 728×90, 300×250, 160×600, and 180×150.
Ecommerce fashion brand Allbirds promotes shoes with a catchy phrase and a simple "Shop now" CTA. It does all this in a squared banner that's just 317×271 in size.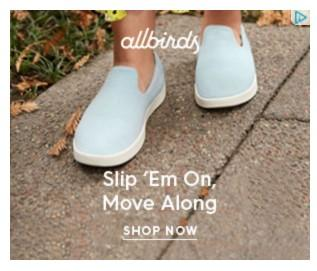 A square banner ad by Allbirds
Crafting text ads that lead to the sale
Text link ads can be short messages with a link. To magnify potential revenue, you can create ads that link to specific products or landing pages that you know convert at a higher rate.
Your text ads should break down into two groups: always-on and seasonal. Always-on ads promote evergreen discounts and products. Seasonal ads keep your program up-to-date by periodically adding seasonal offers that last for a short duration. When writing either ad type, include all necessary details, like the landing page for the event, valid dates, coupon codes, and discount percentage.
For example:
Always on text ads:

"10% off when you sign up for our newsletter"
"Shop our latest collection of must-have items"
"10% off our Fall slipper collection"

Seasonal text ads:

"25% off Family & Friends with code: FRIENDS25.
"Shop the buy-more, save-more event for up to $500 off your purchase!
Buy one product, receive 50% off your second item.
How to upload ads to your starter account
You'll go through a similar process to upload your ads, whether you're working on always-on or seasonal ones. First, head to the navigation bar and select "Ads" in the Content section. In the top right corner, select "Create Ad." This step will show a drop-down menu where you can choose whether to upload an image or text link ad.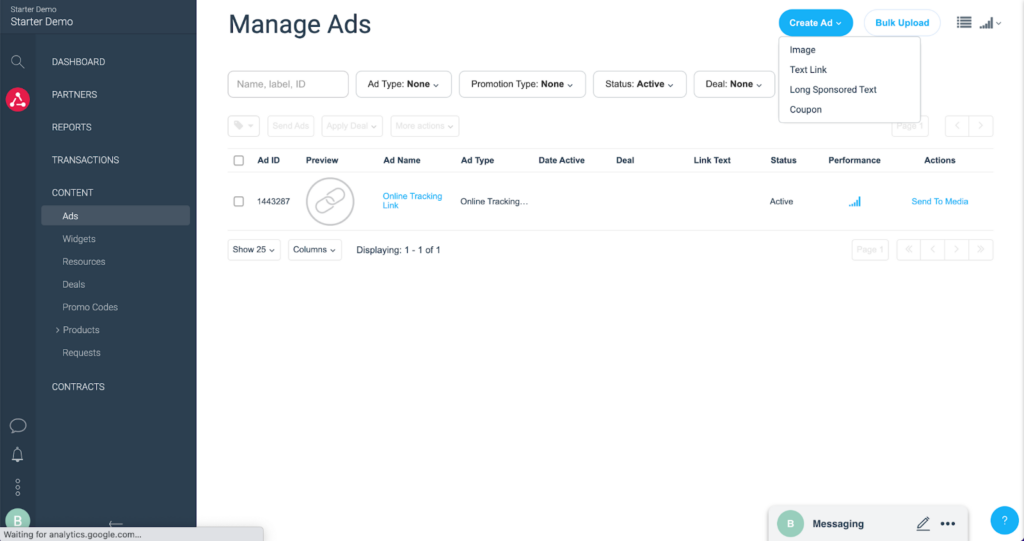 When uploading a text link ad, you'll enter the link text you want your audience to see. You can enter up to 50 text link ads at once by toggling on "Add more text links" with the same ad settings. Learn more about uploading text link ads into impact.com here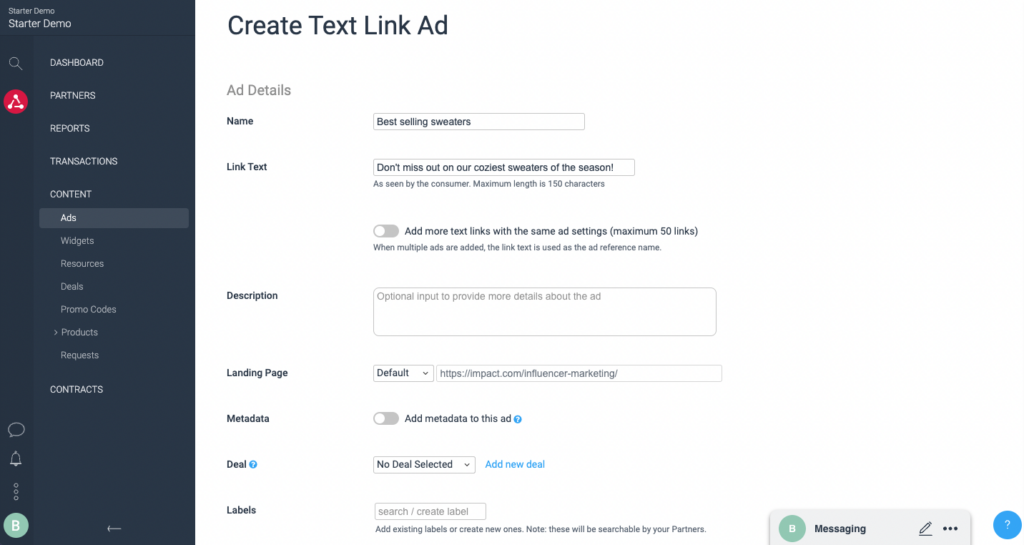 For an image/banner ad, specify the type of ad you're uploading, and then upload the ad creative directly to impact.com, link to the third-party site hosting it, or upload the HTML code. You can upload multiple images at once—up to 1 MB each.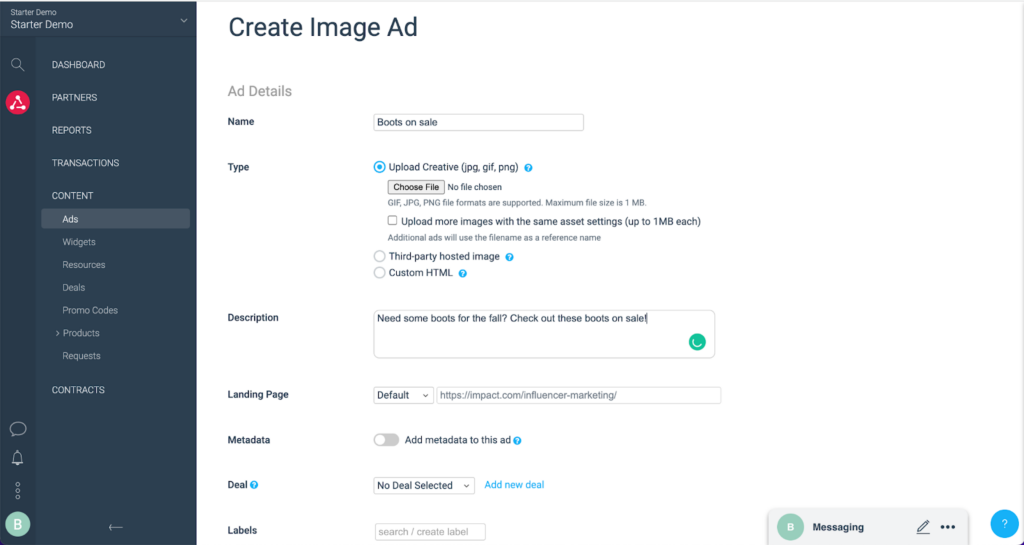 Enter a description of the ad and the landing page you want to direct the customer to next. After you add metadata and select the deal list you want it to be on, you have the option to restrict the use of the ad to a specific time frame or specific partners. If not, It's ready for prime time. Save it and share it with your partners. Learn more about uploading image/banner ads into impact.com here.
A well-crafted ad can grab anyone and inspire them to buy. impact.com helps you put these powerful tools in the hands of your partners.
Do you want to accelerate your partnership program? Then get your impact.com Product Fundamentals Certification. Learn more about what impact.com can offer you as well as what the partner view of your brand looks like!
Want to try impact.com's Starter Edition for yourself? Check out pricing for merchants using BigCommerce or Shopify.