Instagram is a leading platform for influencers and partnership marketing. But, there was a flaw — influencers with fewer than 10,000 followers were not able to access tools for content creation and affiliate links. While there was a swipe up feature in Instagram Stories that allowed users with over 10,000 followers to link to external content, this feature was not universal. When users with fewer followers wanted to link to a brand's website or use an affiliate link, they needed to ask their followers to "see the link in bio," which added another step to the process, decreasing their response rate.
Instagram link stickers
As of October 30th, all Instagram users are now able to use link stickers. These stickers enable everyone on Instagram to link to outside websites, products, brands, and blogs in their Stories. This quick link eases the way for followers to make the jump to a purchase.
"We made this decision based on feedback we heard from the community about how impactful it would be for creators and businesses of all sizes to benefit from link sharing to grow in the same way larger accounts do," Instagram said in a statement.
The link stickers means that all Instagram influencers can exercise greater creative freedom with putting affiliate links in Stories and are not limited to swipe ups, or placing affiliate links in bio with the extra clicks that entails. This expanded feature also means that nano-influencers, who are big players in the world of social media engagement, will now have the power to link to their partners in Stories. 
Why does this matter? Because 85% of all influencers out there have between 1,000 and 20,000 followers. Put another way, for every mega influencer, there are three nano-influencers and for every macro influencer, there are nine nano-influencers. Link stickers unlock the power of the affiliate link to a huge number of influencers.
Instagram link stickers and affiliate links
The entire affiliate, influencer, and partnership marketing industry benefits from this change as nano-influencers now have more power to promote their partners on Instagram with affiliate links. This new feature, and its expansion, allows the influencers' followers to tap thrrough and land on the brand's site, enabling partnership management platforms like impact.com to track the referral.
Already we are seeing links pop up everywhere on nano-influencers' Stories – celebrating the new capability with a flurry of linked content. It's novel, so users are clicking away on those links as you can see below.
https://media.giphy.com/media/iC8lOF7G87R6QBjEIL/giphy.gif
Influencers can make the most of link stickers
Influencers should consider the following:
Use them right now while they are hot. Get your followers into the link sticker groove and increase your engagement.
Stickers take up space so when you create Stories, you need to take that real estate into consideration.
Since you can match the sticker to the story and have some aesthetic options, start thinking about the sticker as part of what you design from now on.
Stickers are small, so you may need to create a vanity link for it as a long ugly link will take away from your creative content.
You can save Stories as a highlight and the link is there for longer than the 24 hour expiration date on Stories.
You can even take IGTV content and save it as a story thus making the link feature available there, too.
Brands can work with affiliate links and link stickers
Brands should consider the following:
Links mean you can now work with all sizes of influencers and give them affiliate links for their Instagram Stories.
These stickers are a hot item right now, so jump on the link sticker excitement with all your partners.
There are some technicalities about stickers and organic Stories vs. story ads. In Story ads, the swipe up function is still the call to action.
The possibility of brands promoting Stories with the Paid Partnership tag plus a link sticker will be disabled so avoid using the link sticker on content that you plan to promote using ads.
The branded content tool has moved to the top left of the Stories editing screen and you need to be aware that your influencers still need to use it.
You are now able to work with nano-influencers in the same way you work with larger influencers. It is time to take a look at adding more of them to your partnerships.
What instagram link stickers will do for affiliate marketing
A few things brands and influencers might do with the new stickers:
Start using them as soon as possible to increase engagement.
Drive traffic to external websites easily.
Send followers to blogs and dedicated landing pages.
Create promo deals through instagram.
Increase engagement by asking followers to comment on Stories which was not previously possible.
Link stickers are going to change the way customers make it to websites and increase conversions. If you are a brand, visit the impact.com marketplace to find those nano-influencers who will bring you more engaged and interested customers. If you are a content creator, start using the stickers while they are hot off the press. Approach those brands you have always wanted to work with because your pitch just got a whole lot more valuable.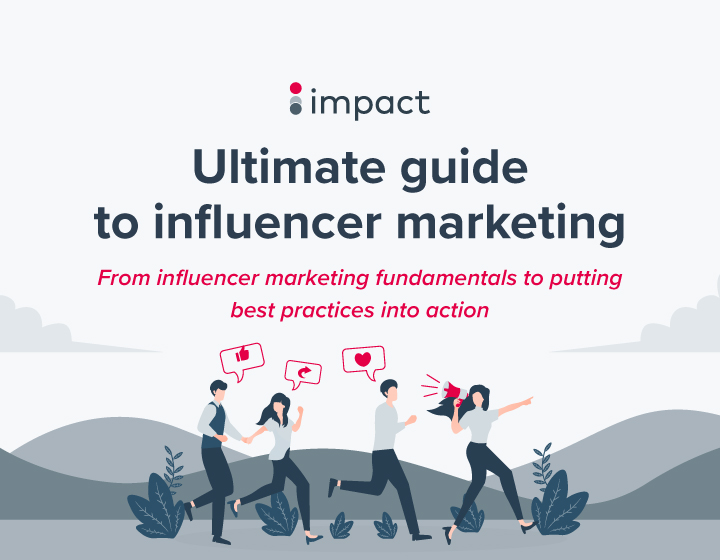 Ultimate guide to influencer marketing
Interested in learning more about influencer marketing?
Download the eBook
Now that you've mastered the new link sticker in Instagram stories, schedule a demo to learn how Impact's Partnership Cloud™ can help your brand strategically manage influencer campaigns, and how it connects influencers and creators with the world's leading brands.
For more ideas and guidance on influencer partnership management, check out these other Impact resources for influencer partnership management: