In 2020, Dunkin' Donuts partnered with Charli D'Amelio, a competitive dancer turned TikTok celebrity with over 140 million followers. Dunkin' noticed Charli's affinity for their coffee. So together, they created a limited-edition drink affectionately dubbed "The Charli" and made it available in all Dunkin' stores nationwide.
Though influencer marketing campaigns aren't new, the pandemic put these creators in the limelight. Brands were compelled to ramp up their online presence to create a direct channel for their target audience. In reality, not every brand can work with mega-influencers turned big-time celebs like Charli. However, when a brand has the tools to assess a potential creator partner's content quality, professionalism, and audience alignment, it can rise above the competition.
Influencers and creators crave partnerships that give them the keys to building authentic brand trust with followers. Brands and influencers should develop mutually beneficial relationships where both parties drive revenue for specific campaigns.
So, how do you find the right influencers to join your brand? Try the content creator's marketplace.
What you need to know about content creator marketplaces
Social media sites, including Instagram, YouTube, and TikTok, enable users to connect with their favorite creators and influencers. These could include:
Journalists
Thought leaders
Athletes
Actors
Chefs
Celebrities
Makeup artists
Social platforms grant intimate access to a follower or subscriber's favorite influencers and creators like never before. Brands can build the same relationships with creators via marketplaces. A valuable creator marketplace facilitates relationships with brands by granting access to a database of influencers. Brands can assess influencers according to their:
Demographic
Audience size
Content type
Social media channels
What if you want a creator who offers Japan's vegan and plant-based dining options? Quite a niche, right? A marketplace could help you find influencers like Chisayo Tamaki, a Kyoto-based influencer who highlights restaurants and stores offering vegan and vegetarian options on social media. 
Identifying segments of the audience that live a plant-based lifestyle can be challenging. But partnering with these micro-influencers can effectively help spread awareness and get you closer to your desired audience.
The pain points content creator marketplaces solve
Brands and influencers are limited to searching endlessly online without an influencer marketplace platform. Manually securing a network of influencers that resonate with your brand values requires sifting through many online creators with multiple social media accounts. This process can be time-and-resource consuming, relying on gut feeling and leading to a greater risk of influencers not being a good match or not responding on time.
Another challenge of manually finding influencers is spotting fraud. Some social media creators buy fake followers, which can be hard to identify. Brands can effectively use marketplaces and first-party data to vet and verify creators. Finding the right influencers is the biggest challenge for brands running in-house influencer campaigns. Success depends on considering the following factors when analyzing potential influencers: 
How they align with your brand
Who makes up their audience demographic
Their online presence and performance
The same goes for influencers who want to ensure that the right brands find them. Influencers want to be treated with respect and seen as the valuable professionals they are.
Effective marketplaces make partnerships between brands and influencers accessible and dynamic, whether a single campaign or an established long-term partnership.
Content creator marketplace benefits for brands and influencers
Marketplaces are a centralized platform consisting of a network of content creators who wish to work directly with brands. For brands, the marketplace automates and simplifies influencers:
Discovery
Evaluation
Recruitment
Payment processing
Contracting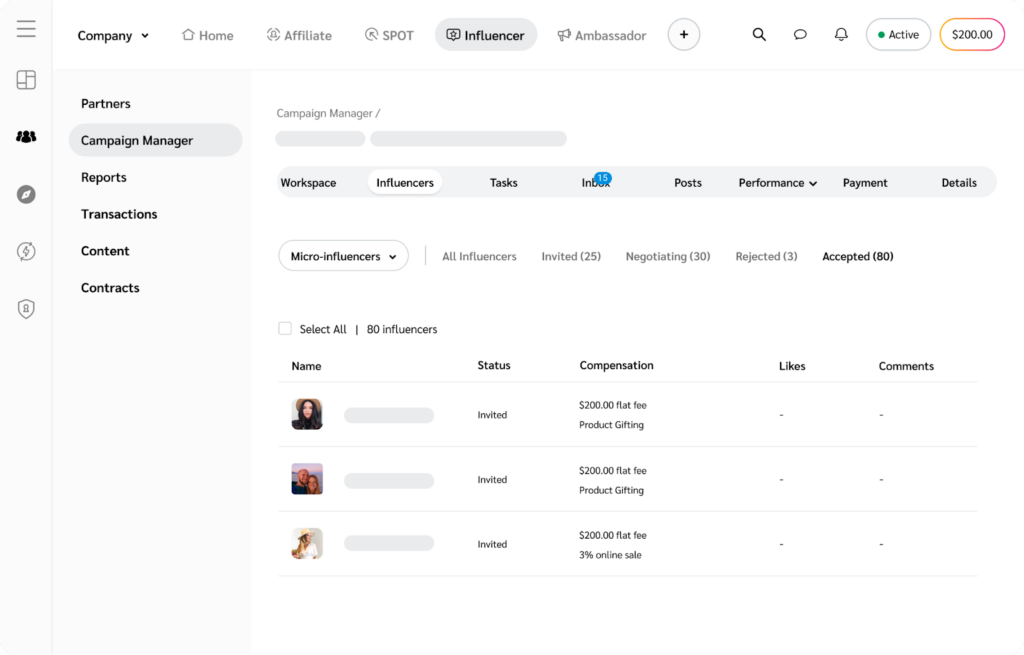 A top online marketplace, like impact.com for Influencers and Creators, can give influencers access to many brands across different verticals interested in partnerships. Influencers want to be both partners and professionals. They need brands that can empower them to communicate authentic brand messages to their followers.  
3 things brands should look for in a content creator marketplace
The stakes are high for brands pouring money into influencer marketing. The influencer marketing industry will reach $16.4b in 2022. That means brands should adopt the right marketplace to recruit influencers sooner rather than later. Brands want to consider these three things in a marketplace: 
Verified influencers. When creators opt into a marketplace, they raise their hands and show interest in partnering with brands. This means they are engaged and will be more responsive to brand outreach. 
Access to data and data compliance. There should be first-party influencer data inside the marketplace to help brands decide based on numbers. This includes performance metrics such as average engagement rates, comments, likes, and impressions.

However, data should comply with social networks' terms of service and application programming interface (API) guidelines. The more consent the marketplace obtains from its creators and influencers, the safer your access to their content and data will be.

Good compliance includes a platform like impact.com and open authorization (OAuth) on an influencer's social media accounts. An influencer can give a marketplace access to their data to measure performance metrics in a safe and standardized way that doesn't jeopardize their privacy. Other compliance practices include providing higher levels of data consent via features like impact.com's Social Handshake.
Easy ways to connect with influencers. The marketplace makes starting and maintaining authentic, long-term relationships with partners easier. Research from WARC and impact.com shows that longer influencer and marketer partnerships result in more desirable outcomes.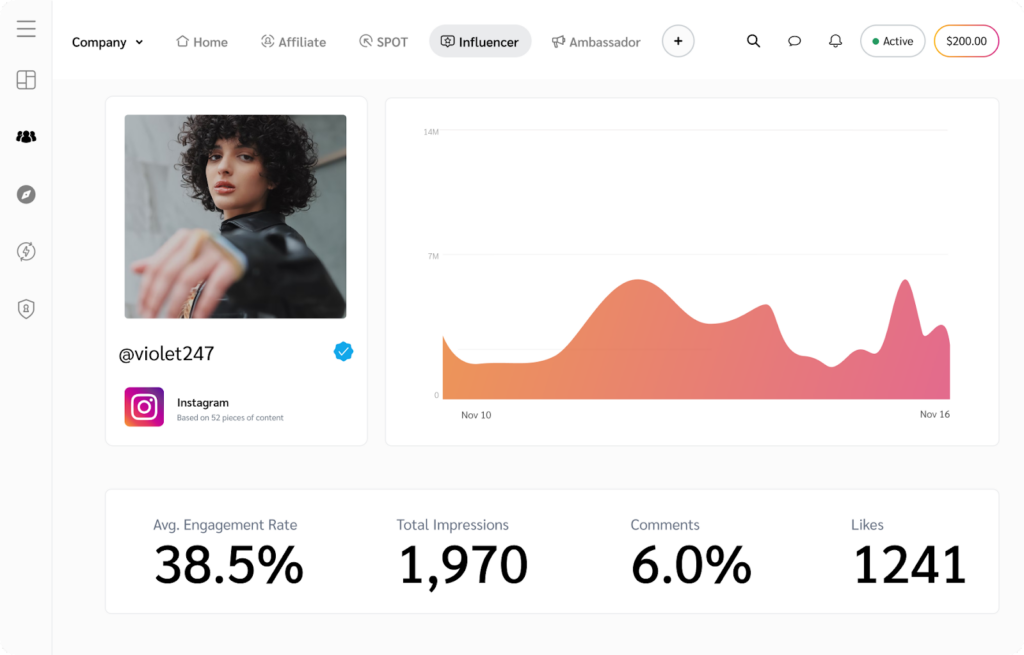 Content creator marketplaces facilitate and grow the relationships between brands and their prospective partners. This growth should include direct messaging to avoid confusion, a brand's key performance indicators (KPIs), and fair contracting. Influencers need a clear understanding of what a brand wants to accomplish so they can set out to achieve their goals. Additionally, they want to be compensated fairly and on time. Marketplaces allow easier collaboration and eliminate manual processes.
Marketplace discovery may also provide the ability to find influencers beyond the platform's network via features like extended search. Brands can find and connect with influencers who don't yet belong to the marketplace — and invite them to join their program alongside their marketplace-recruited influencers. By inviting new creators to join the marketplace, brands can grow their network of partners and seamlessly expand their influencer marketing program.
Making creative content connections that matter
A supportive marketplace also manages the technical aspects, allowing the partners to build relationships and get creative without worrying about spreadsheets and manual tracking.
A great content creator marketplace will enable partners to:
Create the right relationships through goal setting and contracting
Maintain relationships through simple communication channels
Reward actions that yield results
Track successes as content rolls out
Provide flexibility and negotiation opportunities
Pay efficiently and quickly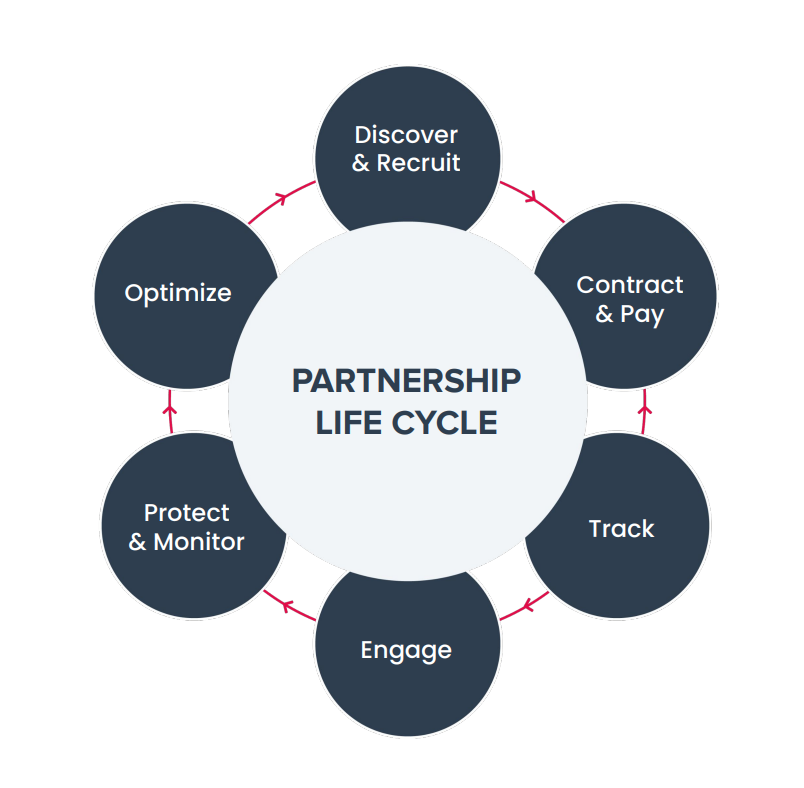 Champion success with data and workflow automation
Tracking and data are crucial to a partnership's success. First, it gives both parties insight into performance. Next, it enables brands to only pay influencers for value-generating actions. This could include metrics such as cost per action (CPA), cost per click (CPC), or cost per lead (CPL).
With data and automation, you can eliminate manual processes like updating tracking spreadsheets and instead focus on what matters: creative content that supports followers in what they value. Audiences respond well to authentic content that doesn't feel like advertising. Automation also helps brands scale relationships with influencers quicker and nurture them better.
Influencers know what it's like to work with brand partners who don't track the right actions, who don't communicate clearly or regularly, or who don't pay on time. When those processes are automated, a platform like impact.com for Influencers and Creators becomes the gateway to a professional and supportive relationship.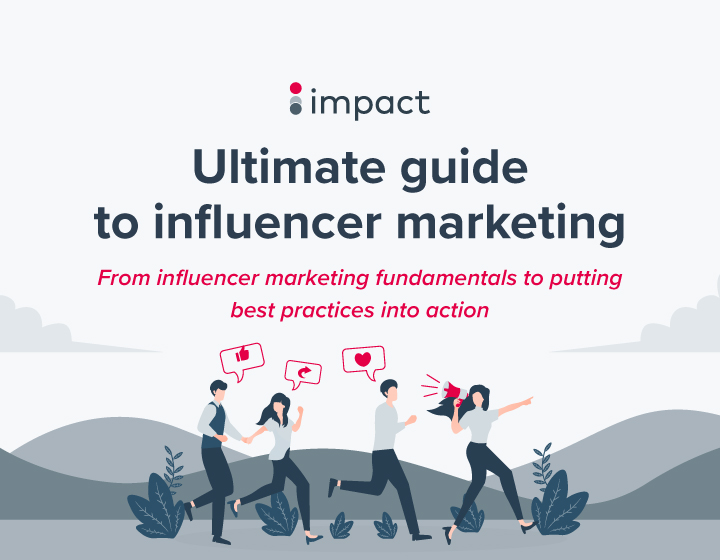 Ultimate guide to influencer marketing
Learn about influencer marketing: what it is, how it works, and how to make it work for you. Download the ebook: Ultimate guide to influencer marketing: From influencer marketing fundamentals to putting best practices into action.
Get my free guide
Top features for a successful marketplace
While marketplaces can offer unique features, you shouldn't cut corners when it comes to these:
Wide influencer scope: Locating influencers with various audience sizes and demographics.
Constant updates: Accessing new influencers in the marketplace.
Powerful filters and search: Finding the best matches according to your precise needs.
Enhanced data views: Analyzing influencer profiles and sample posts to assess their audience engagement and value.
Hand-raising: Find influencers genuinely interested in your brand, products, or services.
Data compliance: Strict first-party data protocols to protect your creators' privacy.
The five ways impact.com goes beyond your average content creator marketplace 
Now that you know what a marketplace is and the features it should have, the next step is to choose the right one for you. The impact.com for Influencers and Creators platform is a great choice: it houses an industry-leading marketplace, and an entire creator management solution that gives you flexibility in discovery and lets you manage the entire campaign life cycle. 
Check out the five ways impact.com can take your creator campaign to the next level:
Brands can connect to influencers inside and outside the marketplace. No intermediaries to prevent brands from contacting an influencer and starting a conversation.
Solves more than one problem. With impact.com, the workflow across the entire relationship is automated, not just influencer discovery and recruitment. Full-on performance and insights reporting are available, and payment is simplified.
Find solutions — not limitations. There are no hidden fees, limits on connections, or partnership tiers.
Gain automatic payment flows. Influencers are paid accurately and on time. Brands get to find influencers who will create new customers, building trust and easy working relationships for both parties.
Find the data you need to succeed. The impact.com platform doesn't just track data but is filled with relevant content and learning tools for influencers and brands to adapt, learn, and grow.
Get started with impact.com
Content creator marketplaces are the ideal way for brands and influencers to find the right partners — and nurture the relationship throughout a campaign. The right marketplace enables direct connections between brands and influencers, creating long-term authentic relationships built on trust and more creative content. Authenticity comes out in the content, and this is what resonates with audiences.
Use impact.com for Influencers and Creators to boost partner discovery, campaign execution, and your partnerships' results. Contact grow@impact.com to get started.