Any Swiftie affirms Taylor Swift is the main event at a Kansas City Chiefs game. Her budding romance with eight-time Pro Bowler and record-breaking tight end Travis Kelce has drawn historic sales for all types of merch and attracted a band of new fans to the NFL.
Stubhub saw the market-moving power of this relationship when Swift visited her new beau at work for his game against the New York Jets. The company saw a 175 percent spike in ticket sales, and the game drew the highest TV viewership of any NFL game since Super Bowl LVII.
Like PB&J, influencers can be better together—connecting romantically over their love of content creation and bringing a dynamic force to your brand's marketing strategy.
Key takeaways
Influencer couples bring their combined renown and audience reach to your campaign.
The chemistry of an influencer couple creates a stronger emotional bond with audiences.
Influencer couples combine unique audiences, allowing your brand to reach customers you might otherwise miss.
You can reach influencer couples directly, through their talent agents, or via an influencer marketplace.
Working with influencer couples follows a similar process as partnering with any other creator. 
Draw up contracts, maintain regular communication, and track performance throughout the partnership.
Brands can double their influence with influencer couples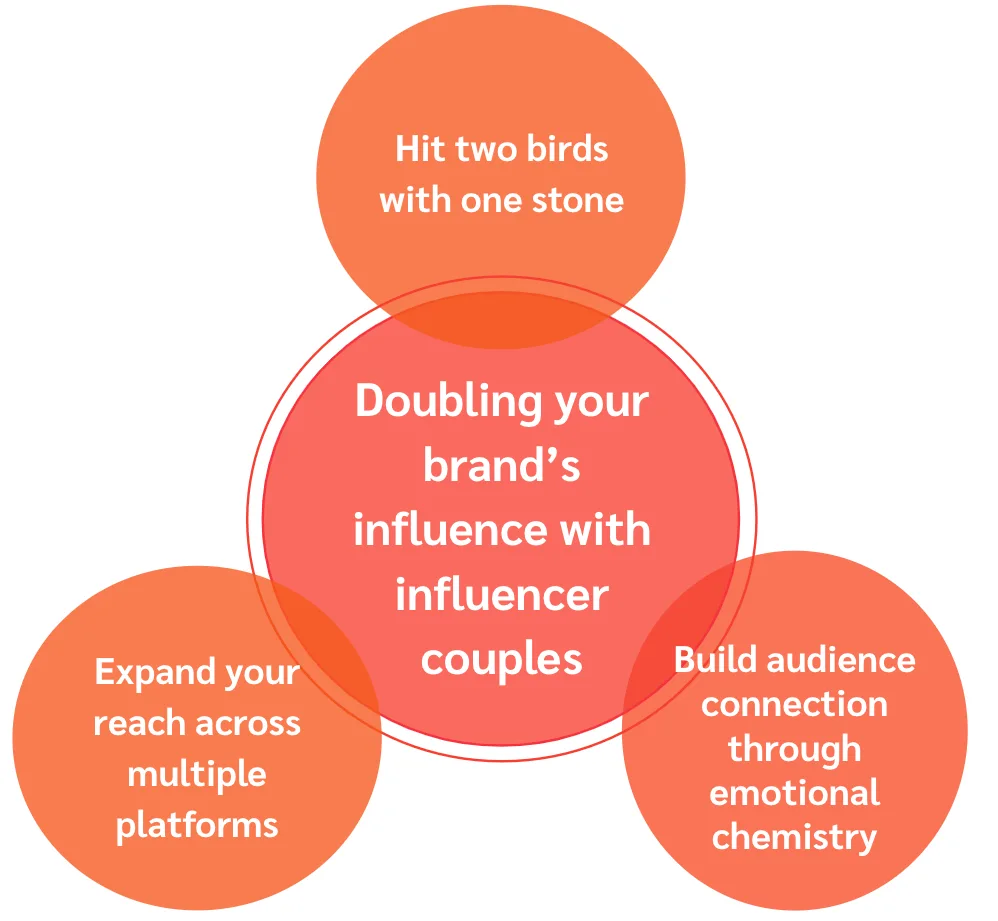 Marketers and influencers alike agree that creator content brings higher engagement rates, greater trust, and authenticity to campaigns. This may be why research by WARC and impact.com revealed that 77 percent of marketers found influencer marketing to be highly effective for their brand, either working more often than it fails or always working. Influencer couples can double an already strong strategy.
Hit two birds with one stone
Some creator couples exclusively create content together, but many influencers develop individual brands through unique content. These worlds intertwine as they generate content for both individual and collective feeds—which means you're getting double the exposure for your brand.
Like a Venn diagram, the overlap creates a new audience engaged and invested in the couple's shared narrative. This combined audience gives you an opportunity to tell more compelling, relatable stories that resonate with them.
And let's face it, who doesn't love a good love story? It's a great way to humanize your brand and create an emotional connection with your audience.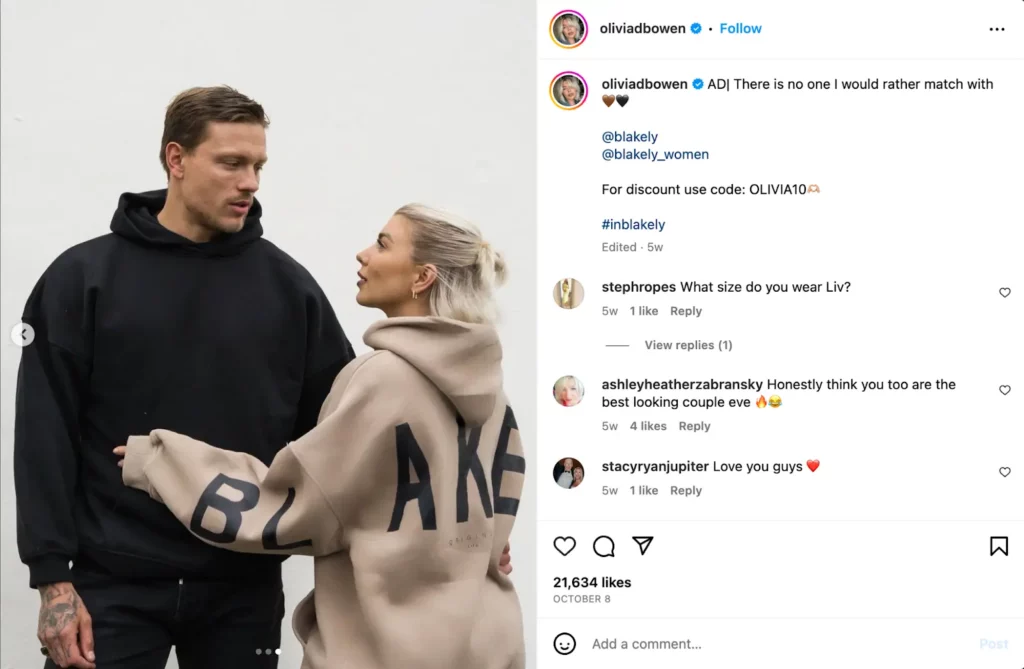 In this Instagram post, Alex and Olivia Bowen combine their star power to promote the clothing brand Blakely Co. (and Blakely Co. Women).
Take, for example, Alex and Olivia Bowen. While there's some overlap between these two reality stars turned influencers, the couples reach different audiences as individuals. Alex Bowen has carved out a men's fitness niche, even offering an app and coaching. Olivia Bowen's content focuses on women's fashion, health, and lifestyle.
Influencer couples help brands reach two audiences at once. Otherwise, you'd have to recruit more solo influencers to target the same audiences.
Build audience connection through emotional chemistry
Audiences love a good romance. The chemistry brings relatability to the content because the audience sees themselves in the couple. Their shared moments, their inside jokes, their little quirks—all these things create a narrative that audiences connect with.
And when your brand becomes a part of that narrative, you're not just promoting a product. You're becoming a part of their story. That's how you build an emotional connection. It's not about selling. It's about sharing moments that matter.
When social media influencers share their personal lives with the audience, trust increases with audiences, making them more likely to consider an influencer's product recommendations. Researchers studying the parasocial interactions between an audience and an influencer found that self-disclosure strengthens that bond.
Audiences also love inspirational content, and these influencers project an inspirational success story for their audiences. Inspirational content is the third most-liked category, enjoyed by 46 percent of audiences.
Expand your reach across multiple platforms
Influencer couples often share followers who are invested in their close-knit narrative. This unique blend of followers can further boost your brand exposure and engagement.
These pairs also create collaborative content that resonates with their followers. This content is often shared across various platforms, reaching more people in a wide variety of online spaces. Creative hashtags provide the connective tissue between collaborative posts to increase their reach and get your brand noticed by new audiences.
The combined reach of an influencer couple's multiple accounts can connect your brand with more customers than a solo influencer might.
The @twowanderingsoles duo team up to promote a campervan rental company aptly named Happy Campers. This ad works because it combines the authenticity of a nomadic lifestyle the couple shares and transfers that trust to the brand.
Katie Diederichs and Ben Zweber of the Two Wandering Soles travel blog produce content for Facebook, Instagram, X, Pinterest, YouTube, and their own website. On Instagram, they share short videos and photos of their travels, while YouTube hosts their long-form video content.
Each platform allows them (and the brands who partner with them) to reach different audiences seeking different types of content.
5 marks to hit when recruiting influencer couples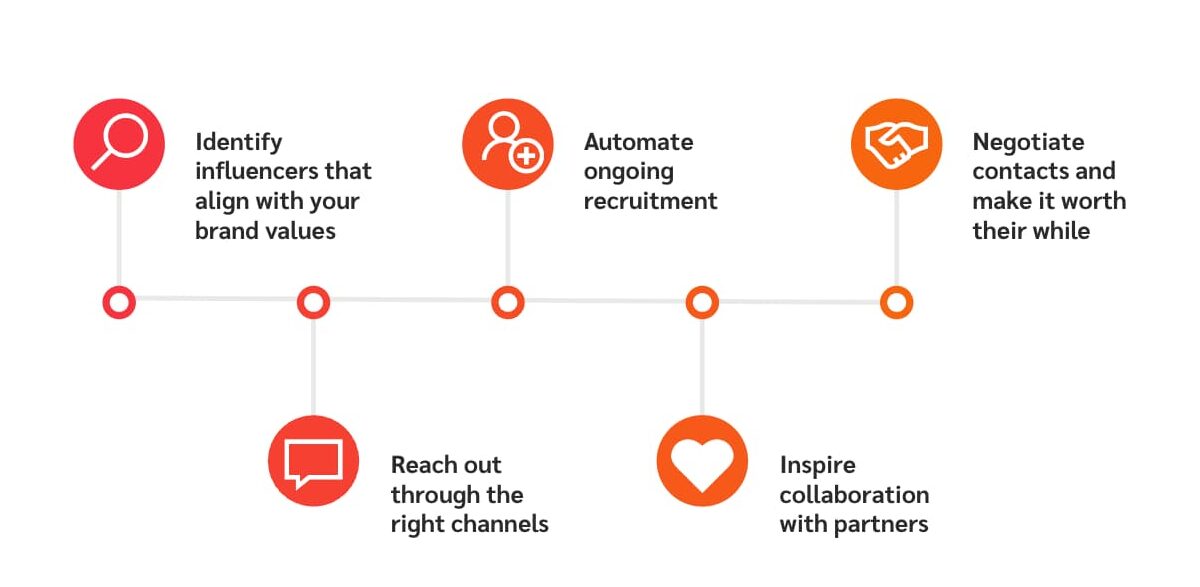 Just as these two influencers had to find their better half, you'll need to find the influencer couple that best aligns with your brand values and goals. Don't worry, though. As they say, there's plenty of fish in the sea.
Identify influencers that align with your brand values
Start by researching and identifying influencer couples that align with your brand's values, niche, and target audience. Look for couples who have a genuine connection, strong engagement on their platforms, and a track record of successful collaborations.
Partnership management platforms like impact.com / creator offer a marketplace with 80k+ influencers to search from. With advanced search, robust filters, and AI-powered recommendations, you can find partners that match your unique requirements. Their partner profile makes research easy, revealing their media properties, traffic stats, audience demographics, and more.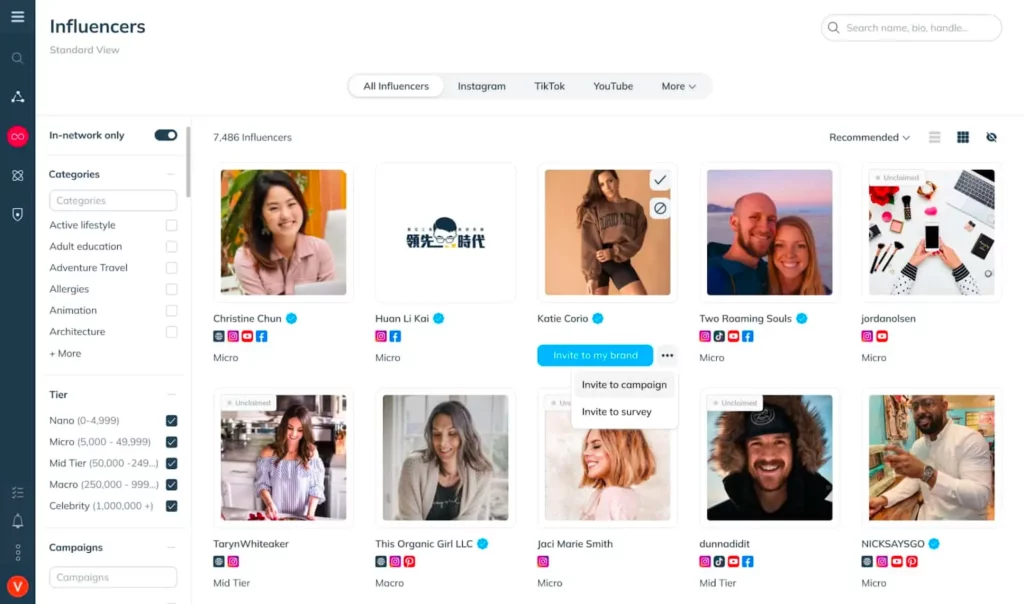 Here's a view of impact.com / creator's influencer search feature. Filter creators by follower count, niche, and more.
Reach out through the right channels
When reaching out to influencer couples, crafting a personalized message is crucial. Highlight why you think they would be a strong fit for your brand. Show genuine interest in their content and explain how their unique partnership benefits both parties.
Use these three channels to recruit influencers:
Contact them via DMs. Reach out with a message or comment via their platform of choice, whether that's Instagram or TikTok. According to impact.com's research with Adweek, 51 percent of influencers prefer contact via social media DMs for collaborations.
Connect through talent agents or agencies. Talent agents work with influencers to connect them with brands looking for partnerships. They're the brand and influencer liaison, introducing the two parties and managing negotiations to ensure a mutually beneficial partnership.
Reach out through a partnership management platform. The right platform provides you with a direct line to influencers via the partner marketplace and instant messaging.
Automate ongoing recruitment
A successful program means constant recruitment. Growth marketing agency ZeroTo1 highlights the importance of an always-on program to see the best results.
Fortunately, there's no need to handle all of this communication manually. Save yourself countless hours with the right automation technology. For example, keep track of potential partners as they progress through recruitment and set up email workflows to nurture their interest. Streamline the application process by using recruitment workflows to accept or reject candidates into your program automatically.
Inspire collaboration with partners
Present your collaboration ideas in a way that sparks excitement and showcases the mutual benefits of the partnership. Highlight how their combined influence can create a powerful impact and extend the reach of your brand's message. Whether you plan to partner on sponsored posts, joint giveaways, or even co-creating content, emphasize the value they can bring.
Negotiate contracts and make it worth their while
Once you've established a dialogue with the influencer couple, it's time to finalize the details, including deliverables, timeframes, and compensation. The influencer couple can accurately quote you when they're clear on the project's scope. Clarity will prevent issues down the line, and 80 percent of influencers say it's imperative for brands to be clear about compensation and performance expectations during the initial outreach.
Be open to the back-and-forth of negotiation, and you'll find a mutually beneficial arrangement that suits both parties' needs. High compensation and creative freedom are the second and third most important qualities to influencers, so make it worthwhile if you want them to stick around.
An excerpt from Ghosted no more: The secrets to thriving creator-brand partnerships research report.
Top influencer couples to partner with [for every niche]
You can find influencer couples creating content for a wide variety of audiences. Here's an idea of some couples you can work with. Find out their preferred brand partnerships, what social channels they use, and what kind of content they create.
Alex and Olivia Bowen [lifestyle and fitness content]
Combined followers: 4.6 million
Social platforms:
Alex and Olivia Bowen first met on the UK reality show Love Island. From there, they've developed their own following as social media influencers. The two now cover everything from fashion and lifestyle to fitness and travel.
In this combined post, the Bowen couple collaborates with the brand Threadbare Apparel for a giveaway.
The Bowens mostly post solo content and occasionally collab on posts. They work with various brands, from promoting clothing with Zara and Threadbare to air fresheners with Glade. You can primarily find them on Instagram.
Gwyn and Ami Manser [travel content]
Combined following across platforms: 54k+
Social platforms:
Gwyn and Ami Manser's online journey started in 2020 when they built their first camper van to travel around the United States. They've since shared their passion for travel, hiking, and photography through their social platforms. The duo also posts blog content, buyer's guides, gear reviews, and more on their website.
The couple's most prominent following is on Instagram, where you'll find a mix of visually stunning photographs and videos sharing their experience and hiking tips at various U.S. national parks.
Gwyn and Ami partner with camping goods retailer REI in this TikTok video on a list of stocking stuffers for hikers and backpackers. This partnership is a win-win as REI gets more eyes on their products while creators Gwyn and Ami get an affiliate commission on the items sold. This list also lives on their blog with affiliate links.
Karl and Erry Haase-Guerrier [beauty and lifestyle content]
Combined following across platforms: 174k+
Social platforms:
Husbands Karl and Erry Haase-Guerrier create content that brings their audience along on their adventures as a queer, Caribbean couple living in New York. Their content largely focuses on travel, beauty, fashion, and lifestyle.
In this TikTok, the couple promotes Rad Power Bikes as they adventure around the city. Followers can get a peek into the couples' day and learn about a cool product at the same time, which is why this partnership works.
They work with brands like Fenty Skin and Bear Bottom Clothing, producing unboxing videos and beautiful shots of themselves looking fabulous in their partners' products. While their biggest following is on TikTok, they also have a significant following on Instagram.
The Savvy Couple [financial content]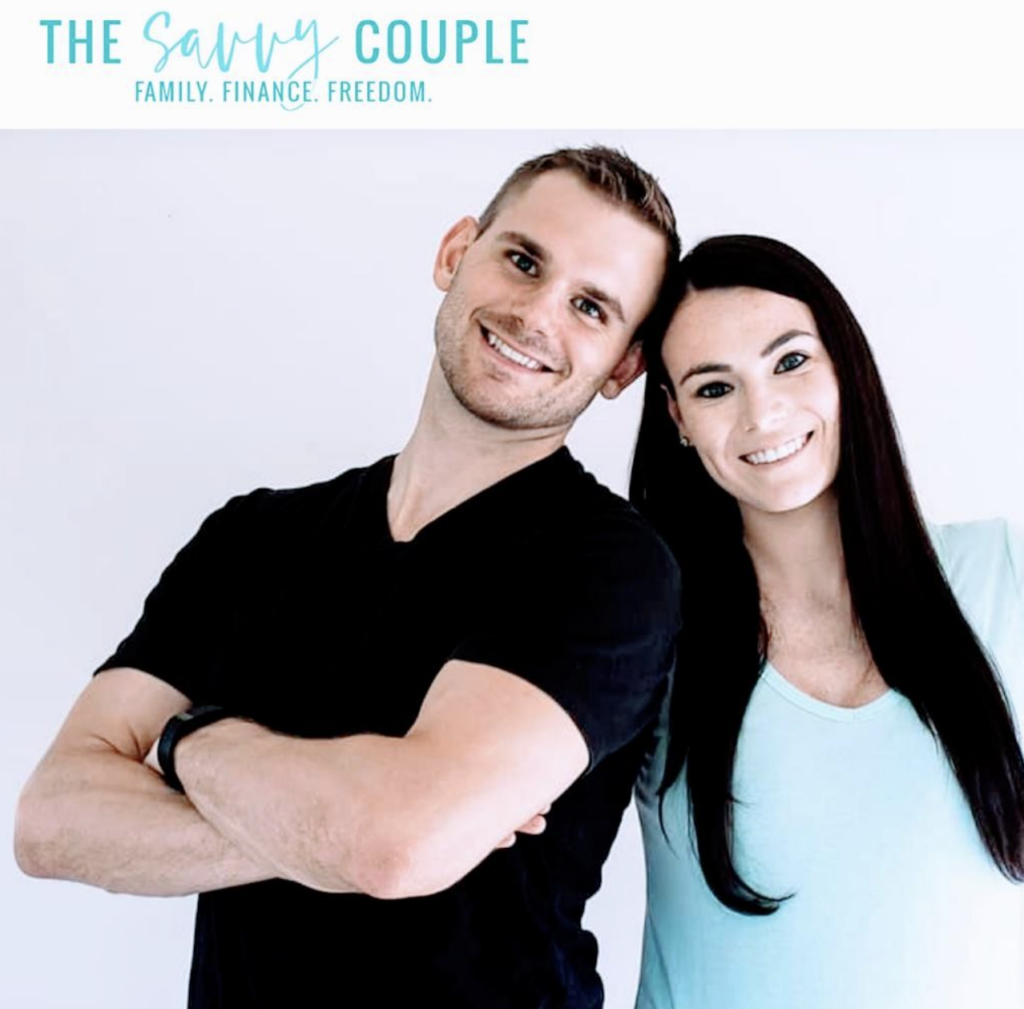 Combined followers across platforms: 92k+
Social platforms:
Kelan and Brittany Kline created The Savvy Couple to make personal finance approachable, fun, and easy to understand for families. Their content gives tips for making cheap family recipes, budgeting for beginners, and more.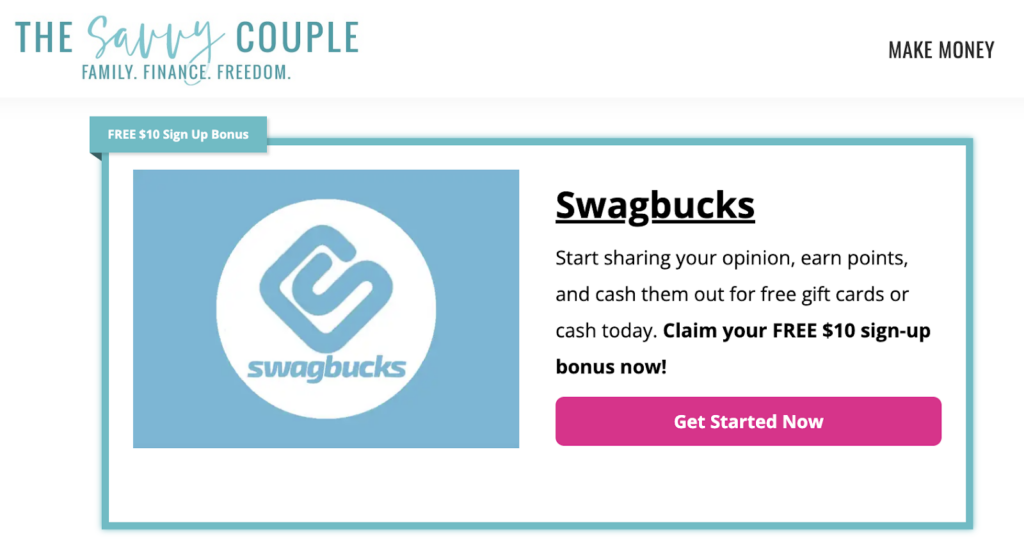 In keeping with their focus on money management, this couple works with companies like Swagbucks and Quicken to promote finance-related products to their audience. Their biggest audiences are on Facebook and Pinterest.
Rita Ashemeza and Evan Dingle [fashion and travel content]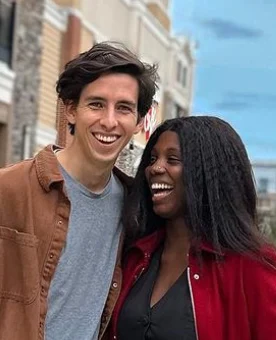 Combined following across platforms: 278k+
Social platforms:
Ash and Evan, as they're known on social media, gained a following with content about their travels and everyday life as a Ugandan-American couple in Switzerland and Uganda. A viral TikTok video where Evan proposes to Ash in her native language raked in nearly 12 million views.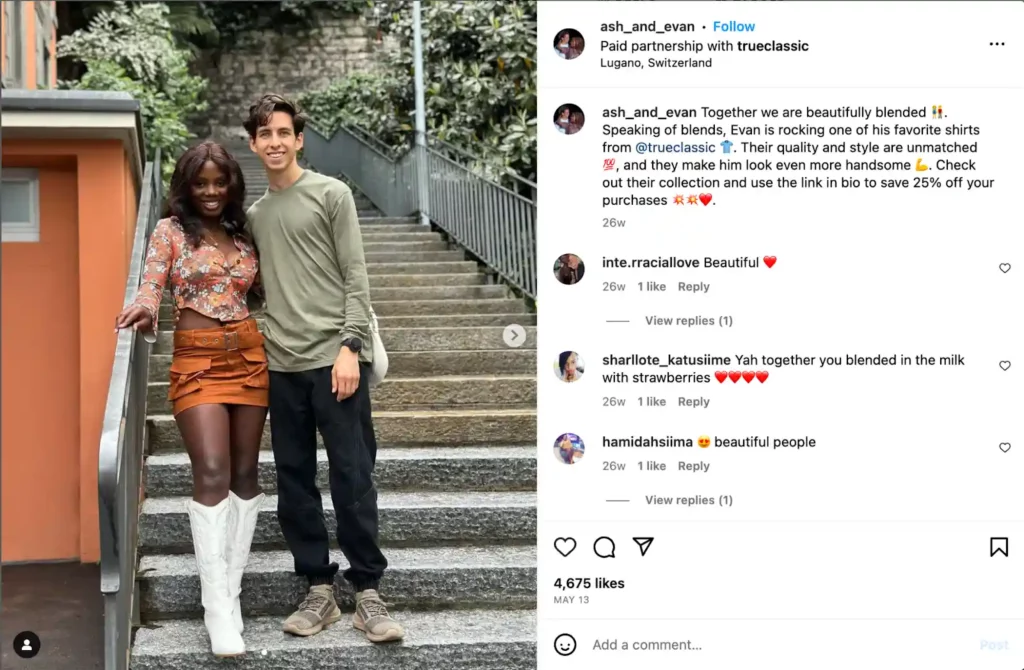 They collaborate with brands on fashion content, recently working with True Classic to promote their clothing. While their largest audience is on TikTok, they've also gained a significant following on Instagram and YouTube.
Love, the Tillerys [family lifestyle content]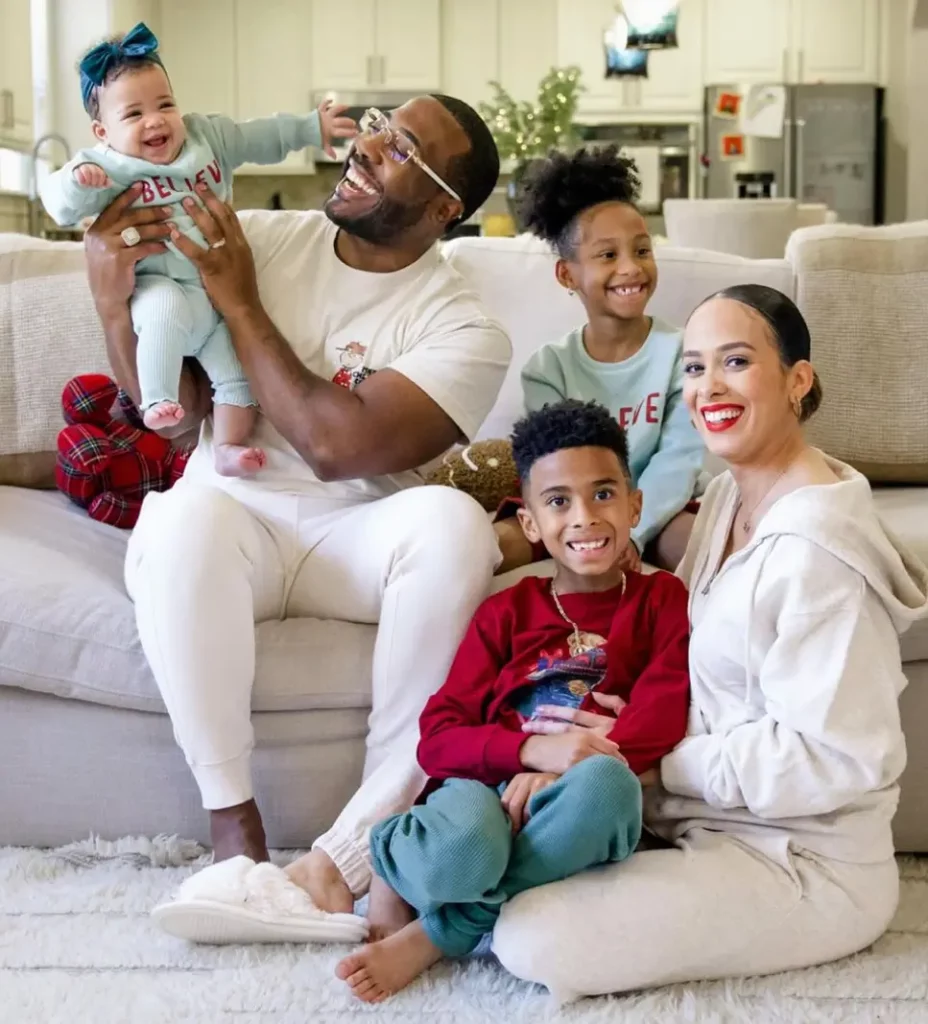 Combined following across platforms: 377k+
Social platforms:
Latroy and Nicole Tillery dedicate their social media accounts to their three children (with a fourth on the way). The Tillery family shares everything from special moments like father-daughter dances on YouTube to easy family recipes on TikTok. Their biggest following is on Instagram, followed by TikTok.
In this TikTok video, Latroy partners with Velveeta to create a delicious mac and cheese dish for his family. With an impressive 3.2 million views, this video showcases the product in action, highlighting its convenience, and building trust through the Tillery family's recommendation.
The Brownstone Boys [DIY home content]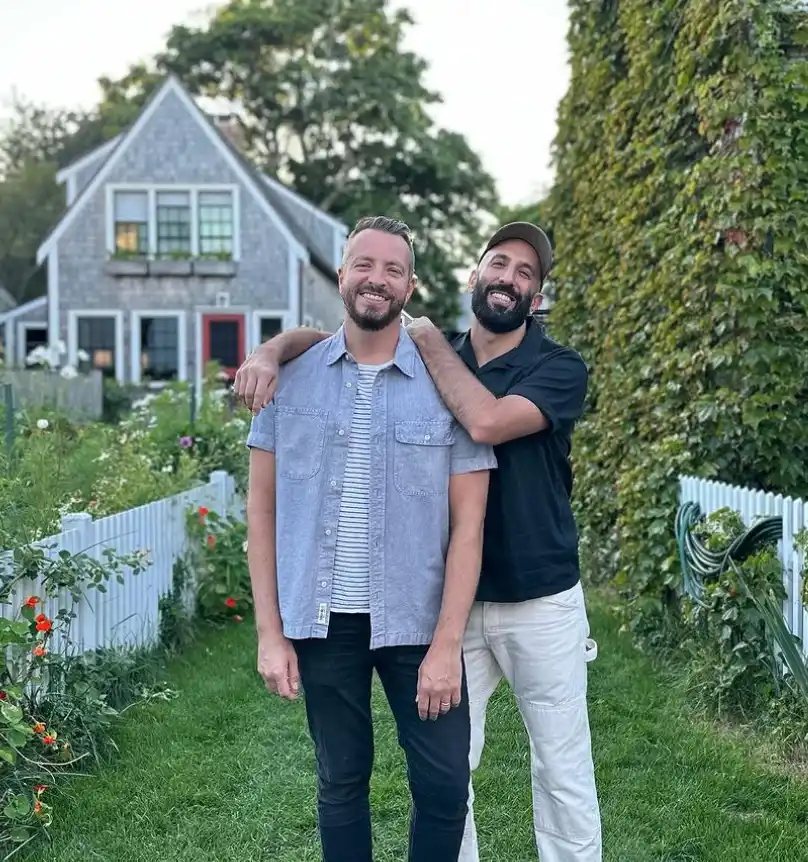 Combined following across platforms: 238k+
Social platforms:
Jordan and Barry, AKA the Brownstone Boys, are interior designers, DIY-ers, and renovation project managers based in Brooklyn, New York. The couple's journey began when they purchased the 130-year-old historic Brooklyn brownstone in 2018 and began restoring it.
The Brownstone Boys share their DIY home projects across their many social channels—with their biggest following on Instagram. They've also been featured in publications including Architectural Digest and The New York Times, and TV shows such as Good Morning America.
In this YouTube video, Barry and Jordan partner with TrueForm Concrete on a custom countertop for their kitchen. This partnership works because the couple lends their credibility to TrueForm Concrete's brand while walking the viewer through a hands-on manufacturing process.
5 success metrics for long-term creator couple partnerships
1. Understand key factors for brand alignment
Given that couples are made up of two creators with separate audiences, finding a couple that genuinely aligns with your brand can be challenging. Research their content and past collaborations to better understand their style.
Consider these factors when making your choice:
Relevance to your industry
Engagement rates
Audience demographics
Alignment with brand values
2. Negotiate contracts that align brands and creators
Contract negotiations ideally start a collaboration on the right foot. Contracts lay out what the brand and partner can expect from the partnership, from deliverables and deadlines to compensation.
Influencers rank compensation as the most important factor when evaluating a partnership, which means the quicker you align, the better. Typically, creators prefer receiving a fixed fee for their work, alongside a commission structure. This arrangement ensures financial security while also incentivizing continued success. Good thing most brands align with this compensation type when working with new and established creators.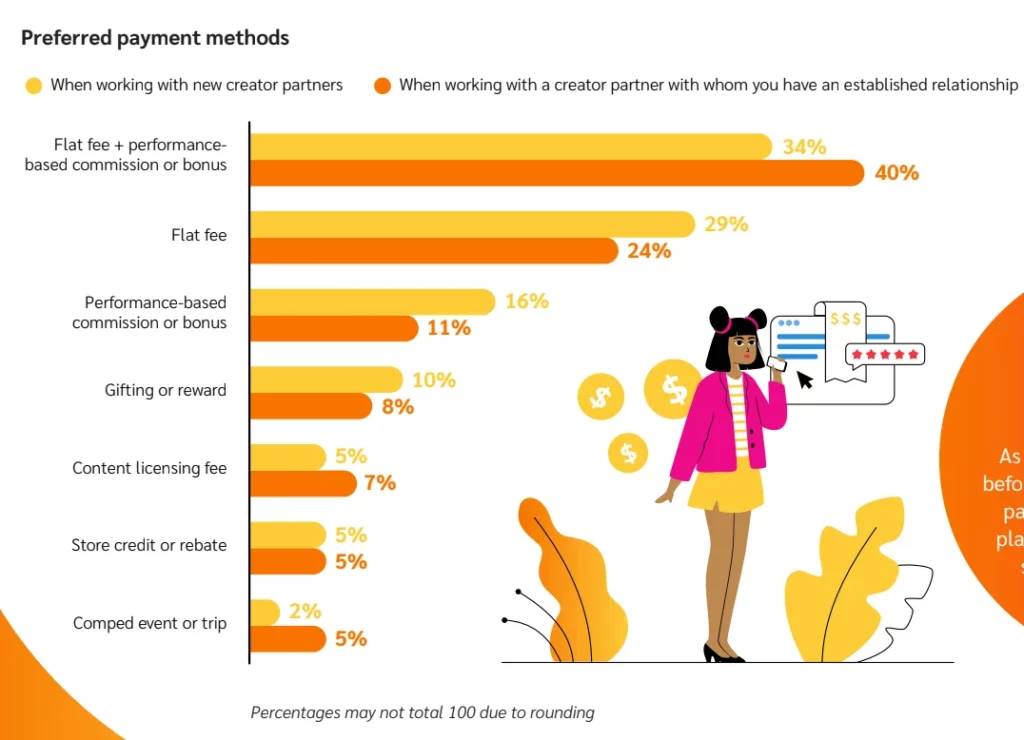 An excerpt from What brands want: building successful creator partnerships in 2023 research report.
3. Let creators create
Balancing brand safety and creative freedom when working with influencers is a challenge. Allowing the creator couples' unique style and authentic voice to shine through is essential for engaging their followers.
Being too restrictive yields uninspired content, while being too lenient risks off-brand or policy-violating material. Find the sweet spot that allows creators to showcase your brand effectively while keeping it safe. Remember that creative freedom encourages influencers to stick around for the long haul. Trust them to deliver, but remember to review before going live.
4. Keep communication channels open
Regular communication is key to successful partnerships. Check in with your partners to ensure their needs are met, the workload is manageable, and campaign objectives are clear. By keeping an open line of communication, creators are more likely to approach you with any concerns. Remember, teamwork makes the dream work!
You can also use a partnership management platform to keep you connected throughout the campaign using:
Newsletters. Segment your partners into groups to provide them with newsletters filled with fresh, relevant, and personalized content.
Email workflows. Set up automated communications for when your partners perform (or get stuck on) certain actions. Use this to streamline partner content proposals, negotiations, approvals, and proof-of-post.
5. Share metrics and iterate from what you learn
Tracking influencer performance and measuring campaign results to see how did and where you can improve in the future. Accurate tracking allows you to attribute conversions, assess partner contribution, and monitor the customer journey.
Plenty of factors contribute to the success of an influencer campaign. To capture the most essential information, you want to measure the following: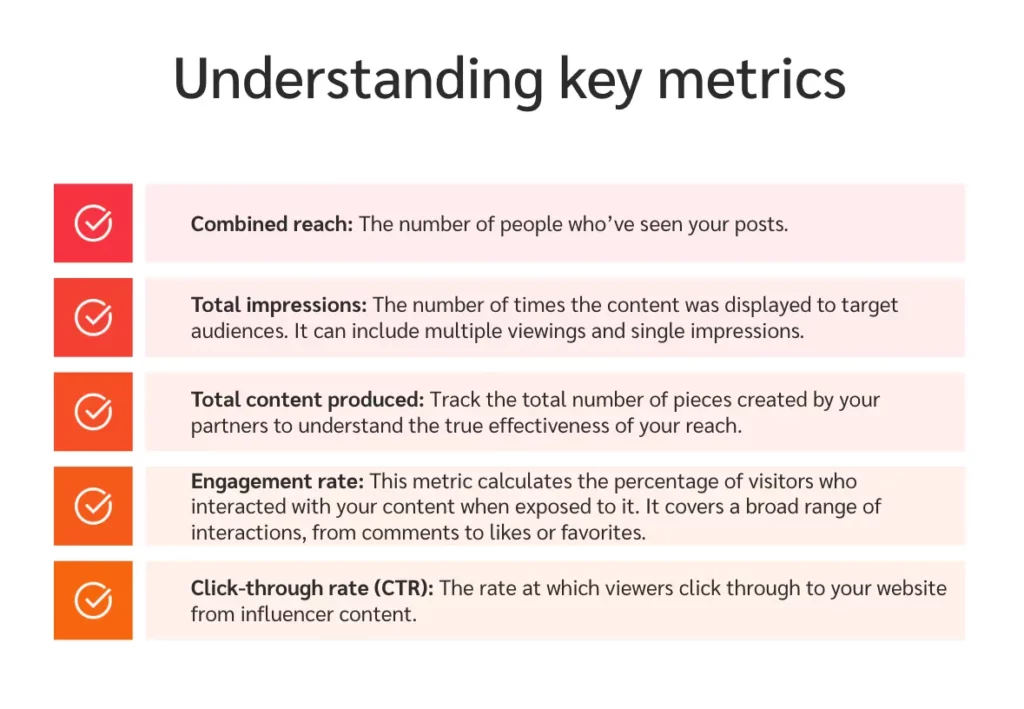 Combined reach. This is the number of people who've seen your posts.
Total impressions. This metric counts the number of times the content was displayed to target audiences. It can include multiple viewings and single impressions.
Total content produced. Track the total number of pieces created by your partners to understand the true effectiveness of your reach.
Engagement rate. This metric calculates the percentage of visitors who interacted with your content when exposed to it. It covers a broad range of interactions, from comments to likes or favorites.
Click-through rate (CTR). When viewers click through to your website from influencer content, this metric captures that action.
FAQs
Influencer couples can draw different audiences together, providing your influencer campaign with greater reach over multiple platforms.
You can recruit influencer couples by contacting them directly or through their agent. A partnership management platform like impact.com / creator can help you discover and recruit new partners with ease.
Expand your brand's reach using influencer couples
Influencer couples help brands maximize their reach and impact. These creators forge strong bonds with their audiences that can give your promotional power a boost.
Brands can use impact.com / creator to recruit influencer couples and build stronger, more productive partnerships. Request a demo or contact grow@impact.com to get started.