Influencer marketing is set to reach an astounding $22.2 billion by 2025, more than double the $9.7 billion recorded in 2020. This meteoric rise validates a profound shift in how we connect, communicate, and convert.
impact.com sat down with Riley Cronin, president and co-founder of ZeroTo1, a full-service growth, creative, and influencer agency, to discuss the importance of influencer-led affiliate programs, best practices, and how to build a creator community.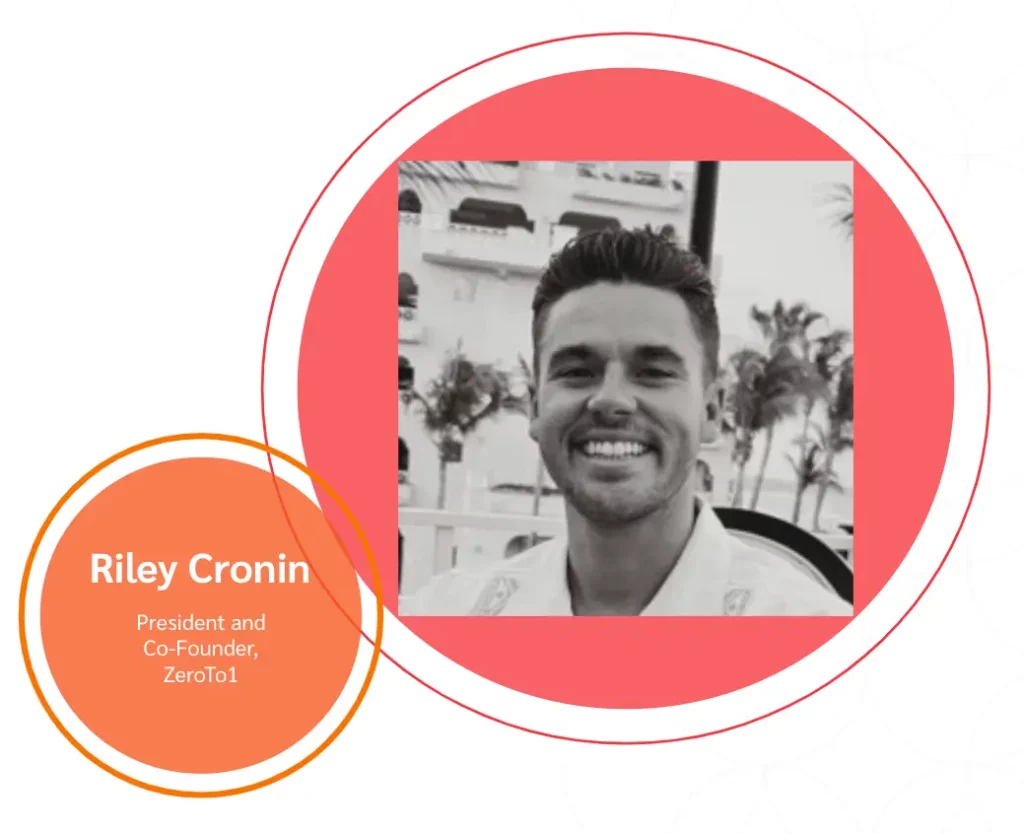 ZeroTo1 is an influencer marketing and performance creative agency that builds community and drives profitable revenue for our clients.
Our mission is to be a long-term growth partner that guides our clients to their dream outcome of an IPO or exit through thorough world-class creative strategy, performance creative, and influencer services. Our goal is to be the #1 ROI-focused influencer agency for category-leading and disruptive brands by 2026.
Key takeaways from this blog
Brands should prioritize community-building and invest in the creator community to see results.
Customers crave authenticity from brands that embrace a community-led approach.
A community strategy scales revenue, making it an effective marketing channel.
A successful creator-first affiliate program includes branding the community, using the right tech, and supporting content production.
ZeroTo1 engages creators with trending concepts, messaging, and pre-made content to help them convert.
UGC generates significant ROI thanks to its organic and compelling content.
How has the creator economy evolved over the last five years?
TikTok has changed the influencer field of all social media platforms significantly. Most influencers we partnered with around 2017-18 for a client's influencer program already had large audiences. Now, there's been a shift to partnering with people who are really good content creators, even if they don't have a following at all.
The algorithm has provided a groundbreaking opportunity for content creators to connect with viewers, even without a large following. This has empowered brands to collaborate with a wider range of creators, all without the need for a substantial budget. A contributing benefit is that smaller content creators are more open to working with influencer affiliate programs on a performance basis.
---
What separates a creator-first affiliate program from a traditional affiliate program?
Creator affiliate programs require nurturing from the opt-in stage, with a strong emphasis on offering dedicated community management support. At ZeroTo1, we successfully engage creators by providing trending concepts, messaging, and the right hooks, which sets them up to create content that converts. We aim to design content from the get-go that inspires creators and drives engagement.
---
How does promoting accessible strategies and best practices increase adoption for creators and brands?
Brands are actively seeking avenues to incorporate influencers into their affiliate programs for direct advantages. By leveraging the creator's converting content, brands can optimize revenue and traffic from their affiliate program. Furthermore, they can strategically use this content to enhance the effectiveness of other paid media strategies.
---
Empowering creators to produce high-converting content [5 key principles]
There are five pillars to establishing a successful creator-first affiliate program with content that converts.
#1 Branding the community
Creators aspire to associate their identity with the brand and the vibrant community of fellow creators. I'd cite our programs with a large retailer in the food space and a well-known department store. For the influencer-affiliate program, we worked with clients, including a premium lifestyle and wellness brand. A branded program gives creators an additional sense of identity to attach themselves to. This attracts the type of influencer you want for your program.
#2 Using the right tech platform
impact.com / creator is a tech platform solution for this pillar. Choosing a frictionless program has great benefits. The process has to be seamless when it comes to opt-in, getting affiliate links, creating content, and communicating through support. A successful program's tech integration must also be intuitive and straightforward to nurture and support users.
#3 Recruiting creators at scale
One-on-one recruiting is not the answer. Regardless of how great the program and offer is, brands need to recruit at scale to optimize the potential of creators they can add to their community.
#4 Offering the right incentive structure
At ZeroTo1, we work with a blended strategy. We have a base offer ready with product gifting plus lower commission, and VIP commission with more product gifting. A blended tier commission is also a great incentive with both product and cash.
#5 Implementing creative strategy, content production, and community management
Community management nurtures influencers from opt-in to content creation and provides dedicated support. The creative strategy sets influencers up for success, while content production inspires them on how to create content.
---
What are your thoughts on combining influencers, ambassadors, loyalty, and referral programs?
We view community as the ultimate channel. For a program to be successful, it should be holistic and have the four elements you mentioned. Successful programs leverage referrals, including everyone from the community, from influencers and affiliates to ambassadors.
Getting creators inspired will give you a brand army to employ against all your marketing campaign tactics. Pack more value and opportunity into your community by considering influencers, affiliates, ambassadors, referrals, and loyalty. That results in the most participation and engagement with the most benefits.
---
How can brands turn customers into a revenue-generating channel?
Cutting-edge brands are finding ways to activate the creator in every customer. TikTok and Instagram allow anyone to be a creator, even the customer. This can include content like scripted user-generated content (UGC), partnering with influencers, and customer testimonials. There are unlimited stories and content to feed your marketing engine when you nurture the creator in every customer.
Click here to see some UGC examples from ZeroTo1.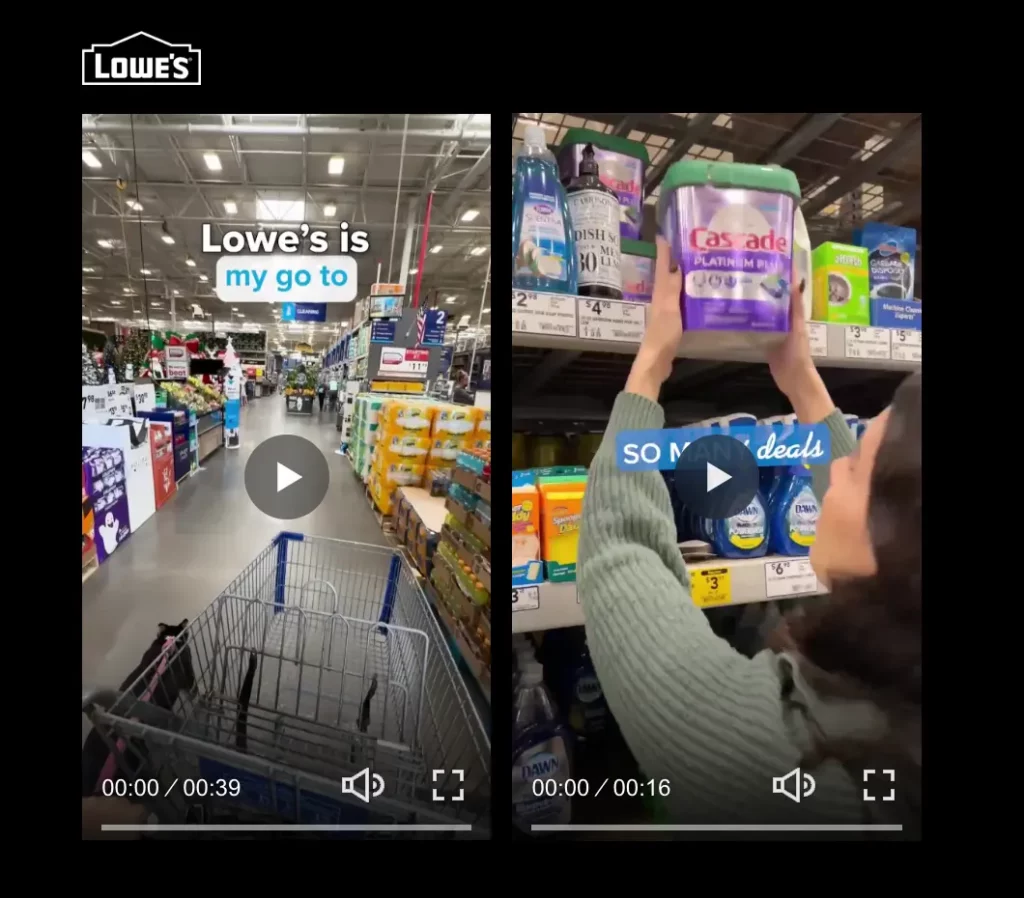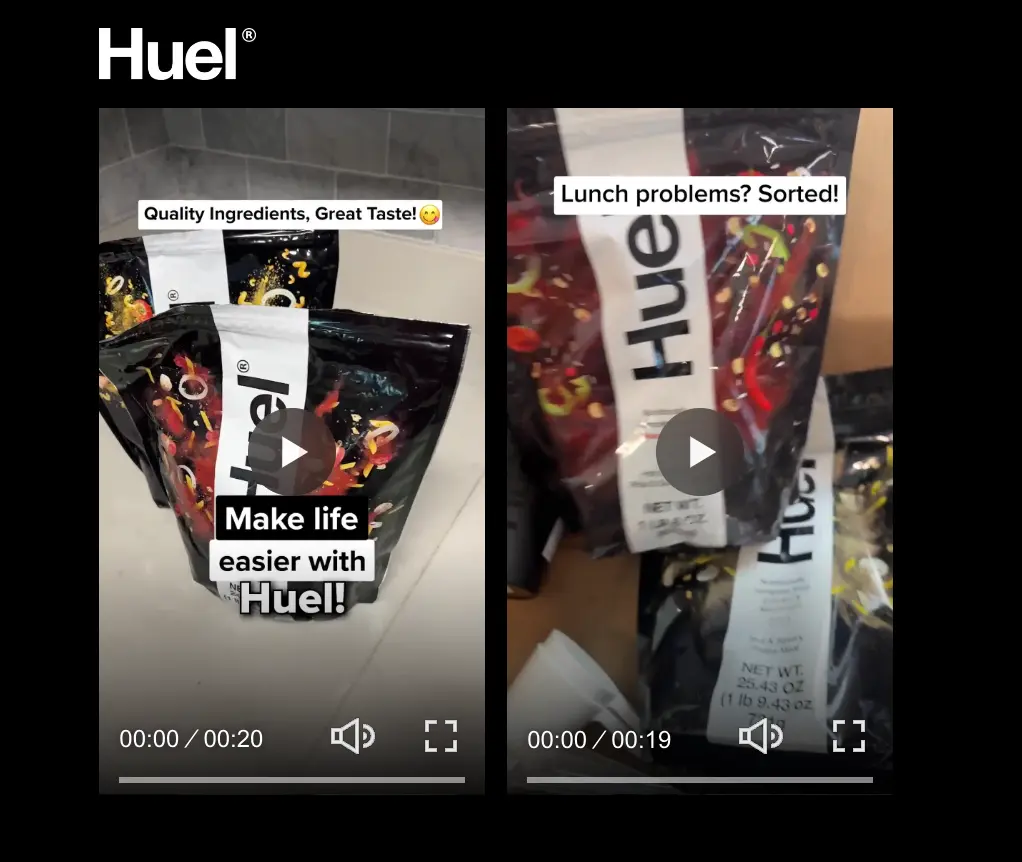 ---
How to scale and create profitability with creators [3 strategies]
Let's break down the strategies into three steps:
#1 Ongoing recruitment
Recruitment is an ongoing process. Set a goal of getting new creators every month.
#2 Incentivize creators
Have incentives ready for creators to publish content as quickly as possible. Creators tend to stick around longer when there's a short window from the creator joining to making the first piece of content.
#3 Provide creator briefs and support
Create a marketing calendar for the community that gives creators as many content opportunities as possible. Include thorough creative briefs to set creators up for success. In the brief, add a few key details, like:
Trending concepts
Pre-made graphics they can post
B-roll footage
Three reasons why certain content performs well
---
What challenges emerge in brand-creator collaborations?
Friction is a community killer that can pop up in any part of the funnel, whether at the opt-in or review stage. Brands also shouldn't have too much control over the community's content creation on a performance basis. It's essential to invest time into the creative strategy. This is solved by recruiting qualified creators who will deliver in line with the brand's standards.
---
Do you see creators who struggle with brands limiting creative freedom?
Yes. Coaching and influencing play a significant role in setting up scalable programs. Brands should trust and rely on the creator's abilities when they have a remarkable talent to create content. As friction tends to spell doom for a vibrant community, avoiding excessive brand or legal review is best.
---
Why should brands consider UGC?
UGC primarily focuses on performance and driving revenue for the brand. The goal is to effectively sell products and boost revenue with the developed content. Today, UGC stands out as a high-performing concept and ad type, delivering maximum sales, revenue, and conversions within the community.
Including an effective UGC strategy will balance the brand's presence and build the brand's community into a top revenue-driving channel.
---
Why is UGC the best creative type across all social platforms?
Authenticity is crucial to content performance. The more organic the content feels, the more compelling it becomes. Currently, results show that an organic approach outperforms all other strategies. These cost-effective benefits allow greater flexibility and speed in testing what works for your brand.
Overall, there isn't a one-size-fits-all approach. Success lies in a testing and learning strategy iterated across all channels. The trifecta of authenticity, cost-effectiveness, and the ability to quickly test different strategies makes it a golden opportunity.
---
What key performance indicators (KPIs) should brands prioritize?
There are two channels to consider:
#1 Paid media
Every aspect can be tracked with paid media. When it comes to video performance, the thumb-stop ratio, retention rate, view-through rate (VTR), click-to-purchase, and return on ad spend (ROAS) of each creative can be tracked. This helps to gain insight into why a particular creative is performing well.
For example, suppose one video exhibits a high thumb-stop ratio, indicating that around 50 percent of viewers stay engaged for the first few seconds. We can extract that hook and test it across other content pieces to validate its effectiveness.
#2 Organic social
We prioritize traffic and conversions with revenue-driven programs. Awareness and engagement are important, but in comparison, they take a secondary stance here. The primary focus is on content creators who influence actions. A performance-oriented mindset emphasizes measurable outcomes more than simply enhancing awareness and engagement.
---
Tell us about a standout client and your approach to achieving great results for their program.
We've been working on a successful program in the retail space for about a year. In the first six months of implementing the program, we reached out to approximately 8,000 influencers. Of those, 2,500 opted in, and about 1,000 were activated with their respective referral links. Out of those 1,000, 300 influencers consistently created content, resulting in $300,000+ monthly revenue.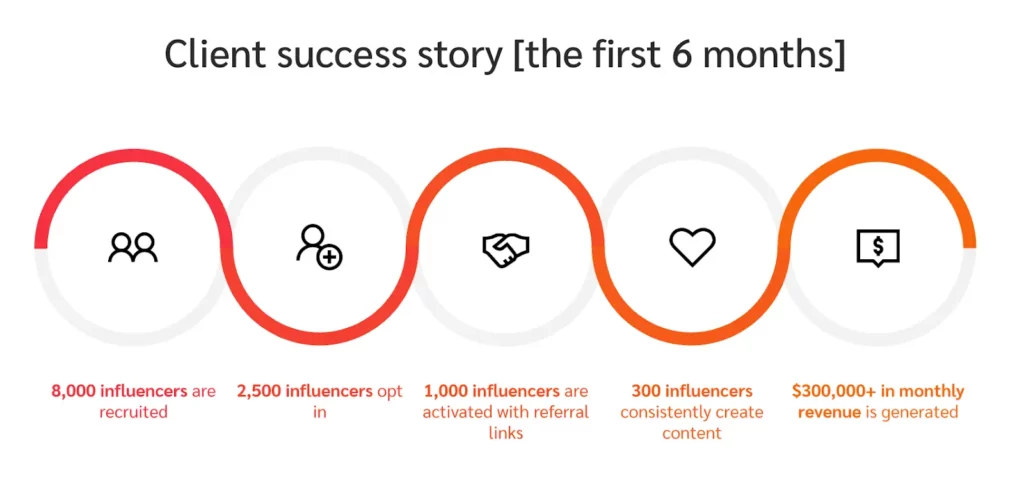 Several factors contributed to the success:
Branding the community
Employing the right tech stack
Scaling influencer recruitment
Investing in community management with dedicated support
Inspiring content creation to fuel engagement and conversions
---
How can brands optimize their affiliate or influencer marketing programs?
Prioritizing community-building and investing in the community is key for many reasons. Customers crave a brand that embraces a community-led approach. A community can become your ultimate marketing channel as creators seek involvement with a branded community. Unlike paid media, a community strategy scales revenue exponentially and enhances marketing tactics, making it an effective marketing channel.
As paid media becomes more costly and competitive, prioritizing community-building will emerge as winners. Leverage the power of influencers, affiliates, and actively engaged customers to establish a solid foundation for your brand's success.
---
To learn more about how creators and affiliates can drive brand growth, check out ZeroTo1's latest podcast with impact.com's Head of Affiliate and Partnerships Education, Coady Joy.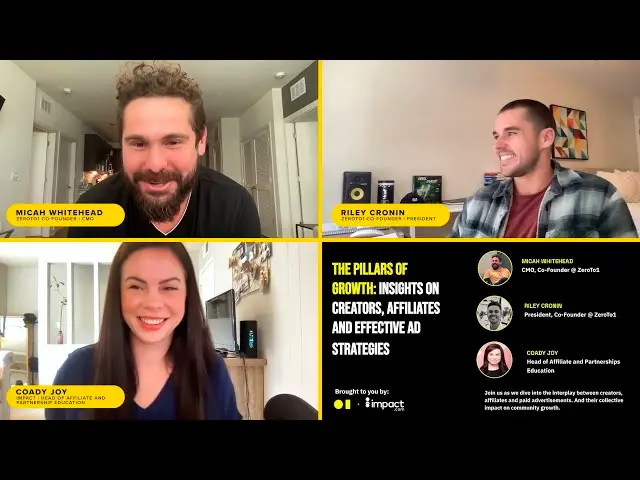 ---
Set your program up for success with a community-centered approach
As customers crave a community-led approach, brands prioritizing community-building and genuinely investing in their creator communities will come out on top as a community strategy scales revenue, making it an effective marketing channel.
Through branding the community, using the right tech platform, recruiting creators at scale, offering the right incentive structure, and implementing a creative strategy, content production, and community management, these key principles will set you up for success.
Visit ZeroTo1.co to learn more about how their team can help your brand with everything from creative strategy to ROI-focused influencer marketing and more—or book a meeting with director Connor Rodriguez.