back to all blogs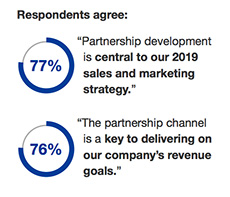 Partnerships are increasingly vital to accessing prospects and customers you might not otherwise reach—that's what results showed in a study Impact commissioned Forrester Consulting* to conduct with decision makers and practitioners responsible for partnership programs at 454 companies worldwide.
The goal was to understand how companies are leveraging partnerships to drive growth and competitive advantage and to identify the keys to success.
What successful partnership programs have in common
Companies are pursuing a broad range of business and technology initiatives to enable, engage, measure, and optimize the value and success of their partners, but according to the study, the most successful appear to have common characteristics:
A multifaceted approach. The fastest growing partnership programs embrace organizational agility, capitalize on diverse partnership models, and leverage technology to optimize partner management.


People, processes, technology, and breadth. Companies with the most mature programs (as measured in terms of people, processes, technology, and breadth):

Generate a greater share of their revenue from the partnership channel than low maturity companies—2.3x more, in fact
Drive faster revenue growth within the partnership channel (28% vs. 12%) and at the overall company level (28% of revenue vs. 18%)
Exceed stakeholder expectations on multiple business metrics more than companies with less mature partnership programs, including revenue: 78% vs. 27%, bottom-line profitability: 69% vs. 15%, and market valuation/stock price: 67% vs. 23%.



Multidisciplinary tools. Partnerships help companies dramatically scale their marketing and sales efforts, which is not without complexity. Respondents indicated that implementing automation technology to optimize partnership program execution and measurement is a top priority. As partnerships become increasingly crucial to revenue growth, organizations must develop an operational strategy and leverage the correct channel tools and organizational best practices to ensure partnership success.
Want to join the ranks of these successful companies and leverage partnerships for exponential revenue growth (it's true—companies with mature partnership programs generate nearly 2x more revenue)? Reach out to a growth specialist at sales@impact.com.
To learn more about investing in partnerships to drive growth and competitive advantage, access the full research study.
*Invest in Partnerships to Drive Growth and Competitive Advantage, a commissioned study conducted by Forrester Consulting on behalf of Impact Tech, May 2019

back to all blogs