Today, impact.com joins forces with SaaSquatch to become SaaSquatch by impact.com. SaaSquatch is a referral marketing platform that empowers brands to transform customers into loyal advocates through authentic word of mouth.
Referral marketing is a cost-effective approach that taps into the trust and loyalty of existing customers to attract new ones. By incentivizing customers, you can turn them into brand advocates that power business growth.
The evolving consumer landscape makes referral marketing relevant
In the past, a flashy ad captured consumer attention. However, today's buyer demands more from brands, and they vet products heavily through online reviews and extensive research before committing to a purchase.
This means trust is paramount in the age of modern consumerism. People are no longer swayed by messages straight from a brand's mouth. They want the unfiltered truth, conveyed by individuals they trust implicitly.
So they turn to 3rd parties—family and friends, review sites, forums, and social media—to get the scoop. This works to a brand's advantage because consumers are far more likely to become advocates for the products they use.
That's why customer referral programs offer a low-investment, high-return strategy to increase brand awareness, leads, and conversions.
Think about it. If customers love your products, they're talking about them any chance they get. So why not incentivize them for these word-of-mouth recommendations?
Savvy brands are already cashing in on referral strategies—referral leads have a 30 percent higher conversion rate than other marketing channels.
But, referral marketing comes with challenges. Attracting the right customers, and accurately tracking and attributing are among marketers' most significant obstacles.
With SaaSquatch by impact.com, brands gain the flexibility to manage the most advanced referral programs. You can track and encourage almost any customer behavior, such as sign-ups, purchases, product usage, and more.
The platform allows you to:
Fully automate referral programs
Incentivize with multiple reward types
Customize and scale programs to fit your business needs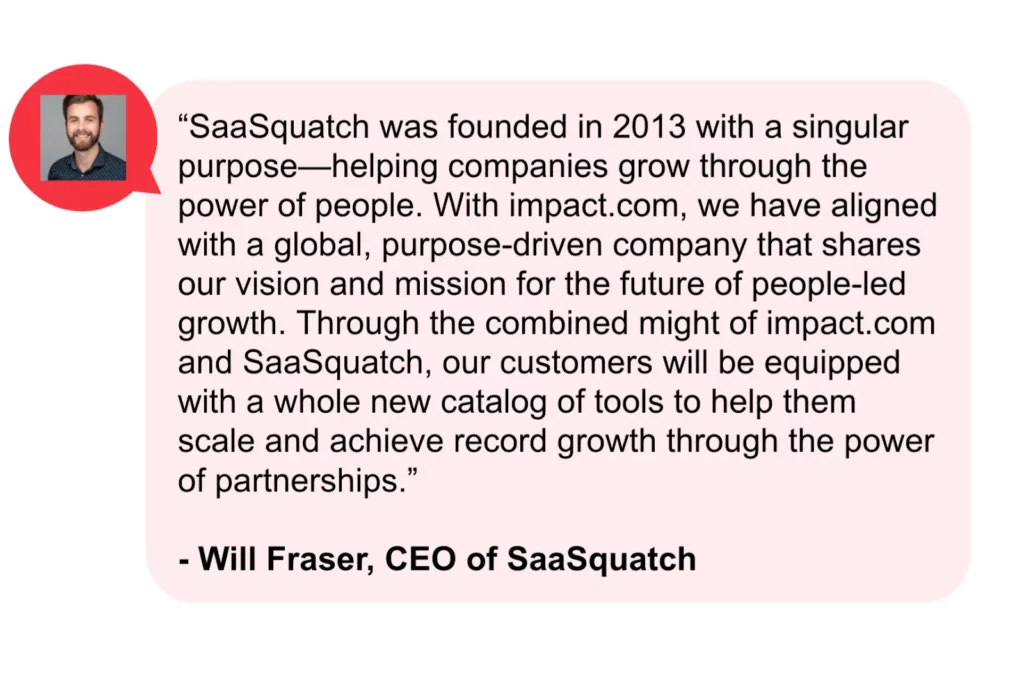 SaaSquatch's referral software enhances the partnership ecosystem of impact.com. The acquisition allows marketers and brands to tap into their customers' influence, and create a one-stop shop for managing all partnership types.
6 ways brands can optimize referral programs with SaaSquatch by impact.com
Adding SaaSquatch to the impact.com platform has benefits for brands and their customers. Brands can easily engage with customers and reward them with enticing incentives. The customization and tracking capabilities make it easier than before to optimize referral programs for success.
Build custom referral experiences. Use builders to create on-brand emails, widgets, and microsites. Add additional elements, such as leaderboards to encourage customers to refer more.
Meet customers where they are. Customizable widgets allow you to embed your program at key moments for customers. For instance, add widgets to apps, website pages, and landing pages like the 'thank you' page after someone makes a purchase.
Incentivize customers with rewards they want. Reward both the referred and referring user with personalized incentives. These rewards include gift cards, points, credit, discounts, product features and upgrades, custom rewards, and cash through third-party integrations.
Engage customers at every step: Run fully automated programs that reach customers at any stage of their journey with flexible APIs. Encourage any action, such as free trial signups, purchases, account activations, and more.
Save valuable time with automated workflows: Set up automated workflows that manage everything from tracking who referred who to paying out rewards.
Track, monitor, and optimize. Pull reports directly from the analytics dashboard to measure the performance of your programs. Monitor engagement, revenue generated, and more. Easily optimize and adjust your program's graphics, messages, and incentives without developer support.
Integrate referral marketing tools for a winning referral program
SaaSquatch by impact.com allows brands to run fully automated referral campaigns that track, report, reward, and engage customers at every stage in the funnel. These new capabilities cement impact.com's position as a comprehensive partnership suite in the market.
Using referral marketing software like SaaSquatch by impact.com makes it easy to incentivize customers to become brand advocates that fuel business growth.
Ready to start a successful customer referral program? Request a demo today.
If you're a retail brand ready to learn more about customer referral marketing, check out 7 referral marketing strategies to grow your retail business [+stand-out brand examples]
FAQs about referral marketing and SaaSquatch
What is referral marketing? 
Referral marketing is when businesses incentivize customers to recommend their products or services to others. It's a comprehensive strategy that encourages passionate customers and brand advocates to directly refer their inner network to your business.
How can referral marketing benefit your business?
Referred customers are more likely to convert and become engaged, loyal patrons. Personalized marketing, data insights, and scalability further contribute to its value. With its positive impact on brand perception and competitive advantage, referral marketing is a big growth driver in the modern business landscape.
What is SaaSquatch by impact.com? 
SaaSquatch is a powerful referral marketing software that allows marketers and brands to create custom and fully-automated referral programs that engage customers in the right way, in the right place, with the right offer. Resulting in winning referral experiences that drive more new and recurring revenue for low costs.
Use the platform to:
– Target high-value customers
– Increase customer lifetime value
– Drive more sales 
What are the features of SaaSquatch by impact.com?
1. Fully customizable elements, such as on-brand emails, widgets, and microsites and leaderboards 
2. Meet customers wherever they are by embedding your program at key moments for customers.
3. Give customers rewards they actually want, such as gift cards, points, credit, discounts, product features and upgrades, custom rewards, and cash back. 
4. Interact with customers at every stage of the buyer's journey to encourage actions, such as free trial signups, purchases, account activations, and more.
5. Automated workflows and easy-to-use features allow you to track who needs to get paid, update graphics, messages, and incentives without developer support. 
6. Detailed reporting functions to track, monitor and optimize your referral program.