Ashley LeMieux, the cofounder of CreatorSource, started her business before creator businesses existed. With a passion for writing, she began blogging to build an online community for women.
"From the very beginning, I wondered if there was a way to monetize this," Ashley says. "I had a large audience, and I wanted to focus on them full-time. How could I make this possible?"
She sold sidebar ads on her blog for $50, making enough to cover rent in college. Since then, she's witnessed the expansion of the creator business and now draws on her grief expertise to run a thriving business to support women with tools and resources so they can move forward and heal.
Along the way, she authored multiple books and built long-term partnerships with brands that aligned with her vision and audience. She is also the new co-founder of CreatorSource, taking a multiple-tiered approach to support creators as they grow their businesses.
Though she began creating content for Instagram when social media businesses were barely on the cusp, she didn't back down from tough challenges in an evolving industry. Without a guidebook in hand or anyone forging the path ahead of her—Ashley decided to build her own processes and rulebook.
Kellie Davis, impact.com's Director of Content, sat down with Ashley to find out:
How she started with brand partnerships
How authenticity shaped her brand partnerships from day one
How she turned a blog into a professional business by learning every job
How other creators can build a solid personal brand through partnerships
Forging the path for early brand partnerships
Not long after Instagram hit the app store, Ashley adopted the platform to connect with her audience.
"I love that as a touch point of meeting women looking for the specific message that I share," Ashley says.
She designed a newsletter to extend her followers' content experience, which forged a deeper bond with her audience. "It feels like we're chatting with our girlfriends every week," as Ashley describes her emails.
As she grew her community, Ashley began hosting events and offering courses to address the specific needs of her audience. She soon added another layer of support by sharing recommended products from brands that aligned with her work—the first step toward what turned into high-value brand partnerships.
"A decade ago, I was just scrapping my way, just trying to get anything to stick," Ashley remembers. "It's so different than it was in the beginning, and I'm so grateful for that. But it's taken a lot of work to get here now."
Ashley admits that today's creators don't realize how lucky they are. "Not that long ago, brands weren't putting dollars behind creators like they are now." At the time, creators and brands were simultaneously trying to figure out what we now call influencer marketing.
"In the beginning, it was hard to convince a brand to spend their money."
Here's how she describes the experience:
Soon, brand partners started to trickle in. "It's been so great to have support from brand partners who want to reach these women who are in my audience because it helps serve the work that I'm doing," Ashley says. " It helps move things forward, especially with canceled events over the past couple of years."
Like many creators, the pandemic changed the course of her business. Her online presence allowed a quick pivot to forge stronger brand partnerships to connect with her community.
"After 2020, brand partnerships really took the front seat on how income was being generated through my online platform."
Staying authentic with partnerships: values don't have a price tag
Today, brands frequently approach Ashley. "I'm in this really fun spot where I can choose what brands I want to partner with, be associated with, and create room for," she explains.
Ashley urges creators to stay true to themselves in an industry that survives and thrives by authenticity. She has learned this alignment is the only way to connect best with and serve your audience.
When she first started partnering with brands, she knew she didn't want to work with brands that didn't align with her values, likes, and recommendations. "Because a lot of my audience has been with me for so long, we've built this trust."
Trust is one thing a creator can't compromise because it's what a personal brand is built on.
"In picking and choosing partners that are the best fits, sometimes I say no," Ashley says. "When I say no to some brands, it's because I know that there's a better fit out there to present to my audience," she continues.
PRO TIP
Don't compromise your values.
It takes a long time to build audience trust, and it's the most important asset to protect once you have it. Only align with brands and partnerships that align with your principles. If it's not the right fit, pass.
Growing a creator business starts with foundational blocks
Ashley's business wasn't an overnight success. She spent a decade fine-tuning skills that weren't readily offered to creators. "I had to learn how to pitch, how to manage myself, how to negotiate, how to email brands, how to DM brands, and how to increase my engagement on social media so that brands would want to work with me," Ashley explains.
As her business grew, she realized it wasn't a one-woman operation. "I started getting so many brand deals that I couldn't be the only one in charge, especially as the brand deals got bigger and my reach grew," she recalls. " I knew I needed people who knew more than me to help support the growth." she continues. "That's when things really started shifting."
Ashley had to build her foundation to take on larger brand partnerships. "I think about the past decade, and it feels like it's been one building block after another," she explains.
Ashley explains this process here:
Having the tough payment negotiation talks with brands
Negotiating payments is one of the toughest challenges for creators in brand partnerships. Ashley recommends starting the conversation by asking what the campaign's outcome should be, and work backward from there.
"A lot of times when a brand approaches you, they ask for your fee as one of the first questions," Ashley notes. "It's easier to give them something to hold on to rather than just a number," she explains.
PRO TIP
Win business in 3 simple steps:
1. Define what the brand wants as the campaign outcome
2. Ask for their budget
3. Present the package that fulfills both needs
With these three simple steps, you save a lot of headaches. "When you give your number right away too soon, without knowing what they really want or their budget, you can underprice yourself,"Ashley warns. "Or you can overprice yourself and have them not even respond to you because they will choose other people to replace you who are better fits."
How to go from side hustle to professional creator
Ashley sees people who love sharing their content to engage their audiences, but haven't figured out how to work with brands.
"Creators are trying to get through this gate-kept industry where no one's sharing their pricing, no one's sharing their contacts or secrets," says Ashley. To help solve this problem, she co-founded CreatorSource, which provides creators with the tools to price themselves and confidently negotiate brand deals.
CreatorSource builds each creator a custom game plan with tools and strategies to create consistent income through brand deals. These tools and strategies have generated over $32M in brand deals.
"It helps bridge the gap between where a creator is, and where they want to be," she says. She provides her clients with the processes and strategies she refined through trial and error as an early industry adopter.
"I have tried and tested all these skills and resources, and proven them to work over the past decade," Ashley says. "It gives the creator the tools right away to start monetizing," she adds.
Seeing these creators sign their first brand deals ignited my fire. I see their excitement to buy a whole month of groceries for their family or pay rent for two months off one deal on the first deal they signed.
How creator agencies can make perfect partner matches
In the past couple of years, Ashley noticed agencies appearing in her inbox to facilitate brand partnerships. "Suddenly I would have agencies reaching out, pitching me brand deals instead of the brands reaching out to me directly," she recalls. "I realized that if I could form a strong, trusting relationship with brands through these agencies."
She now relies on her close agency relationships to forge new brand partnerships. "Deals flow so much better because I'm working with an inside person. We trust each other and work well together," she continues.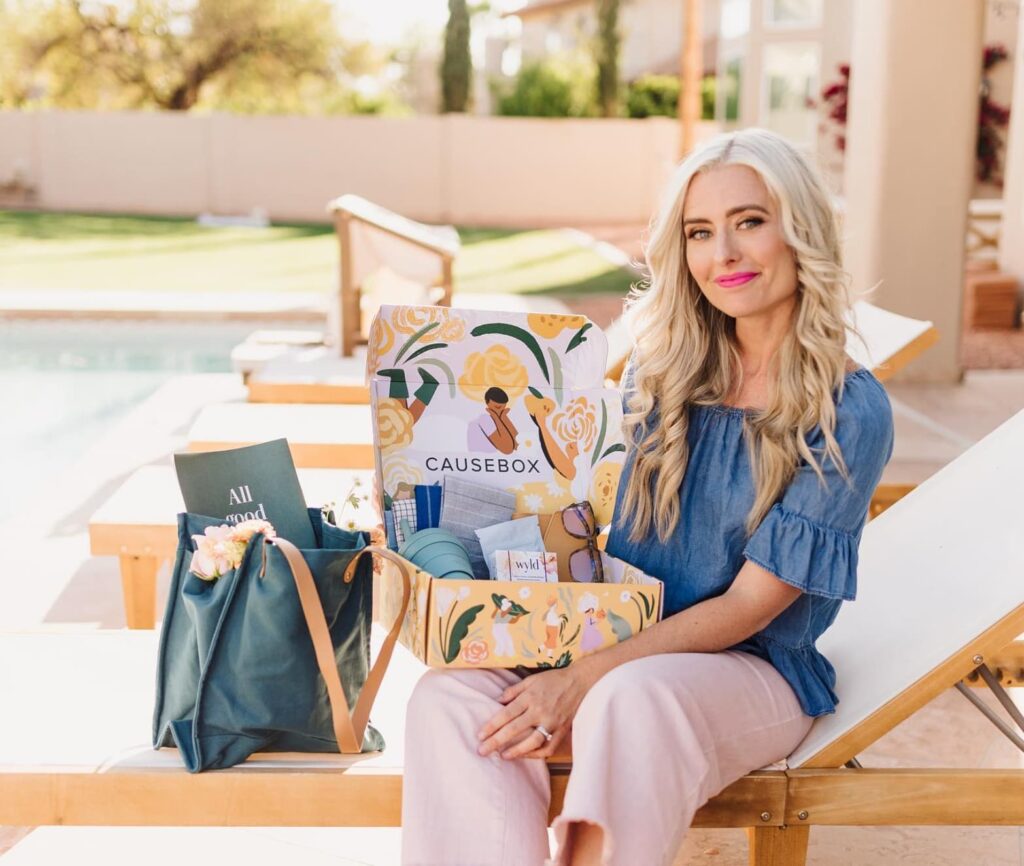 "I know they're only sending me legit great brand deals, and on their side they knew that I was going to hit my deadlines and get a good ROI (return on investment) for their brand."
Creator marketing is still fairly new to brands. Agencies can work to bridge the communication gap and clarify expectations for campaigns. With an agency by her side Ashley says, "I understand what a brand wanted from me, what those expectations are, and how an agency partner could handle that side."
PRO TIP
Read the fine print.
You need to know what you're signing in a contract. You're putting your name on things tied to you for a very long time.
Leverage tech to find brands for long-term success
Ashley also relies on tech like impact.com to introduce vetted and verified brands. Her first partnership through the platform lasted a full year after working on a single campaign together.
"We ran one campaign, and it went so well we ran another. Soon we just like kept going," she recalls.
Having support from the marketplace inside impact.com allowed brands to discover and engage with her and led to long-term campaigns for products that aligned with her audience and supported her work.
"It was amazing for my business and also my confidence in knowing how to work with brands without feeling like I was on my own."
"I love impact.com. I have been a part of the marketplace for at least five years now. In the beginning, I was trying to figure out: How do I interact with brands? How do we reach each other? Having impact.com helped solve that problem for me. It was so impactful because I connected with brands that I really love and wanted to work with within the impact.com marketplace to create great relationships together."
Where influencer marketing and creator partnerships are headed
"In the past 12 months, I feel like many brands want longer-term relationships," says Ashley. "I have also seen that a brand wants to make sure that you're going to be a good fit to drive what they want before they commit to a year."
Often her biggest deals started with a one-time campaign that had great results. "It's a win-win for both the creator and also the brand."
Ashley believes brands benefit from rather than forming one-off campaigns with multiple partners. "If you can prove to the brand that it's a product or a service that your audience is wanting, and it's going to respond well, you'll increase the chances of the brand resigning you," she says.
As for the future of this creator economy? Ashley's excitement is contagious:
With the right tools and partners at your side, those dream partnerships are yours to grow and monetize.
Creators can join impact.com's marketplace to find their best brand matches today. Learn more here.
Learn more about Ashley: