Navigating the world of content creation can feel a bit like spinning plates. On one hand, you're bursting with creative energy. But on the other, you're trying to seal the deal with that dream brand.
Sound familiar? It's a tricky balance, but you can keep all your plates in the air without compromising on the quality of your content.
Drawing on the latest insights from impact.com, below are practical tips and strategies to connect deeper with your audience while boosting buyer intent (how likely someone is to purchase).
Whether you're a seasoned influencer or just starting out, you can create content that draws in followers and makes brands notice.
Key takeaways
Trust is your superpower as a content creator—it boosts purchase intent and your value as a partner
Crank up the authenticity by sharing firsthand experiences with products you love
Dangle some carrots with discounts, free shipping, and deals
Collab with the brands that make your heart skip a beat and use your know-how to helpful content
The secret to getting buy-in from your audience
Buyer intent is the crystal ball of consumer behavior. Get it right and you can gauge the likelihood that someone will purchase a product.
Brands use this strategy to decode the path a consumer takes to making a purchase. This roadmap helps them figure out how to nudge consumers towards buying.
Once you get this, you become a superhero for your brand partners by:
Better understanding your role as a brand collaborator
Boosting sales for your brand partners
Identifying exactly how to get results
Why does this matter?
Because you can use your unique skills to your advantage. After all, you carved out a pretty cool niche and attracted an audience because of your expertise and passion.
Research tells us that most people (58%) follow creators for entertainment content (of course). But a significant number also seek out creators who echo their passions.
The same report found that 37% look up to social media influencers for inspiration (naturally). And 41% hit the follow button when the content resonates with their interests or passions.
Source: The State of Influencer Marketing for Consumers in 2023
You aspire to land those winning brand collabs—the perfect combo of value alignment and fair compensation. So, what's the key to these partnerships?
Cultivating an engaged and trusting audience.
A cool 89% of consumers listen to recommendations from people they know. But this doesn't mean posting attention-grabbing photos to get likes. Followers need motivation to buy.
High conversion rates indicate an influencer's value in the eyes of brands—over half of marketers agree.
Why being a trusted creator matters
Building an audience kickstarts a feedback loop:
More people buy based on your recommendations
Brands notice your impact
Brands bump up commission rates and bring fresh opportunities to the table
Your income gets a boost
Your content quality amps up, and your audience grows—repeating the cycle
No matter how catchy your videos or how punchy your captions, you won't get far without trust. Create a solid rep with your followers—they're your golden ticket.
What makes you trustworthy?
You can't snap your fingers and manifest trust, but you can build it over time.
The impact.com research report highlights the key traits people mention when deciding if an influencer is trustworthy. Embrace these traits to connect with your followers and add weight to brand recommendations:
Source: The State of Influencer Marketing for Consumers in 2023
4 ways creators can supercharge purchase intent
On top of focusing on audience trust, there are other core ways you can further buyer intent.
1. Hook your audience with detailed product demos and reviews
You know those flashy ads we all love to ignore? They no longer drive purchases they way they used to—and brands know it. Authentic, in-depth reviews can cut through the noise. That's because people listen to people, not brands.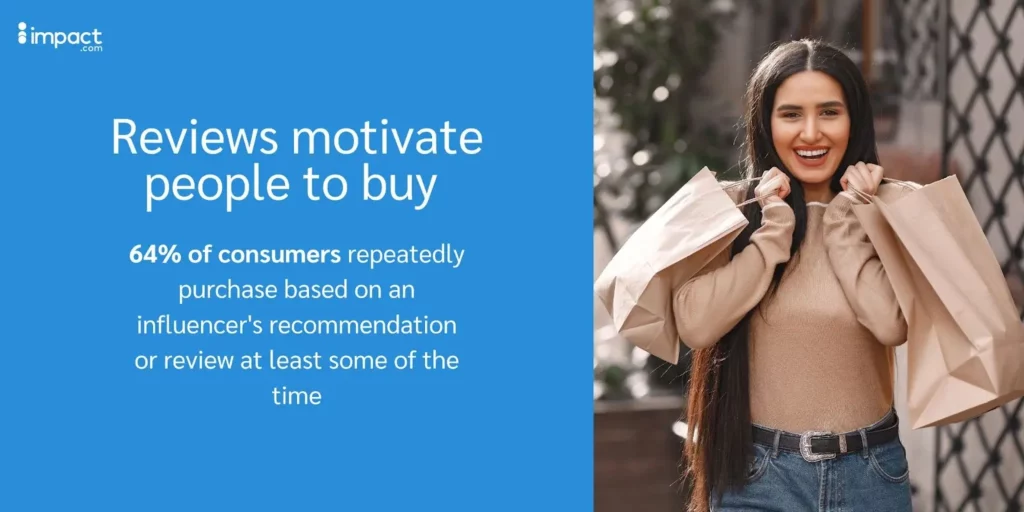 Source: The State of Influencer Marketing for Consumers in 2023
Embrace your unique flair. The less your reviews seem like generic recommendations, the better. Your audience is here for you. Your quirk, charm, and style will make your reviews a hit.
Get detailed, get practical, and most importantly, get hands-on. One in three people are likelier to buy when they see a product demonstration.
2. Introduce your audience to problem-solving brands
Your audience yearns for solutions, and guess what? You're their superhero. Over half of consumers enjoy soaking up knowledge from expert advice or guides.
The more you understand your followers, the more relevant your content will be. Dig deep into their world, uncover their needs, and show how the product connects to their life—then watch those sales for your brand partners soar.
Two Wandering Soles turned up the heat with Havelock Sheep's Wool Insulation, helping their audience dial up the cozy while solving a common camper van problem.
3. Score exclusive discounts, offers, and promotions
Here's the scoop: people love saving money (shocker, right?).
Discounts make your followers feel like they're in a secret club, getting exclusive deals directly from you. Plus, they're more likely to buy something new or on recommendation with an extra incentive.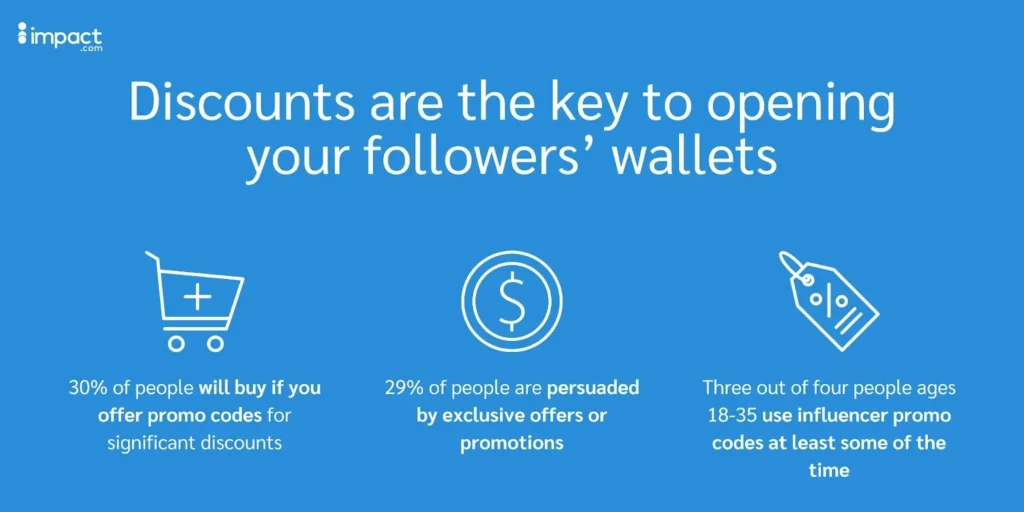 Source: The State of Influencer Marketing for Consumers in 2023
Even during tough economic times, research shows that helping people save money boosts trust and motivates them to purchase.
With partnership management tools such as impact.com / creator, you can offer your audience exclusive discounts and promo codes in a snap. Quickly discover brands that offer great deals and scale up your efforts without breaking a sweat.

LittleTechGirl uses a winning combo of Black Friday deals and exclusive promo codes to encourage GreenStalk purchases.
4. Treat your audience to free delivery
For a quarter of consumers, free shipping is a game-changer. Like promo codes and discounts, free delivery makes your audience feel like VIPs.
By partnering with brands that offer free shipping, you'll boost sales and show off your value to followers.

Pro tip: Remember to flex your negotiation skills to score free shipping deals with brands. Use reporting to prove that the offer drives more conversions.
Balanced Friends incorporates a free shipping offer into their blog post about toxin-free coffee.
Making product reviews feel more authentic
You don't want your reviews to blend in with the crowd. When you approach reviews from a place of authenticity, your voice makes an impact.
Don't hide your brand relationships. Over 90% of people recognize when posts contain advertisements (at least some of the time). The FTC also monitors for creators who don't disclose brand deals—so make sure you follow the law.
Don't overwhelm your audience with promotions. Find the right balance by weaving recommendations into your content.

Align with Google's recent product review update—it'll boost your visibility.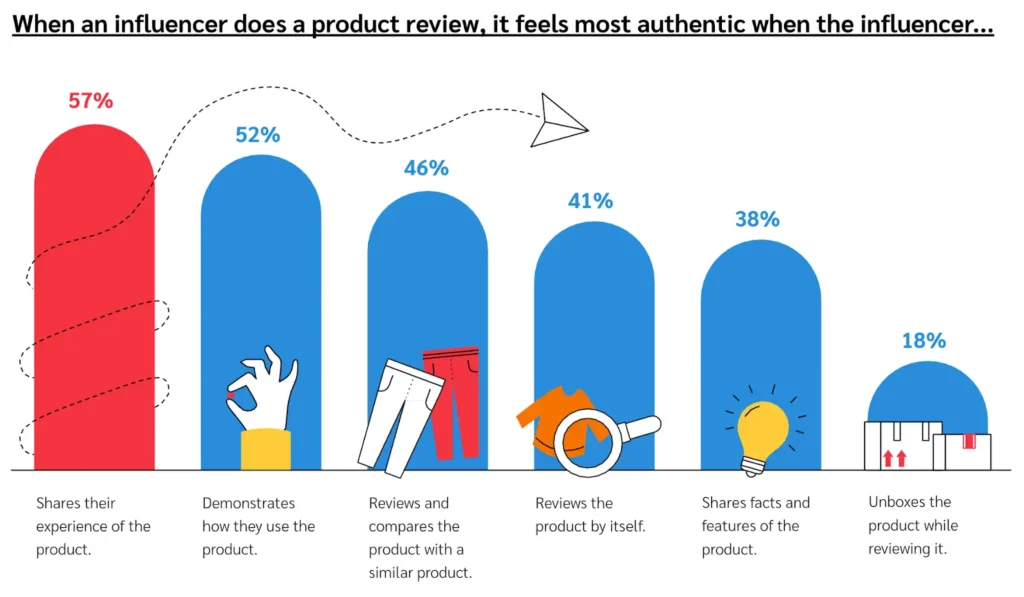 Source: The State of Influencer Marketing for Consumers in 2023
Share your first-hand experience
People want to see themselves in their fav creators: over 60% of consumers trust influencers they relate to.
Show how products can impact followers' lives by opening up and sharing your unique experience with real-world examples. Your audience wants to see more than product specs.
FiftyPlusBeauty relatable review of iRestore shares her hair growth results, how she uses the device, and even home storage.
Show your expertise
Lead with your qualifications and expertise. Show how the product stacks up against the competition and highlight the unique benefits. Over half of people value educational content the most, such as tutorials and advice content.
But here's the scoop: Different demographics dig different things. Take millennials, for example. 60% of them trust the opinions of specialists who promote products in their industry.
Get to know your audience, then use that knowledge to create an editorial calendar of content that'll have them begging for more.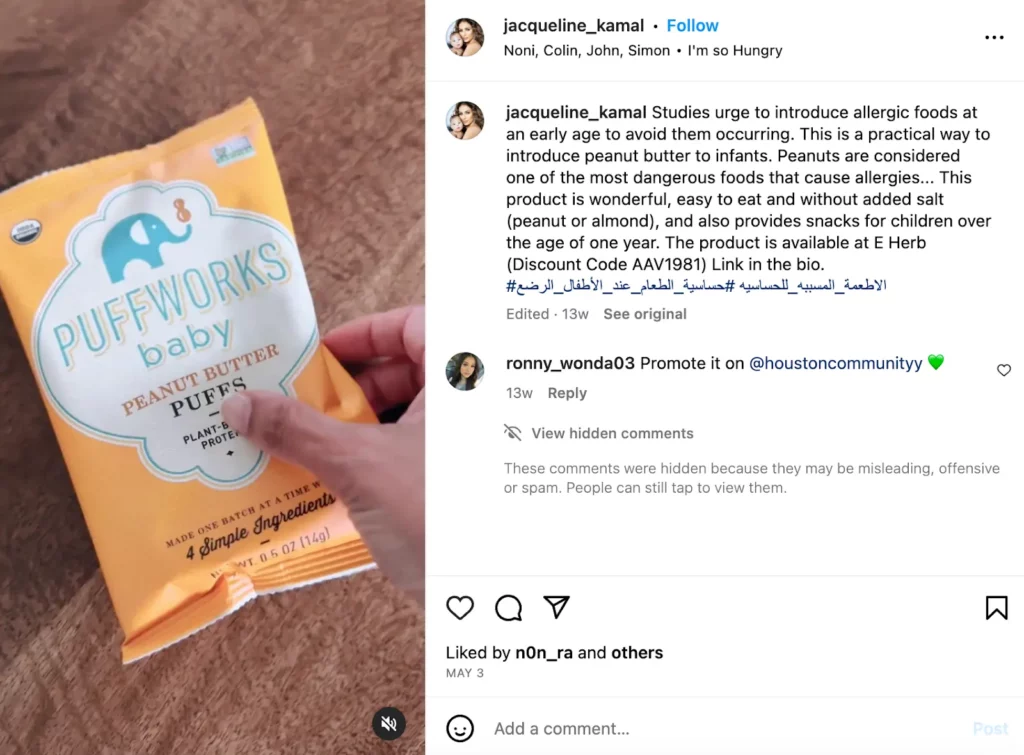 Jacqueline Kamal sprinkles her pediatric expertise into her product reviews to add more substance.
Partner with brands you love
Promotions feel seamless when you love the brand or product. 40% of people said the most authentic influencers genuinely care about the products they endorse.
Avoid partnering with brands that don't ignite your passion—it can compromise your integrity in the eyes of your audience. Instead, team up with brands you can wholeheartedly recommend. Your savvy followers can tell the difference!
Source: The State of Influencer Marketing for Consumers in 2023
Choose your partners wisely to avoid overwhelming your followers. Only 35% find influencers who post daily authentic, but 43% see influencers who post two to three times a week as more genuine. Make smart relationships and post strategically to preserve trust.
Nom Nom Paleo found the perfect match in partnership heaven with the Instant Pot—a brand she's incorporated into her recipes for years.
---
Frequently Asked Questions
1. Does price affect buyer intent?
Studies show that price can seriously sway buyer intent. When times are tough, consumers go gaga for incentives such as discounts and special offers. 
Creators can make bank by partnering with brands offering exclusive deals and promo codes. Free shipping also makes it more likely that consumers will buy from an influencer, according to impact.com research.  
2. What factors motivate people to finalize purchases?
A few factors drive people to check out. 

People like products that:
– Save time  
– Save (or make) money 
– Inspire happiness, pleasure, or fulfillment
– Ease discomfort, pain, or fear

Tap into your expertise and know your audience. Show how a product checks one or more the boxes above and your audience will click "buy" in no time.
3. Why is purchase intention important?
As a creator, you've earned your audience's trust. Brands want to tap into that trust to boost sales. You become a prized partner when you raise your audience's purchase intent. You can then request higher commissions, make more money, and create even better content.   
---
Leaning into what consumers want from creators
Boosting your audience's buyer intent can feel like walking a tightrope. But it all boils down to three things:
Gain audience trust to make reviews and recommendations worth their weight in gold
Make your promotions personal, well-informed, and transparent to maintain your followers' trust
Team up with brand partners you love to make your posts feel genuine
You don't have to lose your agency or voice to earn better commissions. Embrace what makes you unique while delivering maximum value.
Check out impact.com's in-depth research report to dive deeper into influencer marketing.
Join the community today and collaborate with more of the top brands you love! Sign up for the impact.com Marketplace.