You've created your business strategy, gotten your budget approved, and you're well on your way to creating a successful SaaS affiliate marketing program — you just need to find the right platform to help you manage it all.
The right technology can help you better manage partner communication, keep track of contracts and results, and make it easier to scale your program. But with so many different tools on the market, selecting a tool with the right features can be complicated.
Choosing the most suitable solution for your partnership management needs requires you to weigh several factors, ranging from price to feature set. But before you start weighing the pros and cons of different tools, you need to ask one important question: do you need a SaaS affiliate marketing platform or a network?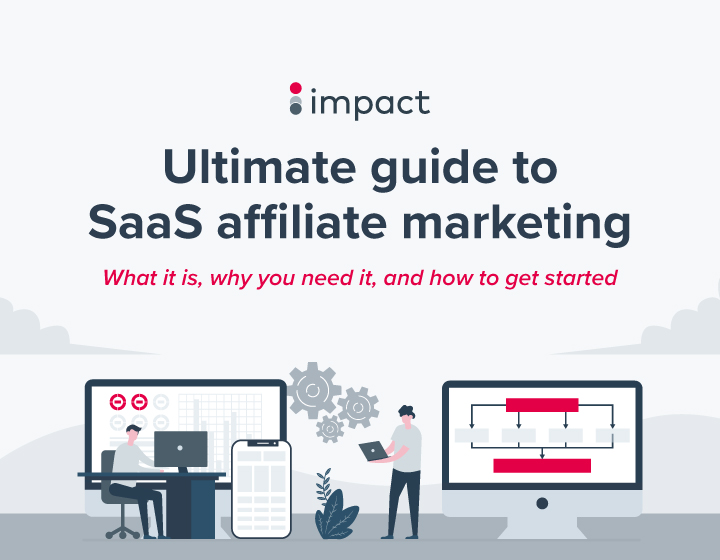 Ultimate guide to SaaS affiliate marketing
Get a crash course in starting your affiliate program. Download our ebook: Ultimate guide to SaaS affiliate marketing to learn everything you need to get your program up and running.
Get my free ebook
What's the difference between SaaS platforms vs. affiliate networks?
Affiliate marketing is typically managed through either affiliate networks or a partnership management platform. Here's the difference:
Affiliate networks put you in touch with the affiliates in the network, and many act as an intermediary facilitating the relationship between you and your partners. However, the quality of service varies widely between networks and sometimes even within the same network.

These networks may restrict clients to the partners in the network, which may include a diverse range of partnership types. Traditional affiliate networks can come with inflexible contracts that constrain a brand's capacity to move and scale efficiently.

A partnership management platform removes the middle man so you can manage connections and contracts directly with your affiliate partners. Direct partner relationships allow you to freely communicate with partners and make the best decisions for your program, with no intermediary in between.
A partnership management platform gives you total control over the partner experience and gives you full access to affiliate data to make tracking and evaluating performance easy. Unlike affiliate networks, a SaaS platform allows you to work with all partner types such as influencers and mobile partners — not just the traditional affiliate partners already on the platform.
How to choose between a SaaS platform vs. affiliate network
There isn't a one-size-fits-all recommendation when deciding between a platform or a network. Consider these questions as you weigh your options:
What's the cost, and how do they charge? You want the best return on your investment, so look for a solution with transparent pricing and make sure that the features and support match the cost of the service. But keep an eye on how the service charges. You may be better served by a transparent, flat-rate SaaS solution or a network that charges an override (network) fee, depending on your needs and budget considerations. Be aware of hidden costs, like additional fees or price hikes for new or upgraded features.

What level of control do I need? Many people see networks as a "set it and forget it" solution, though it doesn't always work this way. You're dependent on a middleman to communicate and manage your partnerships, which means your experience is only as strong as the middleman you're working with. A SaaS platform empowers the user by automating and simplifying the partnership process while providing more freedom and direct control.

Will I have access to the information I need? Similarly, you often rely on your account manager at the network to assist you with reporting and analysis. As long as this intermediary remains attentive and responsive, you'll have the information you need. SaaS platforms simply remove the obstacle between you and your program's data. Users can run reports without limitations.

How will this service help connect me with the partners I need? Some networks focus on a specific niche of affiliates who connect you to the perfect audience. SaaS platforms like impact.com have partner discovery tools that help you find the perfect partners outside of a network's radar. Ask yourself which of these tools will benefit your program the most.

How does the service protect against affiliate fraud? Sometimes things go wrong and knowing how your service protects and supports you in the event of fraud can help avoid major headaches. Ask questions about who is responsible or liable for fraud and if they have any insurance policies or procedures in place for protecting partners.
What key features to look out for in a SaaS affiliate platform?
No matter where you fall on the above questions, at a minimum you need a centralized location where you manage your partnerships. The features the platform has will determine the experience, success, and scalability of your affiliate program.
The nature of the sales cycle for a SaaS product isn't linear, so it's important that the platform connects with your CRM. For a SaaS company, leads come in from a few directions:
Marketing efforts
Your sales team
A self-serve platform
Self-serve, product-led sales go through a separate, unique process. By ensuring your platforms are able to communicate with each other, you simplify sales tracking.
Without a CRM integration, the contribution that your partners make toward landing the conversion may fall through the cracks between your partnership platform and CRM. Properly compensated partners turn into happy partners, and happy partners will work harder to promote your service.
Other important functions include:
Allowing partners to submit leads. Drives warm leads to your sales team.
An asset and resource repository. Equip your partners with everything they need to effectively market your business.
A resource area for training and certifying your partners. Better trained partners become more capable partners.
Flexible contracts. Create and send a custom contract in minutes without having to wait for legal to review.
Robust reporting around the status of submitted leads. In-depth reporting gives you crucial insight into your partnership program.
The impact.com partnership management platform has all of these features and more. Choosing impact.com as your SaaS affiliate platform can set you up for success and help you build a partnership program able to grow with your business.
Are you ready to see how impact.com's platform helps you cultivate and grow a strong partnership program? Reach out to a growth technologist at grow@impact.com or request a demo to see the platform in action.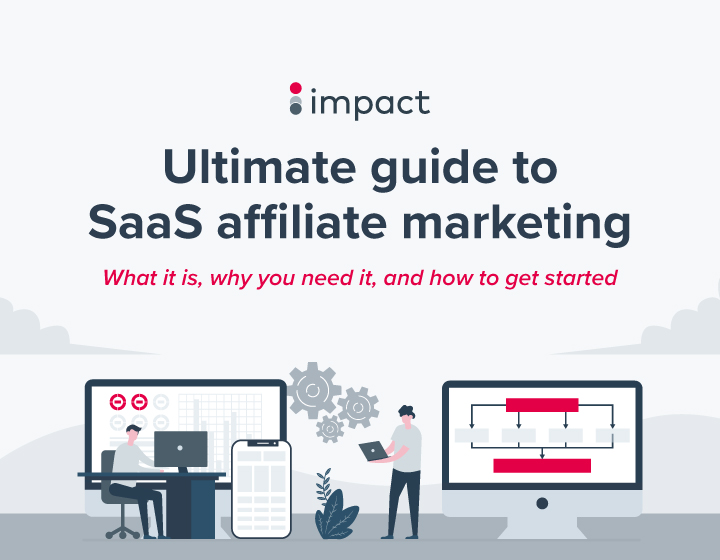 Ultimate guide to SaaS affiliate marketing
Get a crash course in starting your affiliate program. Download our ebook: Ultimate guide to SaaS affiliate marketing to learn everything you need to get your program up and running.
Get my free ebook
Want to know more about building affiliate programs for SaaS brands? Check out these resources: