You spend a great deal of time setting up your affiliate program. No attention to detail is left out, from creating promotional assets to investing in a partnership tracking platform. But what if you build it only to find out no one signs up?
That scenario may be a real possibility if you don't take one of the most crucial steps in successful affiliate marketing — developing a stellar affiliate program landing page.
Your promotional page provides the first impression to potential partners. It aims to convince potential partners to join your program by: 
Selling the benefits of being one of your affiliate partners
Telling affiliate partners everything they need to know about how your affiliate program works 
Highlighting ways you will facilitate partner growth and success
With the right strategy and a little inspiration, you can launch a winning affiliate landing page that attracts the right audience and gets them excited to work with you.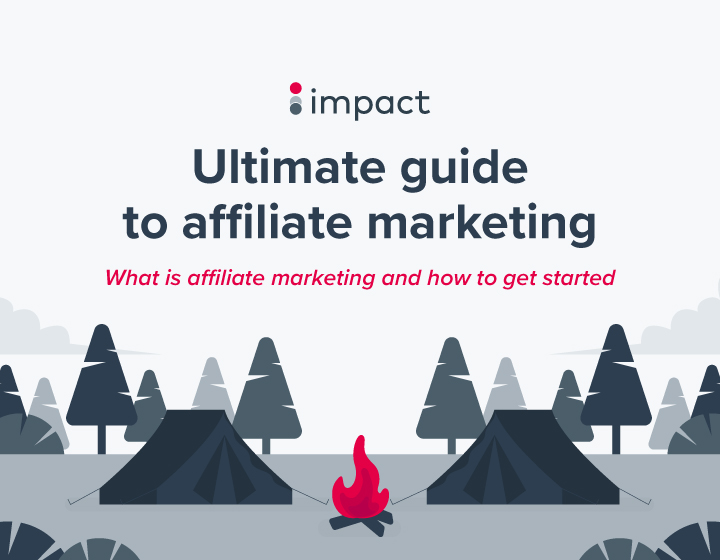 Ultimate guide to affiliate marketing
Did you know affiliate marketing can deliver up to 30 percent of total revenue? Learn everything you need to know about affiliate marketing to drive business growth.
Get my free guide
Checklist to supercharge your affiliate marketing landing page
After reading your affiliate marketing landing page, affiliates should be motivated to sign up for your program without hesitation. To attract and convert affiliates, implement the following landing page tips:
Dress your landing page for success

Make a compelling pitch

Get down to the details
1. Dress your landing page for success 
First impressions matter. So, be thoughtful about structuring and formatting your affiliate landing page to direct and give potential affiliates enough information and reason to prompt sign-ups.
– Make your signup page stand out
Make your affiliate program page easily discoverable by linking it to your website in a place where potential partners will see it. Place a link to your affiliate sign-up page in the footer of your website and be strategic about promoting your program, like:
Putting a link in your website header
Promoting the program/page in your marketing communications (i.e., social media posts, emails, etc.)
– Supplement with motivating content 
You can include two optional pieces of content to optimize your landing page:
Promotional video: While some people prefer to consume information via text, others prefer videos. Enable prospective partners to learn about your program using their preferred methods.
Frequently asked questions: You can eliminate confusion and increase partner conversions by addressing common questions about your program to help prospective partners find and retain the information.
– Use a convincing call-to-action
Direct potential partners with the next steps for joining your program. Let them know what to expect by clearly spelling out information such as:
What forms to fill out
How long the approval process will take
What will happen once they get approved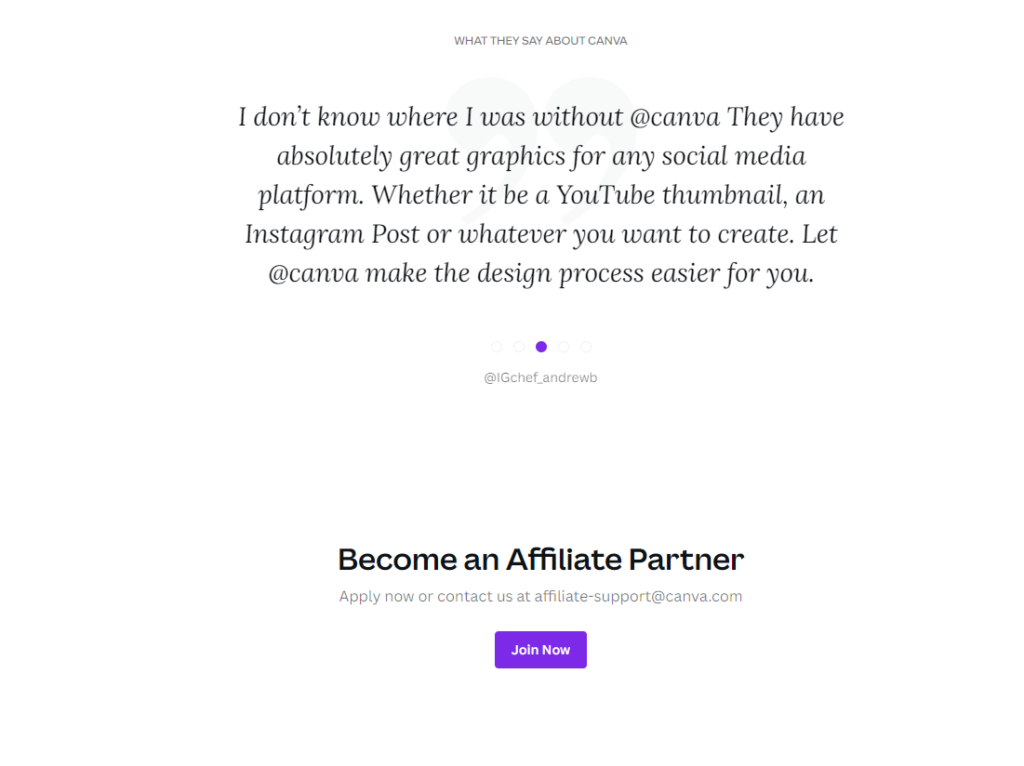 Include an eye-catching CTA button with action-oriented copy (e.g., "Join Now," "Join the Program," "Sign Up," etc.). Try split-testing different phrases to see what leads to the highest conversion rate.
---
2. Make a compelling pitch
Like a well-thought-out bio from a dating app, your affiliate sign-up page needs to make an impact and stand out so affiliates want to contact you.
– Highlight the promotional resources you'll provide
Taking extra steps to help partners make money shows you're committed to mutual success. Partners join affiliate programs that offer support to thrive, so mention any promotional resources you provide, including:
Creative assets
Branding files and logos
Product descriptions
Graphics
– Share unique benefits of the program
If your program offers unique benefits, let affiliates know upfront on your promotional page. These can include commission increases after reaching a certain threshold, free products, paid placements, or unique promo codes.
– Provide examples of successful affiliates and happy customers
Motivate with inspiring success stories, such as positive quotes and testimonials from your current partners, the number of partners in your program, or anything else that demonstrates the program's popularity and value.
---
3. Get down to your program details 
Attracting partners that align with your affiliate program goals relies on providing the necessary information to help them decide if they are the perfect fit for your brand.
– Describe your ideal affiliate partner
Clearly define the characteristics that make up your perfect partner and communicate this to potential applicants.
Describe the type of partner you're looking for
State your desired partner audience size
Request links to partner websites and social media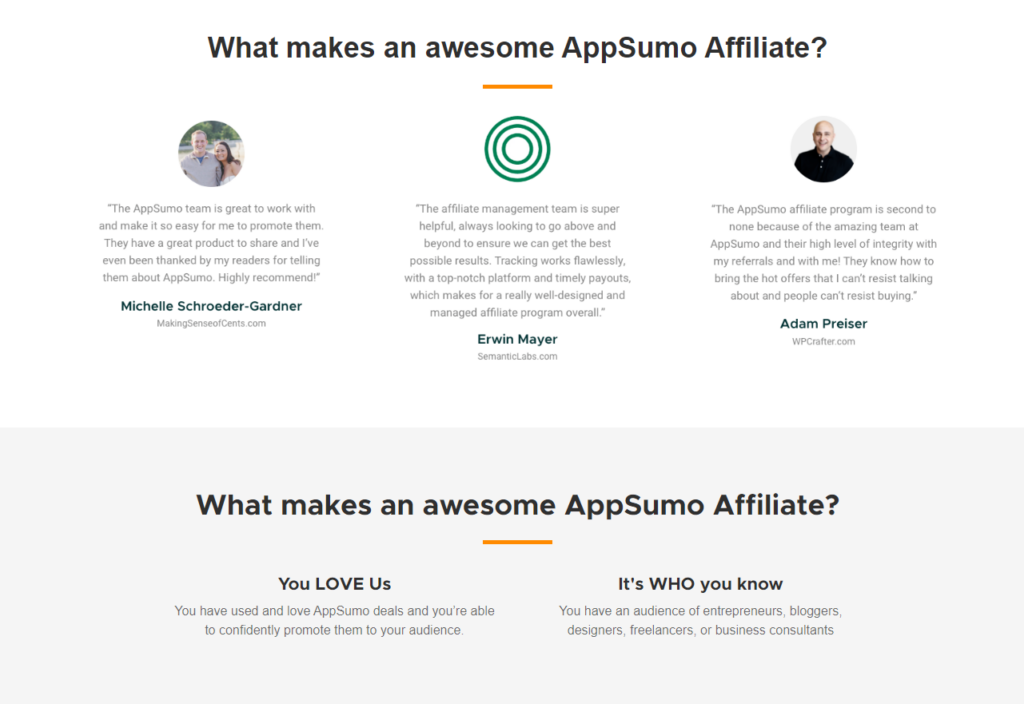 – Provide information about your products or services
Inform potential partners about what they'll promote if they join your program to help them decide whether it is within their specialty.
Highlight the products you sell
Spotlight product features and benefits
Showcase your brand image and values
Make it easy to promote your products/brand
– Highlight your target customers
Share your buyer personas on your sign-up page. Doing so helps potential partners gauge whether their audience is a good match for your program and how successful they'll be at promoting your products.
It'll also help once they join your program, as partners will better know how to position your products to appeal to your target audience.
– Communicate terms of service 
Providing potential partners with detailed terms of service offers transparency and clarity. Establish the guidelines for your affiliate program and include the following term:
Payment
Partner obligations
Promotion restrictions
Additional business-specific terms like trademark, branding or confidentiality, and privacy
As your affiliate program's selling point, payment terms should highlight certain factors like the commission partners will earn, bonuses offered, any commission structures or tiers, actions that trigger commission, and the payout schedule.
7 Examples of excellent affiliate landing pages
To help you implement the tactics above, we compiled a list of stellar affiliate marketing landing pages and what each of these signup pages do well to stand out.
1. Envato
Envato is a marketplace for creative assets and creative people, helping customers bring their ideas to life with digital assets, resources, and services. Affiliates earn money by selling Envato's digital assets, creative suite, and design tools.
What this page does well:
Envato's affiliate promotional page provides a perfect example of how to sell your affiliate program. The page does several things well, including:
Calls out who they're looking for: Envato devotes a separate section to identifying who the team wants to join their program — i.e., bloggers, influencers, Envato authors, and newcomers to affiliate marketing. Within the descriptions for each group, they describe the type of audience affiliates should have.
Provides product descriptions: The promotional page breaks down each of the Envato products affiliates can sell, including:

What the product is
Commission rates for referrals
An example of how much affiliates can potentially earn from commissions.
Breaks down their target customer segments: Envato provides detailed info about their customers, which Envato products they need, and how they use the products. Affiliates will know precisely how to position Envato's products in their promotional content.
---
2. Canva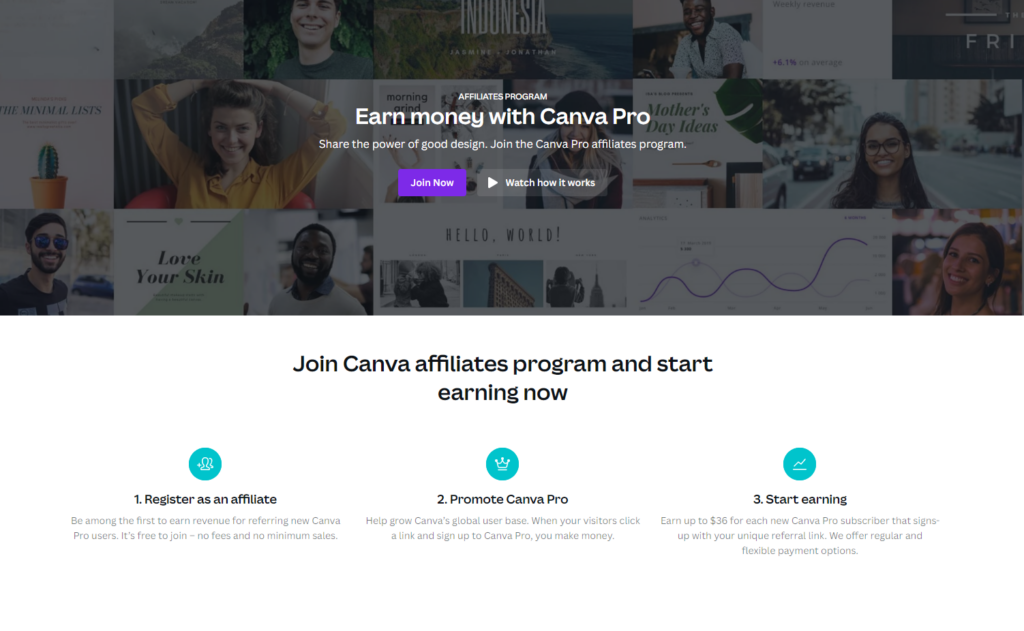 Canva, an online graphic design tool, offers free and paid plans for customers to design creative assets like social media posts, presentations, videos, and posters. Affiliates earn money by referring customers to Canva's paid plan, Canva Pro.
What this page does well:
Canva offers a beautifully designed affiliate landing page that communicates important information and selling points, such as:
Outlining affiliate support: The page describes the support affiliates receive, including:

How and when they pay affiliates
How affiliates can contact Canva's support team
How they track affiliate's contributions
The guides, templates, and tips they provide to help affiliates succeed
Describing Canva's major selling points: By highlighting major selling points, Canva helps affiliates understand the value of its products and better equip them to effectively promote its products and services.
Showcasing success: The page shares five quotes from Canva customers about why they love Canva, helping affiliates understand the value customers get from Canva and the potential of Canva's affiliate program.
---
3. Target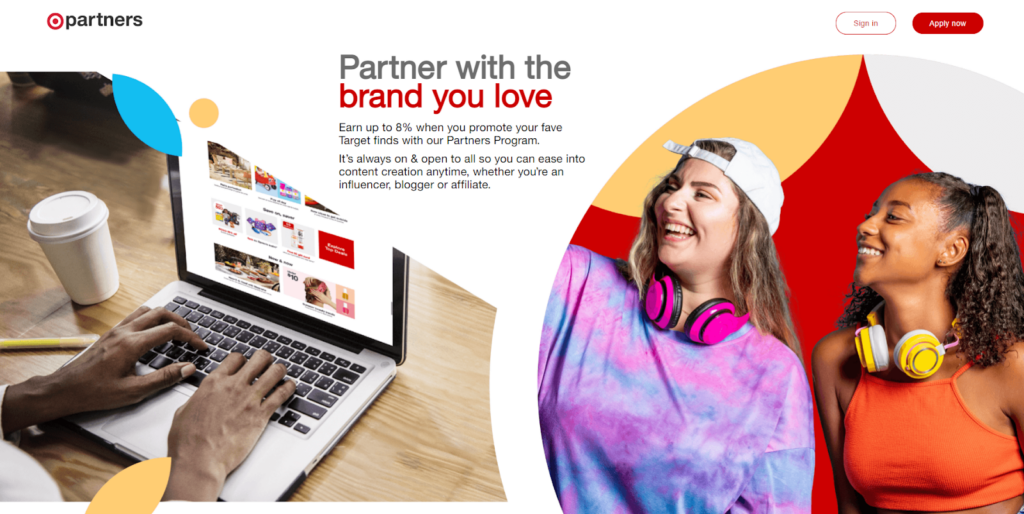 Target is a department store that sells everything from clothing to groceries to electronics online and in-store. Affiliates earn a commission when people purchase Target products through their affiliate links.
What this page does well:
Target convinces affiliates to join with its simple but effective affiliate promotional page. The sign-up page:
Clearly outlines how to join the program: The page highlights three easy steps content creators can partner with Target. They follow this section up with a compelling CTA.
Describes the unique benefits of becoming an affiliate: In addition to noting the commission rate, Target describes the unique benefits of joining their affiliate program, like making more money by generating more sales and receiving their weekly newsletter, promos, and deals.
Links to a FAQ: Linking its FAQs enables Target to keep its promotional page simple. The main page keeps prospective partners focused on the ease and benefits of joining their program, while the FAQ answers any potential questions they may have.
---
4. Shopify
Shopify, an eCommerce platform, helps customers launch and grow their online businesses. Customers use their platform to build websites, create online stores, manage inventory, track payments, and more. Affiliates earn commissions by referring new Shopify merchants.
What this page does well:
Shopify presents a partner-centric affiliate promotional page, focusing on how its program can help content creators earn money and achieve its goals. The promotional page:
Shares video testimonials from successful affiliates: Shopify's promotional page shares links to partner testimonial videos describing how they've benefited from the affiliate program. Video testimonials give potential partners a glimpse into what's possible by hearing other successful partner stories.
Includes a compelling CTA: The promotional page contains a practical, partner-centric CTA. It invokes the benefits of joining their affiliate program by inviting prospective partners to "Start earning."
Describes how they support affiliates: The promotional page spotlights the resources they supply to help affiliates succeed, including creative assets, ready-made educational content and lead magnets, and detailed performance insights through the partner dashboard.
---
5. Hubspot
HubSpot, a Customer Relationship Management (CRM) platform, empowers customer support, sales, and marketing teams. Customers use HubSpot to conduct live chats, schedule meetings, and track emails. Affiliates earn commissions for referring qualifying customers.

What this page does well:
HubSpot's affiliate program promotional page communicates the rules and value of their program, including:
Provides important information about commissions: The page includes everything affiliates need to know about earning commissions, such as the average payout, the cookie window, and the two types of commissions (a recurring rate of the revenue for annual purchases or a one-time payout of the first month).
Outlines permitted promotional methods: The page informs potential partners that the affiliate program only allows promotion within the content. Service providers who want to refer clients must join their Solutions Partner Program. The page also outlines program limitations in the FAQ.
Includes a FAQ: The FAQs address common questions and reiterate important information on the page.
---
6. eBay
eBay, an online marketplace and auction site, sells products of all kinds, such as clothes, electronics, cars, and more. Affiliates earn money for driving traffic to product pages and a percentage of every sale they refer.
What this page does well:
Although the page is content-heavy, eBay successfully communicates important program information using:
White-space and content blocks: Groups different aspects of the affiliate program information into easy-to-read content blocks.
Vibrant imagery: Uses graphics and images to reinforce the copy and help prospective partners process the information.
Compelling copy: The page sells the benefits of eBay's affiliate program by telling prospective partners about how they can earn and the resources eBay will provide.
---
7. AppSumo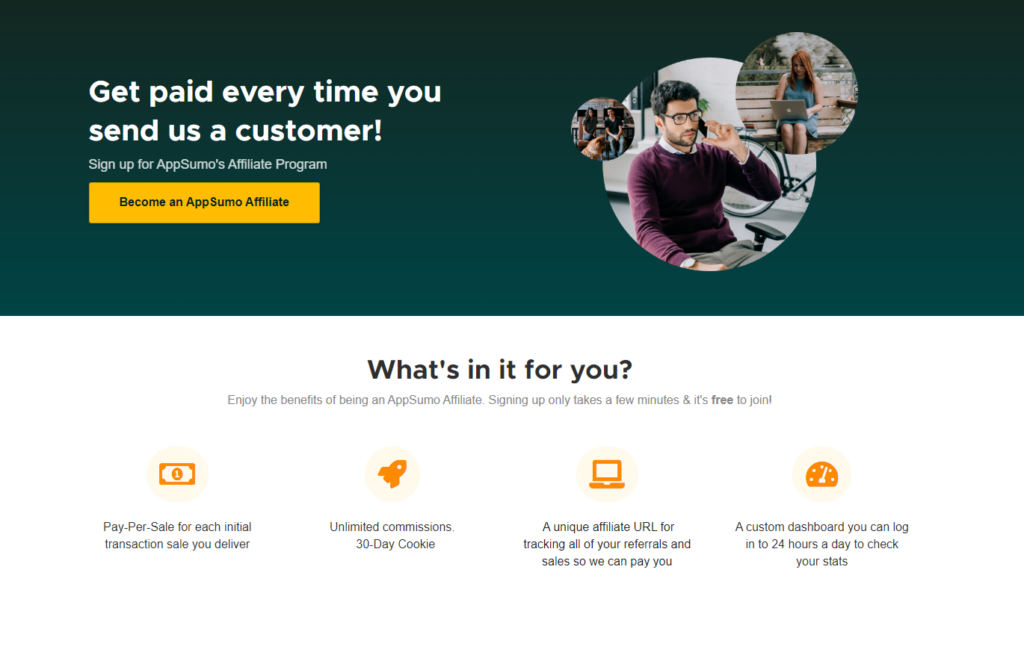 AppSumo, offers a marketplace where creators and entrepreneurs can sell their products, and customers can buy those products at a discounted price. The listed products include software, courses, templates, and creative assets. Affiliates earn commissions for every sale they refer.
What this page does well:
AppSumo's affiliate program promotional page keeps things simple by primarily focusing on the benefits of joining their program and the types of affiliates they're looking for.
Shares testimonials from happy affiliates: Includes three testimonials from AppSumo affiliates, promoting how excellent and supportive AppSumo's affiliate management team is.
Outlines the program's benefits: Explains how their affiliate program works and the benefits partners can receive — primarily that they can earn up to 100 percent commission on any sales they refer.
Describes the ideal AppSumo affiliate: Highlights what AppSumo is looking for in affiliates, chiefly that prospective affiliates have purchased AppSumo deals before, and they have an audience of entrepreneurs, bloggers, designers, freelancers, and consultants.
---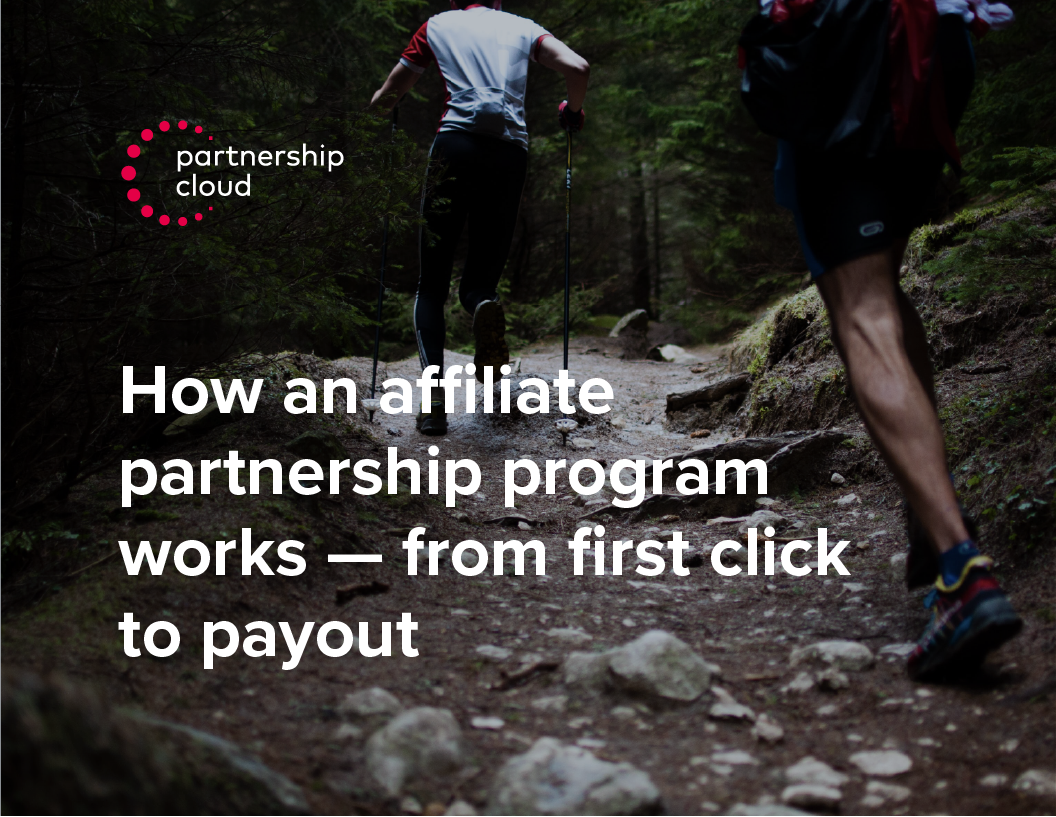 How an affiliate program works – from first click to payout
Create a well-crafted affiliate partnership program to drive growth. Download your free ebook copy to help you map a path to your business's success.
Get my free guide
Build your affiliate program landing page today
You now have all the ingredients that go into a successful, partner-converting affiliate program landing page, as well as seven examples to inspire you.
Use the checklist above to help create landing page content that attracts, informs, and motivates prospective partners. And use the examples to help you optimize your landing page design.
For more ideas and guidance on affiliate marketing, check out these other impact.com resources: