impact.comについて
企業があらゆるタイプのパートナーシップを管理し、最適化する方法を変革します。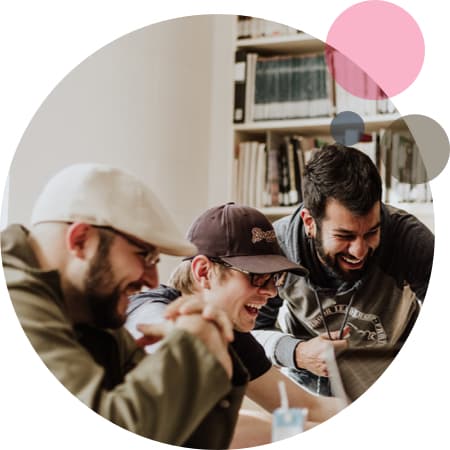 ---
インパクトを創る
最高の人材の集まりで ゲームチェンジャーとなることを目指し、グローステクノロジストとしてインパクトを生み出すことを目指します。
クライアントビジネスの成長
クライアントは我々を導く羅針盤です。クライアントの課題を共有し、チームで解決を模索しながら、クライアントビジネスに対する理解を深めます。クライアントビジネスの成長とキャリアの成功に貢献することは我々の成功でもあり、それらを実現すべく日々サービスを提供しています。そのためには継続的な改革が必要となり、常に新しいコンセプトや手法を取り入れることが重要だと感じています。今日の成長を生み出すものが、明日も同じようになるとは限らない時代には重要な考え方だと信じています。
スピード重視
成長とは、物事を成し遂げることです。受け手であったり行動を起こさないスタンスを捨て。クライアントの体験が思考の中心にあり、データが行動の裏付けとしながら、前へ進むことを心がけています。裏付けとなるデータがない場合でも、多様な視点からのフィードバックを念頭におき、スピーディな評価と優先順位付けを行い適切な判断を下すためにチーム内での信頼を大切にしています。個人よりもチームを優先し、そして何よりもクライアントを最優先するという考えです。
パッションを形に
私たちは、情熱を持ったタレントの小さな集まりこそがimpact.comを創るために必要なすべてであると信じています。現状に過度な評価や満足をせず、高みを目指すことを重要視しています。またビジネスの成長は個人の充実をもたらすと信じており、常日頃からの充実したパフォーマンスがまた刺激となることを目標としています。そして最高のパフォーマンスを維持するために必要なワークライフバランスを重んじ、素晴らしい人材が一緒に成功を実現する仲間として伴走する文化を創り上げていくことを目指しています。
---
私たちはビジネスの成長をサポートするテクノロジストです
我々は、サイエンスとテクノロジーの力が、クライアント企業へ変革的な成長をもたらし、そして我々自身にも成長をもたらすと信じています。impact.comはパートナーシップを通じてビジネスインパクトを生み出すための事業を展開しています。
動画を見る
---
---
アワード
2022: Best Data Innovation – impact.com's Data Lab and Foot Locker (gold winner), The Hookup – Best Tech for Customer Experience (gold winner), Shiny & New – Most Innovative Technology – Trackonomics (gold winner), Together – We Solved That! impact.com and Foot Locker (silver winner), Best Platform for Partnership Recruitment (bronze winner), PerformanceIN Top 30 Changemakers in Partnership Marketing – Dave Yovanno (Featured), Best Performance Marketing Technology (Winner), Best Brand Performance Campaign (Winner), Best Integrated Performance Marketing Campaig (Winner)
2021: Performance Marketing Awards – Best Performance Marketing Technology: Impact Partnership Cloud (Winner), Performance Marketing Awards – Best Travel, Leisure and Lifestyle Campaign: Impact & TUI: Turning turbulence into turbocharged (Winner), Influencer Marketing Awards – Best Influencer Marketing Platform award on behalf of Activate, an Impact Company (Won Bronze), International Performance Marketing Awards – Best Managed Affiliate Program USA: Impact & DMi: Transform TUSHY's Bottom-Heavy Affiliate Program (Winner), International Performance Marketing Awards – Best SaaS Platform: Impact's Partnerships Cloud (Winner), Performance IN Top 50 – Jennifer Zhang (Featured), Influencer Top 50 – Florian Gramshammer (Featured)
2020: International Performance Marketing Awards Global – Best Technology: Impact Partnership Cloud (Winner) 2020, International Performance Marketing Awards Global – Best Influencer Marketing Campaign: Impact for Savage x Fenty Lingerie by Rihanna [highly commended], International Performance Marketing Awards Global – Best Managed Affiliate Programme – USA: Impact and DMi Partners for Rastelli's (Winner), International Performance Marketing Awards Global – Best Managed Affiliate Programme – APAC: Impact for Canva: From Zero to Hero (highly commended), International Performance Marketing Awards Global – Best SaaS Platform: Impact: Partnership Cloud (highly commended), International Performance Marketing Awards Global – Best Performance Marketing Campaign – USA: Impact for Fanatics (highly commended), Influencer Marketing Awards – Best Influencer Discovery Platform (Winner), Performance Marketing Awards – Best Finance Campaign: Impact and Revolut (Winner), Performance Marketing Awards – Best Managed Affiliate Programme (SME): Impact, Optimus and Richer Sounds (Winner), Performance Marketing Awards – Best Programme Launch or Migration: Impact and TUI (Winner), Performance Marketing Awards – Best Travel, Leisure and Lifestyle Campaign: Impact, Starcom and P&O Ferries (Highly Commended), Performance Marketing Awards – Community Hero: Impact (Positive Impact) (Highly Commended), Performance Marketing Awards – Best Managed Affiliate Programme (SME): Impact and LetsGetChecked (Highly Commended), Influencer Top 50 – Max Ciccotosto (Featured), PerformanceIN Top 50 – Antoine Gross (Featured)
2019: International Performance Marketing Awards Global – Best SaaS Platform (Winner), PerformanceIN Top 50 – Adam Furness (Winner)
2018: PerformanceIN Top 50 – Todd Crawford Industry Players (Winner)
2022: Best Software Awards 2022 as one of the top 50 marketing products. [For software companies that provide their users with the highest level of customer service and user experience] 2022, Partner management – (Leader, Momentum Leader, Leader Small-Business) 2022, Attribution – (Leader, Momentum Leader, Leader Enterprise, Leader Small-Business) 2022, Marketing analytics – (Leader, Momentum Leader, High Performer Asia, Leader Small-Business) 2022, Influencer marketing platforms – (Leader, Momentum Leader, Users Most Likely to Recommend, Small Business, Best Meets Requirements Small Business, Leader Small-Business) 2022, Customer journey analytics – (Leader) 2022, Tag management – (Leader, Momentum Leader) 2022, Affiliate marketing – (Leader, Momentum Leader, Best Usability, Leader Small-Business) 2022, Users love us [this badge is earned after collecting 20 reviews with an average rating of 4.0 stars] 2022
2021: Best Affiliate Marketing Software – (Winner), Best Partnership Marketing Software – (Winner), Momentum [Affiliate Marketing, Tag Management, & Attribution] – (Leader), Affiliate Marketing Small-Business – (Leader), Best Est. ROI Mid-Market Influencer Marketing Platforms – (Best), Enterprise Attribution – (Leader), Affiliate Marketing, Tag Management, Partner Management, Attribution, & Influencer Marketing Platforms) – (Leader), Small-Business Affiliate Marketing – (Leader), Mid-Market Partner Management – (Leader), Users love us [this badge is earned after collecting 20 reviews with an average rating of 4.0 stars] – (Leader)
2020: Best Software List Top 10: Impact Partnership Cloud (Winner), Partner Management – (Leader), Attribution Software – (Leader), Marketing Analytics – (Leader), Influencer Marketing -(Leader), Customer Journey Analytics Software – (Leader), Tag Management Software – (Leader), Affiliate Software – (Leader) 2020
2020: Best Marketing Technology Solution APAC – (Winner) 2020
Best Marketing Technology Solution Global – (Winner) 2020
2021: Digital Advertising Asia: Most Effective Use of Affiliate Marketing with Canva (Winner), Digital Industries: Vendor of the Year (Winner) 2021
2020: DADI Awards – Best Tech Platform (Winner) 2020
2019: Digital Ad Awards Europe – Best Attribution Solution (Winner) 2019
2018: DTAs – Best Audience Measurement Platform (Winner) 2018, Digerati – Top 100 most influential people in digital world: Florian Gramshammer (Winner) 2018
2019: Best Places to Work, Large Employers (Winner) 2019
2022: Best Martech Company CEO – David A. Yovanno (Winner) 2022
2019: Best Ad Analytics Solution (Winner) 2019
2018: Best Overall MarTech Company (Winner) 2018
2022: Inc.'s 2022 Power Partner Awards
2022: In In the top 9 list of affiliate-marketing platforms that creators are using to earn money in 2022
---
チーム紹介
impact.comで違いを生み出すのは、「人」です。ビジネス、業界、コミュニティにおいて「#createimpact」をミッションとして活躍するリーダーシップチームをご紹介します。
Board advisors
Board of directors
Executive leadership
Senior leadership
---

Silversmith Capital Partners
Founded in 2015, Silversmith Capital Partners is a Boston-based growth equity firm with $2.0 billion of capital under management. Silversmith's mission is to partner with and support the best entrepreneurs in growing, profitable technology and healthcare companies. Representative investments include ActiveCampaign, DistroKid, impact.com, Iodine Software, LifeStance Health, and Webflow. The partners have served on the boards of numerous successful growth companies including ABILITY Network, Dealer.com, Liberty Dialysis, Passport Health, SurveyMonkey, and Wrike.
For more information about Silversmith, please visit www.silversmith.com or follow the firm on LinkedIn.
Providence Equity Partners
Providence Strategic Growth ("PSG") is an affiliate of Providence Equity Partners ("Providence"). Established in 2014, PSG focuses on growth equity investments in lower middle market software and technology-enabled service companies, primarily in North America. Providence is a premier global asset management firm with over $40 billion in aggregate capital commitments. Providence pioneered a sector-focused approach to private equity investing with the vision that a dedicated team of industry experts could build exceptional companies of enduring value. Since the firm's inception in 1989, Providence has invested in more than 180 companies and is a leading equity investment firm focused on the media, communications, education and information industries. Providence is headquartered in Providence, RI, and also has offices in New York and London.
For more information about Providence Equity Partners, please visit www.provequity.com.