In this guide you'll discover answers to questions like:
Performance Marketing vs. Brand Marketing
45 percent of marketers say performance marketing has become a significant part of their marketing strategy since 2020. Amid marketing tactics that are notoriously difficult to measure and track, the real-time metrics used in performance marketing make it stand out. 
Key takeaways
Performance marketing is any marketing activity where brands only pay partners when buyers take predetermined actions.
The different types of performance marketing: partnership marketing (influencer, affiliate, and commerce content marketing), display ads, search engine marketing (SEM), native advertising, and social media marketing.
Performance marketing only rewards predetermined actions (sales, sign-ups, etc), while brand marketing rewards brand awareness actions (social media followers and engagement, etc,)
What is performance marketing and how does it work?
According to Per Petterson, Chief Strategy Officer at impact.com, performance marketing includes "all marketing strategies where the brand pays for a tangible outcome instead of potential results."
Performance marketing is data-driven—brands only pay partners when buyers take predefined actions. These actions are tracked and measured by key performance indicators (KPIs).
Many marketing and advertising strategies require significant investment before the company sees results. But with performance marketing, brands only pay when a tracked conversion event gets attributed to a partner.
Performance marketing campaigns use real-time analytics to identify which partners or channels led to new web traffic, leads, or sales. Most companies use dedicated landing pages, campaign codes or UTMs to monitor partner performance. For conversions like click-throughs or sales, the partner receives a predetermined payment. Performance marketing software helps brands track conversions and manage payouts to partners.
---
Performance marketing vs. brand marketing
While performance marketing can drive brand awareness and recognition, performance marketing campaigns have different intentions than brand marketing campaigns.
Brand marketing focuses on increasing brand awareness, elevating public perception of brands, and strengthening brand-customer relationships. These campaigns often advance long-term goals, but aren't always strong revenue drivers.
Say a retail company wants to work with an influencer to promote a product. A brand marketing approach to influencer marketing may involve selecting an influencer, sending them a free sample product, and paying them to post reviews on social media. This all happens before the company sees any sales.
In a performance marketing campaign, the influencer may receive a customized landing page link to share when they promote the product on social media. The influencer then receives a percentage of each purchase their users make.
It can be challenging to distinguish between performance marketing and brand campaigns. Paying someone outside your marketing team after receiving results is likely a performance marketing campaign.
---
The benefits of performance marketing
High ROI. In 2021, every dollar invested in the performance marketing channel drove $12 in sales. Additionally, $9.1 billion in performance marketing spend drove $71 billion in ecommerce contribution.
Low-risk. Performance marketing is one of the most affordable ways to expand your brand's reach, engage new leads, and make sales. By only paying publishers when they deliver on desired KPIs, brands spread their marketing budget to see campaign success in real-time.
Easy to track. Performance marketing is measurable and transparent. Brands can view the entire click-to-consume path of buyers. They can also identify where to invest more and which channels produce better results.
Flexible. Since these campaigns are affordable, it's ideal to try with multiple partner types. As you collect more data, you can redesign campaigns to reach target audiences better. This makes performance marketing campaigns a flexible and scalable alternative to traditional brand marketing campaigns.
Increased brand awareness. Although brand awareness isn't a primary goal, performance marketing does contribute to this KPI. These partners already have an authentic, trustworthy relationship with their audience, and this promotes brand advocacy.
---
The 5 different types of performance marketing channels
Companies use many digital marketing channels as part of their performance marketing strategies. However, there are a few channels specifically designed for these campaigns. These are the most common performance marketing channels brands include in their strategies.
1. Partnership marketing
Partnership marketing is a strategic collaboration between two parties—two businesses or a business and an individual. This relationship introduces a brand to a partner's customers or audiences. Both parties benefit by achieving shared business goals.
The different types of partnership marketing:
– Influencer marketing
Brands collaborate with creators and influencers. Influencers can be speaker, authors, celebrities, or someone who impacts decision-making or sentiment. A creator is simply someone who produces content — whether video, written, image-based, or a combination. Influencer marketing can be lucrative—creators generate 11 times the (ROI) of traditional advertising.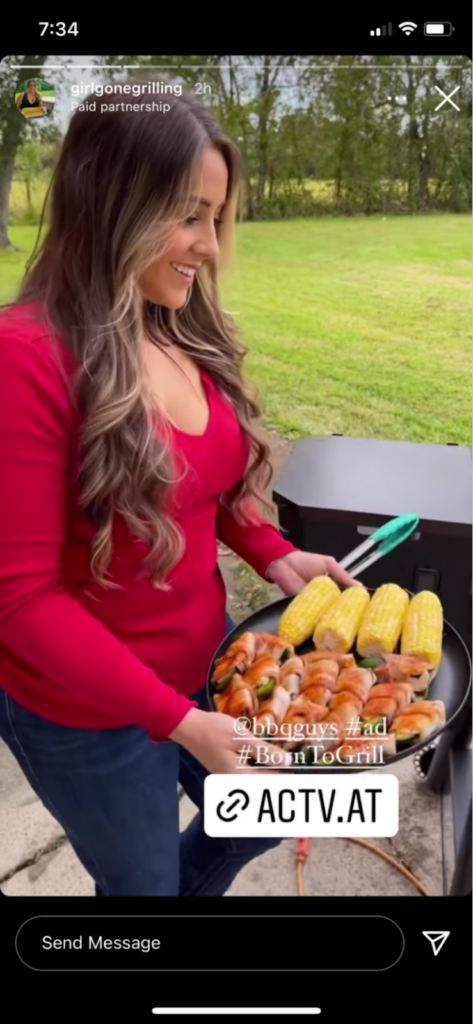 Katherine Salom from @girlgonegrilling promoting BBQGuys' products
– Affiliate marketing
Affiliate marketing involves an affiliate promoting a brand's products. When an affiliate joins a brand's program, the brand provides the partner with unique tracking links. The affiliate promotes the brand using these links. They add links to their social profiles, websites, email campaigns and other promotional avenues. Potential customers click on these links, which direct them to the brand's website to make a purchase. The affiliate receives a commission from the brand for any consumer purchase. 
The affiliate payout process:

– Commerce content marketing
Commerce content is a collaboration between brands and media to create unique shopping experiences. Publishers produce editorial content that upholds their values while educating consumers about brands and products. This content adds to the publisher's trusted reputation and benefits the brand with increased sales—while the consumer benefits from purchasing information. Buzzfeed uses this strategy to push relevant content their users enjoy while organically promoting brands and products.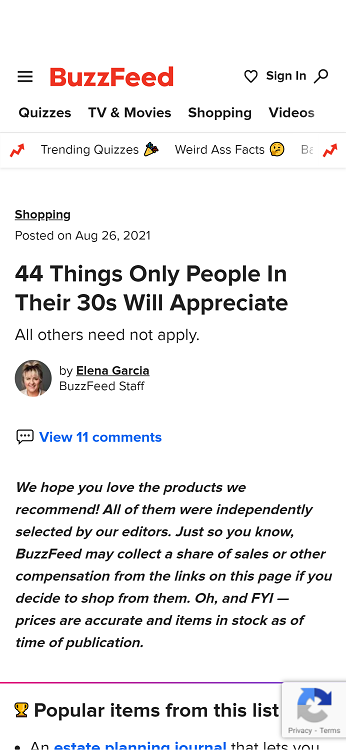 2. Display ads
Display ads are one of the oldest forms of performance marketing, and many brands still use them. However, brands don't set up their display ad campaigns as they used to. Many companies pay partners when a buyer clicks on a video or image, and then completes a purchase. The former method paid partners for every impression or click.
3. Native advertising
Some publishers incorporate links for performance marketing campaigns as subtle advertisements on their websites. These ads look similar to the content and style of the website, so they may drive better conversions because they don't seem like advertising.
4. Social media
Influencers and publishers regularly share performance marketing links on their social media posts. Social media's fast-paced and engaged audience makes it an ideal place to focus on performance marketing.
5. Search engine marketing (SEM)
SEM uses unpaid methods such as search engine optimization (SEO). It relies on the search engine's algorithm to rank at the top. Some companies purchase pay-per-click ads to gain a favorable spot on a search engine results page. In this case, brands only pay when someone clicks on their ad.
---
How to measure performance marketing
Choosing the right KPIs is fundamental to measuring the ROI of a performance marketing campaign. Brands use these metrics to pay partners based on their performance. However, many struggle to define what metrics they should track to measure success.
Here are the most common KPIs brands target with their performance marketing tactics.
Cost per click (CPC). CPC is the amount a brand pays a publisher every time a lead clicks to get to a designated landing page.
Cost per impression (CPM). For CPM—or cost per mile—campaigns, a brand pays a publisher based on how many users see the ad. Usually, CPM campaigns are paid out for every 1,000 views.
Cost per lead (CPL). Companies often measure CPL when a user completes a form, schedules a call, or submits an email address.
Cost per acquisition (CPA) / cost per sales (CPS). When a brand makes a sale through a performance marketing campaign, they pay the partner a flat fee or a percentage of the sale.
Lifetime value (LTV). Brands measure how influential their partners are by assessing LTV. A high LTV shows customers are likely to buy repeatedly from that partner. Some brands pay partners based on how valuable the leads are.
---
Support your marketing efforts with impact.com
Creating successful performance marketing programs such as influencer, affiliate, and commerce content partnerships is easy with impact.com. The robust partnership management platform makes handling the entire partnership lifecycle a breeze. 
For more ideas and guidance on partnership marketing, check out these impact.com resources:
---
Recap
What is performance marketing?
Performance marketing is any data-driven marketing activity where a brand pays a publisher, affiliate, or partner when buyers take a predetermined action. These actions are tracked and measured by key performance indicators (KPIs).
What are the benefits?
The benefits of performance marketing are increased ROI, low risk, improved brand awareness, easy to track, flexible, and scalable.
How is it measured?
Performance marketing can be measured by various KPIs, such as cost per click (CPC), cost per impression (CPM), cost per lead (CPL), cost per acquisition (CPA), and lifetime value (LTV).